When Lewis Hamilton's back is to the wall, he frequently produces his most awesome performances. And so it was on Montreal's Ile Notre Dame at the Circuit Gilles Villeneuve this afternoon, when the three-time champion took one of the greatest of his pole positions.
In doing so he not only defeated arch-rival Sebastian Vettel in a gripping fight that electrified the 40,000 Quebecois race fans who flocked in, but equalled his idol Ayrton Senna's tally of 65 poles. But that was not left him speechless afterwards.
What stole his words and left him on the brink of tears of emotion as he was interviewed in Turn 2 was the surprise gift presented to him on behalf of the Senna family – a genuine race helmet worn when he was driving for Lotus in 1987, by the Brazilian who died at Imola on May 1st, 1994.
After holding it aloft in its glass box, and then eagerly removing it to show the crowd, Hamilton admitted: "I'm shaken. Speechless. I know that Ayrton was for many of you your favourite driver, and he was the same for me. He was the one who inspired me to be where I am today, so to match him and to receive this is the greatest honour.
"For the Senna family to send me this… I don't possess any of Ayrton's real artefacts, this is the most special thing I have, above and beyond all my trophies.
"I equalled Ayrton in race wins a while ago so this has been my focus. Literally, as a kid I thought if I was lucky I could emulate Ayrton and I can't believe it. I remember coming home from school and putting on a video tape of Ayrton, so it's really strange to think that now I'm here and I have that many poles. Ayrton was the guy who I knew at the beginning, it was the colour of the helmet, that's what you notice as a kid.
"And being that this is the most difficult season of my career racing these great guys [Vettel and Bottas] and Kimi [Raikkonen], and having us so close, it pushes us all to the limit, it relies on us to be perfect. Of course we can't always be perfect, but today I got as close as I could get.
"I am honoured to be honoured by that family and honestly I couldn't be happier. To Ayrton and his family, God bless you, thank you."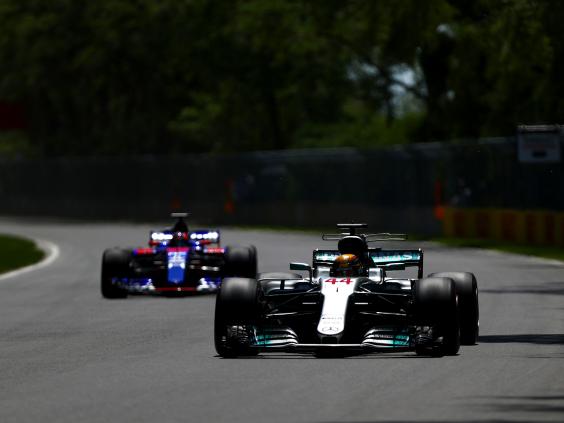 Had Senna been watching, he would have been proud of his disciple. Bouncing back from the agony of Monaco, where Vettel won easily and it transpired that Mercedes had got some minor settings wrong on their cars, he was determined to fight back. And he admitted that if it couldn't happen in Monte Carlo, there was no better place to equal Senna than here. Where he took his first pole and his first of 55 victories 10 years ago in his rookie season.
"I knew that number 65 was there waiting," he said. "Montreal is a beautiful place, and it's been home to me, I've grown with many fans who were teenagers when I started, and if I was going to get that special pole I wanted it to be here."
But the success did not come without a fight. He was fastest in practice on Friday morning, but slipped behind the Ferraris in the afternoon and again this morning. Then he was narrowly beaten by his team-mate Valtteri Bottas in the first qualifying session before taking control in the second. But the Ferraris were still close. Until Hamilton unleased a stupendous lap on his first run in the final session.
Vettel set the ball rolling with 1m 12.423s, but Hamilton smashed that with 1m 11.791s, the fastest-ever lap of the track. Neither Bottas, nor Vettel's partner Kimi Raikkonen, got close.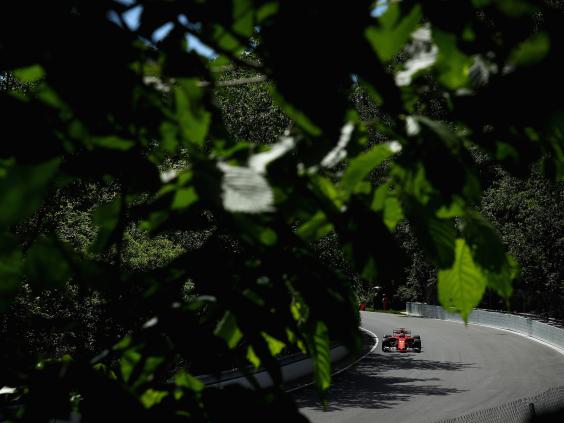 In the second runs, however, Vettel came within four-thousandths of Hamilton's time with 1m 11.795s, and prepared for a third run.
On his second, Hamilton dug deeper still and equalled Senna with 1m 11.459s.
"It was a sexy lap," he beamed. "A great lap. I can't believe it came together so well. You can only hope and imagine that it's going to go well and sometimes it doesn't, but the lap started beautifully, and I just built it, smoothly, no mistakes. The first section was fantastic, and I just managed to build up a bit more in each one, and the team did such a great job to make up for the mistakes in the last race."
Vettel's final try trimmed his lap to 1m 11.789s, but he was the first to offer congratulations.
"Equalling Ayrton is a massive achievement and he was better man today," the German said. "I wasn't entirely happy at the start of qualifying but it got better and better and I was able to step it up for the last run. But I lost the car a bit in Turn 2 and was on the back foot already, and knew I had to catch up, but he had enough. I would have loved to have had a better lap at the end, but that's the way it is.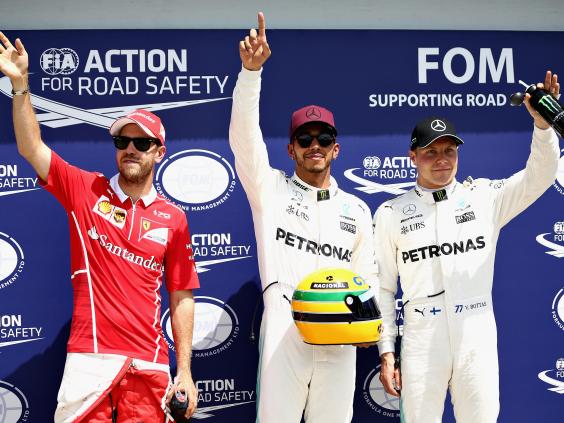 In what is fast becoming a vintage season, both men relish the prospect of a close race tomorrow.
"I expect that," Vettel said. "It's been close so far apart from maybe Monaco. That's great. It's maybe not so easy to overtake here, but it'll be a long race tomorrow. I'm looking forward to it. I think we have the pace to win. The car should be very good in the race. We'll be strong."
Hamilton would not be drawn on his prospects for matching Michael Schumacher's record of 68 poles, and said, "I plan on getting there, that will be an honour in itself at that moment, but I'm happy to live in this moment and that is all ifs and buts.
"I believe it will be very close tomorrow. It's was a close battle last year between us and imagine us pushing all the way to the end. I'm excited about it. But if this were to be my last day, I would be proud that the Hamilton name will forever be remembered in this sport."
Reuse content