The burning question, at the start of a new Formula One season, is whether Lewis Hamilton can achieve a personal goal and become a world champion for the third time.
The question has an added poignancy, too, as he is coming off what seems to be a final split with his longtime love Nicole Scherzinger – an act which turned his world upside down over the winter.
He doesn't want to talk about that, naturally enough, and in a meeting room in Mercedes' Brackley head-quarters where the air-conditioning alternates between roasting and freezing, he isn't quite his usual voluble self. His voice is muted and he's still sniffing with a cold. Remember, that he lost time in the first of two tests in Barcelona when he had to stop driving because he was running a fever.
However, ask him the inevitable question about his frame of mind going into his ninth F1 season, as the man with the hunter's target on his back, and the steel is still there for all to see.
F1 2014 championship driver ratings
F1 2014 championship driver ratings
1/22 Lewis Hamilton – 9

The two-time world champion deserved every bit of his success in 2014, in which he showed he was the faster driver in the battle with Nico Rosberg. Had he not made the error in Brazil that allowed Rosberg to take victory, it could well have been a perfect 10 for Hamilton.

2/22 Nico Rosberg – 8

Rosberg pushed his team-mate all the way but ultimately who had no answer to Hamilton's sheer speed when it was a straight dog-fight between the two. The mechanical failure in Abu Dhabi robbed him of any hope of winning the title, but it would've been unlikely that he could have passed the eventual champion anyway.

Getty Images

3/22 Sebastian Vettel - 5

Who'd have thought the four time world champion would not win a single race this season? Perhaps that's not so bad given Mercedes dominated the season, but his new team-mate Ricciardo won three times, and simply it's been a case of not good enough from Seb. He'll hope the grass is greener at Ferrari next season.

Getty Images

4/22 Daniel Ricciardo - 9

A world champion in the making, Ricciardo has shown that he is both hugely talented and one of the nicest guys on the grid. He was rewarded for his excellent drives with three victories in Canada, Hungary and Belgium, and he fully warrants his third place in the Drivers' Championship.

GETTY IMAGES

5/22 Fernando Alonso - 6

The Spaniard may have endured a difficult year with Ferrari which has led to his exit, but in his eyes he has put in some of his best drives this season. He dominated his team-mate, the 2007 world champion, and he can still be pleased with a number of his performances this season.

Getty Images

6/22 Kimi Raikkonen - 3

What happened to the Flying Finn of last season at Lotus? Raikkonen has not performed well at all since his return to Ferrari, and there's a strong case to drop him to have been dropped for next year – though he will partner Vettel next year. A season-best of fourth in Spa is the anomaly of a poor season.

Getty Images

7/22 Felipe Massa - 7

His career could have been over when he left Ferrari last season, but the Williams team rewarded his determination to remain in F1 with a massively fast car. Two third-place finishes – the best in Brazil in front of his home fans – made up for a few retirements and nasty crashes, though they weren't of his doing.

Getty Images

8/22 Valterri Bottas - 7

One more podium finish than his team-mate and just one retirement all season has capped a breakthrough year for Bottas. The Finn is showing why he is rated so highly and he has a phenomenally calm head on his shoulders. His drive in Austria was a particular highlight.

Getty Images

9/22 Jenson Button - 6

Somehow under the radar Button has performed admirably in a car that has not been up to scratch this season. Button has out-performed Magnussen in the Drivers' Championship and started with a bang as he secured third in Australia, and a strong end to the season could still see him remain for 2015.

Getty images

10/22 Kevin Magnussen - 6

Moments of sheer braveness and incredibility have been hindered by errors and rashness, and a number of penalties this season have ended up costing Magnussen. Like Button, he amazed by finishing second in Melbourne, but has managed no better than fifth since then.

Getty Images

11/22 Sergio Perez - 4

Inconsistency has seen Perez finish up and down the field, with a third place in Bahrain helping him forget the fact that he didn't even start in Malaysia due to reliability failure.

Getty Images

12/22 Nico Hulkenberg - 5

Big things were expected from Hulkenberg after last season's performances despite missing out on a so-called 'big team' but hasn't been as outstanding as we've come to expect. Consistently inside the top-10, Hulkenberg will still be in the Force India next year.

Getty Images

13/22 Jean-Eric Vergne - 4

Five retirements in the first eight races looked to pave the way for Vergne's exit, but Kvyat's move to Red Bull could yet allow the Frenchman a second chance in F1. A season-best of sixth in Singapore was the best of a poor season.

14/22 Danil Kvyat - 4

The young Russian has shown that he has what it takes to make it in F1, but too many times this season he's fallen away and finished outside the top 10. Only three times this season did he finish inside the top 10, which hasn't been good enough.

Getty Images

15/22 Adrian Sutil - 2

A dismal year for Sauber looks to have confirmed the end of Sutil's time in F1. He hasn't scored a point and has already been confirmed as leaving Sauber, and he's unlikely to be picked up again before the start of next season.

Getty Images

16/22 Esteban Gutierrez - 2

A year to forget for the Mexican who will also be leaving Sauber this year. He remains confident of securing another drive for next season, but it certainly won't be based on results this season.

Getty Images

17/22 Romain Grosjean - 3

Let's not take too much from Grosjean's results, as the Lotus has simply been awful this season. He's asserted himself as the lead driver in the team following Raikkonen's exit, and he'll hope for much better fortunes next season having confirmed his stay witht he team.

Getty Images

18/22 Pastor Maldonado - 1

Where do you start with him? If he's not crashing, he's being penalised by the stewards for reckless driving. At times he's even been running behind the Caterhams and Marussias which simply isn't acceptable for Lotus. Finally scored a first point of the season in the United States.

Getty Images

19/22 Jules Bianchi - 5

It would be easy to bump up his rating due after the tragedy of his crash in Japan, but the fact is that Bianchi has impressed everyone this season. His drive in Monaco to score Marussia's first ever point will go down in F1 history, and he looked nailed on for a future Ferrari drive. Here's hoping he makes a recovery from his serious injuries.

Getty Images

20/22 Max Chilton - 2

Chilton's efforts in finishing every race he started finally came to an end in Canada, but he was consistently out-performed by Bianchi. Marussia's absence from the grid towards the end of the season looks to have ended his time in F1.

REUTERS

21/22 Kamui Kobayashi - 2

A strange season saw Kobayashi somewhat surprisingly recalled to Caterham, but financial problems meant he lost his drive in Monza only to return for the next race. Two 13th place finishes represents Caterham's best finishes this season.

GETTY IMAGES

22/22 Marcus Ericcson - 1

He has structured a move to Sauber for next season and severed ties with Caterham before their return in Abu Dhabi. A tough year, but he'll get another chance to impress next term.

Getty Images
"I'd say every year is different, so some years you feel better but you're actually not. But I feel good. I guess I'll find out as I get into the season but, you know, apart from having the flu or whatever, I genuinely feel good and excited. I can't believe that it's come round so quick."
In the past, issues in his off-track life have upset his equilibrium, and it's not hard to see because he wears his big racer's heart on his sleeve. But he is confident that will not be the case after the lessons he learnt, coming through to win the title as he did against the odds of unreliability and misfortune last year.
"I think last year I adapted a mental attitude that was kind of, I would like to say, impenetrable. Of course, in the previous years it has been the case where it's affected my life in general, but I feel that I still carry that kind of mentality from last year, and, while it's not been easy, having been in this position before, I feel stronger than ever. So I don't feel that it's going to be a problem."
Sir Jackie Stewart, the most successful British champion with three titles, always stresses the need for a driver to master mind-management. Hamilton, it seems, has worked hard on that in recent times.
"Once in a blue moon it's all in line," Hamilton says, referring to the planets, "but I still feel like I've got enough in place to do what I need to do and to be the best I can be."
So has winning a second title at last, six years after his first, made him feel less pressure to succeed?
"I definitely don't feel that I have less pressure. I think the pressure is the same every year. But, honestly, I don't arrive at the tests or here at the team, thinking 'okay, I'm world champion'. I'm thinking 'Jesus, I've got to do everything again and I've actually got to do it better than I did before'. Because I know that everyone else will have taken a step as well, so how do you do that? It's not easy to better a season like last year. Also, in terms of performance, it was the best year that I think I've ever had, but it doesn't mean I can't beat it, so  that's what I'm trying to do."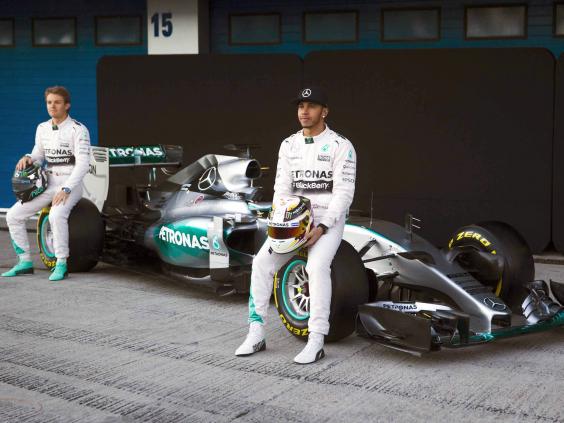 That is the  secret of F1. You are only ever as good as your last race, and they end up in your rear-view mirrors all too soon. How soon did the  euphoria of winning the title in Abu Dhabi stay with him before he put it aside and began looking forward again?
"It's not really what you think. I guess everyone has their own experience with it but ever since I've been winning, ever since I won my first championship when I was 10 years of age, the feeling is very much the same. You know, when you go home, you go back to life and you continue. Obviously, you've got a glory feeling because you've done what you've set out to do, but it doesn't change anything else that you do."
So it's just something you carry inside yourself?
"It's like a warmth in your heart that you carry. It's not like an excitement that you carry on for days and days and days. You know, you just continue and you move  on. It's not something that lingers with you for a  long time."
Even Sebastian Vettel, the champion four times in a row, discovered in 2014 that nothing lasts for ever.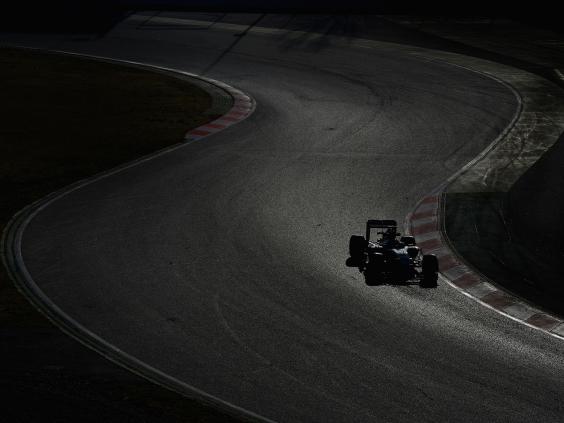 So while his second title is masked by the dust from his Mercedes' diffuser, Hamilton has his eyes focused on the road ahead, and a third championship. That, he confesses, would resonate emotionally. "For me the landmark is that as a kid I watched Ayrton [Senna], and he obviously had three… I don't really look at numbers and records but, you know, I always said as a kid that I wanted to emulate Ayrton. I always wanted to do something similar to him, so if I had the opportunity to win again and have a third world championship, I would feel closer to him. I don't think anyone was as good as him or [Juan Manuel] Fangio, but it would still be a nice feeling."
There is, of course, a guy called Nico Rosberg who will be doing everything he can to frustrate his team-mate's aspirations, and few doubt that the competitive German won't be stronger after last year's defeat. But though the indications favour another season of Mercedes domination, Hamilton hopes that the opposition will be stronger: "A year of dominance is a great thing for a team, but as a racing driver I'm sure the fans want to see close competition."
So what if he were to dominate in 2015? "Personally, I would get bored," he added.
CONTRACT RACE - ON THE LAST LAP
Lewis Hamilton has another little battle going on off the circuit, as he negotiates a new contract with Mercedes bosses Toto Wolff and Niki Lauda. It was put on the backburner during the title battle last year, "but we're very much in the last stages of it now," he says.
It's unusual for a driver of his calibre to do his own negotiating, though Sebastian Vettel does, and he admits he's not sure if he enjoyed the experience, trawling through every paragraph. "It's a very, very nerve-wracking experience, but I learned a lot from my dad and from Simon [Fuller at XIX Entertainment].
"I've just been trying to do my due diligence and understand firstly where we are and what best can be improved on. Toto and Niki are easy to speak to... and there's a willingness to continue working together."
Reuse content