Just when Lewis Hamilton felt that he had clawed his way back to the top of the mountain in his tense tussle for the world championship with Nico Rosberg, he encountered fresh adversity when a brake failure on his Mercedes pitched him hard into a tyre wall during qualifying for today's German Grand Prix. He was due to start in 15th place – pending a decision on a brake change yesterday – as Rosberg is again on pole position after a tough battle with the two Williams drivers.
Hamilton's accident occurred in the first qualifying session. He had set the second fastest time behind Finnish driver Valtteri Bottas and had just set the best time in the first sector of the 4.574 km lap and a  decent time in the second when he braked hard for the left-handed Sachskurve that drivers approach at more than 200 kmh in sixth gear. The left front brake locked, sending a spurt of smoke from that wheel's tyre, but the right brake did not work. Mercedes later confirmed that the disc, new for the session, had broken. The Mercedes W05 Hybrid snapped into a violent spin before hitting the tyre wall very hard on its left-hand side. After a few moments Hamilton stepped from the cockpit, having radioed to the team that "something caused the brakes not to work".
After visiting the medical centre, complaining of sore knees, he said: "I'll be OK. I've got a little bit of pain but that's what usually happens when you have a crash like that. Even if something's broken, I'll still be driving tomorrow.
"I can't believe it, but things like this happen. They're sent to try us. The guys had done such a great job with the set-up and it felt great. They've done lots of tests with the brakes and it should have been alright, but it's one of those things. It takes you by complete surprise. When you're driving, you always have to have 110 per cent confidence in the car, and then you hit the brakes and it's a real shock."
F1 German Grand Prix - In pictures
F1 German Grand Prix - In pictures
1/17 Grand Prix

Nico Rosberg celebrates his home win

2/17 Grand Prix

Rosberg drives to victory

3/17 Grand Prix

Fernando Alonso takes powers forward

4/17 Grand Prix

Felipe Massa crashes out early on

GETTY IMAGES

5/17 Grand Prix

People in historic dresses perform prior to the race in Hockenheim

6/17 Qualifying

Lewis Hamilton's Mercedes is taken away on the back of a lorry after crashing out of Q1

Getty Images

7/17 Qualifying

Lewis Hamilton's Mercedes is dragged out of the barrier at the Sachs hairpin

Getty images

8/17 Qualifying

Lewis Hamilton crashes out of Q1 for the Germand Grand Prix

Twitter/@SkySportsF1

9/17 Qualifying

Lewis Hamilton hits the barrier at the Sachs hairpin in Hockenheim

Twitter/@SkySportsF1

10/17 Third practice

A Red Bull mechanic awaits Daniel Ricciardo to come to pit lane

Getty Images

11/17 Third practice

Sebastian Vettel has his car wheeled into the garage by his Red Bull mechanics

Getty Images

12/17 Second practice

Nico Rosberg topped the timesheets once again at the end of second practice

Getty Images

13/17 Second practice

Williams test driver Susie Wolff was in action on Friday for the second Grand Prix weekend running

Getty Images

14/17 Second practice

Actor and Le Mans driver Patrick Dempsey is a guest driver in the supporting Porsche Supercup race at Hockenheim this weekend

Getty Images

15/17 First practice

Daniel Ricciardo against the Hockenheim forest backdrop

Getty Images

16/17 First practice

Fernando Alonso sweeps through turns two and three at Hockenheim

Getty Images

17/17 First practice

Nico Rosberg topped the timesheets after first practice

Getty Images
Hamilton uses Brembo brakes all round while Rosberg, who prefers Carbon Industrie fronts and Brembo rears, admitted that he had concerns of his own early in the first session but was able to keep pushing hard. "I knew his problems didn't apply to my car as a result," Rosberg said, "so I was able to keep pushing."
Much had been made of the ban on the inter-connected front and rear suspension systems (FRIC) since Hamilton's victory in the British GP two weeks ago, and at times in practice and qualifying it seemed that some of Mercedes' performance advantage might have been eroded.
But in the end Rosberg claimed a  sensational pole position in a time of  1min, 16.540 sec, which only Bottas was able to approach. The Williams cars had been close to the Silver  Arrows in the recent Austrian GP, where Felipe Massa took pole position and Bottas finished third behind Rosberg and Hamilton, and the short nature of both tracks naturally closed up the field. But the Red Bulls of Daniel Ricciardo and Sebastian Vettel, of which good things had been  expected, were still 0.7sec adrift of Mercedes and were beaten to fourth place late on by impressive Danish rookie Kevin Magnussen's McLaren.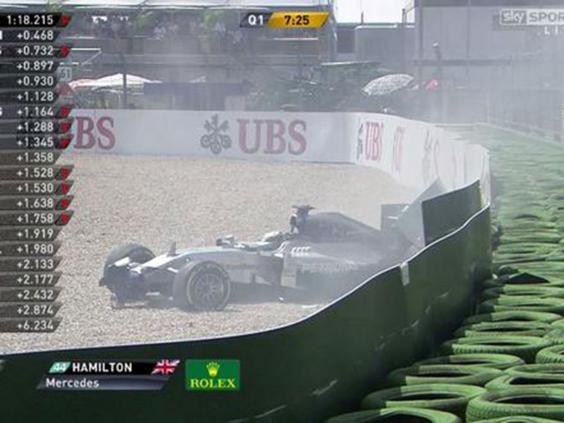 Hamilton will have Jenson Button and Kimi Raikkonen for company in the midfield, and another mountain to climb. If he elects to change back to Carbon Industrie front discs it will get even steeper as he may have to start from the pit lane.
"I still expect Lewis to come through the field quickly," Rosberg said, "so I need to do my own race and go for it from the front." Hamilton's view? "We'll figure something out."
Final Positions after Qualifying:
1 Nico Rosberg (Ger) Mercedes GP 1min 16.540secs,
2 Valtteri Bottas(Fin)Williams 1:16.759,
3 Felipe Massa(Bra)Williams 1:17.078,
4 Kevin Magnussen(Den)McLaren 1:17.214,
5 Daniel Ricciardo(Aus)Red Bull 1:17.273,
6 Sebastian Vettel(Ger)Red Bull 1:17.577,
7 Fernando Alonso(Spa)Ferrari 1:17.649,
8 Daniil Kvyat(Rus)Scuderia Toro Rosso 1:17.965,
9 Nico Hulkenberg(Ger)Force India 1:18.014,
10 Sergio Perez(Mex)Force India 1:18.035,
11 Jenson Button(Gbr)McLaren 1:18.193,
12 Kimi Raikkonen(Fin)Ferrari 1:18.273,
13 Jean-Eric Vergne(Fra)Scuderia Toro Rosso 1:18.285,
14 Esteban Gutierrez(Mex)Sauber-Ferrari 1:18.787,
15 Romain Grosjean(Fra)Lotus F1 Team 1:18.983,
16 Lewis Hamilton(Gbr)Mercedes GP No Time,
17 Adrian Sutil(Ger)Sauber-Ferrari 1:19.142,
18 Jules Bianchi(Fra)Marussia 1:19.676,
19 Pastor Maldonado(Ven)Lotus F1 Team 1:20.195,
20 Kamui Kobayashi(Jpn)Caterham 1:20.408,
21 Max Chilton(Gbr)Marussia 1:20.489,
22 Marcus Ericsson(Swe) Caterham No Time
Note: Esteban Gutierrez received a three-place grid penalty following the British Grand Prix so will start the race from 17th.