Valtteri Bottas ended the penultimate day of testing leading the way for Mercedes as rookie teenager Lance Stroll crashed out for the second consecutive day in Barcelona.
Mercedes have been the class of the field this week and they reigned supreme once more on Wednesday after completing more laps than any other team.
Bottas, the 27-year-old Finnish driver whose time on the track was overseen by the man he replaced at Mercedes Nico Rosberg following his short visit to the paddock, also posted a time which would have been fast enough to be on pole position every year since 2007.
Bottas managed 75 laps before Lewis Hamilton roared into action after the lunch break to complete 95 tours of the Circuit de Catalunya.
For the third day in succession the reigning world champions were ahead of their rivals in mileage and Bottas' super-quick time proved they have the pace to match as they bid for a fourth drivers' and constructors' championship.
Stroll, the 18-year-old Canadian who has replaced Bottas at Williams this year, was the centre of more unwanted attention.
Just 24 hours after his first meaningful running behind the wheel of a Formula One car lasted just 12 laps following a spin, Stroll was in the wars again.
The 2017 Formula 1 grid
The 2017 Formula 1 grid
1/20 Sebastian Vettel, Ferrari

Vettel finished fourth last season and will hope improvements to the team's 1.6-litre V6 will help him back onto the podium.

Getty

2/20 Kimi Raikkonen, Ferrari

The experienced Finn largely underperformed last season. At 37, could be his final season racing for a top team.

Getty

3/20 Sergio Perez, Force India

Perez retains the drive he has held since 2014. Force India again use the Mercedes-AMG engine.

Getty

4/20 Esteban Ocon, Force India

The talented 20-year-old raced in 9 Grand Prix for Manor last season and earns a call-up to a much more competitive team.

Getty

5/20 Romain Grosjean, Haas

Haas had a very good season last year, finishing 8th with their Ferrari engine. Grosjean will look to improve on his 13th place finish.

AFP/Getty

6/20 Kevin Magnussen, Haas

The Dane moves from Renault to Haas. Struggled last season.

Getty

7/20 Stoffel Vandoorne, McLaren

The talented Belgian, who scored a world championship point in the unfamiliar MP4-31 last year, replaces Jenson Button at McLaren.

Getty

8/20 Fernando Alonso, McLaren

The youngest double champion of all-time remains at McLaren for the 2017 season, despite a well publicised approach from Mercedes.

Getty

9/20 Lewis Hamilton, Mercedes

The team - and driver - to beat since the infamous V6 rule changes came into place in 2014.

Getty

10/20 Valtteri Bottas, Mercedes

Bottas replaces world champion Nico Rosberg at Mercedes, Will push Hamilton all the way this campaign.

Getty

11/20 Daniel Ricciardo, Red Bull

Adrian Newey has completely redesigned the RB13 for the 2017 season and Ricciardo will be hopeful of bettering last year's 3rd place finish.

Getty

12/20 Max Verstappen, Red Bull

There will be plenty of attention on Verstappen as he completes his first full season at Red Bull.

Getty

13/20 Nico Hulkenberg, Renault

Hulkenberg moves to the team from Force India, replacing Kevin Magnussen.

Getty

14/20 Jolyon Palmer, Renault

The Brit came under pressure last year for a disappointing 18th-place finish. Will be hopeful of improvement.

Getty

15/20 Marcus Ericsson, Sauber

Sauber were poor last season and were plagued by retirements. Ericsson nevertheless remains with the team for a third campaign.

AFP/Getty

16/20 Pascal Wehrlein, Sauber

The 22-year-old wins a drive at Sauber, moving from Manor Racing.

Getty

17/20 Daniil Kvyat, Toro Rosso

Resigned to Toro Rosso after plenty of speculation; will be desperate to show he shouldn't have been replaced by Verstappen at Red Bull.

Getty

18/20 Carlos Sainz Jr, Toro Rosso

Now in his third season with the team. Toro Rosso this year return to a Renault engine.

Getty

19/20 Lance Stroll, Williams

18-year-old rookie. Stroll's first appearance in the car didn't inspire confidence, he spun the car in testing.

Getty

20/20 Felipe Massa, Williams

Heroically returns to the team after Bottas departed for Mercedes. One of the most experienced drivers on the grid.

Getty
First, he lost control of his car moments before the lunch break and was stranded in the gravel. A pick-up truck was sent to collect him and his Williams.
Then in the afternoon he ended up in the tyre wall at turn six after he crashed and sustained significant damage to the front of his car which called an early halt to his day.
The session was suspended as the red-faced Canadian and his Williams were collected from the scene and taken on a pick-up truck back to the garage.
While Stroll completed nearly a century of laps his display is likely to be of concern to those at the British team.
Stroll was not the only driver to make a mistake. Jolyon Palmer's day got off the a troubled start after he lost control of his Renault at turn three and span into the gravel.
But the 26-year-old Briton returned to the track after a series of repairs to his car and delivered a decent haul of 51 laps.
While little can be read into lap times at this stage of the season, Palmer will still be pleased to occupy fourth in the standings as he hopes to build on the solitary point he scored in his debut year.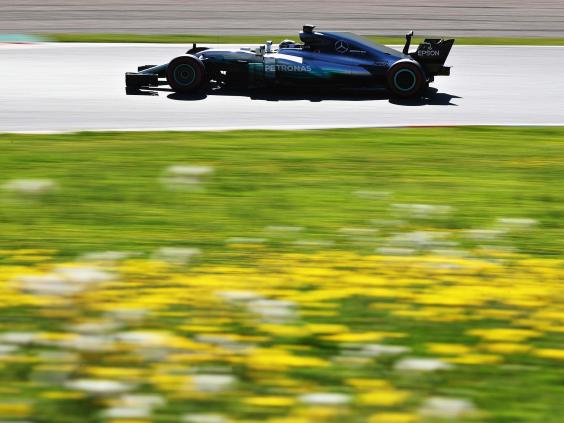 McLaren have endured a difficult week in Barcelona with their hapless Honda engine suffering a host of reliability issues.
Double world champion Fernando Alonso was back in the car on Wednesday morning and managed to get 72 laps under his belt, but the Spaniard was nearly three seconds off Bottas.
Sebastian Vettel delivered another impressive show for Ferrari as he finished second in the order and completed a mammoth run of 139 laps - more than two race distances at this circuit - but his car stopped in the pit lane in the closing moments of the day and had to be wheeled back to his Ferrari garage.
PA
Reuse content