The second minute of a Super League Grand Final, the players hyped to a fury, and a punch to the face is thrown while the recipient is lying flat on the Old Trafford turf, causing a cut below his eye and a rapidly swelling face. The experience of watching Ben Flower deliver what The Independent's Chris Hewett memorably described as a "dockyard brawler's assault" would not be so stunning had it not been an exact reprise – the same minute, even – of what had happened in the sport's showpiece a year earlier.
The one with the swelling face then was Wigan Warriors' Blake Green. The puncher was Warrington's Ben Westwood, and watching his swinging thump again now is enough to make you feel that Flower – who was banned for six months by the Rugby Football League for his attack on Lance Hohaia – is the better man. Declaring for a sportsman we have just seen draw back his arm and batter an opponent flat in the face carries its risks, but Westwood's offence was different. He had no grounds to claim provocation – Flower did – and he was a sneak by swinging his right fist at Green while they were buried under bodies, hidden from the referee's view. "The violent intent is more potent because of its subtlety," Gareth Thomas has said of rugby league, having known the physicality of both codes.
There is no mitigation for Flower, of course, even in the game of regulated violence that rugby league is, with its incessant and repetitive contact; the game that must remain precisely that, because to take away the contact would diminish it. But the Rugby Football League has a case to answer, too, because it has allowed the use of fists to become a currency of the game and not sent out the message that to punch a man is beyond the pale.
Westwood's case, 12 months ago, told us that much. "That is a punch to the face and if the referee has seen that, that is a sending-off offence," commentator Jonathan Davies declared, after Green required oxygen. But Richard Silverwood had not seen it, so he reached for the get-out ticket which is helping rugby league officials to duck decisions in the white heat of competition. He raised his hands above his head to indicate that the suspected offender was "on report" – and that a disciplinary panel would look into the incident after the game. Westwood eventually received a one-match ban for nearly breaking Green's cheekbone. It was out of character, they said. Honest bloke. It hardly struck fear into the coaches who sent their sides out on Saturday.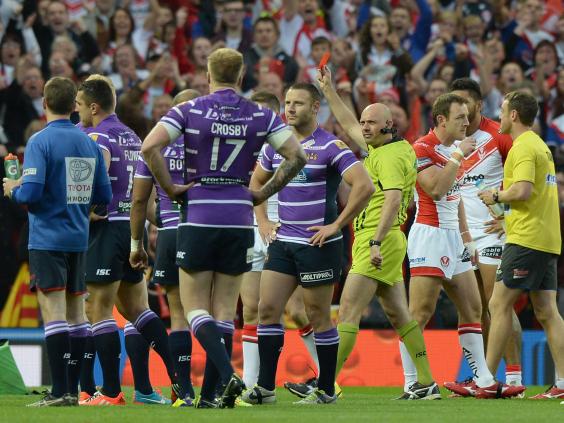 The authorities' leniency means that clubs can allow players to race out for occasions like Saturday's in a dangerous state of hype which, on Flower's part, recalled Paul Gascoigne playing in the 1991 FA Cup final for Tottenham against Nottingham Forest. There was a only a small number of players – past or present – who were willing to come out and say this, unwilling to kick a man when he is down, it seemed – even one who punched a man when he was down. But everyone knows what goes on. Thomas describes it in his autobiography, Pride. "Tackling, and the subsequent sequences of what looks like choreographed scuffling, is a black art that literally takes the breath away," he wrote. "The more insidious things are not too simple to detect. Tacklers use martial arts techniques to squeeze the life out of you, applying pressure up and under your rib cage. They pinch you under the armpits and on the temple. I thought the scrum in union was evil but in league they think nothing of sticking their fingers in your eye..." For those with that intent, a punch is not so very far away.
The talk of a criminal case against Flower is ridiculous. The notion of a partisan spectator's complaint triggering a criminal case has always seemed so. Indications were that Greater Manchester have decided that they have more fitting assault cases to solve. But Flower, in shaming himself, ought to have shamed his sport into taking a stand.
Reuse content