Joe Schmidt refused to say if the victory over England to deny them the Grand Slam was sweeter than Ireland's first ever win over New Zealand last year, given both halted 18-match unbeaten streaks.
"You don't want to pick between those," Schmidt said after watching his side beat England 13-9 at the Aviva Stadium to repeat their Grand Slam-denying heroics of 2001 and 2011 against their bitter rivals.
"It's a record we have that we were fortunate to be the team that played them 19th both times. We didn't necessarily earn those. They were both good performances. We didn't necessarily talk about spoiling parties. We talked about producing performances that we could be proud of."
Ireland vs England player ratings
Ireland vs England player ratings
1/29 Jared Payne – 7 out of 10

One brilliant break in the second half that put England in retreat, taking a double tackle from Brown and Watson to stop him. Dind't have too much beyond the high ball to deal with defensively.

AFP/Getty Images

2/29 Keith Earls – 6 out of 10

Should have had a try, only to knock on after a last-ditch double tackle from Brown and Youngs. Outshone by Daly and replaced by debutant Andrew Conway late on.

AFP/Getty Images

3/29 Garry Ringrose – 8 out of 10

Left his impression on England as he repeatedly broke out of tackles to put his side on the front foot. Took a brilliant catch from a restart to capitalise on England sloppiness, and unlucky to miss out on the man of the match award.

Getty Images

4/29 Robbie Henshaw – 7 out of 10

A defensive rock, just ask Ben Te'o once he's recovered from the head knock he picked up within minutes of coming on. Carried strongly, but it was his work without the ball that really stood out.

Getty Images

5/29 Simon Zebo – 6 out of 10

Given little chance in the first half as he and Watson negated each other's impact. Weather conditions meant that it just wasn't a day for the wings.

Getty Images

6/29 Jonathan Sexton – 8 out of 10

Had to wear big hits early from Haskell and Itoje, but he answered any questions about his durability with flying colours. 100 per cent record with the boot and once again displayed his brilliant passing talent. A Lions shoe-in if fit.

Getty Images

7/29 Kieran Marmion – 7 out of 10

Coped well in his first Six Nations start, with his box-kicking by-and-by on target. You wouldn't know his inexperience by his performance, and it meant that Ireland didn't really miss Conor Murray.

Getty Images

8/29 Jack McGrath – 7 out of 10

Strong work in the scrum and looked to have the edge on Cole early on. He faded in the second half and was quickly replaced, but that's no surprise given his extensive carrying in the loose.

Getty Images

9/29 Rory Best – 8 out of 10

An early HIA didn't impact his game as he was very impressive in the lineout. One memorable break in the first half stabbed through the English defence, and he won the battle against Hartley.

Getty Images

10/29 Tadhg Furlong – 7 out of 10

Saw off Joe Marler by half-time but Mako Vunipola proved a much more troublesome opponent in the scrum. Still, he's put himself in position for a Lions starting spot, should WP Nel fail to recover.

Getty Images

11/29 Donnacha Ryan – 7 out of 10

Took a bucket-load of work with the ball as Ireland tried to batter the England wall down. Taken off in the second half as Devin Toner was introduced.

Getty Images

12/29 Iain Henderson – 8 out of 10

Rampaged through the defensive line to score, his long limbs helping him out to dot the ball down and give Ireland the lead. Disrupted the England lineout that ruined their platform to play off, and was part of a dominant Irish set-piece that paved the way for victory.

Getty Images

13/29 Sean O'Brien – 7 out of 10

Brutal in defence as he led the Irish choke tackle, which proved a wealthy option for the home side that England couldn't negotiate. Electric off the line to disrupt the Ford-Farrell axis.

Getty Images

14/29 CJ Stander – 7 out of 10

Despite doing more carrying due to the positional switch, he was less prominent as O'mahony took the plaudits. Won the battle against Billy Vunipola though.

Getty

15/29 Mike Brown – 6 out of 10

Very reliable under the high ball, given he was tested twice inside the first 80 seconds. Two knock-ons defined England's game though, as the early won robbed England of their best chance and the last one ended England's Grand Slam hopes as the full-time whistle went.

AFP/Getty Images

16/29 Anthony Watson – 5 out of 10

Looked like a man who had made just two appearance in two months. Off the pace and certainly wasn't any faster than when he got injured, as has been claimed. Looked a threat in the air, but nothing came of it.

Getty Images

17/29 Jonathan Joseph – 5 out of 10

Poor passing to both Brown and Watson, and his attacking threat of last week was snaffled out due to the starvation of possession for the away side.

Getty Images

18/29 Owen Farrell – 6 out of 10

Reliable as always with the boot as he made all his kicks, the most impressive being a long-range effort in excess of 40m. Struggled with the rush defence though.

Getty Images

19/29 Elliot Daly – 7 out of 10

Had England's best moment in the first half as he caught Farrell's chip over the defence for a solid gain. Defensively, he was very good beyond one mis-timed interception that came off a loose ball, which is not really his fault.

AFP/Getty Images

20/29 George Ford – 6 out of 10

Overkicked a clearance to put England under pressure right before half-time as he put it straight into touch. His up-and-unders were average at best, but he did show nice footwork to evade three tackles in one move in the second half. Came back on after being replaced for the injured Te'o.

Getty Images

21/29 Ben Youngs – 6

Had more defensive work to do than attacking, but did well when required against Earls and Zebo. Will not have seen as little of the ball as he did today for quite some time.

Getty Images

22/29 Joe Marler – 6 out of 10

Possibly his worse performance of the tournament, but that says more about how he's upped his game than what he did today. Held his own in the scrum, but departed at half-time.

Getty Images

23/29 Dylan Hartley – 6 out of 10

Struggled in the lineout and bar one penetrating run, did little of note in the loose. Had to do plenty of tackling to stop the crash ball.

Getty Images

24/29 Dan Cole – 6 out of 10

Coped well against McGrath and enjoyed success against his replacement, Cian Healy. Unlucky to be penalised for a ball steal in the first half.

Getty Images

25/29 Joe Launchbury – 6 out of 10

His brilliant tournament came crashing to a halt as he struggled to get through as much carrying as he's been doing in recent weeks.

Getty Images

26/29 Courtney Lawes – 6 out of 10

Guilty of getting caught in the breakdown to concede a penalty which gave Sexton three points.Like Launchbury, his carrying was not as prominent as in the other four matches.

Getty Images

27/29 Maro Itoje – 5 out of 10

Something went wrong massively in the English lineout and, for that, he has questions to answers as the leader of the set-piece. Perhaps lucky not to see yellow when he steamrolled Marmion seconds after leaving a late one on Sexton. Led the English physicality, though that did border on the illegal at times.

Getty Images

28/29 James Haskell – 6 out of 10

Was quick off the line as he tried to keep Ireland's width narrow. Tackled well, but being bashed by O'Mahony and Stander all game took its toll.

AFP/Getty Images

29/29 Billy Vunipola – 6 out of 10

Impact was largely neutralised in the first half as Sexton kicked away from him when deep and his runs from the scrum were limited. Rarely did he see clean ball to attack with.

AFP/Getty Images
It certainly was a performance to be proud of that sent thousands of delirious Irish fans back to their St Patrick's celebrations, having seen their side record their first win of the Six Nations against one of the Triple Crown opponents, avoiding a whitewash in the process that has not happened since 1998.
Part of the pride will stem from Ireland's never-give-in attitude even when they felt things were going against them. The Ireland captain, Rory Best, repeatedly asked the referee, Jerome Garces, why England's high tackles were not being penalised.
"It was [frustrating]," said Best. "He kept saying the TMO was keeping an eye on it. I suppose he was saying it was his job and the TMOs look at that. But it was my job as captain to make sure our players were looked after and I knew if I didn't put a bit of pressure on him then I'd get it in the neck from Joe."
One of those people to look after was the fly-half, Jonathan Sexton, who copped a number of heavy tackles from Maro Itoje and James Haskell as England tried to impose on the world class stand-off.
"I don't think it was anything other than trying to put pressure on Johnny," Best conceded. "But we have to look after our players, and a key player like Johnny. You don't want players going off unnecessarily."
But Schmidt, rather than talk about anything that went against them, wanted to express his pleasure in the performance, and also their opponents after a gruelling encounter that brought the curtain down on a fascinating Six Nations that sees England leave Dublin with the title, just not the Grand Slam they desired.
"It was just great that they went out and played with confidence," said Schmidt. "Last week we had some real frustrations. We didn't quite get results from our driven maul. Probably the biggest frustration from the championship was the first 30 minutes we played.
"To be fair to England what an incredible Test match record. 18 consecutive Test match victories. Winning one game is hard enough let alone 18. You couldn't say anything other than they were deserved champions. We're envious they were out there with the silverware at the end of the day."
But he also dismissed any accusation that the withdrawal of Jamie Heaslip, five minutes before kick-off, was anything other than an injury suffered during the warm-up, despite Eddie Jones questioning the validity of it.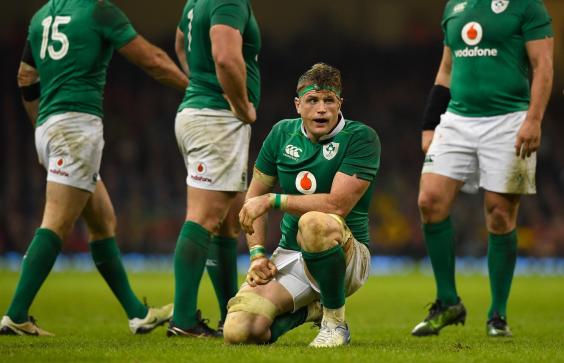 "[That] Couldn't be a more flawed theory," he said. "It's probably a bit of a slight on us. Because it's not something that we do. We pick our team and go out and play. It was a disruption if anything for us. Dan Leavy got a heck of a shock when I told him.
"Jamie has just pulled up with a hamstring. I don't know if you saw Jamie doing the warm-up but it was very late in the warm-up. I'd say five minutes before kick-off."
Reuse content