For nine weeks now in the old Massachusetts mill town of Fall River, TV satellite trucks have been lining Borden Street, next door to the courthouse. The street is named after Lizzie Borden, Fall River's most famous citizen who back in 1892 was accused of taking an axe to her parents, in one of the most notorious murder cases in US history.
Now another trial is unfolding, scarcely less sensational. Aaron Hernandez, until recently a star player for the New England Patriots of the National Football League, is charged with the killing of a friend in June 2013. Separately, while being held without bail awaiting trial, he was indicted for two other murders in nearby Boston a year before.
In other words, Hernandez may have played the entire 2012 season for the Patriots as a double murderer. American sport has never seen anything like it. OJ Simpson was an even better known player, whose trial in 1994-95 may have generated larger headlines – but Simpson's alleged double murder took place 15 years after he retired from the NFL. His was a tale of rage and jealousy. Hernandez story is no less sad. He is, it seems, a young man with two faces: a gifted athlete by day and psychopathic street thug by night and, if prosecution evidence is believed, a kid who set himself up for life and then, seemingly, threw it all away.
The victim in this first trial was Odin Lloyd, a semi-pro footballer and friend of Hernandez who was dating the sister of the NFL player's fiancée. On June 17 2013, Odin's body was found in a disused industrial park a mile from Hernandez's home. He had been shot to death, execution- style. A mass of circumstantial evidence implicated Hernandez, and a week later prosecutors charged him with first-degree murder. The motive, they suggested, was paranoiac rage at two trivial perceived slights from Odin at a club two nights before. Drugs, they claimed, may have helped fuel his anger.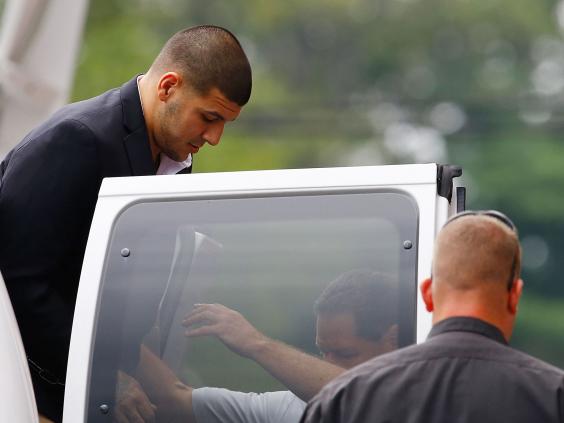 But for Hernandez, such behaviour was nothing new. Over the months after his arrest, a fuller picture emerged, of a football player both hugely talented and endemically violent. The turning point seems to have been the death of his father in 2006, when Aaron was 16. Dennis Hernandez's early career, a local sports star in Bristol, Connecticut, who had got involved with gangs, guns and crime, mirrored his son's.
But Dennis turned his life around, and devoted himself to ensuring his sons, Aaron and brother David, would not make the same mistakes. His death, by all accounts, removed the one anchor in Aaron's life. After dazzling in high school football, a host of colleges were after his services. He had planned to stay in Connecticut. Instead, traumatized by the loss of his father, he "escaped" to the University of Florida.
There, Hernandez was linked with various violent off-field incidents. He also used drugs. But major college football programmes are both powerful and immensely protective of their stars, and Florida's Gators were no exception. Hernandez continued to play football,  so successfully that he decided to skip his final year and enter the 2010 NFL draft.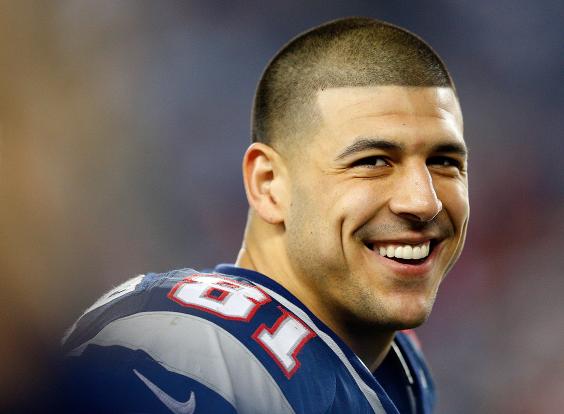 NFL teams, however, have even more thorough scouting operations, and at least a dozen concluded that Hernandez's character and record made him just too big a risk. Measured purely by talent, he might have been a first-round pick. As it was, he was only taken by the Patriots in the fourth round.
Why the Patriots took a chance when others held back is unclear. Maybe they genuinely thought they could straighten him out; maybe coach Bill Belichick, already implicated in various scandals, was once again cutting corners, faithful to his creed of winning whatever it took.
Whatever the reason, Hernandez had fallen on his feet. His new employers were the NFL's dominant franchise, three-time Super Bowl winners under Belichick between 2002 and 2005. Aged just 20, he started his rookie 2010 season as the youngest player on the NFL's active roster and quickly made his mark. In the 2012 Super Bowl, he connected with a 12-yard pass from the Patriot's quarterback Tom Brady for a touchdown. New England ultimately lost, but Hernandez had emerged as a genuine star, one half of an umatched tight-end duo with Patriots' cult hero Rob Gronkowski, aka 'Gronk.'
 Both had a lethal combination of speed and bulldozing power. Combined, they set a host of records for tight ends, a position that is part receiver, part offensive linesman. That summer, the Patriots signed Hernandez to a five-year $40m contract extension, including a $12.5m signing bonus, a record for a tight end. By now his fiancée Shayanna Jenkins had made him a father as well. All seemed set fair.
Instead, all went from bad to worse. Part of the trouble was the familiar one, of a young man suddenly with the wealth to buy anything he wanted. But he also fell back into the mean-streets gangster world that in reality he had never left. On 1 February, 2015, New England defeated Seattle to clock up its fourth Super Bowl under Belichick. Meanwhile, a man who, had things gone differently would have been in their starting line- up, was on trial for murder.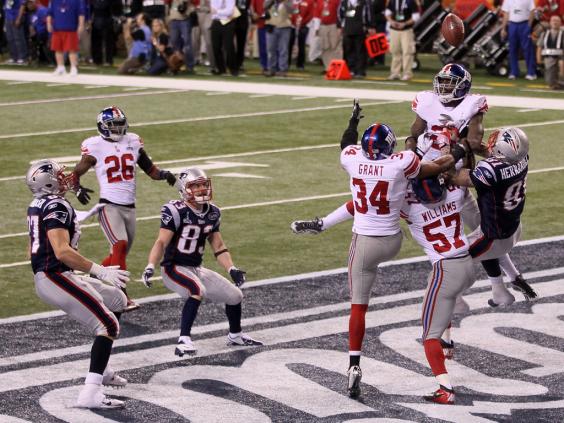 And so to the central riddle of the whole affair: why? Maybe Hernandez thought he could get away with it. After all, he appeared to have got away with it in Florida, and did not the image-conscious NFL protect its own, as it had with Ray Rice? Rice was a star running back for the Baltimore Ravens, who had beaten his fiancée. The matter was swept under the rug – until a security video went public showing him punching her in the face and knocking her to the ground, forcing the NFL to act.
 Murder charges, however, are a different matter. The instant the Odin Lloyd indictment was handed down, the Patriots released Hernandez, and cancelled the rest of the $40m contract. Even if he is acquitted, whatever money remains will probably be consumed by lawyers' fees, and damages in civil lawsuits brought by the victims' relatives.
Yet however sordid, the Hernandez case is rarely cited among the woes that currently assail the NFL: first and foremost among them the proven risk of brain damage caused by repeated concussions in a savage sport, dangerous even at high school level. Earlier this month, another highly rated NFL rookie, Chris Borland of the San Francisco 49ers, also threw away a king's ransom in future earnings – but in his case voluntarily. The risk of chronic depression and dementia in later life, Borland said, outweighed no matter how much money.
For now the $10bn juggernaut that is the NFL is surely safe, but a generation hence, who knows? Parents increasingly are reluctant to let their children play – even President Obama has said that if he had a son, he would advise him against football. In the long run, some warn, football could go the way of boxing, in its heyday an outlet for poor kids from tough neighbourhoods who were ready to risk long-term health for wealth.
Once upon a time, the punch-drunk old fighter was said to suffer from a condition known as dementia pugilistica. Today it's called chronic traumatic encephalopathy, or CTE, with which at least 70 former NFL players have been diagnosed, driving a few of them to suicide.
NFL - The best pictures from the 2014 season
NFL - The best pictures from the 2014 season
1/125 Seattle Seahawks 28 Green Bay Packers 22

Jermaine Kearse celebrates the overtime touchdown that sent the Seahawks to the Super Bowl.

Getty Images

2/125 Seattle Seahawks 28 Green Bay Packers 22

Aaron Rodgers Packers had lead 16-0 at half-time but the home side fought back.

Getty Images

3/125 New England Patriots 45 Indianapolis 7

LeGarette Blount run for 148 yards and three touchdowns against the hapless Colts.

Getty Images

4/125 New England Patriots 45 Indianapolis 7

Darrelle Revis returns an interception during the dominant win, one of two thrown by Andrew Luck.

Getty Images

5/125 Seattle Seahawks 31 Carolina Panthers 17

Richard Sherman intercepts a pass from Panthers quarterback Cam Newton - one of two thrown

Getty Images

6/125 New England Patriots 35 Baltimore Ravens 31

Patriots players surround wide receiver Julian Edelman after he threw a touchdown with his first ever pass attempt

Getty Images

7/125 Green Bay Packers 26 Dallas Cowboys 21

Aaron Rodgers fought through an injured left calf to bring the Packers back against the Cowboys

Getty Images

8/125 Denver Broncos 13 Indianapolis Colts 24

Peyton Manning was terrible against the Colts - is this the end of the road for one of the best ever?

Getty Images

9/125 Dallas Cowboys 24 Detroit Lions 20

Terrance Williams caught two touchdowns as the Cowboys fought back from a 13-point deficit

Getty Images

10/125 Indianapolis Colts 26 Cincinnati Bengals 10

Boom Herron runs for the Colts as the Benglas lost their fourth play-off game in a row

Getty Images

11/125 Pittsburgh Steelers 17 Baltimore Ravens 30

Joe Flacco was superb as the Ravens surprised their bitter rivals with a dominant victory on the road

Getty Images

12/125 Carolina Panthers 27 Arizona Cardinals 16

Cam Newton and the Carolina Panthers took advantage of the injury-hit Cardinals to set up a meeting with Seattle

Getty Images

13/125 Washington Redskins 17 Dallas Cowboys 44

DeMarco Murray set a single-season rushing record for the Dallas Cowboys, overtaking Emmitt Smith on his way to 1,845 yards

Getty Images

14/125 Baltimore Ravens 20 Cleveland Browns 10

Torrey Smith had a big day as the Ravens secured their spot in the play-offs with a win

Getty Images

15/125 Pittsburgh Steelers 27 Cincinnati Bengals 17

Antonio Brown scored two touchdowns as the Pittsburgh Steelers secured their place in the post-season

Getty Images

16/125 Atlanta Falcons 3 Carolina Panthers 34

Tre Boston somersaults into the endzone as the Panthers secured a play-off spot with the win - Falcons coach Mike Smith has now been sacked

Getty Images

17/125 Miami Dolphins 24 New York Jets 37

Popular head coach Rex Ryan led his Jets team to a win on his final game in charge - he was sacked after six years

Getty Images

18/125 Arizona Cardinals 6 Seattle Seahawks 35

Marshawn Lynch breaks away for a brilliant 79-yard touchdown as the Seattle Seahawks dominated their divisional rivals

Getty Images

19/125 Oakland Raiders 26 Buffalo Bills 24

Derek Carr threw two touchdown passes as the Raiders recorded just their third win of the season against Buffalo

Getty Images

20/125 Pittsburgh Steelers 20 Kansas City Chiefs 12

Antonio Brown had a big day for the Steelers as they clinched a play-off berth

Getty Images

21/125 Chicago Bears 14 Detroit Lions 20

Joique Bell scored a late touchdown as the Lions clinched just their second post-season spot in 15 years

Getty Images

22/125 Carolina Panthers 17 Cleveland Browns 13

Cam Newton and the Carolina Panthers kept their play-off hopes alive with a tight victory over the Browns

Getty Images

23/125 San Diego Chargers 10 Denver Broncos 22

Peyton Manning overcame a thigh injury and illness to clinch the AFC West title for the Denver Broncos

Getty Images

24/125 New England Patriots 41 Miami Dolphins 13

New England Patriots quarter-back Tom Brady guided his team to a sixth straight AFC East title

Getty Images

25/125 Cleveland Browns 0 Cincinnati Bengals 30

Johnny Manziel finished with 10 of 18 for 80 yards and two interceptions while being sacked three times

Getty Images

26/125 Philadelphia Eagles 27 Dallas Cowboys 38

Dallas Cowboys running-back DeMarco Murray scored two running touchdowns

Getty Images

27/125 Cleveland Browns 24 Indianapolis Colts 25

Andrew Luck scored a rushing touchdown and led the Colts to a comeback 25-24 victory over the Browns

Getty Images

28/125 Cincinnati Bengals 21 Pittsburgh Steelers 42

Martavos Bryant caught a 94-yard touchdown pass from Ben Roethlisberger to record the longest scoring play of the season

Getty Images

29/125 Buffalo Bills 38 New York Jets 3

Anthony Dixon runs in a 30-yards touchdown for the Bills

Getty Images

30/125 Buffalo Bills 38 New York Jets 3

Michael Vick is sacked by Kyle Williams

Getty Images

31/125 Buffalo Bills 38 New York Jets 3

A fan is tackled by a security member during a pitch invasion in the third quarter

Getty Images

32/125 Baltimore Ravens 34 New Orleans Saints 27

Marques Colston loses control of the ball as he is tackled by Will Hill

Getty Images

33/125

Justin Forsett celebrates after running in a touchdown

Getty Images

34/125 Denver Broncos 39 Miami Dolphins 36

Emmanuel Sanders is hit by Louis Delmas during the Broncos' narrow win over the Dolphins

Getty Images

35/125 New England Patriots 34 Detroit Lions 9

Tom Brady roars with delight as he leads the New England Patriots to a resounding win over the Detroit Lions

Getty Images

36/125 New York Giants 28 Dallas Cowboys 31

Dez Bryant caught two touchdown passes from Tony Romo during Dallas' win over the New York Giants

Getty Images

37/125 Philadelphia Eagles 43 Tennessee Titans 24

Dexter McCluster runs during the Tennessee Totans heavy defeat to the Philadelphia Eagles

Getty Images

38/125 Oakland Raiders 24 Kansas City Chiefs 20

Khali Mack tackles Chiefs quarter-back Alex Smith

Getty Images

39/125 Oakland Raiders 24 Kansas City Chiefs 20

James Jones catches the match-winning touchdown pass

Getty Images

40/125 Oakland Raiders 24 Kansas City Chiefs 20

Derek Carr calls the shots as he guided the Raiders to a first win of the season

Getty Images

41/125 Kansas City Chiefs 24 Seattle Seahawks 20

Jamaal Charles ran in two touchdowns for the Chiefs as they stopped the defending Super Bowl champions

Getty Images

42/125 St Louis Rams 22 Denver Broncos 7

Shaun Hill inspired the St Louis Rams to victory over the Denver Broncos

Getty Images

43/125 New England Patriots 42 Indianapolis Colts 20

Rob Gronkowski scored the final touchdown in the victory over the Detroit Lions

Getty Images

44/125 Tampa Bay Bucaneers 27 Washington Redskins 7

Mike Evans led the Tampa Bay Bucaneers to victory over the Washington Redskins

Getty Images

45/125 Green Bay Packers 53 Philadelphia Eagles 20

Eddie Lacy attempts to charge over the Philadelphia Eagles defence

Getty Images

46/125 Philadelphia Eagles 45 Carolina Panthers 21

Philadelphia Eagles defensive end Vinny Curry charges down Cam Newton

Getty Images

47/125 Philadelphia Eagles 45 Carolina Panthers 21

Mark Sanchez picked up the win on his first start for the Eagles

Getty Images

48/125 Philadelphia Eagles 45 Carolina Panthers 21

Darren Sproles returns a punt for a touchdown

Getty Images

49/125 Green Bay Packers 55 Chicago Bears 17

Aaron Rodgers has words with the Bears defence - he tied a Green Bay record by throwing six touchdown passes

Getty Images

50/125 Seattle Seahawks 38 New York Giants 17

Marshawn Lynched is tackled on a day he rushed for a season-high 140 yards and four touchdowns

Getty Images

51/125 Arizona Cardinals 31 St Louis Rams 14

Patrick Peterson returns an interception for a touchdown in the fourth quarter - one of three the Cardinals scored in the final period to come from behind and win

Getty Images

52/125 Oakland Raiders 17 Denver Broncos 41

Peyton Manning threw five touchdowns in less than 17 minutes to send the Raiders to their 15th straight defeat

Getty Images

53/125 Tampa Bay Buccaneers 17 Atlanta Falcons 27

Julio Jones caught eight passes for 119 yards as the Falcons beat their NFC South rivals

Getty Images

54/125 New York Jets 20 Pittsburgh Steelers 13

Michael Vick threw two touchdowns for the Jets

Getty Images

55/125 New Orleans Saints 24 San Francisco 49ers 27

Colin Kaepernick's 51-yard pass on fourth down sent the 49ers to overtime, where Phil Dawson kicked the winning field goal

Getty Images

56/125 Jacksonville Jaguars 17 Dallas Cowboys 31

Dez Bryant made six catches for 158 yards, scoring two touchdowns at Wembley

Getty Images

57/125 Detroit Lions 20 Miami Dophins 16

Theo Riddick catches a late touchdown pass from Matt Stafford as Detroit won another thriller

Getty Images

58/125 Buffalo Bills 13 Kansas City Chiefs 17

Chiefs quarterback Alex Smith runs in what proved to be the decisive touchdown

Getty Images

59/125 Baltimore Ravens 21 Tennessee Titans 7

Justin Forsett ran for 112 yards and scored two touchdowns in a dominant Ravens win

Gwtty Images

60/125 Cincinnati Bengals 3 Cleveland Browns 24

Browns quarter-back Brian Hoyer celebrates a touchdown

Getty Images

61/125 Cincinnati Browns 24 Cleveland Browns 3

Adam Jones #24 of the Cincinnati Bengals tackles Ben Tate #44 of the Cleveland Browns

Getty Images

62/125 Pittsburgh Steelers 43 Baltimore Ravens 23

Ben Roethlisberger added six more touchdowns to his tally against his divisional rivals

Getty Images

63/125 Cincinnati Bengals 33 Jacksonville Jaguars 23

Jeremy Hill ran for a career-high 154 yards in the win over the Jacksonville Jaguars

Getty Images

64/125 Arizona Cardinals 24 Philadelphia Eagles 20

Arizona Cardinals celebrate John Brown's match-winning 75-yard touchdown

Getty Images

65/125 Pittsburgh Steelers 51 Indianapolis Colts 34

Ben Roethlisberger threw for 522-yards, the joint-fourth most in a single match in NFL history

Getty Images

66/125 New York Jets 23 Buffalo Bills 43

Kyle Orton laid on four touchdown passes for the Buffalo Bills in their victory over the New York Jets

Getty Images

67/125 Atlanta Falcons 21 Detroit Lions 22

Matt Prater kicks the game-winning field goal as time expired at Wembley

Getty Images

68/125 Pittsburgh Steelers 30 Houston Texans 23

Le'Veon Bell catches a two-yard pass for a touchdown

Getty Images

69/125 Pittsburgh Steelers 30 Houston Texans 23

Ben Roethlisberger seeks out a wide receiver during the win over the Houston Texans

Getty Images

70/125 Pittsburgh Steelers 30 Houston Texans 23

Antonio Brown looks to run free under the attentions of the Texans defence

Getty Images

71/125 Pittsburgh Steelers 30 Houston Texans 23

Martavis Bryant celebrates after scoring a touchdown for the Steelers

Getty Images

72/125 Denver Broncos 42 San Francisco 49ers 17

Peytonm Manning walks off the field following the Denver Broncos victory over the San Francisco 49ers

Getty Images

73/125 Dallas Cowboys 31 New York Giants 21

Dallas Cowboys running-back DeMarco Murray broke Jim Brown's 56-year-old NFL record with his seventh straight 100-yard rushing game

Getty Images

74/125 San Diego Chargers 20 Kansas City Chiefs 23

Cairo Santos kicks the match-winning field-goal in the Kansas City Chief's victory over the San Diego Chargers

Getty Images

75/125 Oakland Raiders 13 Arizona Cardinals 24

Carson Palmer threw two touchdowns on his return to Oakland as the Raiders fell to their 12th straight defeat

Getty Images

76/125 Washington Redskins 19 Tennessee Titans 17

Colt McCoy came off the bench for the second half to lead Washington to a win over the Titans

Getty Images

77/125 St Louis Rams 28 Seattle Seahawks 26

Chris Givens of the St. Louis Rams makes a catch against Marcus Burley of the Seattle Seahawks

Getty Images

78/125 Jacksonville Jaguars 24 Cleveland Browns 6

Allen Robinson weaves his way to the game's first touchdown - the Jaguars dominated on their way to a first win of the season

Getty Images

79/125 Indianapolis Colts 27 Cincinnati Bengals 0

Ahmed Bradshaw celebrates during the Colts win over the Bengals - the first time they have gone scoreless since December 2009

Getty Images

80/125 Green Bay Packers 38 Carolina Panthers 17

Wide receiver Randall Cobb celebrates with Packers fans during the win at Lambeau Field

Getty Images

81/125 Detroit Lions 24 New Orleans Saints 23

The Lions came back from 13 points down with less than four minutes to play to shock the Saints

Getty Images

82/125 Chicago Bears 14 Miami Dolphins 27

Dolphins QB Ryan Tannehill threw for almost 300 yards , completing 25 of 32 passes in an excellent win over the Bears

Getty Images

83/125 Buffalo Bills 17 Minnesota Vikings 16

Bills players celebrate with Sammy Watkins after he caught a game-winning touchdown with just a second left

Getty Images

84/125 Baltimore Ravens 29 Atlanta Falcons 7

Ravens linebacker Elivs Dumervil sacks Matt Ryan during a dominant performance for the home side

Getty Images

85/125 New England Patriots 27 New York Jets 25

Jets kicker Nick Folk has his last-second field goal, that would have won the game, blocked

Getty Images

86/125 Philadelphia Eagles 27 New York Giants 0

LeSean McCoy enjoyed a season-high 149 rushing yards during the Eagles' shutout of the Giants

Getty Images

87/125 Dallas Cowboys 30 Seattle Seahawks 23

Tony Romo inspired the Cowboys to a shock victory over the reigning Super Bowl champions Seattle

Getty Images

88/125 Chicago Bears 27 Atlanta Falcons 13

Jay Cutler, embracing Matt Ryan, threw for almost 400 yards in a dominant display by the Bears in Georgia

Getty Images

89/125 Washington Redskins 20 Arizona Cardinals 30

Carson Palmer returned after five games out to lead the Cardinals to another victory

Getty Images

90/125 San Diego Chargers 31 Oakland Raiders 28

Branden Oliver scored a late touchdown to sent Oakland, who had been leading by seven in the fourth quarter, to their 11th straight defeat

Getty Images

91/125 Jacksonville Jaguars 14 Tennessee Titans 16

The Titans blocked what would have been a game-winning field goal in the dying seconds to keep the Jags winless

Getty Images

92/125 Baltimore Ravens 31 Tampa Bay Buccaneers 17

Joe Flacco became the fastest man to score five touchdowns in a game - he had four in the first quarter and one just after

Getty Images

93/125 Denver Broncos 31 New York Jets 17

Peyton Manning threw three touchdown passes in the victory over the Jets to move two short of Brett Favre's career touchdown record

Getty Images

94/125 Detroit Lions 17 Minnesota Vikings 3

Joquie Bell runs in for a short score but it was Detroit's defence that dominated this game

Getty Images

95/125 Green Bay Packers 27 Miami Dolphins 24

Aaron Rodgers' fake spike allowed Green Bay to score a game-winning touchdown in the dying seconds

Getty Images

96/125 Pittsburgh Steelers 10 Cleveland Browns 31

Browns quarterback Brian Hoyer was superb as Cleveland surprisingly beat their AFC North rivals

Getty Images

97/125 Carolina Panthers 37 Cincinnati Bengals 37

Mike Nugent missed a last-second field goal that would have won the game for the Bengals as they played out a thrilling match in the first draw of the season

Getty Images

98/125 New England Patriots 37 Buffalo Bills 22

Tom Brady celebrates with Brandon LaFell after finding his wide receiver for a touchdown

Getty Images

99/125 Indianapolis Colts 33 Houston Texans 28

Andrew Luck and Sergio Brown celebrate the Indianapolis Colts' victory over AFC South rivals the Houston Texans

Getty Images

100/125 San Diego Chargers 31 New York Jets 0

Philip Rivers inspired the San Diego Chargers to a 31-0 shutout of the New York Jets

Getty Images

101/125 Cleveland Browns 29 Tennessee Titans 28

Travis Benjamin caught a 6-yard touchdown pass from Brian Hoyer to complete the Cleveland Browns' comeback against the Tennessee Titans

Getty Images

102/125 Dallas Cowboys 20 Houston Texans 17

Dan Bailey kicks the game-winning for the Dallas Cowboys in their overtime win against the Houston Texans

Getty Images

103/125 New York Giants 30 Atlanta Falcons 20

Odell Beckham Jr celebrates scoring the match-winning touchdown on his debut for the New York Giants

Getty Images

104/125 Green Bay Packers 42 Minnesota Vikings 10

Eddie Lacy rushed for 105 yards and two touchdowns as the Packers routed their NFC North rivals

Getty Images

105/125 Green Bay Packers 42 Minnesota Vikings 10

Defensive end Julius Peppers intercepted a pass and ran it 56 yards for a touchdown

Getty Images

106/125 Kansas City Chiefs 41 New England Patriots 14

Kansas City Chiefs quarterback Alex Smith begins a play threw for three touchdowns

Getty Images

107/125 Kansas City Chiefs 41 New England Patriots 14

On his return from injury running back Jamaal Charles scored one rushing and two catchind touchdowns

Getty Images

108/125 Dallas Cowboys 38 New Orleans 17

Tony Romo looked close to his best as the Cowboys dominated the Saints in Texas

Getty Images

109/125 San Francisco 49ers 26 Philadelphia Eagles 21

Frank Gore had more than 100 yards rushing and also a 55-yard touchdown catch as the 49ers narrowly beat the Eagles

Getty Images

110/125 Minnesota Vikings 41 Atlanta Falcons 28

Rookie quarterback Teddy Bridgewater rushed for two touchdowns and threw for 300 yards on his first NFL start; though he did hurt his ankle late on

Getty Images

111/125 San Diego Chargers 33 Jacksonville Jaguars 14

Philip Rivers threw just shy of 400 yards and three touchdowns against the Jags

Getty Images

112/125 Pittsburgh Steelers 24 Tampa Bay Buccaneers 27

Vincent Jackson scored a last-second touchdown for the Bucs to win their first game of the season

Getty Images

113/125 Oakland Raiders 14 Miami Dolphins 38

Cortland Finnegan celebrates after recovering a fumble in the Dolphins' rout of the Raiders at Wembley

Getty Images

114/125 New York Jets 17 Detroit Lions 24

Matthew Stafford celebrates a rushing touchdown - he threw two more - as the Lions won despite injury to Calvin Johnson

Getty Images

115/125 Indianapolis Colts 41 Tennessee Titans 17

Andrew Luck had another huge day for the Colts with 393 yards and four touchdowns

116/125 Houston Texans 23 Buffalo Bills 17

Defensive end JJ Watt on his way to a touchdown after intercepting EJ Manuel's pass

117/125 Chicago Bears 17 Green Bay Packers 38

Aaron Rodgers threw more than 300 yards and four touchdowns in a massive win at Soldier Field

Getty Images

118/125 Baltimore Ravens 38 Carolina Panthers 10

Steve Smith had a huge day against his former team, with two touchdowns and 139 yards

Getty Images

119/125 Washington Redskins 14 New York Giants 45

Eli Manning celebrates a rushing touchdown - he threw for three more in the massive win

Getty Images

120/125 Chicago Bears 27 New York Jets 19

Wide receiver Alshon Jeffery of the Chicago Bears is tackled by free safety Antonio Allen of the New York Jets

Getty Images

121/125 Pittsburgh Steelers 37 Carolina Panthers 19

Leveon Bell ran more than 100 yards for the Steelers who fought back to beat Carolina

Getty Images

122/125 Kansas City Chiefs 34 Miami Dolphins 15

Alex Smith threw three touchdowns as the Chiefs beat the lacklustre Dolphins, who play in London in Week Four

Getty Images

123/125 Baltimore Ravens 23 Cleveland Browns 21

Justin Tucker kicked a field goal in the dying seconds for the Ravens to steal a win over their rivals

Getty Images

124/125 Houston Texans 17 New York Giants 30

Rashad Jennings rushed for a career-high 176 yards in an excellent performance by the Giants

Getty Images

125/125 Minnesota Vikings 9 New Orleans Saints 20

Drew Brees threw just shy of 300 yards in a routine win for the Saints

Getty Images
Not coincidentally, the surge in the League's popularity and revenue has coincided with the collapse into irrelevance of the heavyweight division, boxing's one-time flagship and the preserve of American sporting legends from Jack Dempsey through Joe Louis and Muhammad Ali to Mike Tyson. Now, however, the troubled youth who might have been a 220lb champion in the ring, bulks himself up into a 270lb linebacker in the NFL.
Then there's the domestic violence issue, epitomised by the likes of Rice and Adrian Peterson, the Minnesota Vikings running back charged with abuse of his four-year old son, and the casual gun culture that ensnared Plaxico Burress, of the New York Giants, who in 2008 contrived to shoot himself in a Manhattan nightclub with an unlicenced pistol.
At first glance, the Hernandez case might seem an extreme mutation of the hyper-macho ethos of the NFL, for whose modern-day gladiators chivalry is unknown, where quarter is neither asked nor given, and where only wimps leave the field because of pain and injury.
In fact, Hernandez's alleged crimes are not a product of his time in the NFL, but of how he grew up. Blame the Patriots perhaps for taking him, but they did not make him the person he now appears to be. He is accused not of a hot-headed impulsive act, but of a premeditated gangland-style execution.
Much the same goes for the deaths of Daniel de Abreu and Safiro Furtado, two Cape Verdeans who got into a petty argument with Hernandez in a Boston nightclub in 2012. Shortly after leaving, they were gunned down from a passing car. The evidence against Hernandez in this crime – involving gun, car and eyewitness testimony – seems at least as strong as the Odin Lloyd case.
Right now, the verdict in Fall River is anyone's guess. There is no direct eyewitness and no murder weapon, but a mountain of circumstantial evidence. Shayanna Jenkins is yet to take the stand; whether Hernandez, who maintains his innocence, will also do so is unclear.
Like OJ Simpson two decades ago, he can afford pricey lawyers, whose strategy will be to blame the murder on the excess zeal of two co-defendants, strong-arm associates of Hernandez whom the NFL player took with him that night. Probably the defence will argue the whole thing was an effort to scare Lloyd, and maybe rough him up a little bit, that went tragically wrong. And who knows? After all OJ, of whose guilt in murdering his wife most Americans are convinced, was acquitted. So, incidentally, was Lizzie Borden.
Reuse content