Travel essentials
Why go now?
Denmark's capital is enticing at any time, but especially in summer, when it is doused in Scandinavian sunshine. It will also have a foodie feel from 23 August-1 September, as the Copenhagen Cooking festival (copenhagencooking.dk) takes hold. This annual event will focus on "social food", with mobile kitchens and street feasts. From 25-26 August, Rene Redzepi's MAD Food Symposium (madfood.co; 2,500 Danish krone/£294) also takes place in the city.
Touch down
Copenhagen's main airport, Kastrup (cph.dk), lies five miles south of the centre. Scandinavian Airlines (0871 226 7760; flysas.co.uk) flies from Aberdeen, Birmingham, Heathrow, Newcastle and Manchester. Alternatives include BA (0844 493 0787; ba.com) from Heathrow; BMI Regional (0844 417 2600; bmiregional.com) from Edinburgh and Glasgow; easyJet (0843 104 5000; easyjet.com) from Bristol, Edinburgh, Gatwick, Stansted and Manchester; and Norwegian (0843 3780 888; norwegian.com) from Edinburgh, Gatwick and Liverpool.
The city operates a zonal transport system, so the three-zone trip to the centre costs Dkr36 (£4) whether you travel by train (dsb.dk), which takes 12 minutes to reach the Hovedbanegard rail terminus (1); metro (m.dk), which takes 15 minutes to get to Norreport station (2); or bus No 5A (moviatrafik.dk), which takes about 30 minutes to reach the Hovedbanegard (1). Taxis take around 20 minutes and cost about Dkr250 (£29).
Get your bearings
Almost at the easternmost point of Denmark, Copenhagen preens on the east coast of the vast Zealand island, separated from Sweden by the 15-mile width of the Oresund strait. The city is split into districts by myriad canals and waterways – of which Indre By (the historic core), bohemian Christianshavn and gentrifying Vesterbro detain most visitors.
Metro (two lines), S-train (seven lines; dsb.dk/s-tog) and bus services dissect a city that is easily explored on foot. All are covered by transport tickets sold at stations and bus stops. A basic ticket – Dkr24 (£3) – is valid for one hour in the two central travel zones. City Passes cost Dkr75 (£8.50) for 24 hours; Dkr190 (£22) for 72 hours. The main Visitor Centre (3) (00 45 70 22 24 42; visitcopenhagen.com) is at Vesterbrogade 4A – open daily from 9am-7pm in August, from 9am-6pm in September (except Sunday, 9am-2pm). The Copenhagen Card (transport and entry to 75 attractions) costs Dkr299 (£34) for 24 hours, Dkr449 (£52) for 48 hours.
Check in
The Axel Hotel Guldsmeden (4) (00 45 33 31 32 66;hotelguldsmeden.dk) is a small four-star at Helgolandsgade 7-11 that contributes to Vesterbro's trendy vibe with a cocktail bar in its lobby. Double rooms start at Dkr995 (£114), without breakfast.
Another four-star haven of peace amid the eateries of Nyhavn dock (at No 71), is the 71 Nyhavn Hotel (5) (00 45 33 43 62 00; 71nyhavnhotel.dk). Doubles from Dkr1,099 (£126), room only.
A five-star icon at Kongens Nytorv 34, all ballrooms and bling, is the Hotel D'Angleterre (6) (00 45 33 12 00 95; dangleterre.dk) where you can blow the budget with a double for Dkr5,500 (£631), room only.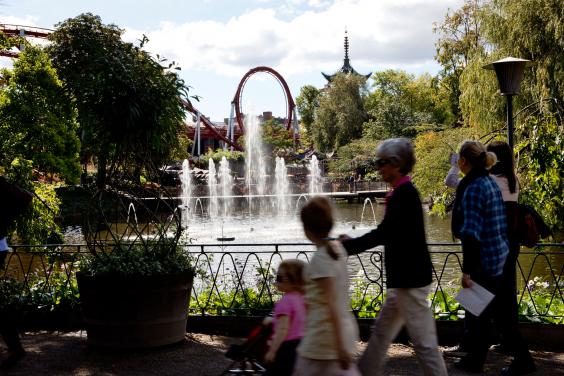 Day one
Take a hike
Begin by ambling through Slotsholmen, the island that is a key component of Indre By, divided from Christianshavn by the channel of the Inderhavnen (Inner Harbour). Here, the Black Diamond – an angular extension to the Royal Danish Library (7), completed in 1999 – is the star of the waterfront. The library complex, at Soren Kierkegaards Plads 1 (0045 33 474 747; kb.dk), is open daily except Sunday, with one-hour tours on Saturdays at 3pm for Dkr40 (£5). Follow Christians Brygge to the south-eastern corner of Slotsholmen. Kayak Bar (8) at Borskaj 12 (00 45 30 49 86 20; kayakrepublic.dk), is taking part in the food festival with al fresco herring lunches, held at long tables (23-25 and 30-31 August, 1-3pm; Dkr150 (£19). Continue north-west along Borsgade, noting the Borsen (9) – the oldest stock exchange in Denmark, dating to 1619 – which is remarkable for its spire of four entwined dragons. Further on, the Christiansborg Palace (10) hosts the Danish parliament.
Window shopping
Running between Kongens Nytorv (11) and Radhuspladsen (12) squares, Stroget is the main shopping street, pedestrianised for a mile (stroget-kobenhavn.dk). The Royal Copenhagen (13) store at Amagertorv 6 (00 45 33 13 71 81; royalcopenhagen.com) is the flagship of the Danish brand which has been making porcelain since 1775. Sostrene Grenes (14) at Amagertorv 24 (00 45 36 97 81 10; grenes.dk) sells quirky discount homeware. BoConcept (15), at Gammel Kongevej 29A in Vesterbro, is a Danish design firm that fits into the cool district with sleek seats and crafted chairs (00 45 33 26 87 87; boconcept.dk).
Lunch on the run
Next to the Royal Copenhagen store (13), also at Amagertorv 6, the Royal Smushi Café (16) deals in open flat-bread sandwiches such as the Baronessens Luksus with its piled salmon, shrimp and asparagus for Dkr145 (£17) (00 45 33 12 11 22; royalsmushicafe.dk).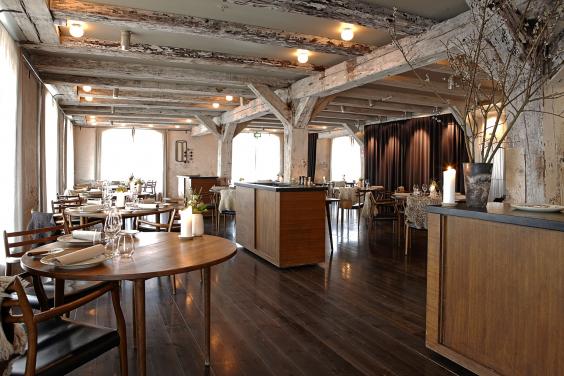 Take a ride
Canal Tours Copenhagen (00 45 32 66 00 00; stromma.dk) offers a one-hour "Grand Tour" of the Inderhavnen port that departs from the dock at Gammel Strand (17), meandering past landmarks such as the Little Mermaid (18) – the bronze statue of Hans Christian Andersen's creation, perched just off the Langelinie promenade in the Osterbro district, who has her 100th birthday this year. At least four tours an hour; Dkr75 (£8.50).
An aperitif
Dip into Vesterbro at Lidkoeb (19), a chic bar at Vesterbrogade 72B where the Valkyrie cocktail mixes bourbon, lemon and apple for Dkr100 (£11) (00 45 33 11 20 10; lidkoeb.dk).
Dining with the locals
Vesterbro's meat-packing past is celebrated at BioMio (20) at Halmtorvet 19 (00 45 33 31 20 00; biomio.dk), where chefs cook in a kitchen in the middle of the room. The August menu features three courses for Dkr300 (£34), including pork with avocado puree.
Noma (21), on the Christianshavn flank of Inderhavnen, at Strandgade 93 (00 45 32 96 32 97; noma.dk), has regularly been voted the world's top restaurant. Its three-course menu, for Dkr1500 (£172), includes roast turbot with celeriac. Reservations essential.
Rather less formal, the address is in the name at dockside eatery Nyhavn 37 (22) (00 45 33 15 70 76; nyhavn37.dk), where the 37's Burger is Dkr139 (£16).
Day two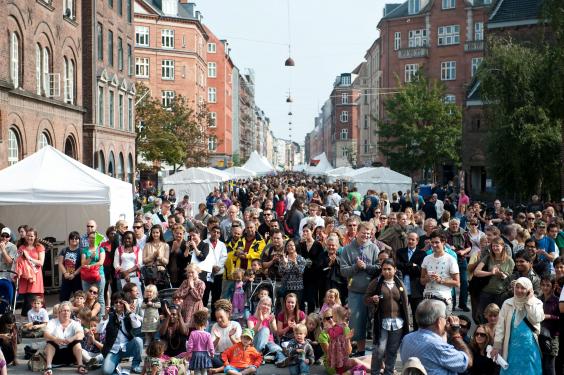 Sunday morning: go to church
A glorious baroque temple, the Vor Frelsers Kirke (23) (Our Saviour's Church) thrusts a black-and-gold spire into the sky above Christianshavn, at Sankt Annae Gade 29. Consecrated in 1695, it is open daily 11am-3.30pm, with Sunday mass at 10.30am. But the selling point is the tower view, open daily, entry Dkr40 (£4.50) (00 45 32 54 68 83; www.vorfrelserskirke.dk).
Walk in the park
On the south-east side of Christianshavn, Christiania (24) (00 45 32 95 65 07; christiania.org) is the self-proclaimed "autonomous neighbourhood" that was founded on an old military base in 1971. With graffiti-daubed homes, it looks stuck in the hippie era, but offers a snapshot of commune life, and beers for Dkr25 (£3) at Café Nemoland (25) (Fabriksomradet 52; 00 45 32 95 89 31; nemoland.dk).
Out to brunch
Back in modern Christianshavn, Café Oven Vande (26) sits beside a canal at Overgaden Ovenvandet 44. It serves a fish-heavy Ocean Sandwich for Dkr110 (£12.50), and glimpses of houseboats on the water (00 45 32 95 96 02; cafeovenvande.dk).
Cultural afternoon
The Nikolaj Kunsthal (27) hosts art shows in the shell of the 13th-century St Nicholas's church, at Nikolaj Plads 10 (00 45 33 18 17 80; kunsthal.dk). It is open daily except Monday, admission free.
Elsewhere in Indre By, the Nationalmuseet (28) at Ny Vestergade 10 (00 45 33 13 44 11; natmus.dk/en), charts the history of Denmark in detail. It is open daily except Monday, free entry. Current exhibition "Viking" (until 17 November; booking fee of Dkr10/£1.15) shows off Aegir, the world's biggest surviving Viking longship.
Nearby at Dantes Plads 7, the Ny Carlsberg Glyptotek (29) is an art treasure trove with a wealth of sculpture by Rodin, open daily except Monday; Dkr75 (£9) (00 45 33 41 81 41; glyptoteket.com).
Along with a collection of weaponry, the the Tojhusmuseet (30) military museum at Tojhusgade 3 (00 45 33 11 60 37; thm.dk; open daily except Monday; Dkr60/£7) is also involved with Copenhagen Cooking. The Nordic Taste event sees Scandinavia's restaurants proffer samples of their fare, from 24-25 August.
Icing on the cake
Copenhagen is hugely proud of the Tivoli (31) – the enclave of ornate gardens and thrill rides that has lit up its map at Vesterbrogade 3, since 1843 (00 45 33 15 10 01; tivoli.dk). Open daily; admission Dkr95 (£11). Rides cost extra – from about Dkr25 (£3).
Click here to view the tour of Stockholm & Copenhagen, with Independent Holidays.
Reuse content