Travel essentials
Why go now?
Atlanta may be known for its busy airport and commercial headquarters, but there's much more to it. In summer, Georgia's state capital comes alive with numerous festivals, for everything from design and architecture (ma-designishuman.com; 30 May to 7 June) to beer (atlantasummerbeerfest.com; 20 June).
As the hometown of Martin Luther King Jnr, Atlanta is a must for history buffs, and getting to the heart of Sweet Auburn, the civil rights leader's old neighbourhood, is now even easier, thanks to the new streetcar (tram), which connects the area to downtown.
Touch down
In March, Virgin Atlantic (0344 209 7777: virgin-atlantic.com) began flying to Atlanta from Manchester, having launched a service from Heathrow last year. Partner airline Delta (0845 600 0950; delta.com) flies from the same UK airports. British Airways (0870 850 9 850; ba.com) flies from Heathrow.
Downtown Atlanta is 10 miles north of the airport. The quickest and cheapest way to get into town is by using the Marta public transport system (itsmarta.com). Pick up a stored-value Breeze card for $1 (66p), on which single train fares are $2.50 (£2). Passes for set time periods can also be added; two days costs $14 (£9). From the airport take the 10-minute shuttle to the Marta station, from where the train (Red or Gold line) will get you to central Five Points station (1) in around 20 minutes.
The streetcar (streetcar.atlantaga.gov) operates a circular route in central Atlanta. A single fare is $1 (66p), and you can use your Breeze card.
Get your bearings
Encircled by the I-285 motorway, Atlanta is undoubtedly a city of drivers. There are only four train lines, running roughly north to south and east to west, so coverage can be patchy, but if you're happy to walk a little or take the bus you can usually fill in the gaps. Five Points (1), where all the train lines converge, is downtown, in the skyscraper-lined commercial district where many of the city's tourist attractions are located.
To the north is Midtown, where you'll find universities and museums such as the High Museum of Art (2) at 1280 Peachtree Street NE (001 404 733 4400; high.org; 10am to 5pm Tuesday to Sunday, until 9pm Friday, closed Monday; $19.50/£13). Further north still is Buckhead, an area of dual-carriageways, luxury hotels and high-end shopping malls.
The east of the city is home to a number of artsy neighbourhoods, from chi-chi Virginia-Highlands to hip Little Five Points and East Atlanta Village.
The main visitor centre (3) is at 65 Alabama Street SW (001 404 577 2148; atlanta.net; 10am to 6pm, Monday to Saturday; 12pm to 6pm Sunday).
Check in
Aloft Atlanta Downtown (4) at 300 Spring Street (00800 325 25638; aloftatlantadowntown.com), is one of the newest hotels, with spacious, modern rooms, free wi-fi, a bar and a splash pool. Doubles start at $161 (£107), room only. It lacks a restaurant, but you can eat from the 24-hour grab-and-go snack bar.
Loews Atlanta (5) at 1065 Peachtree Street (loewshotels.com; 001 404 745 5000), has doubles from $179 (£119), room only. Some rooms offer views over Piedmont Park, and there's a free car service within three miles of the hotel.
If proximity to headline attractions is your priority, check into the Omni Hotel at CNN Center (6), 190 Marietta Street NW (001 404 659 0000; omnihotels.com). In the heart of downtown, more than 1,000 rooms are spread between its two towers. Doubles from $129 (£86), room only.
Click here to see a bigger image of the map
Day one
Take a hike
Most of Atlanta's top attractions are squeezed into a relatively small area, connected by Centennial Olympic Park, built for the 1996 Games. Start at CNN Center (6) (001 404 827 2300; cnn.com/tour; tours run 9am to 5pm daily; $16/£11) where you can take a tour of the news organisation's global headquarters and studio, and learn how programmes are put together.
Walk north through the park (maps and signposts will keep you on track), stopping at the World of Coca-Cola (7) (001 404 676 5151; worldofcoca-cola.com: opening hours vary, but generally around 9am to 6pm weekdays, until 7pm Saturday, 10am to 6pm Sunday; $16/£11). Its interactive exhibits, retro ads and – of course – samples will keep children entertained, but if you're not a fan of the fizzy brown stuff, head for the National Center for Civil and Human Rights (8) at the northern end of the park (001 678 999 8990; civilandhuman rights.org; 10am to 5pm daily; $15/£10). The striking contemporary building, which opened last summer, offers a fascinating insight into the civil rights movement.
Lunch on the run
Head over to Little Five Points to fuel up. Cosy beer bar The Porter (9) at 1156 Euclid Avenue NE (00 404 223 0393; theporterbeerbar.com; 11.30am to 12am daily, until 2.30am Friday and Saturday) has an eclectic menu – think duck confit ruben sandwiches, kale caesar salad and huge hotdogs – and more than 400 brews with which to wash it down. Mains from $10/£7.
Window shopping
Little Five Points has a great selection of one-off shops. Vinyl-lovers should visit Criminal Records, next door to The Porter at No 1154-A (criminalatl.com; 11am to 9pm Monday to Saturday, 12pm to 7pm Sunday). For vintage threads, try Rag-O-Rama at No 1111 (001 404-658-1988; ragorama.com; 11am to 9pm Monday to Thursday, 10am to 9pm Friday and Saturday; 11am to 8pm Sunday) or Clothing Warehouse (10) at 420 Moreland Avenue NE (001 404 524 5070; theclothingwarehouse.com; 11am to 8.30pm Monday to Thursday, until 9pm Friday and Saturday, 12pm to 7.30pm Sunday).
Dining with the locals
It's impossible to miss The Vortex, a few doors down from Clothing Warehouse, at No 438 (001 404 688 1828; thevortexbarandgrill.com; 11am to 12pm Sunday to Thursday, until 2am Friday and Saturday; over-21s only). Walk through the giant skull doorway for what are billed as "the best burgers in Atlanta", including the deliciously spicy Hell's Fury ($10.95/£7).
Poor Calvin's (11) at 510 Piedmont Avenue NE (00 404 254 4051; poorcalvins.com; 5pm to 11pm daily) serves light, tasty Thai fusion. Order mains (from $18/£12) or pick a selection of "bites" – I loved the basil rolls ($5/£3) and chicken coconut soup ($6/£4).
A nightcap
Sister Louisa's Church of the Living Room and Ping Pong Emporium (12) at 466 Edgewood Ave SE (001 404 522 8275; sisterlouisaschurch.com; 5pm to 3am Monday to Friday, 1pm to 3am Saturday, 1pm to 12am Sunday) thankfully abbreviates to Church. Irreligious paintings and neon signs cover the walls, and on Wednesdays there's organ karaoke.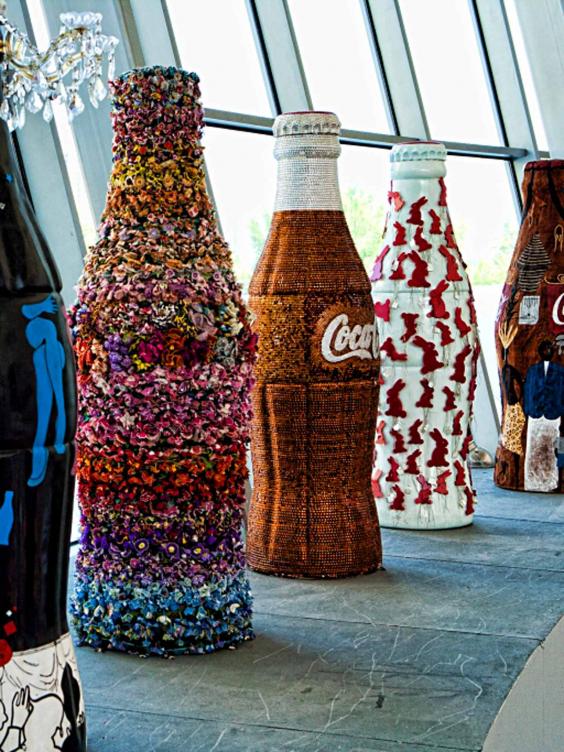 Day two
Out to brunch
Arrive early at popular West Egg Café (13) at 1100 Howell Mill Road (001 404 872 3973; westeggcafe.com; brunch 8am to 4pm Saturday, until 6pm Sunday). The decor is all concrete floors and subway tiles, while the menu features southern specialities and the usual brunch items. For a mix of the two, try the fried green tomato BLT ($8/£5).
A walk in the park
Piedmont Park may be the city's best known, but for a modern take on green space, cross the street from Piedmont's south-east corner, by the Park Tavern (14), and join the BeltLine (open 6am to 11pm; downloadable maps at beltline.org). The repurposed railway track is Atlanta's equivalent to New York's Highline – though locals will tell you Georgia's capital had the idea first.
The BeltLine's East Trail takes you south through the city; it's still a little rough and ready in places, but between the wild grass and city views are some lovely little stop-off points, such as Paris on Ponce and Pop Marché (15) (001 404 249 9965; parisonponce.com; 11am to 6pm Monday to Saturday, from 12pm Sunday), a warehouse filled with quirky antiques and flea-market finds. In the autumn Art on the BeltLine (art.beltline.org) is due to return, with artworks lining the route.
Cultural afternoon
From the southern end of the trail head west to the Martin Luther King National Historic Site (001 404 331 5190;nps.gov/malu). Orientate yourself at the visitor centre (16) at 450 Auburn Avenue NE, then head to the civil rights leader's home. Tours of the house are free, but first-come-first-served, so if you don't get a ticket, explore the site's other landmarks, including King's tomb, and Ebenezer Baptist Church, where he and his father preached.
Take a view
The Jackson Street Bridge (17), between Highland Avenue NE and Cain Street NE, offers one of the best views in the city. Watch the sun set behind the skyscrapers as cars rush along the multi-lane highway below.
Reuse content