Travel essentials
Why go now?
Charles Dickens, Jane Austen, Mary Shelley – Unesco-listed Bath has inspired many a writer. And its honey-stoned Georgian streets, ensconced within Somerset's rolling green, are still a draw for literary luminaries: until 8 March, the 20th Bath Literature Festival (01225 462231; bathfestivals.org.uk/literature) is taking over the city, complete with big-name speakers, writing workshops and themed walks.
So, visit now to meet Kazuo Ishiguro, watch the comedy improv of theatre troupe Austentatious, learn how to write a novel or simply strike out into the countryside.
Touch down
Trains run direct to Bath Spa station (1) from Bristol, Cardiff, Exeter, London, Salisbury and Portsmouth. Megabus and National Express bus services from major UK cities call at or near the Central Bus Station, opposite the train station (1) on Dorchester Street (08717 81 81 81; nationalexpress.com).
Bath is 16km south of the M4, Junction 18. Bristol is the nearest airport (32km); buses run between the airport and Dorchester Street (bathbuscompany.com/airport-service; £14 one way).
Get your bearings
Bath is tucked into a loop in the River Avon, surrounded (allegedly) by seven hills, like Rome. The centre is very walkable, and largely flat. It takes five minutes to stroll from the train station (1), in the south, to the Abbey (2) and main tourist information centre (3) at Abbey Chambers (0844 847 5257; visitbath.co.uk; Monday to Saturday 9.30am-5.30pm, Sunday 10am-4pm). To reach the Royal Crescent (4), to the northwest, takes about 15 minutes.
The city is at the southern edge of the Cotswolds; the Kennet & Avon Canal heads off to the east; the Bath-Bristol Cycle Path to the west; the Two Tunnels Greenway (twotunnels.org.uk) burrows into the hills to the south.
Check in
Bath is short on cheap sleeps, which makes the White Hart Inn (5), on Widcombe Hill, a rare find (01225 313985; whitehartbath.co.uk; en-suite double £50, dorm beds £15, including cereal and toast). Its rooms are basic, but close to the train station, and the pub does good food.
Opened in 2014, the Halcyon Apartments (6), 16/17 George Street (01225 444 100; theporter.co.uk/halycon-apartments; from £109 B&B) are stylish boltholes, with all-mod-con kitchens and large lounges.
The new Berdoulat & Breakfast (7), at 5 Pierrepont Place (01225 334798; berdoulatand breakfast.co.uk; from £150 B&B) is located within a restored Georgian townhouse with period charm and quality local food, though it only has two guest rooms. If it's full, try The Queensberry (8) 7 Russel Street (01225 447928; thequeensberry.co.uk; doubles from around £175, B&B), a central-but-tucked-away independent hotel with contemporary rooms and a fantastic restaurant.
The Gainsborough (9) in Lower Borough Walls (thegainsboroughbathspa.co.uk), will be the only hotel with access to Bath's thermal waters. It is mooted to be opening this summer.
Click here to see a bigger image of the map
Day one
Take a hike
Turn your back on Bath Abbey's fancy façade (2), heading past the Roman Baths (10) to veer left on to bustling Stall Street. Hang a right on Upper Borough Walls to see a remaining smidgen of Bath's medieval fortifications (11), before heading northwards to comely Queen Square (12), its obelisk and boules court freshly restored in 2014.
The Royal Avenue, the lion-guarded entrance to Victoria Park (13), leads off the square's northwest corner; follow it to the Royal Crescent (4). This sweep of 30 Grade I-listed houses was completed in 1774; No 1 is now a museum, which recreates 18th-century life, while No 16 is the Royal Crescent Hotel, which has a lovely secret-garden bar if you want a posh drink.
Turn left down Brock Street to reach the arguably more impressive Circus (14), then take Bennett Street, to find the Assembly Rooms where Jane Austen danced – it's now home to the Fashion Museum (15). Wend down the back alleys to George Street and turn left along the Paragon, another impressive row of townhouses, before hooking back at St Swithin's Church (16), where Austen's parents were married, to return to the city via Walcot Street, the old artisan quarter which is still lined with independent shops, including the gallery of local artist Nick Cudworth (17).
Lunch on the run
Walcot Street has good, non-touristy options. Made By Ben (18) at No 100 (01225 319999; madebyben.com) sells award-winning sandwiches, pies and cakes. Ben also delivers to The Bell across the road (01225 460426, thebellinnbath.co.uk), Bath's cooperative-owned live-music pub, if you fancy a pint too. Sam's Kitchen (19) at No 61 (01225 481159; samskitchendeli.co.uk) is a sunny, squishy-sofa sort of place serving fresh, seasonal food.
Window shopping
From Walcot Street, nip up to Broad Street (20). There are plenty of browsable shops here, including Charlie Boots at No 35 (charlieboots.com; closed Mondays), full of quirky clothes and accessories. Just off the end of Broad Street, Toppings (21) at the Paragon (01225 428111; toppingbooks.co.uk), which regularly hosts famous authors, is one of the city's two excellent independent bookshops. The other is Mr B's Emporium of Reading Delights (22) at 14/15 John Street (01225 331155; mrbsemporium.com), where you can drink free coffee while you browse the shelves.
An aperitif
Down the cobbled alley from Mr B's, The Canary (23), 2/3 Queen Street (01225 462457; thebathgincompany.co.uk; Saturdays 3pm-midnight) is an atmospheric gin bar, perfect for a pre-dinner cocktail. It's the home of Bath Gin, a fresh, citrusy blend allegedly as "engaging as Jane Austen herself". A distillery is also planned.
Dining with the locals
The Chequers (24) at 50 Rivers Street (01225 360017; thechequersbath.com) has been an inn since 1776; these days it serves excellent bar staples – including a very fine burger (£10.95) – as well as curried lamb scotch egg (£8.95) and Wiltshire pork fillet, cheek and belly with bulgur wheat (£17.95).
If it's full, try nearby sister gastro-pub the Marlborough Tavern (25), 35 Marlborough Buildings (01225 423731; marlborough-tavern.com).
Alternatively, secure a table at tiny Menu Gordon Jones (26), 2 Wellsway (01225 480871; menugordonjones.co.uk; book well in advance).
Here, the eponymous chef creates an ever-changing surprise-filled six-course menu (£50) that might include tandoori cod tongues, beetroot-cured rollmop or pigeon pastilla. Emphasis is on fresh ingredients, perfect presentation and tastebud tickling.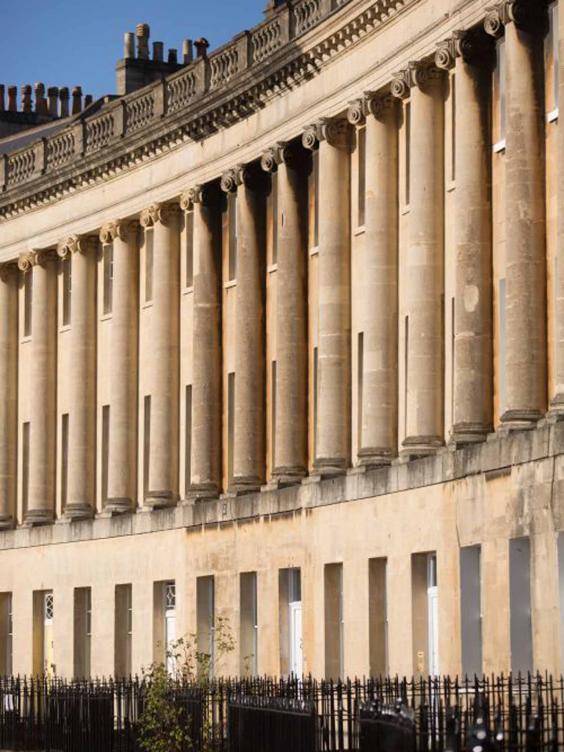 Day two
Sunday morning: go to church
There's been a place of worship on the site of Bath Abbey (2) since 757 AD; however, much of the current building dates from the 17th century onwards. Sunday services are at 8am, 9.30am and 11.15am (bathabbey.org). Admission to the abbey is free, though a £2.50 donation is suggested. Tower tours (£6) are offered Monday to Saturday.
Out to brunch
The Wild Café (27), 10a Queen Street (01225 448673; wildcafe.co.uk) serves Bath's best brunch, doing simple things well with local, fresh, fairtrade ingredients – tuck into bacon pancake stacks, kippers and avocado toast.
It's small though, so consider Same Same But Different (28), 7a Bartlett Street (01225 466856; same-same.co.uk) as a tasty alternative for your full English or eggs Benedict.
A walk in the park
The best leg-stretch is the 10km Bath Skyline walk (nationaltrust.org.uk/bath-skyline), which starts on steep Bathwick Hill (29) and loops through fields, woodland and an 18th-century folly, affording fine city views. The route is abundant in wild garlic, which will soon be out in full fragrant force.
Take a ride
Bath has a rent-it-here, leave-it-there bike scheme (bit.ly/NextBikeBath), with nine stations around town. A 30-minute ride costs £1; five to 24 hours costs £10.
Cultural afternoon
Visit the Roman Baths (10), Abbey Church Yard (01225 477785; romanbaths.co.uk; £14) to learn about the city's origins and see what still lies beneath.
Next, walk via the weir, over Pulteney Bridge – with its built-in shops – and down grand Great Pulteney Street to reach the Holburne Museum (30) (01225 388569; holburne.org; free). Housed in the Grade-I listed Sydney Hotel, it's an eclectic collection of art and ornaments accrued by Sir Thomas William Holburne (1793-1874).
In 2011, a controversial but ultimately triumphant glass extension was tacked on to the back; it houses a café and leads out to Sydney Gardens, one of the country's last 18th-century pleasure gardens.
The icing on the cake
The Thermae Bath Spa (31) at The Hetling Pump Room, Hot Bath Street (0844 888 0844; thermaebathspa.com) is open until 9.30pm, so finish off a visit with a twilight soak in its rooftop pool.
New for this year, use of a towel, robe and slippers is included in the price of £35 at weekends, £32 on other days.
Reuse content