Why go now?
Even in the depths of winter, the Belgian capital sparkles. Brussels is as accessible, compact and indulgent as ever, but the number of visitors has slumped following the attacks last March that killed 32 innocent people. 
To entice visitors back to Brussels, train fares from London are at their lowest ever – just £50 return. Hotel rates are also ridiculously low, especially at weekends, when politicians, bureaucrats and lobbyists leave the city to hedonists.
Get your bearings
The arrival point by Eurostar train is Brussels Midi (1), to the south of the city centre. North from here is the lower town, whose focal point is the Grand Place (2). With two official languages in Brussels – French and Flemish – each square and street has twin identities. Names are given here in French.
To the east, beyond Brussels Centrale station (3), the ground rises steeply to the upper town, location for the Bozar museum (4), the Royal Palace (5), Parliament (6) and other state institutions.
A handy tourist office (7), more grandly known as the House of the Capital Region, is located on Place Royale (00 32 2 563 6399; biponline.be). It is inside the Hôtel de Grimbergen – above the 15th-century ruins of a former chapel of the Dukes Palatine. It opens 10am-6pm daily.
Further east are the key EU institutions of the European Parliament (8) and the Berlaymont (9) building, housing the European Commission.
Day one
Take a view
Just around the corner from the tourist office (7), the restaurant on the top floor of the Musical Instruments Museum (10) at Montagne de la Cour 2 (00 32 2 545 0130; mim.be) is open whenever the museum is: 10am-5pm at weekends, from 9.30am from Tuesday to Friday. You don't need to buy an €8 ticket for the museum to enjoy a coffee with a view.
Take a hike 
For a splendid slice of the city, turn right out of the Musical Instruments Museum (10) and down the steps to the Garden of the Mont des Arts (11), with a fountain, a statue of Albert I on his horse and a large and elaborate clock on the wall to the right, with a figure in a niche linked to each hour. 
Cross Place d'Albertine and walk down Rue Madeleine to Place Agora (12) – you might want to investigate the long, elegant Galeries St-Hubert on the right. Turn left down the cobbled street beside the Superdry store, and you quickly emerge on the Grand Place (2) – one of the greatest squares in Europe, described by Victor Hugo in 1837 as "a miracle". He rhapsodised over the Gothic Town Hall, calling it "a dazzling fantasy dreamed up by a poet, and realised by an architect".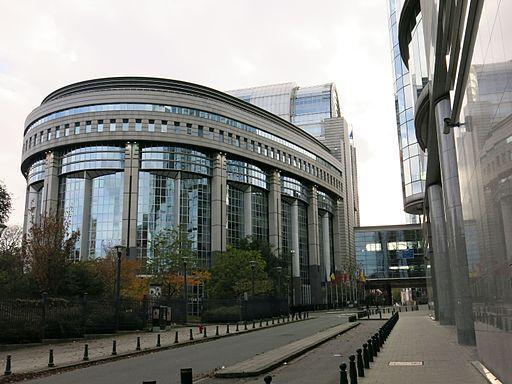 Once dazzled, continue your westward progress along Rue au Beurre and Rue de la Bourse, which runs alongside the 1873 neo-classical Bourse (13) on the former site of the Convent des Recollets. It faces onto Boulevard Anspach, which was previously a busy road that bisected the city but has now been pedestrianised – making the Dansaert district on the west side much more accessible.
Rue Delvaux leads to Rue Sainte-Catherine, which emerges onto the Place dominated by the Eglise Sainte-Catherine (14) – a grand 19th-century mix of Gothic and neo-classical features.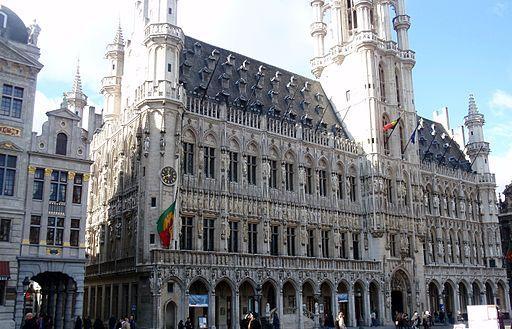 Lunch on the run
Almost at the end of Rue Sainte-Catherine, at number 42, Bar Monk (15) looks a busy, friendly pub – but at the back is an excellent eating area, known as the Buffet, which opens noon-3pm daily except Sunday (and every evening of the week). The speciality is spaghetti with several intriguing sauces (such as orval, emmental and parmesan cheeses), but other dishes are available.
Window shopping
One street over, Rue Antoine Dansaert (16) is flanked with the stores of cutting-edge designers. For more traditional Brussels fare, the most interesting chocolate store is Le Comptoir de Mathilde (17) (00 32 2 503 3398; lecomptoirdemathilde.com/en) on the corner of Rue de Midi and Rue au Beurre, where a tablet of dark chocolate with lavender or white chocolate with strawberry costs €4.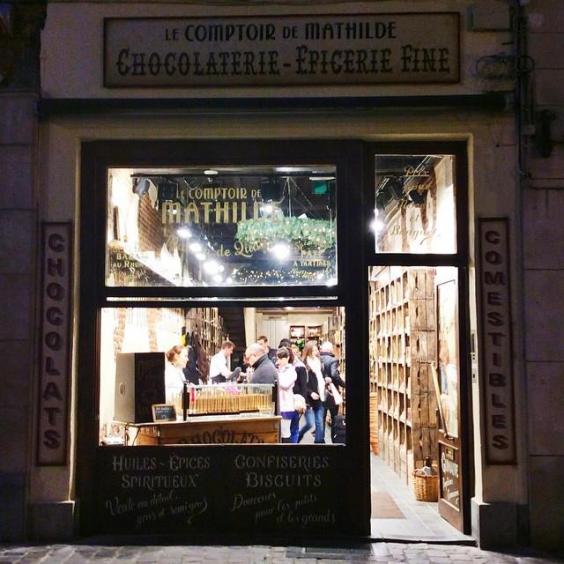 An aperitif
In a city rich in good places to drink beer, Delirium (18) at Impasse de la Fidélité 4 (not to be confused with the smaller, uninteresting bar on the corner) stands out. Its cheerfully rambling, retro-decorated interior is claimed to be home to 3,162 beers – more than any other bar in the world. Just a couple from the Huyghe Brewery will keep your spirits high: Campus, the 5 per cent house blond, just €4.30 for half a litre; and Delirium Tremens, which costs €3.60 for a smaller glass of a 9 per cent brew.
Dine with the locals
In Dansaert, Fin de Siècle (19) at Rue des Chartreux 9 (00 32 2 512 5123) is just the place for generous helpings of excellent Belgian cuisine in a venue with fading Art Nouveau elegance – and eccentric pricing: the daily soup is €4.72, while a rich, tasty saucisson carbonnade is €14.32. With good food and beer at prices that don't demand a eurocrat's salary, demand is high so you may need to queue.
Day two
Sunday morning: Go to church
Slightly stranded on the edge of the lower town, the Cathedral of Saints Michael and Gudula (20) (00 32 2 217 8345; cathedralestmichel.be) is a mostly 16th-century Gothic structure whose elaborate pulpit dominates the nave. It was given cathedral status only in 1962. It opens for visits 8.30am-6pm at weekends, from 7am on weekdays. For €1 you can see the underground remains of the 11th-century Romanesque church, which contains the relics of St Gudula.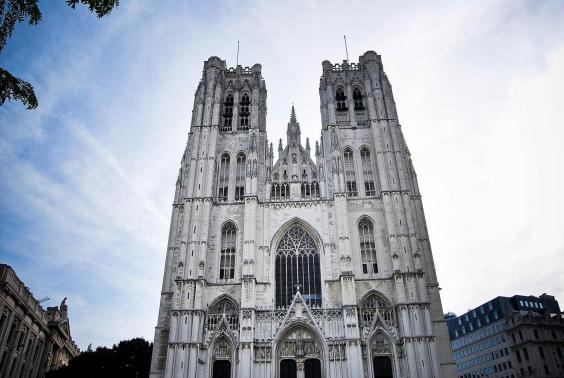 Out to brunch
Peck47 (21) at Rue Marché Aux Poulets 47 (00 32 2 513 0287) promises "fresh-made food daily with lots of love" in the shape of dishes such as eggs benedict on waffles, as well as Italian-grade coffee.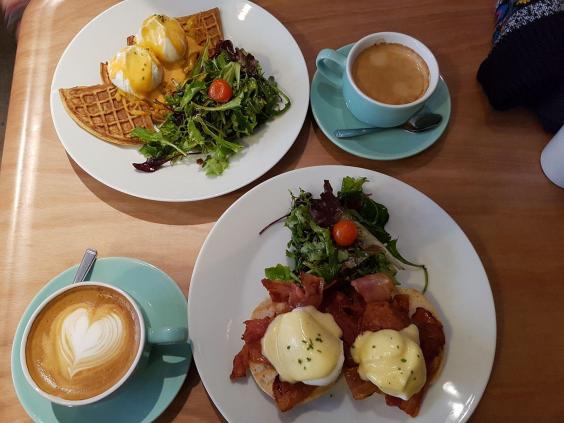 Take a ride
Brussels has an easy-to-use city bike scheme, Villo!, with stations dotted around the city, about 450 metres apart. A one-day subscription costs €1.60, including all rides less than half-an-hour (up to one hour costs an extra 50 cents). Use a bike to explore the parks east of the centre.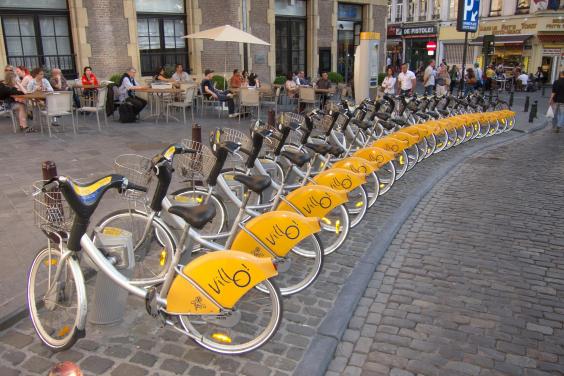 A walk in the park
Brussels has three very different parks. The Parc de Bruxelles (22), unfolding north of the Royal Palace (5), is flat and formal, with statues of forgotten figures. Parc Leopold (23), which tumbles down from the European Parliament (8), is more of a jumble, with a pretty pond at the foot. It opened in 1880 – the same year as the Parc Cinquantenaire (24), which was intended to commemorate Belgium's 50th anniversary but wasn't fully ready. Today it houses AutoWorld (25) (00 32 2 736 4165; autoworld.be), a lavish collection of cars stretching back to 1885. Open 10am-6pm at weekends, and until 5pm on weekdays, admission €10.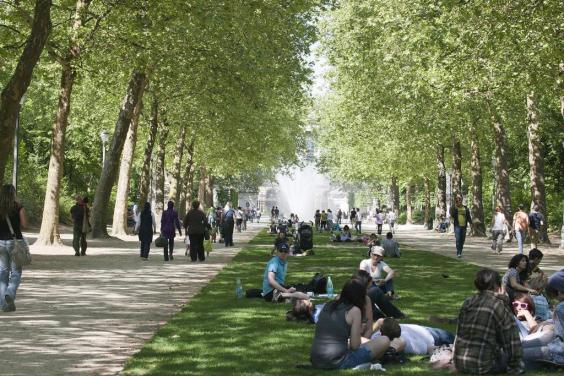 Cultural afternoon
Sharing the park, the Cinquantenaire Museum (26) (00 32 2 741 7301; kmkg-mrah.be) was the creation of Leopold II to house artefacts appropriated elsewhere in the world – ranging from Egyptian sarcophagi to a giant moai from Easter Island. It opens 10am-5pm at weekends (weekdays from 9.30am), admission €8.
Back in the city centre, the name of the Bozar museum (4) (00 32 2 213 1919; bozar.be) at Rue Ravensteinstraat 23 is a play on Beaux-Arts. The 1928 structure itself is a work of art squeezed grudgingly into an awkward site by the architect, Victor Horta.
Today, as the Centre for Fine Arts, it houses a frequently refreshed series of exhibitions – such as Picasso Sculptures, which runs until 5 March, for which admission is €9; you can access the main building free of charge. It opens 10am-6pm daily except Monday, with late opening on Thursdays to 9pm.
The icing on the cake
The Cafe Victor, within the Bozar museum (4), celebrates Victor Horta's vision – it occupies the shopfronts that he was ordered to incorporate into the building. A Victor Burger (€15.90) will set you up for the journey home.
Travel essentials
Getting there
Eurostar (03432 186 186; eurostar.com) runs eight trains a day from London St Pancras to Brussels Midi station (1), taking an average of 2 hours 8 minutes (less from Ebbsfleet or Ashford). Fares are as low as £50 return if you book via snap.eurostar.com. This is an intermittently available deal for which you must sign in with Facebook; you choose the date and time of day, and a service is assigned to you shortly before departure.
You can take a train from Midi to Centrale station (3). A single journey is €2.
By air, Brussels airport (27) is served from a wide range of UK airports, with Brussels Airlines (0333 222 0777; brusselsairlines.com) flying from Belfast, Birmingham, Bristol, Edinburgh, Heathrow, Manchester and Newcastle. British Airways (0844 493 0787; ba.com) also flies from Heathrow.
The airport (00 32 9007 0000; brusselsairport.be) is eight miles north of the city. Trains run from the airport to the Centrale station (3) in the city centre; tickets cost €8.50. 
Staying there
Place Agora (12) is ideally located on the western edge of the lower town, a couple of minutes' walk from Centrale station (3). Pick of the bunch is the four-star Hotel NH Brussels Carrefour de l'Europe (00 32 2 504 9400; nh-hotels.com), which occupies a handsome old building with plenty of character. A comfortable double costs €84.55, even at the last minute, or €112.87 with breakfast included. The adjacent Novotel and Ibis are competent alternatives.