Travel essentials
Why go now?
Autumn is a wonderful time to visit Dublin and from next weekend it will be even easier to get there from the UK with a new daily service from London City airport with British Airways (0870 850 9850; ba.com).
On 27 October, thousands of runners will take to the city's streets for the 35th Dublin Marathon (dublinmarathon.ie), and this Unesco City of Literature also plays host to the Dublin Book Fest- ival (dublinbookfestival.com) from 13 to 16 November.
Touch down
Dublin is well connected to the UK with airlines including Ryanair (0871 246 0000; ryanair.com) Aer Lingus (0871 718 5000; aerlingus.com), CityJet (0871 666 5050; cityjet.com), Flybe (0871 700 2000; flybe.com) and BA. There are also ferries to Dublin and the nearby port of Dun Laoghaire.
Dublin airport is 12km north of the centre. There is no rail link but the 24-hour Aircoach shuttle (00 353 1 844 7118; aircoach.ie) provides a handy alternative running every 10 minutes at peak times with stops throughout the city; €7 one-way, €6 if booked online. Dublin Bus (00 353 1 873 4222; dublinbus.ie) also operates the 747 Airlink to the Central Bus Station (1); €6 one-way. A taxi will cost about €25 one-way.
Get your bearings
Hugging the gentle arc of Dublin Bay, the city is divided by the River Liffey. The Royal Canal to the north and the Grand Canal to the south roughly define Dublin city centre. Its geographical and spiritual thoroughfare is O'Connell Street, whose southern end crosses the Liffey by way of O'Connell Bridge (2). Beyond that, you will find the cobbled streets of Temple Bar, the pleasant, tree-lined squares of Trinity College (3) and a large elegant portion of what remains of Georgian Dublin and other landmarks within easy walking distance.
Further east is the Docklands area, which has enjoyed considerable regeneration over the past decade.
The Discover Ireland Centre (4) is set in the former Church of St Andrew on Suffolk Street (00 353 1 605 7700; visitdublin.com). It opens 9am-5.30pm daily (Sundays 10.30am-3pm).
Check in
It is with good reason that The Merrion (5) on Upper Merrion Street (00 353 1 603 0600; merrionhotel.com) is considered by many to be Dublin's most luxurious hotel. It spans four landmark Georgian mansions and understated elegance is the byword here. There are gracious drawing rooms replete with crackling peat fires, grand stucco work and an unrivalled private collection of 19th- and 20th-century art. Doubles start at €260, room only.
Set close to the tranquil Grand Canal, a short walk from the centre, The Schoolhouse Hotel (6), 2-8 Northumberland Road (00 353 1 667 5014; schoolhousehotel.com) occupies a former 19th-century school. Doubles start at €99, room only.
A more economical alternative is the Dublin outpost of The Generator (7) overlooking Smithfield, close to the Jameson Whiskey distillery (00 353 1 901 0222; generatorhostels.com/Dublin). Twin rooms cost €64, including breakfast.
Click here to see a bigger image of the map
Day one
Take a hike
Start outside the Irish Government Buildings on Upper Merrion Street known as the Dail (8) in the heart of Georgian Dublin with Merrion Square (9) to your right. Continue north and then bear left into Clare Street taking another right into Lincoln Place where you will find an entrance to the expansive grounds of Trinity College (3). Cross the campus, through its park and pretty cobblestone quad until you emerge through the university's main gate, passing under its iconic arch. On your right is the grand Bank of Ireland building (10) – Parliament House during British rule.
On your left, you'll soon see the entrance to Dublin Castle (11) and just after that City Hall (12), a fine Georgian building with a stunning rotunda. Turn right into Parliament Street then right again into Essex Street East and the heart of Temple Bar, one of Dublin's oldest quarters. On Saturdays, you can drop into Meeting House Square (13), home to a bustling Saturday food market.
Continue before turning left down Eustace Street, crossing the Liffey by way of the pedestrian Millennium Bridge (14). Turn right and stroll down the Liffey boardwalk and finish at the base of the Ha'Penny Bridge (15).
Lunch on the run
With views of the Ha'Penny Bridge, The Woollen Mills (16) at 42 Lower Ormond Quay (00 353 1 828 0835; thewoollenmills.com) is one of Dublin's newest places to eat. Housed in a historic mill building, it has its own in-house bakery and serves an all-day menu with soups, salads and sandwiches as well as more imaginative fare such as ox-tongue fritters with beetroot pickled eggs and horseradish cream (€10).
Window shopping
Grafton Street is still the premiere retail row with the swanky Brown Thomas (17), 88-96 (00 353 1 605 6666; brownthomas.ie) one of its main draws. Avoca (18) at 11-13 Suffolk Street (00 353 1 677 2451; avoca.ie) is a home-grown brand selling, clothes, homeware and food as well as rugs and blankets – the mainstay of the historic business founded in 1723.
Drury Street is where you'll find small boutiques and as well as Irish Design Shop (19) (00 353 1 679 8871; irishdesignshop.com) at no. 41, which trumpets stylish native goods.
An aperitif
Dublin may be synonymous with the world-famous black stuff, but Ireland's craft beers are also making people sit up and take a sip. Overlooking the River Liffey, the historic J W Sweetman (20) at 1-2 Burgh Quay (00 353 1 670 5777; jwsweetman.ie) serves five highly regarded craft beers (€4.70 a pint) all made in its onsite microbrewery – they'll even give you a tour.
Dining with the locals
The diminutive Etto (21), 18 Merrion Row (00 353 1 678 8872; etto.ie) has been packing them in since it opened last year. Its laid-back atmosphere and rustic but accomplished Italian-leaning menu is proving extremely popular with locals, which is why booking is essential. The spinach and ricotta gnudi with girolles and the côte de boeuf for two are standouts (€35).
Book well in advance for Forest Avenue (22), 8 Sussex Terrace (00 353 1 677 8337; forestavenuerestaurant.ie), another hot table making gourmet waves . At weekends, it serves a five-course, seasonally inspired tasting menu for €48, while a three-course residents' menu is offered on Wednesday and Thursday nights.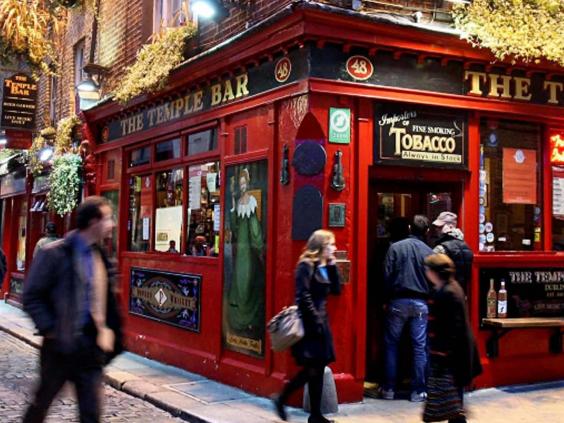 Day two
Sunday morning: go to church
Dublin's main Christchurch Cathedral (23) belongs to the minority Church of Ireland faith, but St Mary's Pro-Cathedral (24), at 1 Marlborough Place (00 353 1 874 5441; procathedral.ie) is the main place of worship for the Catholic Diocese of Dublin. At 11am on Sundays, Latin Mass is sung by the Palestrina Choir.
Out to brunch
Dublin is experiencing a café revolution. Sister Sadie (25), 46 Harrington Street (00 353 1 441 6596; brotherhubbard.ie/sistersadie) – a sibling to the popular Brother Hubbard – serves brunch at weekends with dishes such as baklava-style French toast with quince and mascarpone, and the moreish Turkish-style eggs menemen. Around €10.
A walk in the park
St Stephen's Green (26) is reputedly the largest enclosed city square in Europe. First laid out in 1663, its appearance owes much to the Victorian era with fountains, lawns, majestic trees, flowers, ducks,and a bandstand. Not far away is the late-19th-century Iveagh Gardens (27) with an entrance on Clonmel Street. This feels like a real secret escape with gravel paths, a grotto and a cascade.
Take a ride
Central Dublin is home to one of Europe's most successful bike schemes (dublinbikes.ie), with 1,500 bikes available across 100 stations. You need a three-day ticket costing €5. The first half hour of every rental is free, with charges applying thereafter; two hours cost €1.50.
Cultural afternoon
The National Museum of Ireland (28) on Kildare Street (00 353 1 677 7444; museum.ie) chronicles Ireland's archaeological legacy. It opens 2-5pm on Sundays (from 10am Tuesday to Saturday, closed Mondays), free entry.
The Little Museum of Dublin (29), 15 St Stephen's Green (00 353 1 661 1000; littlemuseum.ie) tells the history of Dublin through artefacts, photographs and memorabilia. It opens daily 9.30 to 5pm, entry €7. Your ticket also entitles you to join "The Green Mile" guided walking tour of St Stephen's Green (26), Saturdays and Sundays at 11.30am.
Icing on the cake
One of Dublin's assets is its easy access to the coast. Hop on the Dublin Area Rapid Transit railway (DART) at Pearse Station (30) and head north to the fishing village of Howth and Howth Head, or south to well-heeled Killiney. One-way fares cost €3.05 and €3.55 respectively.
Click here to view tours and holidays in Ireland, with Independent Holidays.
Reuse content