Travel essentials
Why go now?
This summer, northern France has acquired a new national monument, in the spectacular shape of Villa Cavrois – a 1930s modernist château just outside Lille. It constitutes an excellent incentive for a first or repeat visit to this French city with Flemish heritage. Lille has much else to offer: art, architecture and cuisine in abundance.
Touch down
The obvious approach from South-east England is by Eurostar (08432 186 186; eurostar.com) from London St Pancras, Ebbsfleet and Ashford to Lille-Europe station (1). taking 80 minutes from London. From elsewhere, you could fly to Paris and take the one-hour TGV train journey to the terminus of Lille-Flandres (2) – a five-minute walk from the Eurostar station (1). The façade of this fine terminus was the original Gare du Nord in Paris, and was moved north brick-by-brick.
Get your bearings
From Gare Lille-Flandres (2), Rue Faidherbe aims west to the city's two central squares: the Place du Théâtre (3), dominated by the opera house, and Place General de Gaulle (4), also known as the Grand Place, with "the goddess" at the centre. Note the fine newspaper building, La Voix du Nord.
Between the two squares stands the last great Flemish creation in Lille, the 1653 stock exchange, La Vieille Bourse (5). During the day you can wander through the courtyard. Vieux Lille, the old Flemish town created in the 16th and 17th centuries, spreads north and west from here.
The atmospheric tourist office (6) is located in a surviving fragment of a late Gothic palace, the Palais Rihour, on Place Rihour (00 33 3 59 57 94 00; lilletourism.com; open 9am to 6.30pm daily, Sundays 10am to 4.30pm). It is rather hidden behind the city's huge war memorial. Head up the stone steps for a glimpse of what remains of the former private chapel.
Check in
As a business centre, Lille's hotels are most in demand from Monday to Thursday, meaning that weekenders can find some good deals. The Hôtel Brueghel (7), overlooking the Gothic St-Maurice church at 5 Parvis St-Maurice (00 33 3 20 06 06 69; hotel-brueghel.com), is an excellent choice. It has a homely, wood-panelled lobby, and 64 simple but comfortable rooms; a double costs €114.
Within Vieux Lille, the stylish Hôtel de La Treille (8) is well located at 7 Place Louise de Bettignies (00 33 3 20 55 45 46; hoteldelatreille.com), though some of the rooms – typically costing around €112 for a double – can feel somewhat cramped.
For sheer practicality, the modern three-star Hôtel Lille Europe (9) on Avenue Le Corbusier (00 33 3 28 36 76 76; hotel-lille-europe.com) is midway between the two railway stations. A double room costs around €100 at weekends.
As is usual in France, hotel rates quoted here do not include breakfast.
Click here to see a bigger image of the map
Day one
Take a view
The 1932 Art Deco Belfry (10) is a folly attached to the Hôtel de Ville, designed by Emile Dubuisson as a spectacular piece of civic aggrandisement when Lille was the northern powerhouse of France. At the time, its height (104m) was comparable to skyscrapers being built in New York. It uses brick and reinforced concrete to great effect to provide a beacon for the city – "The Pride of Flanders", as it was called at its inauguration.
To visit, follow the Beffroi signs into the main town hall. Pay €6 for the chance to walk up 109 stairs to reach the lift to the top, from which you can see a wide architectural repertoire and, beyond, the industrial archaeology of French Flanders. It opens 9am to 1pm and 2pm to 5.30pm daily, except Sunday.
Take a hike
The closest monument you'll see from the Belfry is the 17th-century Porte de Paris (11), built as the gate to the capital to honour Louis XIV's capture of Lille from the Flemish. This triumphal arch was once part of the city walls, but now stands isolated in the middle of a roundabout.
The Rue de Paris runs north from here. For the first kilometre it won't thrill, but once you enter the Place de Théâtre (3) the impressive range of Lille's heritage is revealed. Here, look out above La Cloche for a cartoon-like figure beneath a bell.
The square funnels into Rue Pelletier, and so should you. Follow Rue Masurel around and you come face to face with the strange façade of the Cathedral (12) – best visited for Sunday Mass. Turn left then right along a cobbled street leading to the pretty Place aux Oignons (13).
Lunch on the run
The estaminet is a Flemish creation: a friendly local bar with farmhouse furniture and a short but appealing menu. On the Place aux Oignons (13), Au Vieux de la Vielle (14) (00 33 3 20 13 81 64; estaminetlille.fr) is a cosy and cheery place packed on weekdays by locals and at weekends by tourists. The €10 salads are good, and service is speedy.
Window shopping
Many old weavers' cottages in Vieux Lille have been converted into independent shops – with big windows, resulting from the original need to move looms in and out. As the former textile capital of France, Lille still has a strong design tradition, with Rue Lepelletier and Rue Basse offering plenty of choice. Where they meet, Lille's civic sweet tooth is in evidence on opposite corners: Paul (15), the patisserie that began in Croix just outside Lille in 1889; and Paul Hermand, vendor of macaroons for a couple of centuries.
For more treats, Aux Merveilleux (16) at 67 Rue de la Monnaie makes and sells Lille's meringue, whipped cream and chocolate "marvels". These treats are gaining a global reputation; a branch has just opened in Manhattan.
An aperitif
Sip a crisp white wine while downing half a dozen oysters (€26) in the Art Deco surroundings of A l'Huitrière (17), in Vieux Lille at 3 rue des Chats Bossus (00 33 3 20 55 43 41; huitriere.fr). This handsome fishmonger's is decorated with tiles that depict fruits de mer.
Dining with the locals
Lille's "Restaurant Row" is Rue du Gand – the old road to Ghent, culminating at the Flemish fortification of Porte de Gand. The optimum choice, best booked in advance, is a sister restaurant to the lunch option: Chez la Vielle (18) at No 60 (00 33 3 28 36 40 06). A reliable alternative is Les Ptiots (19) at No 35 (00 33 3 20 74 22 68).
At either you can choose between two hearty Flemish specialities: carbonnades flamandes (beef slow-cooked in beer) or Welsh – a tasty, filling local take on Welsh rarebit. The bill for two, with a pichet of wine, is around €30.
Day two
A walk in the park
Parc Henri Matisse fills the space between the south-east flank of Vieux Lille and the railway stations. Its most impressive element is the handsome Porte de Roubaix (20). It merges with the Place François Mitterrand, honouring the president who did much to replenish Lille – including routing Eurostar via the city.
Out to brunch
Be Yourself (21) opened three years ago at 2 Square Morisson to deliver fresh, tasty food in colourful surroundings. A buffet brunch is served 10am to 5pm on Sundays, price €15. Take your coffee, croissant, orange juice and salmon bagel to one of the communal tables on the upper floor.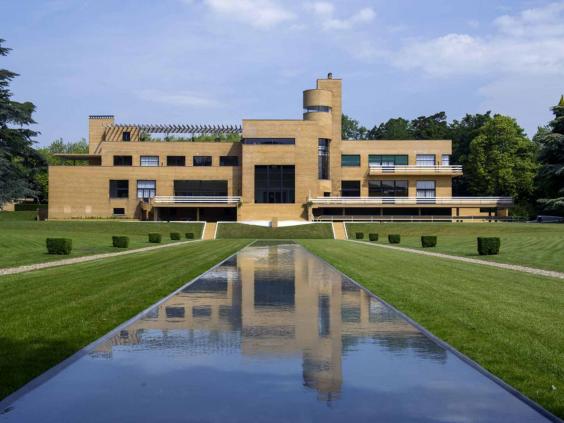 Go to church
The Cathedral of Notre-Dame de la Treille (12) is one of France's most fascinating. Said to have been founded in 1066, it was destroyed after the French Revolution. Reconstruction began in 1854, but took 145 years. In July and August, it opens from noon to 8pm daily, but you can get in before that for Sunday Mass at 11am (00 33 3 20 31 59 12; cathedralelille.com).
Take a ride
Lille has its own driverless Métro, which provides good views at above-ground sections. Even better is the tram that runs north of the city to the nearby towns of Tourcoing and Roubaix, from both of Lille's railway stations. Buy a rechargeable "Pass Pass" ticket loaded with two journeys (€1.50 each, plus €0.20 for the card) and board a Roubaix tram. Villa Cavrois, has its own tram stop.
Cultural afternoon
The newly opened Villa Cavrois (00 33 3 20 73 47 12; villa-cavrois.fr) distils the essence of modernism in a single, sleek structure set among elegant gardens. In the 1980s it was abandoned and left to decay, despite the calls of a young lawyer, Paul-Hervé Parsy, for it to be rescued.
Three decades on, the property is a national monument and M. Parsy is the administrator. The architect Robert Mallet-Stevens has created harmonious spaces full of light and intriguing corners such as the smoking room. The grounds contain pools that reflect the clean geometry of the villa (open 10.30am to 6.30pm daily, except Tuesday, admission €7.50).
Icing on the cake
Most travellers using Lille-Europe station (1) only see the side leading to the centre, and miss an amazing piece of public art in the shape of a mural that wraps around the interior walls north of the tracks. It takes you on a tour of the world, with images from Tower Bridge to the Sydney Opera House.
Reuse content