Travel essentials
Why go now?
Oregon's largest city has never quite been on the map for UK tourists; there are no direct flights and it's often overshadowed by its near-neighbour Seattle. Yet it is frequently named one of the most habitable cities in the US, with a hip, bohemian vibe summed up by its unofficial slogan: "Keep Portland weird." And what it lacks in headline attractions it makes up for with fantastic food, buzzing nightlife and access to the great outdoors.
Next week a new UK connection brings the city into sharper focus. On Tuesday, Icelandair (020 7874 1000; icelandair.co.uk) starts flying to Portland from Heathrow, Gatwick, Glasgow and Manchester, via Reykjavik. Late spring and early summer are great times to visit, when the weather – notoriously damp and grey for much of the year – starts picking up. And during May and June the City of Roses, as it's nicknamed, holds the annual Rose Festival (rosefestival.org). There are concerts, art shows and fireworks, and the colourful Grand Floral Parade on 6 June.
Touch down
As well as Icelandair, several carriers offer one-stop services from the UK: Delta (0871 22 11 222; delta.com); US Airways (0845 600 3300; usairways.com); United Airlines (020 7136 0582; united.com); and American Airlines (020 7660 2300; aa.com).
The great public transport system, TriMet (001 503 238 7433; trimet.org), encompasses buses, streetcars, the Max light railway and Wes commuter trains. From the airport, Max Red Line will get you downtown in 40 minutes (5am to 11.50pm).
A single ticket costs $2.50 (£1.70) – it's valid across all forms of transport for two and-a-half hours, while a one-day pass is $5 (£3.30). Passes for longer periods are also available.
Get your bearings
The Willamette river runs from the north-west to the south of the city, crossed by several bridges. Burnside is the most useful as a landmark, connecting downtown (on the west side) to the edgy, arty neighbourhoods across the river.
Downtown you'll find the main tourist office (1), on Pioneer Courthouse Square (001 877 678 5263; travelportland.com; Monday to Friday 8.30am to 5.30pm, Saturday 10am to 4pm, and Sunday 10am to 2pm). There are several museums and, to the west, Washington Park (2), home to a zoo, Japanese Garden and the fragrant Rose Test Garden. North of downtown is the Pearl District – a formerly industrial area now known for its galleries and loft apartments.
Portland is incredibly cycle-friendly, with marked lanes, bike racks on buses, and rental at many hotels.
Check in
The Sentinel (3) at 614 SW 11th Avenue (001 888 246 5631; sentinelhotel.com) had a makeover last spring. The public spaces have a touch of the Phileas Fogg, while the modern rooms have phones with a "make it so" button that lets you order anything from ice cream to iPods loaded with Portland playlists. Doubles from $328 (£219), room only.
For a taste of the arty Alberta Avenue neighbourhood, check into Caravan (4) at 5009 NE 11th Avenue (001 503 288 5225; tinyhousehotel.com). The six individually designed "tiny houses" come with kitchens and shower rooms – it's so popular the owners offer public tours. Doubles from $163 (£109), room only.
The Jupiter Hotel (5) at 800 E Burnside Street (001 503 230 9200; jupiterhotel.com) is a mid-century motel that's been transformed into 80 boutique rooms, from $159 (£106), room only. The hotel's Doug Fir Lounge is a hip nightspot styled like a space-age ski lodge.
Click here to see a bigger image of the map
Day one
Take a hike
Portland is quite industrial around the Willamette, but between the water and the towers of downtown is the rather pleasant Tom McCall Waterfront Park. Start by the little marina (6) outside Thirst bar and follow the lawn and fountain-lined trail north until you end up at Saturday Market (7), under the Burnside Bridge (001 503 222 6072; portland saturdaymarket.com; 10am to 5pm Saturday, 11am to 4.30pm Sunday). It's the Camden Town of Portland, where incense-burning stall-owners sell quirky T-shirts and souvenirs. From here, turn away from the river and take SW Ankeny Street to the junction with SW Third Avenue. In the car park across the road you'll find a mural (8) of the "Keep Portland Weird" slogan – the perfect photo op.
Lunch on the run
Food trucks, or food carts, as Portlanders call them, are a big deal. They don't tend to move around – but stay put in established "pods" around the city. The junction of SW Alder Street and SW 10th Street (9), is home to favourites such as Whole Bowl and Nong's Khao Man Gai, but these are open Monday to Friday only. The Grilled Cheese Grill (grilledcheesegrill.com; 11am to 5pm Sunday to Thursday, 11am to 8pm Friday and Saturday), serves gooey toasted sandwiches from $4.50 (£3) each.
Cultural afternoon
The city may not have big-name institutions, but Portland Art Museum (10) at 1219 SW Park Avenue (001 503 226 2811; portlandartmuseum.org; $15/£10: 10am to 5pm, Tuesday to Sunday; to 8pm Thursday and Friday, closed Monday) has a good collection of modern and older works, while the Oregon Historical Society (11), across the road at No 1200 (001 503 306 5198; ohs.org; $11/£7; 10am to 5pm Monday to Saturday, noon to 5pm Sunday) offers an insight into the state's past.
For a quirky take on local history, visit the Shanghai Tunnels (12) (001 503 622 4798; shanghaitunnels.info; $13/£9; early evenings Wednesday to Saturday, some Sundays). Starting from Hobo's Restaurant, at 120 NW Third Avenue, the tour shows you tunnels beneath Chinatown, where in the late 19th and early 20th century, local men are said to have been kidnapped and sold to passing ships as slaves. There is some debate over the story, but it's a wonderfully weird way to start the evening.
An aperitif
Multnomah Whiskey Library (13) at 1124 SW Alder Street (001 503 954 1381; multnomah whiskeylibrary.com; 4pm to midnight Monday to Thursday, 4pm to 1am Friday to Saturday, closed Sunday) is an atmospheric spot with low lights, leather seats, and more than 1,500 bottles on the shelves.
Dining with the locals
Laid-back Pok Pok (14) at 3226 SE Division Street (001 503 232 1387; pokpokpdx.com; 11.30am-10pm ) serves delicious lesser-known Thai dishes; don't miss the supremely sticky and spicy chicken wings ($14.50/£10).
Tasty n Alder (15) at 530 SW 12th Avenue (001 503 621 9251; tastynalder.com; 5.30-10pm, Sunday to Thursday, until 11pm Friday to Saturday) offers sharing plates and great meat – the burger ($12/£8) is the best I've ever had.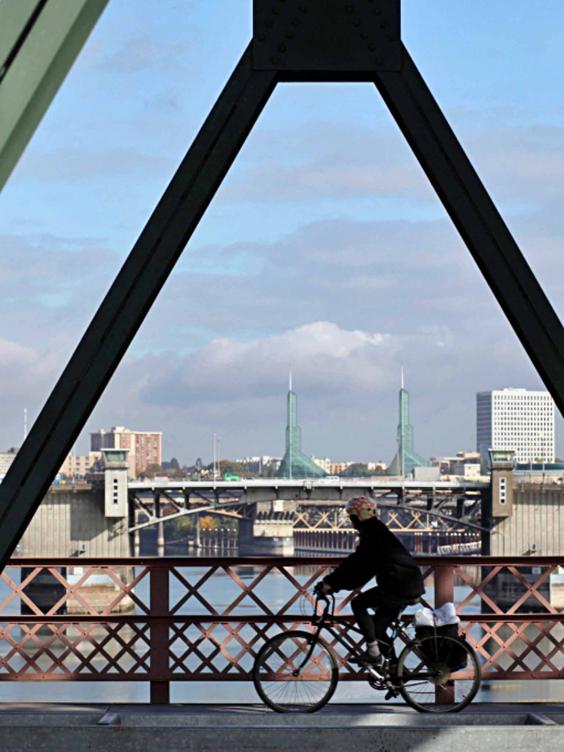 Day two
Out to brunch
Get up early to beat the queues at Screen Door (16) at 2337 E Burnside Street (001 503 542 0880; screendoorrestaurant.com; brunch 9am to 2.30pm Saturday and Sunday). It's famed for its chicken and waffles (which comes with three deep-fried breasts, $14.75/£10) but you'll also find riffs on typical fare such as praline-maple bacon and eggs benedict with oysters.
Take a ride
Do as Portlanders do and get on your bike; Veloce Bicycles (17) at 3202 SE Hawthorne Boulevard (001 503 234 8400; velocebicycles.com) rents from $40 (£27) a day. Then, explore some microbreweries. It's not as irresponsible as it sounds – you can order a tasting flight and have a few sips of each. Start with sour, barrel-aged beer at Cascade Brewing (18), 939 SE Belmont Street (001 503 265 8603; cascadebrewingbarrelhouse.com; noon to 10pm Sunday to Monday, until 11pm Tuesday to Thursday, until 1am Friday and Saturday). Try ale at Hair of the Dog (19), 61 SE Yamhill Street (001 503 232 6585; hairofthedog.com; 11.30am to 10pm daily, until 8pm Sunday) before finishing at Bushwhacker Cider (20), 1212D SE Powell Boulevard (001 503 445 0577; bushwhacker cider.com; noon to 11pm Sunday to Thursday, until 12am Friday and Saturday). The ride takes in some pretty, residential streets.
Window shopping
If you only visit one shop, make it Powell's City of Books (21) at 1005 W Burnside Street (001 503 228 4651; powells.com; 9am to 11pm daily). It takes up a whole block and can be overwhelming, but if you can't choose from the million-plus books there are classy souvenirs, and a coffee shop.
Icing on the cake
Portland is a great jumping-off point for wine country, the Pacific coast and more. Hire a car and head for Columbia River Gorge (crgva.org) with its waterfalls and walking routes, or one of the region's many wineries, such as Rex Hill (001 503 538 0666; rexhill.com; 10am to 5pm daily) where $10 (£7) buys you a flight of delicious pinot noir.
Reuse content