Cesaria Evora airport makes its point twice. Just in case you miss the name above the door, the woman in question waits to welcome you as you emerge from the arrivals hall.
This bronze statue captures Cape Verde's greatest cultural icon in the heyday of her seventh decade – that giddy era when, in 2003, at the age of 61, she won a Grammy for her mastery of morna, the Atlantic archipelago's fluid, rhythmic musical gift to the world. Either side of this belated season in the sun, Cesaria Evora was born, lived and died in Mindelo, the north-coast capital of Sao Vicente – a local girl as well as a singer of repute.
Her "presence" at the airport is the second sign that Sao Vicente does not fit neatly into the perceived image of Cape Verde. The first was the island's west flank as my plane descended – imbued with an ashy sparseness, the ground looks as though it is freshly risen from the ocean in a hot volcanic burst. It is a dramatic snapshot that contradicts the idea of Cape Verde as an unimaginative zone of basic holidays and flat-pack beach hotels. Though that idea is not without credance; since the turn of the millennium, this chain of 10 islands has pushed itself as an alternative to the Canaries – an extra 900 miles from Europe, where you can enjoy tropical weather and cheap accommodation, especially on the two easternmost isles, Boa Vista and Sal. The latter is home to the Clubhotel Riu Funana-Garopa, a mega-resort of 1,000 rooms – a tribute of sorts to this sea-framed country's determination to overcome its remoteness.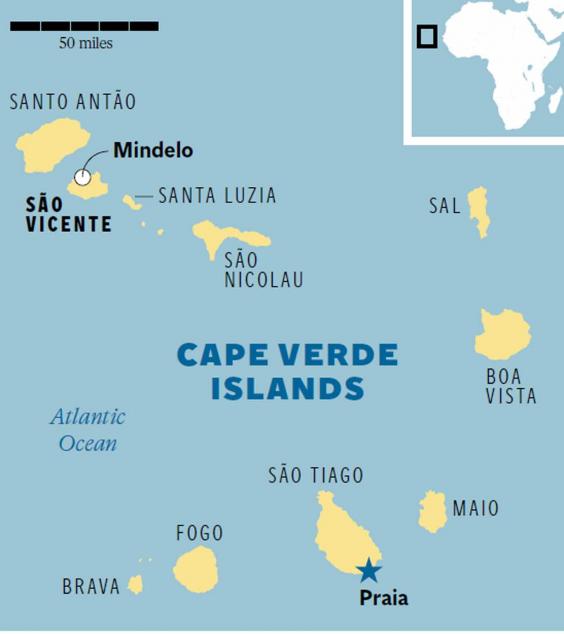 Geographically, Cape Verde has always kept its own company. It dozes 350 miles west of Senegal, so removed from view that it was uninhabited when Genoese navigator Antonio de Noli stumbled across it in 1456. Sao Vicente, set 140 miles north-west of Boa Vista, did not make the map until it was noted by Portuguese explorer Diego Afonso in 1462 – and did not garner a population until 1838, when coal was found, making Mindelo a plausible pitstop for ships crossing the Atlantic. Even now, it feels like the end of the line; along with its neighbour Santo Antao, it can be considered Africa's far western edge. However, Sao Vicente is not inaccessible. The introduction of direct flights from Lisbon by Portuguese national airline TAP in 2011 meant the island could be reached without an internal flight – a colossal boost to touristism. The island, like the rest of Cape Verde, has long been tied to Lisbon.
The first Portuguese settlers arrived in the archipelago in 1462, kicking off four centuries of colonialism that would only flower into independence and statehood in 1975. This epoch is wholly visible as I walk around Mindelo. It is there in the elaborate mosaic pavements and in Nossa Senhora da Luz, a church of classic whitewashed stockiness on Pracinha da Igreja. It is there in the Mercado Municipal, where the names of Portuguese cities and municipalities are spelled out in tiles of blue and white above stalls festooned with oranges and bananas. It is certainly there on the waterfront, where a replica of Lisbon's Torre de Belem looks strange and incongruous, and a sculpture of Afonso gazes across the harbour in proprietorial fashion, with fishing boats – daubed in chipped coats of red, yellow and green – pulled up around the explorer's feet.
Yet while Mindelo's heritage is unmistakable, it is hardly in thrall to the past; it has a rich cultural identity of its own. Amid the slip-slap of just-netted fish in the Mercado de Peixe, murals crafted by Sao Vicente's foremost painter, Tchale Figueira, give an idealised picture of a fisherman's life, swarthy seawater soldiers wrestling their wriggling catches above the cold reality of marble slabs strewn with guts.
Figueira also holds sway at the Centro Cultural do Mindelo – where the isle's old customs house has been reconfigured as an art space. This relic dating back to 1858 seems comfortable in its new role, its courtyards and rooms adorned with works by Santo Antao artist Kiki Lima alongside Figueira's warm brushstrokes. The local independence movement had an office here as the cries for nationhood grew in the Seventies, and the centre is still dedicated to giving people a voice; there is an auditorium for concerts, and a studio for young creatives.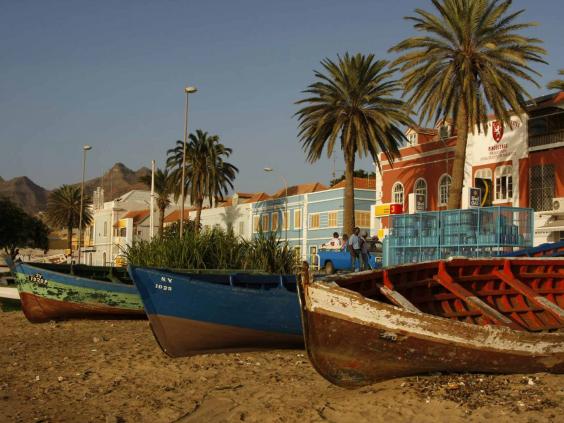 Sao Vicente prides itself on being Cape Verde's "cultural island" and this is no idle boast. Casa da Morna, owned by Mindelo-born singer Tito Paris, stages morna shows into the early hours. However, you do not have to stalk the night to hear Cape Verde's music. It seeps from an open window at Casa Cafe Mindelo, drawing me in for coffee and a seat below Evora's image, her face side-on to the camera in black and white. Her velvet tones are also audible up the hill at Cafe Lisboa, where I sip a glass of grogue – the local rum – and watch four senior gentlemen grin through the unspoken intensity of a game of dominoes.
The 21st century intrudes sporadically; the urban sand of Praia da Laginha, a little version of LA's Muscle Beach, where sinewy men conduct push-up regimes in sweaty defiance of the glaring sun; the shipping containers of the Porto Grande docks at the top end of the bay, Sao Vicente's lifeblood; Marina Mindelo, a symbol of tourism's ascent here, which makes a play for passing yacht parties with its chic Restaurante Pont d'Agua.
Cape Verde is increasingly seen as a sailing destination – a fact underlined by the number of luxurious boats tethered in Mindelo. This is also a tacit admission that accommodation is still relatively scarce – although I uncover a gem in Villa St Aubyn. A boutique retreat of three storeys and four bedrooms, it hides five blocks from the water; elegant yet cosy. Here, on its sun terrace, loungers call for indolence but the glory of the panorama, over rooftops and pastel walls insists that you go out and explore.
And I do, hiring a car and flitting east. Sao Vicente is not huge – 15 miles wide from east to west, 10 miles long from north to south. But with 90 per cent of its 80,000 inhabitants clustered into Mindelo, the contrast between town and country is immediate and obvious.
Five miles beyond the capital, I encounter Monte Verde. The road which tackles Sao Vincente's central peak – a crag of 2,460ft – is steep and cobbled. But the juddery journey is made worthwhile by the vista it unveils. From above, the island's volcanic genesis is clear, a flat puddle of cooled lava spread out below its core cone of rock. Back to the west, Mindelo basks; to the east, the Atlantic rages. It is only when I reach it that I realise the east coast is not empty. Not utterly – although Baia das Gatas is barely a hamlet, a line of homes on a bay of black pumice where another rainbow of fishing boats awaits the tide. This settlement comes alive in August, making a contribution to Sao Vicente's cultural health with its own music festival. But its key attraction is the beach – Praia Grande – which starts as the houses end; an arc of gold curving for five decadent miles, as far as the village of Calhau. On a better-known island, it would be lost to luxury resorts. Yet when I amble its dunes, I do not meet another soul.
This only exacerbates my wanderlust, as I remember this island has a companion in remoteness. Santo Antao broods on the horizon, 11 miles west. A meagre distance, but also a route less followed – there are only two ferries a day between Mindelo and its counterpart Porto Novo. Today, however, there is an alternative. At the marina, I board Perseverance – a 54ft yacht available for charter (including skippered voyages around the archipelago) via Sail Cape Verde.
The wind is whistling insistently and soon we are forging out of the bay. The rolling swells quickly punch at my stomach, as if the Atlantic is reminding me that this is no gentle lake cruise but a passage through mid-ocean currents. It takes two, occasionally queasy, hours to cross the dividing channel and reach Porto Novo, whose dowdy row of buildings, makes Mindelo look like Manhattan. But I am not here to wander the "streets". Rather, I pick up another vehicle and, ignoring the coast road, forge directly north, up into the mountainous interior.
There are no other cars on this pot-holed track and the landscape does not deny its volcanic character, all raw stone, dark soil and unfriendly gradient. But life is here, stubbornly: farmers carving out existence on agricultural terraces, and labourers plucking beans on coffee plantations.
Then, suddenly, I am at the top of the ridge. Below, the north-coast outpost of Ponta do Sol clings to its squat peninsula – and the Atlantic yawns wide beyond, a faceless void.
There is nothing due west until Antigua rises from the Atlantic some 2,429 miles away. But with light dancing on the water here, at Africa's last word, nothing has rarely seemed quite so substantial.
Getting there
TAP Portugal (0845 601 0932; flytap.com) flies twice a week from Lisbon to Sao Vicente, with connections to and from Gatwick, Heathrow and Manchester. The airline also serves the islands Sal, Praia and Boa Vista.
Staying there
Villa St Aubyn, 20 Avenida Fernando Ferreira Fortes, Mindelo (00 238 231 2725; villastaubyn.com). Double rooms from €55, including breakfast. The villa sleeps up to eight, and can also be rented in its entirety – from €240 per night, including breakfast.
Visiting there
Centro Cultural do Mindelo, Avenida Marginal. Monday to Thursday 9am-9pm, Friday 9am-12.30pm, Saturday 10am-9pm, Sunday 5-9pm.
Casa Café Mindelo, Rua Governador Calheiros 6, Mindelo (00 238 231 3735; casacafemindelo.com).
Casa da Morna, Rua de Praia, Mindelo (00 238 987 6990; facebook.com/casadamornamindelo).
Restaurante Pont d'Agua, Marina Mindelo (00 238 231 0112; marinamindelo.net)
Skippered voyages on Perseverance cost from €800 per day and €4,800 per week through Sail Cape Verde (00 238 594 7490; sailcapeverde.com). The yacht has three double cabins, and can be chartered exclusively.
More information