Tripe was strung up next to platters of brains, hearts, livers and unidentifiable innards. Nearby, a sheep's head was being charred over hot coals in preparation for the lunchtime rush. The stall holder lifted the lid of a copper pot to reveal its brain bubbling away in a rich tomato sauce. Hawkers' cries competed with the melodious call to prayer and, as I pressed myself against a wall to dodge a donkey laden with skins from the pungent tanneries, I began to feel like I was caught in a medieval time warp – until the donkey rider pulled out a mobile phone.
I was on a food tour of Fès's medieval medina with Gail Leonard, who hails from Yorkshire but is now an honorary Fassi. As we walked, she explained how Moroccan cuisine is a genuine melting pot: the Berber influence remains in staples such as couscous, while the invading Arabs brought dried fruit, nuts and spices, and the Moors added olives and citrus fruit; the Ottoman Turks introduced barbecues, and the French left a café culture. Every dish varies with the region and the season, but here in the country's culinary capital, everything is done better.
Moroccans are passionate about sweet things and the souks are filled with calorie-laden treats, especially during Ramadan. The best chebakia – deep-fried dough coated in a honey and rosewater syrup, sprinkled with sesame seeds – and the best sellou – a mix of sesame seeds, almonds and flour – are made in Fès. Gail pointed out jars of khlii, the Fassi equivalent of jerky. Strips of beef are marinated with garlic, cumin and coriander before being dried in the sun and packed in animal fat. The mixture can last for up to three years; now there's a low-cholesterol version made with olive oil.
We ended at the honey souk, where blue plastic urns were filled with 17 varieties of organic honey. "Honey is deeply rooted in Islamic culture," Gail told me. "Bees have their own verse in the Koran; and Allah says honey cures all ills." And, as I tasted my way around the room, I learnt that each variety has a purpose: lavender heals burns, rosemary is good for asthma, thyme cures sore throats and the latest addition, sunflower honey, is said to prevent heart attacks.
Moroccans say the best food is served at home, so there was no better place to take a cooking class than in a traditional dar shared by three generations of the same family. Shopping and cooking is women's work, and my class with Oum began at her local souk. As she led me around, we passed mounds of sweet-scented cherries, baskets of figs, vivid green chickpeas and purple piles of tiny wild artichokes.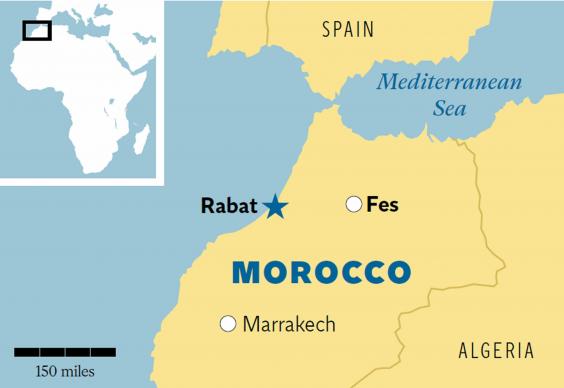 On the way home, we stopped to pick up bread. Every neighbourhood has a communal oven, or f'ran. And as I ducked through the doorway into a subterranean stone-walled space, a man was sliding loaf after loaf into the wood-fired oven. They can make around 2,000 khobz (traditional crusty flatbread) a day – up to 4,000 in wedding season. People pay per loaf or send their own dough to be baked; every family has their own mark or a special tea towel covering the dough to differentiate it from their neighbour's.
Back at the dar, Oum showed me how to preserve lemons for tagines and pickle chillies, instructing me to leave them "for 40 days and nights". I was given the job of shelling peas and peeling artichokes, while she marinated a chunk of beef and whipped up a smoked aubergine dip called zaalouk, seasoned with garlic, cumin, chilli and coriander, and taktouka, a mix of cooked tomato and roasted peppers,
Oum's small kitchen may have lacked shiny appliances, but the mouth-watering beef, artichoke and pea tagine that emerged was better than any restaurant's. As I sat down to eat with the family her husband said the blessing, "bissmillah". Bread replaced knives and forks and I'd been told to only eat with my right hand and take what was in front of me from the communal tagine.
Perhaps the most quintessential Fassi dish is b'stilla, pigeon meat cooked in spices, topped with a layer of toasted and ground almonds, saffron and cinnamon, all wrapped in paper-thin pastry and dusted with icing sugar and cinnamon. If you order a day in advance, as I did, Robert Johnstone will conjure up this elaborate dish in the leafy oasis of his Ruined Garden restaurant. As I took my first bite, it was savoury but sweet, spiced yet simple, as if bringing all the flavours of Fès together.
Getting there
The only flights to Fes from the UK are on Ryanair from Stansted, on Wednesday and Sunday.
Staying there
Riad Idrissy (00 212 649 191 410; riadidrissy.com) has doubles from €110, including breakfast in the adjoining Ruined Garden restaurant (00 212 649 191 410; ruinedgarden.com).
Visiting there
Plan-it Fez (00 212 535 638 708; plan-it-fez.com) organises culinary tours, including a Souk Tasting Trail from £72pp.
Reuse content