Katharine Hepburn wasn't at the helm and Bogie wasn't kicking the boiler. But the pugnacious African Queen was once again ploughing through the Nile. The century-old firebox was fed with wood to generate a sufficient head of steam, the flywheel twirled into life, the pistons pogoed, the steam-whistle peeped and the engine groaned into life. It sounded like a pair of wellies in a washing machine. This was her first pleasure cruise since being pressed back into service by New Zealander, Cam McLeay, from her moorings at Wildwaters Lodge in eastern Uganda.
The film of The African Queen, directed by John Huston and released in 1951, is cemented in cinematic history. Based on C S Forester's 1934 novel it was set during the First World War in German- occupied East Africa. Humphrey Bogart won an Oscar portraying the gin-soaked, ambition-free steamboat captain, Charlie Allnut, who takes onboard prudish missionary Rosie Sayer (Hepburn). Allnut wants to see out the war in an alcoholic haze but Rosie has other ideas. In a pique of patriotic zeal she badgers the reluctant Allnut to take the African Queen down the previously unnavigable Ulanga River to destroy a German lake cruiser. Steadily, Allnut falls for his "crazy psalm-singing skinny old maid" and an unlikely romance blossoms on an epic voyage amid fierce whitewater, German bullets and malarial swamps.
Forester was quixotic with his novel's locations. Ulanga is a Tanzanian river but doesn't flow into Lake Tanganyika, where Imperial Germany held naval sway. Equally, the filming locations were geographically discordant. Scenes were shot in London's defunct Isleworth Studios, the Belgian Congo and Uganda. In this last location, Nile scenery was filmed at Murchison Falls National Park, where McLeay's version of the African Queen boat was unearthed in 1984.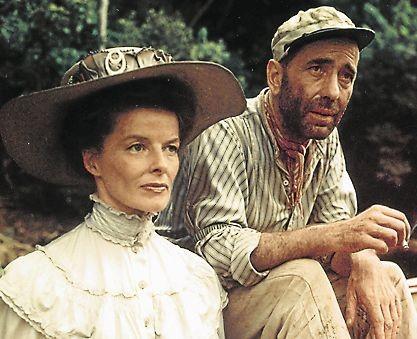 I say "version" because of ongoing uncertainty about how many African Queens were used during filming. The original boat, the Livingstone, was built in 1912 in England. This 30ft steamboat operated in the Belgian Congo and was rented by Huston's film crew for the movie, where she appears in scenes filmed around the Congo. She was subsequently sold to an American buyer in 1968 and now takes pleasure-cruises out of Key Largo, Florida. Her current owner insists none other than his African Queen and scaled-down models were used during filming.
McLeay, however, is equally adamant his African Queen was specially constructed for the Ugandan film scenes. An explorer who has traversed the Nile's length by boat, McLeay founded whitewater rafting company Adrift and in 2010 opened Wildwaters Lodge. He wanted an old riverboat for his lodge.
"When I first heard a Kenyan guy, Yank Evans, was selling the African Queen, I thought 'You're joking … Humphrey's boat'"? McLeay explained. "I phoned Yank and he told me he'd discovered her when building a road around Murchison Falls in the 1980s. His local workers insisted to a man it was the African Queen. Yank uncovered her steel carcass rusted below the waterline, with a mock boiler and toppled flue."
The fake boiler and flue are significant clues. In the movie the boat (or boats) used were diesel-driven but were mocked-up to resemble a steam-powered vessel.
"Yank rebuilt her hull and his friend in England sourced a century-old steam engine [made in Blackburn], which he freighted to Uganda," continues McLeay. "By the 1990s she was running again but now truly steam-powered. When I bought her three years back, she'd succumbed to rust again. We've spent a few years overhauling her."
He rejects the Florida African Queen as the only full-sized one in existence. "I strongly advocate we have one built for the Nile filming. To transfer the African Queen used in scenes in the Congo back to Uganda for further filming would've taken months back in 1951" (the cast were only in Africa for three-months). "There are images in Hepburn's book, The Making of the African Queen that show a full-sized version on the Ugandan Nile and ours is near identical to the Florida boat."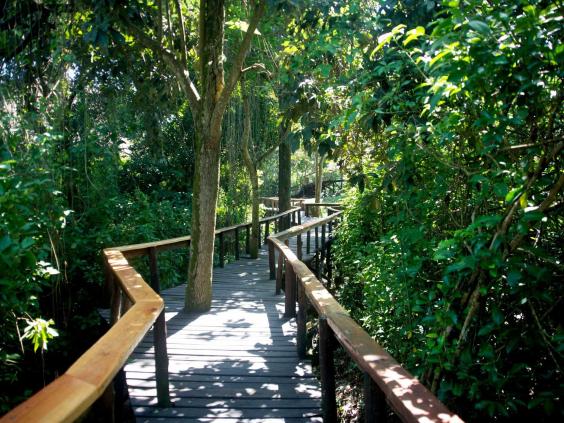 My silver-screen homage had begun at Uganda's Entebbe airport. From here I travelled 90 miles east to Wildwaters Lodge on the White Nile, flowing north from Lake Victoria.
Beyond Kangulumira, some of the mightiest white waters on Earth thunder over Kalagala Falls and gush chaotically between rainforested midstream islands. Reaching Wildwaters Lodge means taking a dugout across a tranquil corridor of water to the midstream Kalangala Island.
All-inclusive Wildwaters offers 10 high-end cottages linked by boardwalks to a river-facing restaurant and swimming pool. My cottage exudes retro comfiness, characterised by plump floral-fabric armchairs, chaise-lounge and clawfoot bathtub on a riverside veranda for al fresco bathing. It overlooks a Grade 6 rapid (considered un-raftable) called Hypoxia. The rapid's constant roar provided an ever-present gravelly tinnitus.
I'm introduced to McLeay's African Queen that afternoon. Wallowing in shallows off a slipway surrounded by water hyacinths, she's a narrow 30ft workhorse with a shallow draught, a white- and bark-coloured steel hull trimmed by a wooden gunwale and a black boiler topped by a flue. She's a bit of tinkering away from being readied to take visitors on two-hour cruises into calm water. I get to join a test run.
Completing final preparations is another Kiwi; engineer, Gavin Fahey, who, like Bogart's Allnut, is appropriately unshaven and able to turn his hand to all things mechanical.
"The reason she's taken so long to get going is the old boiler. We've had to rebuild it and manufacture some parts ourselves. She never came with an instruction manual," shrugs Fahey. "We're trying to get her as close to the original as possible. I've still got to assemble the awning Katharine Hepburn sat under and replace the mast that rotted through."
She's built for neither quick getaways nor solo operation. Fahey's co-engineer, a Ugandan called Bonny, busily feeds her firewood and tweaks hissing valves as we wait 45 minutes for the boiler temperature to superheat steam to the 120psi pressure required before the flywheel will engage her gearbox. Then we're all aboard and she plods upstream at a few knots against the Nile current.
The plan was to test her in some mild whitewater but after half-an-hour the water-pump malfunctioned. "We don't want to be aboard if the boiler dries out because she'll go pop," cautions Fahey. Her steam is expelled mid-Nile, firebox doused, and we're ignominiously towed home.
While she heads back to the workshop, the next day I attempt one of Uganda's most popular activities: Nile whitewater rafting. Having experienced the African Queen's foibles, I soon realise that the movie scenes showing her careering down monstrously large rapids are laughable.
My first capsize of the day, tackling Grade 5 whitewater by dinghy, guided by Tasmanian river guide, Tom, was at a malicious rapid called Bubogo (meaning "condolences"). After barely keeping upright while plunging over a four-metre waterfall called Overtime, we're completely out of control within Bubogo's ferocious maelstrom. We're flipped and I'm sucked underwater to rotate on fast spin before being rescued, gasping, by the safety kayakers.
The subsequent rapids, Vengeance, The Bad Place and Itanda ("graveyard"), scarcely rebuild my confidence. However, fear eventually transforms into adrenalin-fuelled fun as we ride river monsters to the point of hysterical amusement. We're finally overturned by a rearing cobra of a wave at Kula Shaker rapid. "I don't reckon your African Queen would survive this lot mate, she'd fill-up with water and sink after the first rapid," offers Tom.
A day later it's the commercial debut from Wildwaters Lodge of their African Queen. Fahey hopes he's solved the water-pump issue and I join the first paying customers, Alan and Cynthia from Launceston. We're soon sipping G&Ts.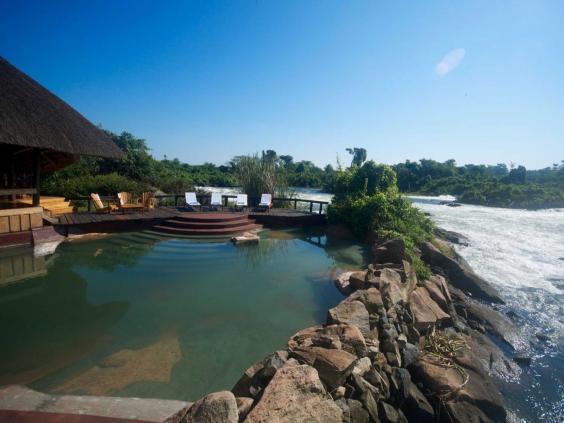 As we make thumping progress upriver, Cynthia is offered control of the helm. She may well be the first woman to assume that responsibility since Hepburn. "I'm in disbelief," coos Cynthia. "I've never driven a boat before and now my first is the African Queen. I feel like Katharine, only without her jawline."
All was going well: second G&T in hands, canapés, visceral Nile scenery, Bonny bashing the flywheel. Then the water-pressure gauge slumped to nearly empty. Abandon trip. Still, we'd made 40 minutes this time and were able to whoosh back to Wildwaters on a fast current.
Beer in hand, Fahey smiled wrily. "We're 75 per cent there. Well, maybe 65 per cent. But the old girl's worth the effort isn't she?" I'm sure he meant the steamboat and not Katharine Hepburn.
Travel essentials
Getting there
Mark Stratton travelled as a guest of Brussels Airlines (0905 60 95 609; brusselsairlines.com) which flies from Heathrow to Entebbe via Brussels from £515 return, three times weekly.
Staying there
Mark was a guest of VentureCo (01822 616191; ventureco-worldwide.com) which offers a 14-night Uganda adventure including three-nights at Whitewaters Lodge, a ride on the African Queen and full-day's rafting, along with gorilla and chimpanzee-watching, in a full-board package with all internal flights and transfers from £4,745pp, based on two people sharing.
Whitewaters Lodge (wild-uganda.com) offers doubles from £410, all-inclusive. A two-hour excursion on the African Queen costs £52. A full day spent whitewater rafting costs £78 from adrift.ug
More information
Visitors to Uganda must buy a visa on arrival; US$50 (£31) in cash.