While many of Ontario's parks can boast pristine landscapes, none is as untouched as Woodland Caribou Provincial Park in northwestern Ontario, abutting the neighbouring province of Manitoba. Fewer individuals visit the park each year - an estimated 800 - than there are paddle-in camping spots and kilometres of maintained canoe routes (roughly 2,000 in both cases). Typically canoe trippers might encounter two or three other paddling parties during a two-week expedition. Noisy motors are heard only on a few lakes that have fly-in lodges for the hunting and fishing fraternity. It is easy to imagine that you are seeing the virgin continent as it was before Europeans arrived.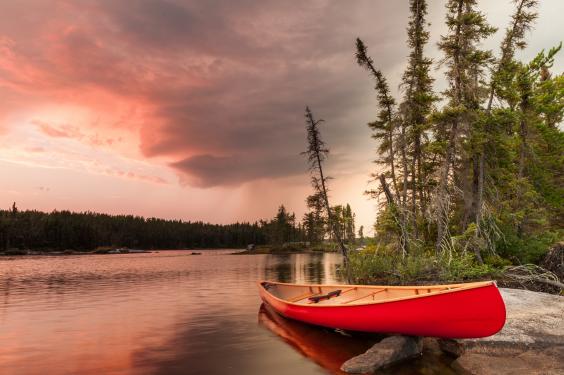 To the original inhabitants, the ancestral forests are sacred, and vestiges of ochre-red shamanic artistry can be seen in several park locations. Jack pine and black spruce, often spindly and stunted from the lack of soil, blanket vast, roadless tracts. The fire-driven ecology of burnt-out and regenerated areas is fascinating. The absence of roads and bridges, logging and mining, makes it possible to experience a primeval wonderland, spectacular and serene, a place of silence and solitude. While many other Ontario rivers have been harnessed and tamed, here the only dams you'll see are the ones built by those phenomenal engineers of the animal kingdom, the beavers that author and conservationist Grey Owl fought so energetically to save.
The iconic animal on the Canadian quarter that gives its name to Woodland Caribou Park roams these forests in greater numbers than in any region south of Hudson Bay. Declared a threatened species by the Canadian authorities in 2002, caribou - the North American word for reindeer - live in mature coniferous forests where they feast largely on lichens. If you hear a heart-stopping snap, crackle or crunching of dry lichen, peer into the forest looking for movement.  You may be rewarded with the sight of a large pair of antlers. Or it might be a black bear or moose, largest member of the deer family. Both species are  flourishing in the boreal forests and sub-arctic watersheds, protected by the lack of human development. If you aren't lucky enough to spot one of these well camouflaged fellows, it doesn't mean they haven't seen you. Guides are able to identify tracks and scat.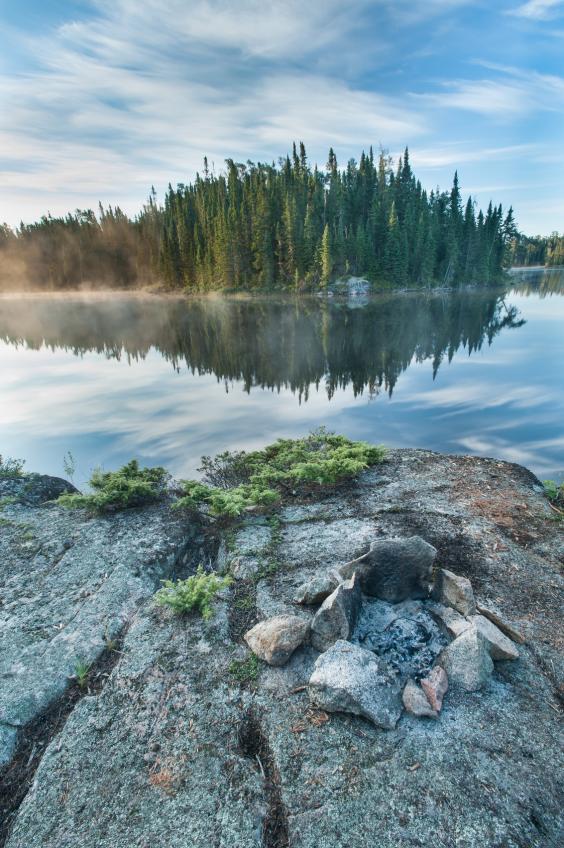 Other noises to emanate from the bush include howling wolves and from the lakes laughing loons. (The latter is another creature depicted on a Canadian coin; the dollar is known as the "loonie".) Birds of prey such as bald eagles, great grey owls, osprey and turkey vultures may sometimes be seen catching the updrafts. Canada jays, also known as whisky jacks, inhabit the park, a species befriended by Grey Owl who fed them out of his hand. Fish are so abundant that the park attracts fishermen from far and wide. Even amateurs can count on catching a tasty walleye, northern pike or lake trout to fry up over the campfire.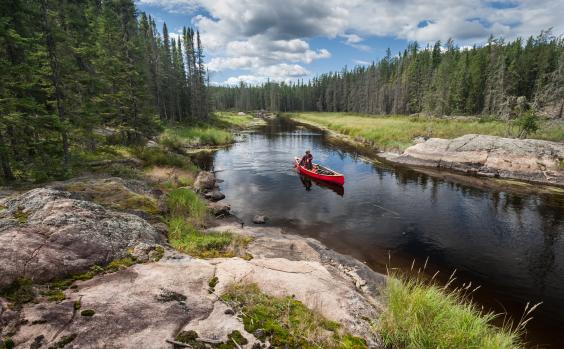 With an Official Park Planning Map and GPS, a route can be improvised along the interconnected lakes and rivers that have carved through the granite to form mini gorges. Trailheads can be hard to spot: look for traditional axe blazes on trees and sometimes small cairns. Although portages are mostly short, they can be steep and slippery over moss-covered rocks. Much of the soil was scoured off in the last ice age leaving exposed undulating rocks that can serve as pleasant chaises longues from which to admire the sunset. Rain and mosquitoes are as inevitable as they are in Scotland, but so are beautiful sunrises, light lingering in the sky until 11pm and double rainbows after a rainstorm. Some lucky visitors are treated to a display of Northern Lights.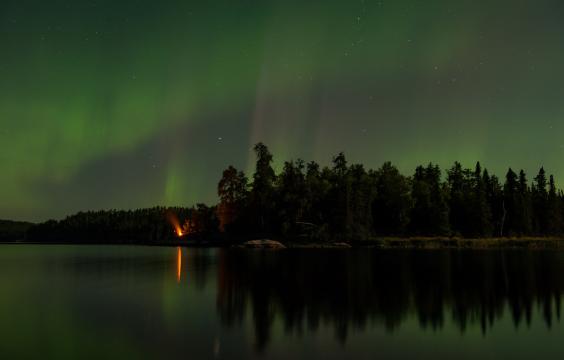 The town of Red Lake, gateway to the park, marks the northern terminus of Highway 105, which links to the TransCanada Highway. The access road to the nearest put-in point at Leano Lake is so rough that many visitors book a ground shuttle or charter a floatplane. Help with routes, logistics and equipment can be provided by the well regarded Red Lake Outfitters (redlakeoutfitters.com), who also offer guided trips; their premier fly-in fly-out 15-day guided canoe camping package costs £1,750. The provincial park headquarters in Red Lake can also help with trip-planning.
A campaign is underway to win World Heritage status for a gigantic region of precious wilderness, including Woodland Caribou Provincial Park. The case for Pimachiowin Aki (pimachiowinaki.org) meaning "the land that gives life" in the Anishinaabeg (Ojibwe) language, will be considered by Unesco later this year. The tiny number of visitors who are lucky enough to experience this unique fragile ecosystem should tread lightly and with reverence.
Travel Essentials
Air Canada (aircanada.com) operates four flights a day from London Heathrow to Toronto and Air Canada rouge connects Edinburgh, Glasgow, Manchester and Dublin with Toronto. Air Canada rouge will also operate summer flights from Gatwick to Toronto from 19 May, 2016.
After flying into Thunder Bay or Winnipeg, connecting scheduled flights to Red Lake are provided by Bearskin Airlines (bearskinairlines.com). From Red Lake, it is possible to drive or take a ground shuttle to one of four park entry points along rugged access roads, or to fly to a more remote starting point with Viking Outposts bush air service (vikingoutpost.com). The full service canoe and backcountry outfitter, Red Lake Outfitters (redlakeoutfitters.com), can offer whatever level of service you require.
Win an epic adventure in Ontario with RAY MEARS
Plus £300 of Mountain Warehouse gear and flight with Air Canada rouge.
Fly to Ontario with Air Canada rouge before embarking on the trip of a lifetime! Guided by Ray Mears, you'll journey deep into the spectacular backcountry of Northern Ontario, where you'll be immersed in Canada's canoe culture and the legend of Grey Owl. Paddle, camp, fish and learn bushcraft skills from the master himself. This is an adventure like no other.
For more travel information and to enter the contest, visit www.ontariotravel.net/ukadventure
Reuse content