If there exists another group of islanders whose preoccupation with the weather is greater than that of the British, then perhaps I have found them. Jutting out into the cold North Atlantic Ocean, pointing towards Ireland – the country from which so many came here to make their home during the last century – is Newfoundland. And the island's weather, from one day to the next, is anyone's guess.
Local television forecasts are as detailed as the news segments that precede them, and conversations about it can be heard everywhere you go – there are a dozen descriptions for rain: soft rain; a hail of rain; gentle rain; blessed rain – and of course the favourite for when things get really wild: wet rain.
For the British tourist who has made what feels like just a short hop from the UK, this may sound familiar, but it's a lesson in  what to pack for even a summer jaunt – everything.
Fortunately, when I arrive, spring has just sprung, evident in the delicate pink of the wild rhododendrons interspersed among the endless spruce. It's 25C and out to sea several icebergs are glistening in the sun. A lack of strong wind has kept them out of the harbours, rather than blowing them inland, where they would float silently, waiting for fishermen to navigate skillfully around them.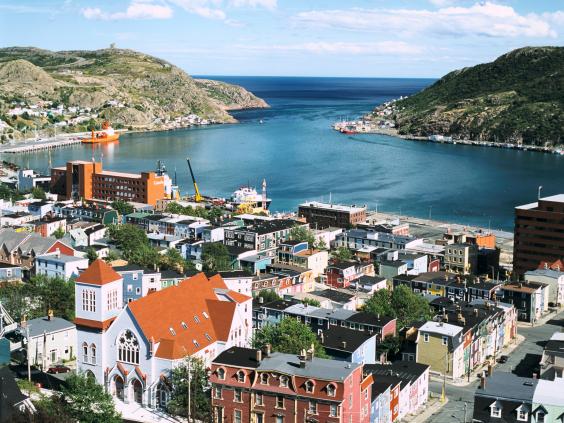 Newfoundlanders – or Newfies as they're known – are proud of their icebergs. So much so, they even "harvest" them to make the region's most popular brand of craft beer – unsurprisingly called Iceberg. On a tour of Quidi Vidi brewery in St John's, the province's capital, I'm told the water used to brew the beer is the purest and cleanest on earth.
It is ingenuity such as this which kept Newfoundland, the last province to join Canada in 1949 (it officially became Newfoundland and Labrador in 2001), alive when a fishing moratorium took away hundreds of thousands of livelihoods overnight, in 1992. With the discovery of off-shore oil much of the province has gradually become prosperous.
Just a five-hour flight from London, St John's is small and intimate. There's a San Franciscan vibe to the old part of town, whose steep slopes down to the harbour are lined with jelly-bean coloured Victorian panel-board houses. Like the Californian city, St John's has also risen from the ashes – after three devastating fires it was rebuilt from scratch each time. There is a strong artistic community here, too, evident in the abundance of galleries, art shops, and the large number of artists who have made the province their home.
Wide awake at 6am, I begin the short but steep walk up to Signal Hill. The small fort sits atop a hill overlooking both the city and the Atlantic coastline, and on clear days visitors come here hoping for a glimpse of breaching whales. They decide not to put in an appearance for me, but on this beautiful, crisp morning, the view is still pretty stirring.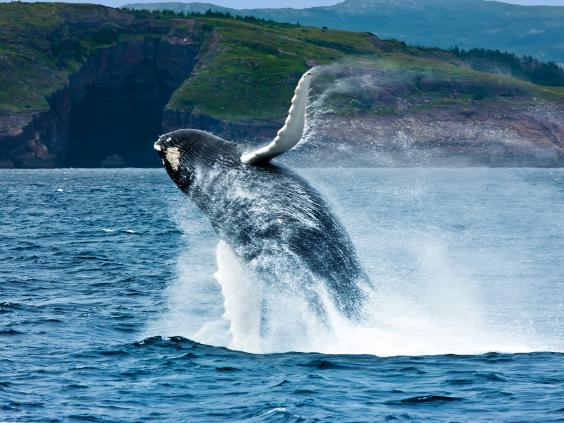 Heading back into town, I breeze past most of the knick-knack stores along the main Water Street, stopping only to pop into Fred's. I can't resist this purple-painted independent record shop. It's been a local institution since 1972, and with stripped wooden floors, band T-shirts hanging from the walls and tightly crammed records, it's like being on the set of Nick Hornby's High Fidelity. I easily while away an hour thumbing through the vinyl.
Yet, like most visitors to Newfoundland, I soon have itchy feet to see the great wilderness. Just an hour or so drive north up the coast brings me to Brigus. This sleepy, historic settlement, which rests by the shoreline surrounded by rock bluffs, was once home to US artist Rockwell Kent, until his eccentric behaviour led him to be thrown out of the town – it was the First World War and the locals thought he was spying for the Germans.
Further along up the coast lies tiny but beautiful Port Rexton. Here I base myself at Fishers' Loft, a cosy inn tucked away on the top of a hill, to explore the Skerwink Trail. An easy but stunning 5.3km coastal loop, the Skerwink begins on flat grassland near the inn. But within 1km, through a section of black spruce and a sudden drop, the coastline comes abruptly into view. Rock stacks, dramatic sweeping cliffs and rugged coves dominate the rest of the walk until it turns back inland. Earlier in the season you can iceberg watch, while in summer there are whales to spot, but for now I make do with the stunning scenery.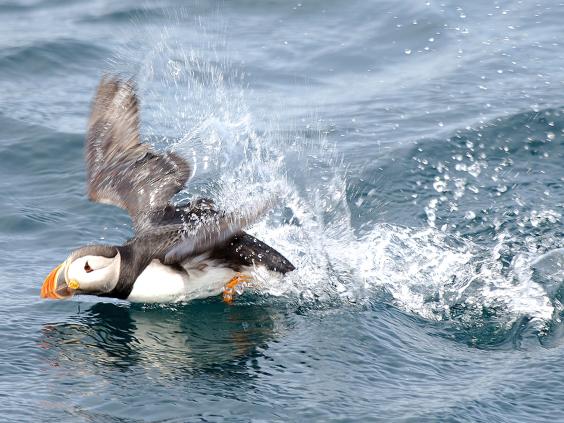 Keen to see some wildlife, I head back south along the coast to the town of Elliston, known as "the root cellar capital of the world" (having never seen or heard of a root cellar before, I'm confident in believing the claim). These cellars, with their little doors in the hillsides, look like hobbit houses. They were once used to keep vegetables from rotting during the harsh winters. They're not why I'm here though – a short walk through the pretty but exceptionally quiet town is Elliston Puffin Site.
The puffin is the official bird of Newfoundland and Labrador, and around 300 nesting pairs make their home here from May to September. Setting down my camera bag on an outcrop, I look through the lens and see only gulls. "Be patient," says my guide, Andrew. "Look for the holes in the ground." Zooming in closer, sure enough, within a few minutes the distinctive black and white head pops up, with its bright orange and yellow bill and apprehensive look (perhaps caused by unease with their bedfellows, the gulls). They're engaging to watch, largely due to the fact they're not the most gracious of creatures. Poor fliers, they have trouble becoming airborne, and when they land they often crash, sending other puffins flying like skittles.
Heading back to St John's, the weather closes in and storm clouds gather. "Is that a hail of rain or blessed rain?" I ask Andrew. "Oh no, that's definitely wet rain," he chuckles.
Getting there
Paul Bignell flew from Heathrow to St John's with Air Canada (0871 220 1111; aircanada.com).
Canadian Affair (020 7616 9933; canadianaffair.com) offers a six-night trip to Newfoundland from £959pp, including flights from Heathrow, and three-star hotel accommodation.
Staying there
Fishers' Loft, Port Rexton (001 877 464 3240; fishers loft.com).
Sheraton Hotel Newfoundland, St John's (001 709 726 4980; sheratonhotel newfoundland.com).
Visiting there
McCarthy's Party (001 888 660 6060; mccarthy sparty.com) offers tours.
More information: atlanticcanadaholiday.co.uk