An explosion rings out across town. Gunfire? "No, it's just a firework," laughs my guide Fernando Cobos, as we pedal through the streets of Dzitas. "The guns come later, when people have been drinking ..."
It's a local saint's day here in southern Mexico's Yucatán peninsula and Dzitás is getting ready for a fiesta. A band of drummers and trumpeters collects a statue of the saint from the church to parade through the village. Men are constructing a makeshift bullfighting arena on the edge of town.
It's these scenes of everyday life that many tourists miss as they hurry between the Yucatán's famed Mayan archaeological sites and the white-sand beaches that fringe the Caribbean. "There are other places in the world for cycling with more scenic landscapes, more elevation; Yucatán's attraction is not the road," admits Fernando. "But when you get to the villages it's where the magic starts happening. You see the real Mexico."
While bicycles are nothing new here, cycling tours of the region are, satisfying a rising appetite for seeing the archaeological sites, cenotes (sinkholes) and beaches without being stuck in a bus.
We start in the sprawling, commercial city of Cancún, testing out bikes and legs on the nearby Isla Mujeres, where iguanas perch on rocky cliffs and lightning-winged frigatebirds glide above.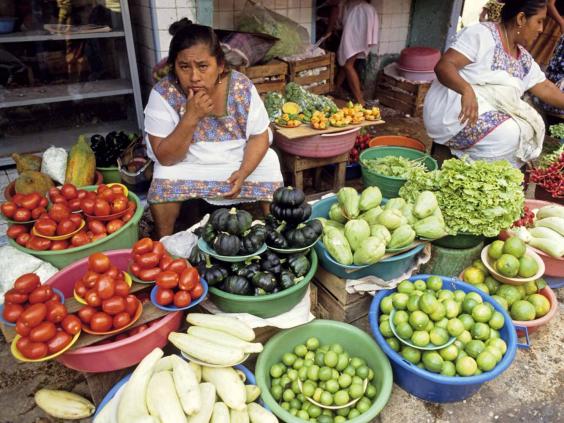 In the morning, a van delivers us and our bikes four hours west to the colonial capital of Mérida. "Coming to a town like Mérida and not visiting the market is like having a girlfriend and not taking her to bed," Fernando jokes, as we enter the central market's crowded alleyways, the colourful stalls packed with fruit and vegetables, chillies, Christ statues and piñatas. Across town, in the quiet of the Governor's Palace, paintings recount historic, bloody clashes between the invading Spanish and the indigenous Aztec and Maya.
"You don't get tourists in this part of the peninsula, except for cyclists," Fernando tells me, as we ride out from Mérida the next day on roads walled with dense, low forest. Our cycling posse calls out helpful warnings: "pothole", "car", "speed bump", but when "bend up ahead!" is passed down the line, it's clearly a joke; Yucatán's roads, designed for fast, efficient crossings of vast areas of jungle, are so long and straight, a bend is worth shouting about.
We reach the "Yellow City" of Izamal in the afternoon. From the hilltop Franciscan monastery to the houses, everything's painted the colour of sunshine. On one backstreet, with little fanfare, steps lead to the ruins of the Mayan pyramid Kinich Kak Moo. "What's interesting in Izamal is that you see this mix between colonial and pre-Hispanic Mexico," Fernando remarks."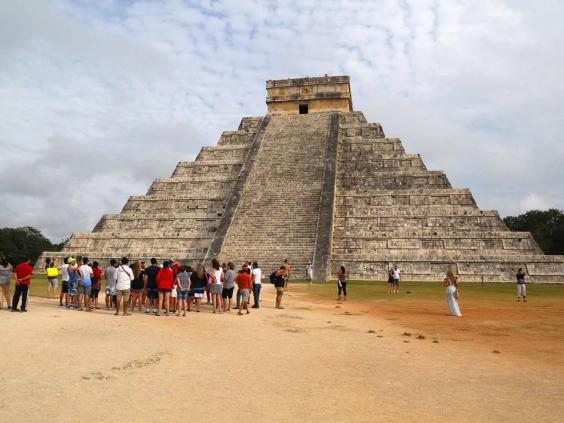 On straight, flat roads, we race through jungle and villages such as Tunkás until souvenir shops start appearing. "Suddenly, it's Disneyland," says Fernando, as we roll into Chichén Itzá, the region's pre-eminent Mayan site that 2.2 million visit each year. The car park is packed with coaches and vans that have driven three hours from Cancún; the crowds are jarring after the quiet countryside.
Mayan civilisation spread across Mexico, Guatemala, Belize, Honduras and El Salvador, roughly from AD250 to AD900, with Chichén Itzá one of its largest cities. We explore this sprawling metropolis and religious centre, from the soaring El Castillo pyramid and the Temple of Kukulcan to the Jaguar Temple and the Great Ball Court, an arena for ancient ballgames. Carvings of warriors, skulls and the Mayan feathered snake god Kukulkan are still discernible. 
On the wall of the Great Ball Court, there's a carving of a man holding a severed head. "Some say that a man would be sacrificed after the ball games. Maybe the winner, maybe the loser," Fernando tells us. "There's still so much we don't know about the Maya."
Mayan culture still dominates, especially in rural areas. "The names of all these villages are from the Maya," says Fernando, as we stop for a cycling break in Uayma next day. "The people in these villages are Maya. They all speak Mayan." Women in colourfully embroidered dresses queue to buy corn flour; men in sombreros sit on shaded benches in the plaza; a mass is being held in the church.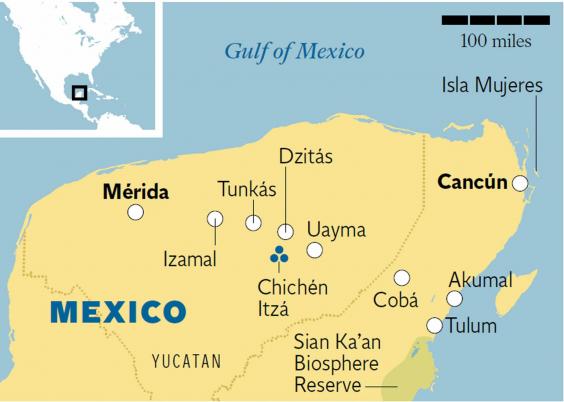 Later, we stop at Cenote Samula, one of the region's numerous sinkholes, with a natural pool in an underground cave. The Maya saw cenotes as the entrance or link to the underworld; they're also a perfect way to cool down. 
At the temple complex of Cobá, we spot colourful toucans in trees and climb up Nohoch Mul, the highest Mayan pyramid in the Yucatán, for views across jungle that stretches to the horizon. "Cobá's older than Chichén Itzá," explains Fernando. "But it was also a ceremonial centre. Here you have stelae, big carvings and inscriptions with lots of dates and information, including their links with other sites across this region." 
Reaching the Riviera Maya's bohemian hangout of Tulum, we're rewarded with laid-back beaches and the warm, Caribbean sea where pelicans dive around fishermen's nets. Beyond the beachfront restaurants and bars and colourful guesthouses is the Maya's walled, clifftop city; no match for Chichén Itzá in scale, but with stirring, ocean views. 
With a few days' downtime on the coast, we venture north to Akumal and spend a morning snorkelling with turtles that graze on sea grass in the sheltered bay, along with snapper, jacks and angelfish. Stingrays shuffle along the sandy floor while a trio of squid dances elegantly in the water. 
We also take the long straight road down to Sian Ka'an Biosphere Reserve, a protected area of glistening lagoons and mangrove trees, home to manatees, pelicans, egrets and scores more birds. A motorboat speeds us across Muyil lagoon and through a narrow channel to the larger Sunyaxchen lagoon. "This waterway was built by the Maya to get from the land out to the sea," explains Fernando.
We disembark next to a small Mayan ruin, strap on life jackets and climb into the water. As we float downstream, carried along by the mellow current, we pass banana orchids and flycatchers' nests. Vultures soar high above the trees. The water is cool and refreshing. But perhaps best of all is that these twisting, turning waterways have something we haven't seen a lot of on our trip: bends.
Getting there
Graeme Green travelled with Exodus (0845 863 9601; exodus.co.uk), whose 11-day Cycling In Mexico holiday costs from £2,069pp, including flights with British Airways from Gatwick to Cancún, accommodation, breakfasts, the services of a tour leader and bike hire. Next available departure is 8 October.
Cancún is served direct from Gatwick by British Airways (0344 493 0787; ba.com) and Virgin Atlantic (0844 209 7777; virgin-atlantic.com).
More information
Reuse content