'They come day in, day out," a staffer at the Beverly Wilshire Four Seasons hotel whispers in the lobby. "The busiest time for fans is Halloween. We get around 20 to 30 'Vivians' who come in to get their photo taken on the stairs, or by the grand piano."
Of course, the Vivian to which she is referring is Vivian Ward, heroine of Pretty Woman. It was the film that made Julia Roberts stratospherically famous – not to mention earned her an Oscar nomination – and it turns 25 this year.
Beverly Hills, and the Beverly Wilshire in particular, play such a huge part in the story, that it's unsurprising hordes of fans trace Vivian's steps there every day.
The best place to start your own tour, however, is at the Walk of Fame on Hollywood Boulevard. It is here that Vivian, a prostitute, is first picked up by businessman Edward Lewis, played by Richard Gere (between the stars belonging to Bob Hope and Fred Astaire, to be precise). With its souvenir shops and clothing outlets full of S&M wear, Hollywood Boulevard is every bit as insalubrious as it's portrayed in the film – 25 years hasn't made much of a difference. Despite this, the stars themselves and the handprints outside the TCL Chinese Theatre are definitely worth a look; Richard Gere added his prints in 1999.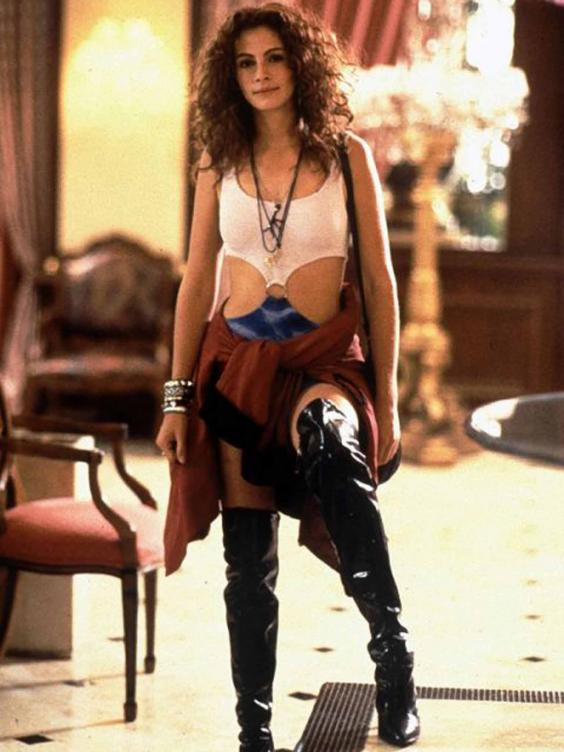 Pretty Woman was almost a very different film: Roberts' character was initially meant to be a cocaine addict whom Gere abandoned at the end, but it was reimagined as a romantic comedy with a much bigger budget. Of the original screenplay, director Garry Marshall has said: "What bothered me about the script was that it didn't make me care about either of the characters. Neither of them generated much sympathy and I rooted for no one."
At the start of the film, Vivian lives in Hollywood with a roommate, whom she tells off for blowing their rent money on drugs. The motel where they share a room, Las Palmas, remains almost exactly the same as it was in the film, and it's still a functioning hotel. It sits at 1738 N Las Palmas Ave, and at $40 (£27) a night it is a darn sight cheaper than the Beverly Wilshire, though one wonders why they don't shout about their Pretty Woman connections.
You can still see the fire escape stairs which Gere climbs to "save" Roberts at the end of the film, with a bunch of flowers between his teeth (though as feminist commentators have pointed out, despite the Cinderella theme, Vivian doesn't need to be rescued – she has her own money). Seinfeld fans may note that Las Palmas is also where Kramer stays when he goes to Los Angeles to sell his script; there's some nice synchronicity in the fact that Jason Alexander, who plays Seinfeld's George Costanza, also appeared as Edward Lewis's lawyer, Philip Stuckey.
A 20-minute drive through West Hollywood will take you to the celebrity stomping ground of Beverly Hills. Driving down Rodeo Drive towards the Beverly Wilshire (which sits on Wilshire Boulevard, at the south end of Rodeo Drive), you'll see Louis Vuitton, Chanel, Burberry and Badgley Mischka boutiques.
The latter, in its previous incarnation as Boulmiche, was where Vivian was turned away in her "working girl" denim miniskirt and crop top – though I'm told by a local that Badgley Mischka aren't keen to be associated with such snobbery. In one of the film's most celebrated scenes, Vivian returns to the shop in designer clothes, telling the employees: "Big mistake. Big! Huge! I have to go shopping now."
Yet it's the Beverly Wilshire which is the essential stop for Pretty Woman fans. Even riding in the lift offers a flashback to the film ("Well colour me happy, there's a sofa in here for two!"), and you can still see the grand piano that Gere plays to Roberts in the bar.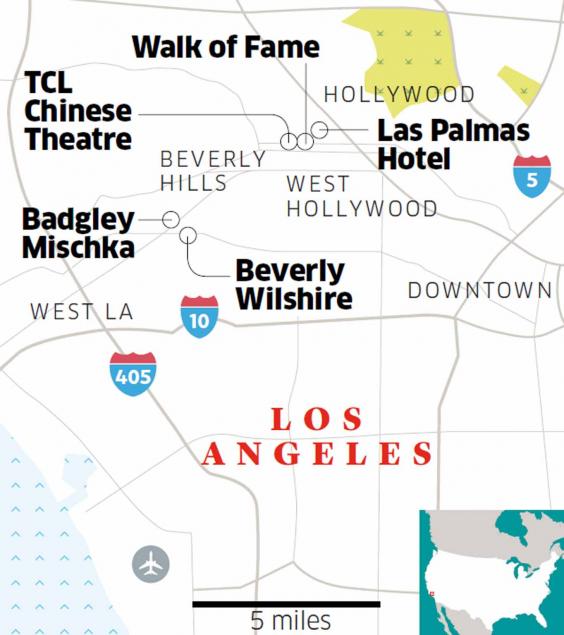 The hotel, understandably, is cashing in on the connection – a replica of the red dress worn by Vivian on the couple's first public date is on show at one of the hotel's boutiques, and there are various Pretty Woman experiences that let you pretend you're Vivian and Edward for the day (minus the prostitution, presumably).
The packages don't come cheap, though – they range in price from $15,000 (£10,000) to an even more eye-watering $100,000 (£66,666). This gets you the Presidential Suite for the night (completists should know, though, that the room as it appeared in the film was actually shot in a studio), plus a Bentley that takes you on a five-hour picnic with musical serenade, a private reception with chef Wolfgang Puck as you dine on your suite's outdoor terrace, spa treatments, and a personal shopping session. There are a few less excruciatingly expensive options; everything from manicures to cocktails seems to have been given the Pretty Woman treatment.
While neither Roberts nor Gere has taken a room at the hotel since the film was released, they have returned many times. "If you do spot either of them in the restaurant, or in one of the bars, you've struck it lucky," says the staffer. "But they try to keep it very discreet – they'd be mobbed otherwise."
Getting there
Air New Zealand (0800 028 4149; airnewzealand.co.uk) flies daily from Heathrow to Los Angeles.
Staying there
Beverly Wilshire, a Four Seasons Hotel (001 310 275 5200; fourseasons.com/beverlywilshire) has doubles from $675 (£427).
More information
Reuse content