My mind is gripped by indecision. I have been inspecting the menu at Russ and Daughters for five minutes, but I can't choose. This historic venue in New York's Lower East Side, famous for its filled bagels, offers too much choice: Scottish or Irish smoked salmon? Cream cheese with spring onions, or without?
When my turn arrives, I take the easy option. "I'll have what he had," I say, pointing at the retreating figure of the man who ordered before me. The server smiles as she turns away to pick up a bagel. "That's one of my favourite sandwiches," she says, reassuringly.
She is not alone. The sandwich in question – a classic bagel with lox, or smoked salmon – has become an emblem of New York. "If there's one thing you're going to eat in New York, make it a bagel and lox at Russ and Daughters," says Dave Freedenberg, better known as Famous Fat Dave, who runs food tours of the city in a classic yellow cab. "It's the thing that New York does better than anywhere else."
That I can believe – it's an ample combination of delicate Scottish salmon, rich cream cheese and chewy, doughy bagel.
Russ and Daughters is an "appetizing store" rather than a delicatessen: in Jewish tradition, the former sells dairy and non-meat, the latter meat. It is celebrating its centenary this year, and opened a new café in nearby Orchard Street this spring. The original store was founded at a time when the Lower East Side was the first port of call for millions of Jews fleeing persecution in Eastern Europe. A century on, I set off to find out what else remains of the Jewish Lower East Side.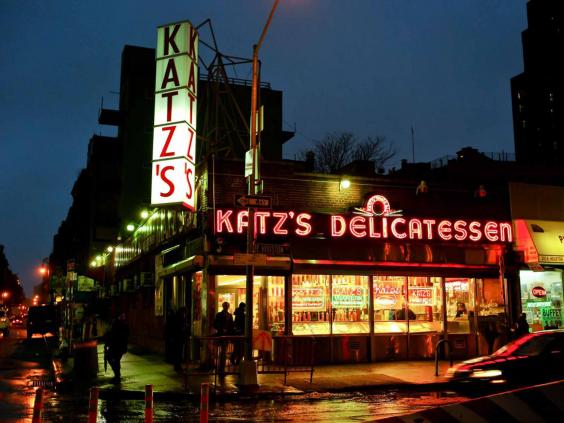 Not far from Russ and Daughters, two contrasting remnants can be found. There is Katz's, probably the city's most celebrated deli (immortalised in When Harry Met Sally), where thousands of tourists queue to buy sandwiches such as the Reuben, an artery-challenging combination of salt beef, swiss cheese, Russian dressing and sauerkraut.
Farther west is a rather more down-at-heel spot, Yonah Schimmel Knish Bakery, established in its current location in 1910. Here, I pick up a knish: a fat, circular piece of baked dough stuffed with potato that was once the city's primary Jewish street food.
Munching on it as I stroll down Forsyth Street, I consider its fall from grace: a food this dense, I guess, is ill-suited for modern New York, where wasp waists are very much in fashion. Too dense for me, even with my decidedly un-wasp-like waist, I store the rest for later and turn into Rivington Street, where I can't miss a giant mural advertising Schapiro's Wines. Alas, Schapiro's, a Kosher winery, is no longer in the Lower East Side (Sam Schapiro's grandson, Daniel, is currently trying to revive the company via a Kickstarter bid, after it closed in 2007). But just down the street is Streit's Matzo Factory, where I peek through a window at two men making matzo (unleavened bread eaten during Passover) on a machine that has been chugging away since before the Second World War.
In those days, the Jewish population of the Lower East Side was considerable: the peak came in 1910, when the vast majority of the district's 550,000 residents were Jewish. According to figures from the Jewish Community Study of 2011, just 39,500 Jews live in the eastern part of Lower Manhattan now, and that includes areas – such as Murray Hill – that are clearly not part of the Lower East Side.
I turn these figures over in my head as I walk south along Suffolk Street, across Delancey – where the superb Tenement Museum offers a flavour of the claustrophobic reality of the pre-First World War Jewish East Side – and down onto Grand Street. Here, I buy a bialy at Kossar's. This atmospheric bakery has been churning out these bagel-like delicacies (instead of a hole, they have a little dent filled with garlic or onion, and they are not boiled before baking) for almost 80 years.
Kossar's changed hands last year. Marc Halprin, one of the new owners, believes that the Jewish food offerings that remain in the Lower East Side do so for one reason – quality. "People are more interested now in the food they put in their bodies," he says. "They're looking for the best."
One of the places that he cites, The Pickle Guys, is a minute's walk away on Essex Street. Founded in 2003, it is the last real pickle store on the Lower East Side; the produce is sold out of barrels and service comes with a quip. "Whaddya want, handsome?" I'm asked as I wander in. The answer – four sour, crunchy pickles later – is a lie-down, but I'm back the next morning to pick up where I left off.
First up is the Museum at Eldridge Street, a synagogue five minutes' walk south of The Pickle Guys, in a neighbourhood that now hums with the energy of its Chinese population; immigration and aspiration remain a fact of life here. The synagogue's Moorish façade is a delight, but it is the interior that takes the breath away. My tour guide, Clarice Feinman, leads me into the exquisite main sanctuary, where a calming, swirling, pale-blue stained-glass window, created by artist Kiki Smith and installed in 2007, provides the focal point of a building restored in painstaking fashion after it fell into disrepair during the 1950s.
Afterwards, the kind folk at Eldridge Street hand me a map of local synagogues and I walk down East Broadway, where a number of shop-front synagogues still operate. At the end, where East Broadway meets Grand Street, there is a sizeable Orthodox community, and food ("We have delicious cheesecakes!", it says on the window) at Moishe's Kosher Bakery.
Next door, at the mini-market, kosher sushi is on offer. Much has changed in the Lower East Side, but the spirit of the place lives on.
Getting there
New York is served from the UK by a range of airlines: Virgin Atlantic (0844 209 7310; virgin-atlantic.com), BA (0844 493 0787; ba.com), Delta (0871 221 1222; delta.com), American Airlines (0844 499 7300; aa.com), United (0845 607 6760; united.com) and Norwegian (0843 3780 888; norwegian.com).
Visiting there
Russ and Daughters, 179 East Houston Street (russanddaughters.com).
Katz's, 205 E Houston Street (katzsdelicatessen.com).
Yonah Schimmel Knish Bakery, 137 E Houston Street (knishery.com).
Streit's Matzo Factory, 148-154 Rivington Street (streitsmatzos.com).
Kossar's Bialys, 367 Grand Street (kossarsbialys.com).
The Pickle Guys, 49 Essex Street (pickleguys.com).
Tenement Museum, 103 Orchard Street (tenement.org).
Eldridge Street Museum (eldridgestreet.org).
Famous Fat Dave (famousfatdave.com; tours from $240).
More information
Reuse content