'We get a lot of people saying 'stay classy' when they talk about San Diego," my guide says as we drive past the turn-of-the-century buildings preserved in the Gaslamp quarter, "And we hate it, but we deal with it as best we can."
Of course, San Diego's "classy" days started decades before Anchorman, back when the likes of Charlie Chaplin and Mae West were spotted at such local landmarks as the Hotel del Coronado (001 619 435 6611; hoteldel.com), but it appears Ron Burgundy has left the biggest cultural mark on the city in recent years. And Top Gun, of course.
Far from being just a beige backdrop for a moustachioed 1970s news anchor, or a surf town, or even a naval base, San Diego is steeped in culture, diversity, and – dare I say it – class. It has been attracting a younger set of residents for some time, with twentysomething graduates and thirtysomething professionals coming here to find work – and staying.
Its advantage lies in being a big city with a small-town feel; its lively character is split up among smaller, interconnecting communities marked by huge, Fifties-style street-wide signs that are lit by bright neon at night. The Gaslamp is filled with Spanish Colonial Revival architecture, while new restaurants led by renowned chefs have sprung up in Little Italy, and an underground art scene is bubbling in Barrio Logan, traditionally the Hispanic part of downtown.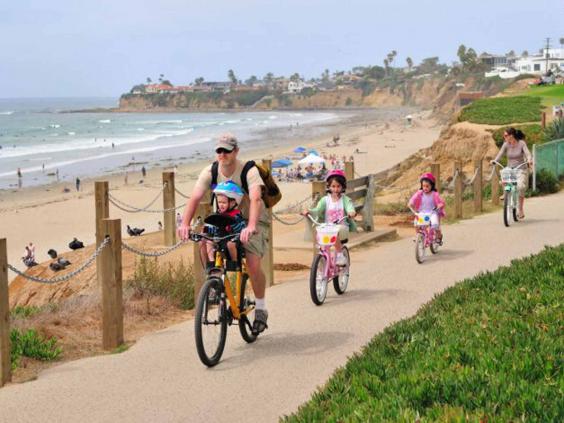 San Diego's proximity to the Mexican border makes it a favourite for students on Spring Break, but there's a more cerebral side to the city. Architects from all over the world come to see the truly stunning Salk Institute (001 858 453 4100; salk.edu). It was set up by the developer of the polio vaccine to continue biological research and was designed by Louis Kahn; daily tours now take people around its breathtaking exterior explaining the purpose of the design. The cultural hive of Balboa Park (001 619 239 0512; balboapark.org) has 17 museums within its 1,200 acres, dedicated to everything from science to photography to cars.
If you want to find a heart-warming local class-act then head uptown to La Jolla – the more upmarket part of the city – and find some of Dr Seuss's artwork at the Legends gallery (001 858 456 9900; legendsgallerylajolla.com). The late children's author was a resident of La Jolla, and his wife still lives in the area; locals refer to her fondly as "a real character".
California may be famous for wine, but this is a city known for its craft beer. With dozens of breweries and microbreweries now operating across the city, beer is celebrated almost constantly at festivals and tasting events throughout the year. The next is the Rhythm & Brews Music and Craft Beer Festival (sdrhythmandbrews.com) on 25 April, showcasing 60 breweries and a daring home-brew contest.
UNPACK
The Lafayette Hotel, Swim Club & Bungalows (001 619 296 2101; lafayettehotelsd.com) in North Park was originally built in 1946, but underwent a major renovation in 2011 to bring it back to its former glory with a vibrant, retro feel. It made a name for itself last summer by hosting rockabilly pool parties around its Olympic-scale swimming pool, which should be making a return in some form again this year. Its sultry Red Fox piano and steak bar has been a local attraction for some time. Double rooms start at $120 (£81), room only.
THINK LOCAL
San Diegans are nothing if not outdoorsy, and cycling or hiking at the weekend are a big hit before a night of partying in Pacific Beach. Beach spots recommended by locals for both surf and sunbathing are Sunset Cliffs, Blacks Beach and Moonlight Beach.
The more ambitious can try kayaking around La Jolla's Underwater Park and Ecological Reserve with Bike & Kayak Tours (001 858 454 1010; bikeandkayaktours.com), while the truly brave should take a running jump off a cliff and go paragliding at Torrey Pines Gilderport (001 858 452 9858; flytorrey.com).
EAT
If there is one dish San Diego is known for, it's the taco. Each week, restaurants up and down the city celebrate with "Taco Tuesday" – where the food is half price and the drinks are cheap. Puesto (001 858 454 1260; eatpuesto.com), a Mexican street food restaurant in La Jolla, offers $2 (£1.30) tacos on Tuesdays and $5 (£3.30) margaritas during happy hour.
On other nights of the week, try Kettner Exchange (001 619 255 2001; kettnerexchange.com) in Little Italy, where people queue around the block to sit in its leather-lined booths and experience a modern take on traditional American food.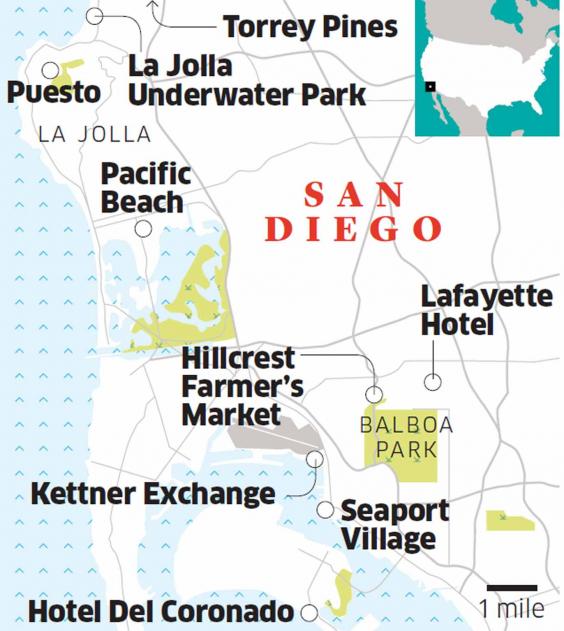 DRINK
To get to the heart of the city's craft-beer scene, head for North Park or South Park, which are connected by 30th Street, known by locals as the "craft corridor" thanks to the number of breweries. The newest is South Park Brewing Co at 1517 30th Street (001 619 610 9038; facebook.com/southparkbrewco), which opened just two months ago and offers a host of first-draft beers designed to match the menu of daily seafood dishes.
SPEND
Each district of San Diego offers its own brand of shopping, but the farmers' markets filled with local produce are a real treat, and there's one for almost every day of the week. One of the best is Hillcrest Farmers Market (001 619 299 3330; hillcrestfarmersmarket.com), on Sundays, 9am to 2pm. Expect music and be sure to try the avocados – they're all grown locally.
For more traditional retail therapy visit Seaport Village (001 619 235 4014; seaportvillage.com), a collection of more than 50 shops right on the water downtown.
DON'T MISS
If you're looking for old-style class then Coronado Island is the place to be. Connected to San Diego by the curved Coronado Island Bay Bridge, this was once the playground of Hollywood's biggest stars.
At its height, the Hotel del Coronado played host to stars such as Bette Davis and Katherine Hepburn; countless presidents have stayed here – and for Some Like It Hot fans, the vast resort is where the gender-swapping antics of Jack Lemmon, Tony Curtis, and Marilyn Monroe were shot. It continues to attract the rich and famous, with the likes of Brad Pitt, Madonna, and Oprah Winfrey among its more recent clientele.
Sunday brunch at the hotel is a notable event, but the island's other attractions include Coronado Central Beach, the Silver Strand State Beach, and the shops and restaurants of Ferry Landing Market Place (coronadoferrylandingshops.com).
GETTING THERE
Loulla-Mae Eleftheriou-Smith flew with Air New Zealand (0800 028 4149; airnewzealand.co.uk) from Heathrow to Los Angeles, from which San Diego is a two-hour drive or a 50-minute flight. BA flies non-stop from Heathrow to San Diego.
MORE INFORMATION
Reuse content