Which destination has the biggest ski area in the US? Most skiers believe it is Vail in Colorado. But that's the wrong answer. The place in question has not only the most extensive skiing in the US but also its keenest prices. Its name is Powder Mountain, and it is in Utah.
Located about 30 miles north of Salt Lake City, Powder Mountain is marked by its 7,000-acres terrain, its old-school style and the fierce devotion it inspires among regulars, to whom it is "Pow Mow". Places such as Solitude, Sundance and Powder Mountain better express the indomitable, self-reliant and sometimes cantankerous spirit of the state, they say.
All three have an intriguing back-story, each of them being essentially the creation of a single individual, and they all saw important developments last season.
The story of the man who made Powder Mountain is particularly remarkable. Alvin Cobabe originally worked in livestock, taking over his father's land in the 1940s. When the ranch needed a reservoir, Cobabe bought earth-moving vehicles and did the job himself. That led him into the construction plant business. Then, in 1959, he qualified as a doctor. At 45 he was then the oldest-ever graduate of the University of Utah Medical School. He only went into the ski business in 1972, after a friend with whom he was riding on the ranch, remarked that it would provide great skiing terrain.
A keen skier in his youth, Cobabe created Powder Mountain and remained its owner for 34 years. Although its ski area is bigger, Pow Mow does not compete with Vail. Vail is right on the highway and has a Four Seasons among its smart hotels. Pow Mow is 15 miles up a steep, winding road from the valley, and there is little accommodation in the vicinity.
When Cobabe finally sold the area, it was to a developer who planned to build second homes on the site. To the relief of the Pow Mow faithful, that project never got off the ground; but a subsequent sale – to an organisation called Summit Series – also caused suspicion.
Summit is a business network described by Forbes magazine as "a band of mostly twentysomethings who [organise] events that are part entrepreneurs' conferences, part rock festivals". It has attracted Bill Clinton and Sir Richard Branson as keynote speakers. Despite the new owners' unusual provenance, however, the Pow Mow marketing manager was very positive about the development. "Summit's vision is to preserve what makes Powder Mountain unique, and to create a sustainable community here," Patrick Lundin told me.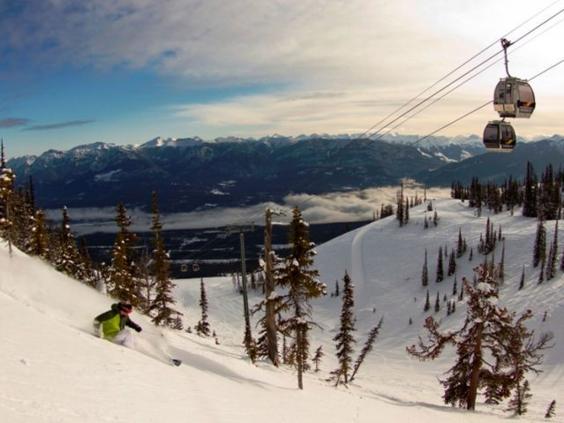 Last December, even before the $40m (£25m) deal had been completed, improvements were being made. A new restaurant had opened at the upper lift-base and the skiing was great, but very limited on my visit: the slopes average 500 inches annually, but the snowfall arrived late last season. No matter, I know to come back up that long and winding road.
You will be familiar with Sundance resort – the next stop on my trip – and with its owner, Robert Redford. But you might not know that there was a ski area called Timphaven on the site from 1944, and that Redford became a landowner there as along ago as 1961, having discovered the place while riding a motorbike between his home in California and the University of Colorado. Almost a decade later, when the valley began to be developed, he bought 3,000 acres, with a view to protecting it and to creating what became the Sundance Institute, a sort of artistic and philosophical think-tank.
The ski resort came later, as a means of financing the institute: homes were built for sale and rent, and cottages for "hotel" visits. The cottages are charming but pricey, with studios costing from $299 (£200) per day. The skiing is limited – four lifts (including a new one last season), 44 runs, 450 acres – but cheap, at $55 (£37) per day for adults, with the intention of keeping it affordable for local people.
The cottages are delightful: small, cosy, lined with sawn timber and hung with Native-American-themed art and fabrics. Embracing style, ethnicity, conservation (the shower hats are biodegradable), outdoor life and fine dining, Sundance is a kind of Baby Boomer heaven.
Finally I skied in Solitude, almost literally: skiers were thin on the lower slopes, perfect for high-speed carving, and even thinner in the tricky heights. Solitude was the creation of Robin M Barrett, a uranium miner who became a passionate skier. While skiing at Alta he was denied access to the toilets. At the time, in the 1950s, Alta was unconnected to mains sewerage and had to pay for the transportation of waste, and therefore reserved the toilets for guests staying at the resort. Affronted, Barrett responded by buying tracts of land in the next canyon and building a rival resort from 1956 onwards.
Unfortunately, such animosity between resort-owners is endemic in this great location. The resort called Canyons, west of Solitude, is engaged in a legal battle with its neighbour, Park City, and despite the proximity of their slopes, separated in places by just a rope, Park City and Deer Valley have never managed to agree to link the ski areas. These and the other resorts closest to Salt Lake City are mostly just a mountain ridge apart. With the construction of three lifts, six resorts could have a linked area which – according to the back of my envelope – would amount to about 15,000 acres. So far, though, no progress has been made.
This year, things seemed about to change. The managing director of Canyons, Mike Goar, who previously worked for 27 years at Solitude, was taking the lead on a $10m (£6.25m) project to create a gondola between the two resorts. He was optimistic that the lift could open for the 2014/15 season and was already looking further forward, to a link between Canyons and Park City ("It could be completed in three-to-five years," he said).
But at the end of May came the surprising announcement that the owner of Canyons was ceasing to operate it and had instead given Colorado-based Vail Resorts a 50-year lease on the resort. Soon – and presumably not coincidentally – the legal dispute with Park City escalated and the likelihood of a ski link receded. With more trouble in Utah's ski paradise, the wait for its first-rate terrain to be lift-linked continues.
Travel essentials
Getting there
For skiers who want to visit several Utah resorts, Crystal Ski (0871 231 2256; crystalski.co.uk) offers flight-inclusive packages to the three-star Comfort Inn Salt Lake City from £859pp for seven nights B&B, car-hire extra. There are public-transport links from Salt Lake City to several resorts and a light-rail Trax service to the airport.
More information
skiutah.com powdermountain.com
Reuse content