Although I was 50 floors up a steel-and-glass skyscraper, looking down on one of the larger cities in the US, I felt curiously close to nature. The view from the Prudential Tower's 700ft-high observatory made it clear that, though undeniably urban, Boston's heart is green.
The colour courses through the city. Most obvious from my eyrie was the Emerald Necklace, a seven-mile chain of open spaces masterminded in the late 19th century by Frederick Law Olmsted (of Central Park fame). From Boston Common – the country's oldest park – it snakes down leafy Commonwealth Avenue, before sprawling to the Back Bay Fens, Jamaica Pond and beyond. To the north I could see the green esplanade of the Charles River (where, earlier, I'd watched a turtle dig a nest). To the east curved Rose F Kennedy Greenway, created when the elevated highway was torn down. In all directions there were abundant trees, packed between rows of handsome redbricks like protective bubble wrap.
The viridescence runs deeper, too. It swirls in the psyche of a city that's 20 per cent Irish-American. It even infiltrates Boston's obsessional sports scene: the emerald-jerseyed Celtics play basketball at TD Garden; the Red Sox's baseball stadium, Fenway Park, has trademarked the colour "Fens Green". All of which is to say that this was an appropriate start, because I'd come to Massachusetts to admire its parks and gardens.
Why go to New England to look at gardens, you might ask: Old England has no shortage of its own. But I had an inkling that by making this my theme, I'd unearth much more than plants.
I was sad to leave Boston. The city, roasting in the summer heat, was alive with the buzz of a population used to harsh winters. Like them, I was drawn to the cool of the venerable Common, to the shady old burial grounds (where Revolution greats lie) and to the innovative spaces of the Rose F Kennedy Greenway – a triumph of urban regeneration. But, like Paul Revere, leave Boston I must. And, like Revere, my first destination was the town of Concord, 20 miles west.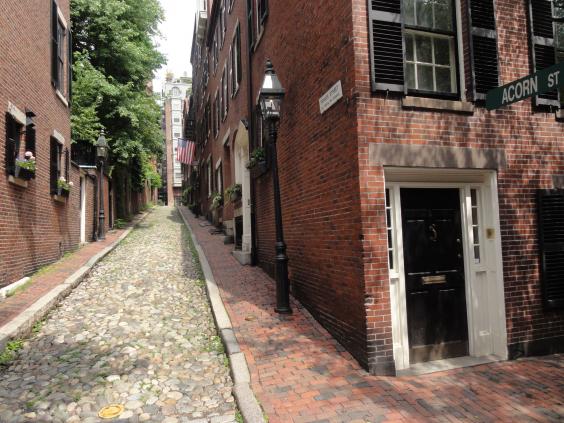 Revere didn't actually make it here in April 1775: his famed Midnight Ride, to warn of advancing British troops, was cut short in nearby Lincoln. I learned all this from local guide Peter Healey, who walk-talked me from Concord's main square to the Minute Man National Historical Park. This particular patch of green, where the river is spanned by the Old North Bridge, was the scene of the opening battle of the American Revolution. These days it's a peaceful spot, where a Minute Man statue commemorates the fallen.
There's more than military history here. Concord, and Massachusetts in general, is overendowed with literary connections: Louisa May Alcott, Ralph Waldo Emerson, Nathaniel Hawthorne, Eric Carle, Dr Seuss – they all lived hereabouts. Walden Pond, where naturalist Henry David Thoreau went to the woods to "live deliberately" for two years (1845-47), is just outside Concord. I went there one morning: it sits just off an eight-lane turnpike, and Thoreau's cabin is long gone, the site marked by pillars and an affectionate cairn. But still, following the 1.7-mile loop around the lake, with chipmunks scuttering amid the trees, I could feel the simple appeal.
I think Thoreau would have appreciated my green-space quest. He once wrote that "each town should have a park, or rather a primitive forest … a common possession for ever, for instruction and recreation". While my next stop, Tower Hill Botanical Gardens, isn't primitive, the organisation behind it – Worcester Horticultural Society, founded in 1842 – shared his ethos. "People here used to have apple orchards, dairy cows," explained Tower Hill's Michael Arnum as we sat on the panoramic terrace, eating sweet strawberries grown on site. "After the Industrial Revolution, there was a worry that people were losing touch with their roots."
Tower Hill is designed to inform via flora. All species are labelled; there's a Systematic Garden, planted chronologically to show botanic evolution; there are courses on everything from garlic to medicinal herbs. Most of all, though, it's a sensory treat, overspilling with lyrical blooms: beautyberry and beardtongue, allegheny spurge and hearts-a-bursting-with-love. I don't know my pickerelweed from my, well, just weed, but I could still appreciate the aromas and aesthetics.
That kind of thinking wouldn't have held much sway with the Shakers. The religious sect, which flourished in New England in the mid-19th century, believed in pragmatism, not prettiness. Elder Frederick Evans once remarked: "The beautiful, as you call it, is absurd and abnormal; it has no business with us." No surprise, then, to find the gardens at Hancock – a working Shaker village until 1960, and now a heritage museum – were a more utilitarian affair.
There's still a medicinal plot, full of foxgloves and apothecary rose, and a textile garden, where flax is sown for linen. The vegetable patches, now run as a community agriculture scheme, were blooming with many of the same crops that Hancock's Shakers grew. "Our members get fresh greens, lots of lettuce," explained Todd Burdick, director of interpretation, as we strolled amid the site's historic buildings. "And an increasing number are becoming mangle-beet fans."
Ironically, as the Shakers strove for usefulness, beauty was an accidental by-product. Their oval boxes, rocking chairs and even their rolling pins are spartan but exquisite. The round stone barn here is a particular revelation: everything about it is designed to make farming less effort. For instance, wagons can be driven up a ramp to a mezzanine, so hay can be thrown down into storage rather than having to be hoisted up. The barn's circular structure means those wagons can be ridden right around and out, without the need to reverse the horses. Simply beautiful. Sorry, Fred.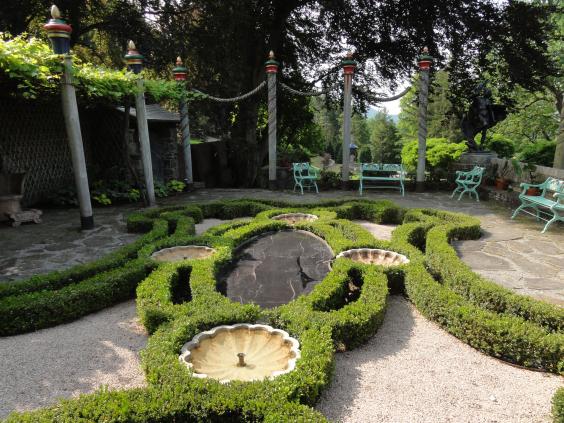 Simplicity wasn't the aim at my next set of gardens – far from it. The Berkshires, the line of hills edging far western Massachusetts, and equidistant from Boston and New York, are a cultural hub and have long been a popular retreat for the well-heeled. The Astors, the Vanderbilts, the Carnegies – all built opulent "cottages" amid these undulations. One such is The Mount, Edith Wharton's country escape. Wharton, whose first book was non-fiction guide The Decoration of Houses, designed the white stucco mansion and gardens herself, a riposte to the vulgar décor favoured by many of her nouveau riche contemporaries. Although she lived here only from 1901 to 1911, they were her most creative years – she wrote The House of Mirth here.
My favourite spot was the terrace. From here, the formal grounds – an Italianate giardino segreto, French-style flower garden, a formal alley of linden trees – drop away from the house and merge with the countryside beyond. Henry James, who visited several times, called it "a French château mirrored in a Massachusetts pond".
It was a similar set-up at Naumkeag, a Gilded-Age villa of turreted redbrick and shingle that belonged to the Choate family. The gardens were their pride and joy, a mix of peony terrace, parterred Afternoon Garden, iconic Blue Steps, a Chinese enclave. Indeed, the landscape dictated the whole set-up. The Choates selected the plot because of a fondness for a particular old oak; when the original architect (Mr "Central Park" Olmsted again) recommended chopping down the tree to make way for the house, he was replaced.
I sat under that tree, on an Adirondack chair, and thought I'd rather like to be a Gilded Age-ee. I could get used to pottering amid the roses or rocking on the patio, waiting for the dinner gong to sound. It's a life easily imaginable at Naumkeag: in 1958, Mabel Choate passed the house directly to the Trustees of Reservations (a sort of National Trust for Massachusetts), so all the original furniture, wallpaper and knick-knacks remain. The result is an authentic, lavish yet liveable home.
The same could not be said of my final Berkshires stop. Completed in 1912, Ashintully was once known as the Marble Palace, a glimmering Georgian-style mansion on a hill, fronted by four great Doric columns. But it burnt down in 1952; now only the columns remain, lonely stanchions, supporting air. The gardens are well tended; a stream trickles under a bridge; statues dot the lawn. But it was the view from that ruined terrace, over the Tyringham Valley, that entranced.
"See that rise?" Garden-keeper Jeb pointed to a near tree-cloaked ridge. "That's where the Appalachian Trail runs through." Ah, the Appalachian Trail, the most tantalising of long-distance hikes, 2,200 miles from Georgia to Maine. And here were the gardens of Massachusetts segueing right into that great untamed garden beyond. An inspiration in green.
Travel essentials
The writer travelled with Virgin Atlantic (0844 209 7777; virgin-atlantic.com), which flies from Heathrow to Boston from £500 return.
Seeing there
Emerald Necklace Conservancy (emeraldnecklace.org)
Rose F Kennedy Greenway Conservancy (rosekennedygreenway.org). Minute Man National Historical Park (nps.gov/mima).
Tower Hill Botanical Gardens (towerhillbg.org).
Hancock Shaker Village (hancockshakervillage.org).
The Mount, Edith Wharton's Home (edithwharton.org). Naumkeag (bit.ly/Naumkeag).
Ashintully Gardens (bit.ly/Ashintully).
Staying there
Colonial Inn, Concord (concordscolonialinn.com). Doubles from $159 (£106).
The Deerfield Inn, Deerfield (deerfieldinn.com). Doubles from $165 (£110).
Nine Zero, Boston (ninezero.com). Doubles from $249 (£166).
More information
Reuse content