The voices – as ever with the showier birds – are nothing special: a wheezy belching that drifts up through the pre-dawn murk like a chorus of asthmatic frogs. But the singers are something else.
At first we can see only colour: disembodied fireballs, bobbing in the forest gloom like lanterns in the ocean depths. Then, as first light filters through, we can make out shape. A dozen or so dove-sized birds, decked out in fluorescent scarlet, are hopping from branch to branch as though to some choreographed routine. Binoculars reveal mad white eyes and bizarre feathered face-fans.
These outlandish creatures are Andean cock-of-the-rocks – Peru's national bird. Their routine is the "lek", a communal courtship ritual in which males strut their stuff before watching females, who take their pick from the talent on display. It happens every morning on the same stage and has done so for generations of lekkers.
The stage in question comprises two or three moss-laden branches high in the cloud forest of Manu Biosphere Reserve. After 40 minutes, just as we're beginning to grasp the plot, the show is over. The performers melt away backstage before the house lights turn their Day-Glo outfits into targets for the local predators. A single dull-brown female remains: either she disapproves of this feathered meat market or she just didn't get lucky.
Our seat in the upper circle – a rickety wooden hide – has spared us from the rain that seeps and patters through the forest. Now, clambering back up to the road, we hunch against the downpour.
The rain has not let up since the heavens – or their Inca equivalent – opened two days ago above the Andean capital of Cusco. As the cobbled streets turned to torrents, we abandoned our walking tour and scrambled back to the Hotel Siete Ventanas, where the consolation pisco sours seemed especially potent. Perhaps it was the altitude.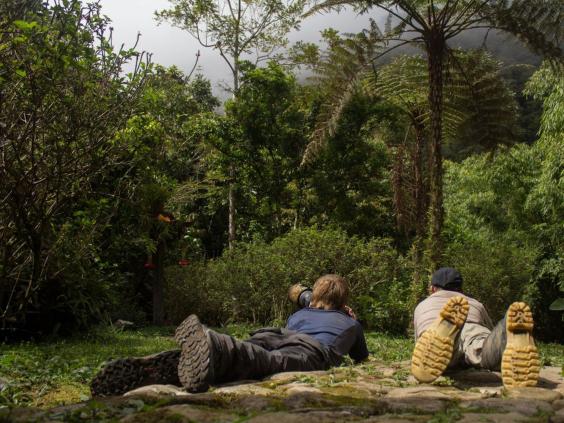 Cusco has seen worse, of course. Not least in 1950, when an earthquake destroyed many of the Spanish colonial buildings, revealing the sturdier, quake-savvy Inca structures beneath. Inside the cathedral we had enjoyed another snook cocked by the Incas at their imperial masters: a splendid Last Supper fresco, in which the apostles are dining on guinea pig and a baleful Judas Iscariot is depicted as arch conquistador Pizarro himself.
By the next morning, as we set out for Manu, the deluge had turned to drizzle. Our minibus dodged overnight rock falls as it ferried us alongside thundering gorges, over a 4,100-metre saddle and down to Paucartambo, where women in bowler-hat monteras sold fruit and vegetables. This ancient trading crossroads marks the gateway to Manu. Soon we were dismounting at the park entrance to sign in and gawp at the unfathomably vast jungle vista below. Then, we piled back on board for the hairpin descent to Cock-of-the-Rock Lodge.
Lek over, we tramp back to the lodge for breakfast. It's good to feel the place under our feet this morning after a day on the road. And what a place it is. Manu is Peru's largest national park, comprising some 15,328sq km (50 per cent bigger than the island of Jamaica) of rainforest that extends from the lower slopes of the Andes, at 4,100m, down to the sweaty Amazonian jungle, barely above sea level.
Rainforest gets its name for a reason, and today – the start of the wet season – is proving that. The water runs over my wellies and spills down the hillsides in tumbling cataracts. No wonder the plant life around us is so prolific, with every dripping branch a mini ecosystem of mosses, ferns and bromeliads. And it's not just plants: Manu's list of some 1,050 birds is more than twice that of Europe's. As we walk, our guide Ronal Collado (Ronnie) helps me identify golden tanagers flitting through the canopy, a blue-banded toucanet swooping across the track and a bedraggled highland motmot on a bare branch.
Ronnie was born and raised in Manu and now works for Crees, a non-profit foundation that conducts research into rainforest ecology and works with local communities on sustainable agriculture. Crees manages its own 6sq km chunk of forest and has two lodges – one with a bio-garden, where new farming techniques are being trialled. "We're running out of time," says Crees Founder and rainforest champion Quinn Meyer, who upped sticks from New York to Manu in 2003. He reels off a grim roll-call of logging and mining interests poised to plunder the park. "We need on-the-ground solutions, not just environmental loftiness."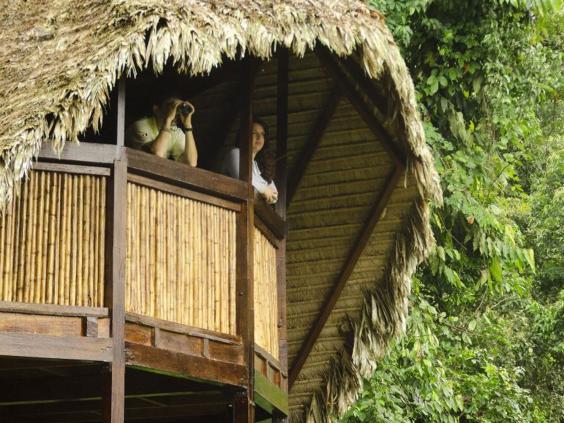 The next day takes us out of the cloud forest and down to the ramshackle dock at Atalaya. Here, we pile into motorised canoes and swing out on to the Madre De Dios for our transfer downstream to the Manu Learning Centre (MLC), the Crees HQ. The recent rains have turned the river into a raging, Ovaltine-coloured monster. Tree trunks spin and rear across our bows.
All is calm at the MLC, however. Our neat cluster of wooden chalets is smuggled discreetly into a forest clearing – the site of an old hacienda. After lunch, I wander the grounds. Hummingbirds zip like remote-controlled jewellery between flowering shrubs, while a troop of brown titi monkeys checks me out from the canopy. Too busy for wildlife spotting, volunteers and local farmers work side-by-side in the bio-garden.
Later, resident zoologist Andy Whitworth tells us how his research aims to establish the conservation value of secondary rainforest – an artificially modified but naturally regenerating habitat. "So far, everyone has focused on primary forest," he tells us, "but we're finding that secondary forest supports 80 to 90 per cent of the same wildlife." He illustrates his point with impressive images of jaguars and giant anteaters taken from camera traps near the lodge. And then, by way of a trump card, produces a live emerald tree boa from a plastic box on a shelf. This beautiful – and extremely stroppy – reptile was captured yesterday. He will release it as soon as he has the requisite data.
Collecting data is, of course, what science is all about. If secondary forest proves to be of conservation value, then it may qualify for proper protection – so providing a buffer against further deforestation. But science in Manu also means wrestling with snakes, tracking jaguars and shinning up jungle hardwoods to set arboreal camera traps. Something in Andy's expression, as he returns the snake tenderly to its box, suggests that this number-crunching scientist is living the dream.
After dinner we slip on wellies and follow Andy into the dripping forest on a night walk. No jaguars materialise, though the feeling of being watched is hard to shake. Instead, our torches reveal a pageant of smaller stuff: praying mantises mimicking dead leaves; an impossibly camouflaged horned toad; the gleaming red eyes of a baby caiman cruising a dark pool.
Our next port of call is Romero Rainforest Lodge, deep inside the park. This means a westward diversion up the Manu River, where we scan the banks for jaguars. The lodge sits in virgin primary forest. Ronnie leads us along damp trails, hurdling buttress roots and staring up the monumental trunks of ancient ironwoods. Forest sounds filter down: the whistle of saddle-backed tamarins; the hoot of a rufous motmot. Andy enters into an impressive shrieking contest with a black spider monkey, which dangles by its tail some 25 metres above our heads. It's unclear who wins.
The following day we're back on the ever-broadening Madre de Dios, heading east to our final destination, Manu Wildlife Centre. "Tonight, if we're lucky," says Andy, cryptically, "we might meet Vanessa." I wonder who this local celebrity might be. Meanwhile, avian celebrities – scarlet macaws and their blue-and-gold cousins – commute in garrulous pairs across the river.
At an oxbow lake near the lodge, we head out on a floating catamaran. Today, the resident giant river otters – the stars of this particular show – are lying low, but Ronnie spies a slumbering three-toed sloth, while prehistoric-looking hoatzins flap about among the cecropias. The primal stillness of the swamp feels intense; even more so when the throaty roar of howler monkeys starts up from the forest. But the distant whine of a chainsaw reminds us that we're near the park boundary and that nothing can be taken for granted.
That night, over a final round of pisco sours, I consider the things that eluded me on my brief visit to Manu: those giant river otters, an anaconda, perhaps even a jaguar. "The big stuff takes more time," explains Andy. "You'll just have to come back."
Ronnie interrupts before I can pursue that thought further. "Vanessa," he hisses. And indeed, our mystery celebrity is standing outside the restaurant scoffing apples and bananas. Vanessa, it seems, is a large tapir. Raised as an orphan at the lodge, she now returns regularly for treats. We walk outside to meet her. She's tame enough for me to pat her solid flanks and twitching rubbery snout, but wild enough – Andy observes – to bear the raking scars of jaguar claws on her sturdy rump.
I wonder whether Vanessa would also still be there if I came back; indeed, whether the cock-of-the-rocks would still be doing their thing. Like every wilderness, Manu seems timeless. But the deforested wasteland we drove into as soon as we left its boundaries suggests otherwise.
Quinn, thankfully, is a glass-half-full man. "In five years' time," he tells me, with a decisive parting handshake, "our project will have made a real impact. You'll see."
Sounds to me like a date.
Travel essentials
Getting there
Mike Unwin travelled with Exodus (0845 863 9601; exodus.co.uk), which offers a 12-day Amazon Wildlife Discovery trip that supports the Crees Foundation in the Manu Biosphere Reserve in Peru. It costs from £3,299pp and includes return flights from London, most meals, a local guide and accommodation at The Cock-of-the-Rock Lodge, The Manu Learning Centre, Romero Rainforest Lodge and Manu Wildlife Centre. The next departures are on 14 May, 23 July, 20 August and 24 September.
More information
Reuse content