Last year, Peru's UFO office was reopened by the government after a decade under lock and key.
Far from being a clandestine operation, the Department of Investigation of Anomalous Aerial Phenomena (DIFAA) is a siphon of the Air Force; and its mission is far from trivial.
Aside from the fact that Peru needs to keep an eye out for foreign incursions (such as countless illicit drug trafficking flights), DIFAA's field investigator and public relations coordinator, Marco Barraza, suggests another dimension to its work. Marco has hunted UFOs for years and had pressured the government to reopen the office, which is composed of various military personnel, astronomers, mathematicians and even a philosopher. Marco is keen to stress the security element of the work: "But some of the cases," he remarks, cryptically, over a coffee in Lima, "are very interesting".
Taking the bait, I ask where one might begin a search for aliens in Peru. "There are some very old places that hold a special energy. Ancient people knew that these sites were important and built temples on them. Why? I don't have a definite answer. But there is something in it," Marco declaims.
The most famous of Peru's sacred hotspots is Nazca. There are more than 1,000 geoglyphs and lines criss-crossing the desert plains 500km  south of Lima. Some of them are more than 15km long and new ones are being discovered all the time.
Japan's Yamagata University recently opened a research centre in Nazca and has identified at least three new lines, while in August a pilot rediscovered others, including a serpent and bird, thought to have been revealed by summer sandstorms. The lines, which date back to the fourth century, are so well preserved because it almost never rains here. But who made them, and why?
"Some say they had a religious purpose," Orlando, a local tour guide explains as we gaze down at a giant lizard shape from an observation tower. "Ceramics and other artefacts on the lines suggest that these were huge open-air temples." Another theory, he says, proposed by the German archaeologist Maria Reiche, is that they were part of an enormous astronomical calendar.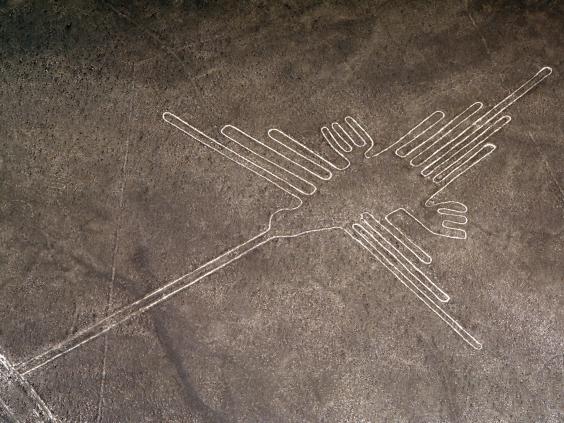 "And then there's Erich von Däniken," says Orlando, quietly. Writer of a book about ancient astronauts, Chariots of the Gods?, von Däniken caused controversy in the late Sixties by asserting that the lines were landing strips for alien craft.
I feel like laughing, but Orlando stops me. "Why make them so big? It's as if they were made to be seen from the heavens."
Back at my hotel, I ask the owner, Efrain Alegria, what he thinks. He has been operating flights over the lines for 20 years. "I've heard stories of strange things in the sky," he tells me. "The triangle of mountains that surround the plains are said to possess strong energy. One particular spot, Orcona, is known as a magnetic centre. People always see strange lights there. I once saw a rainbow." A rainbow? I shrug. Then I remember that it never rains here.
Peru is home to many other powerful hubs of the paranormal. One of Marco's recommendations is Marcahuasi, some 100km from Lima in the Andes. "The inhabitants of the nearby town of San Pedro de Casta know it mostly for Caverno Infernillo. This is a forbidden spot where they believe small beings emerge from a hole in the earth to kidnap people."
When I reach San Pedro, it's wreathed in mist. "You go to Marcahuasi?" grins a toothless man inside the information point the next morning. "Strange things there," he adds. After examining the weird anthropomorphic figures and animal faces in the rock formations during the day, I see something stranger at night: a curious hovering light in the sky. A UFO? All I know is that I definitely can't identify it.
After Marcahuasi, Marco suggests I visit Peru's very own Stargate. Aramu Muru is a smoothed, squarish rockface looming above Lake Titicaca. Known as the "Gate of the Gods", its most striking feature is a 2m-high alcove, which is associated with legends about a portal through which people vanish. Nothing happens when I stand in the entrance, but my unusual journey has certainly made me appreciate Peru's otherworldly beauty.
Travel essentials
Getting there
Darren Loucaides flew from Gatwick to Lima via Madrid with Air Europa (0871 423 0717; aireuropa.com).
Staying there
The three-star Hotel Alegría is in downtown Lima (00 51 56 522702; hotelalegria.net). Doubles start at $60 (£38), room only.
Visiting there
Efrain Alegría was one of the first tour operators in Nazca. His agency next to Hotel Alegría arranges daily flights over the plains to view the lines, from $110 (£69), as well as visits to other important sights in the area (00 51 056 522 444; alasperuanas.com).
More information
Reuse content