The young black bear was blissfully oblivious of the two wolves as it ambled aimlessly across the Lamar Valley. The wolves were keenly aware of the intruder in their territory, though, and, quicker than you could say  "picnic basket", they were on the bear's heels, sending it scurrying 20ft up the nearest pine tree.
Our nature guide, Owen, thought this was probably the bear's first season without its mum, so it was still learning the ups and downs of life in Yellowstone. The whole scene had played out in the national park's animal-rich Lamar Valley. Here, in late spring, the wildlife goes into overdrive as new babies arrive, making for a soul-searing vista of epic landscapes populated by roaming herds of bison, elk, pronghorn sheep, and mule deer. You might also be lucky enough to come across harder-to-spot species like black and grizzly bears, moose, red fox, lynx, and grey wolves, the latter of which were successfully reintroduced to the area 20 years ago and are now the Holy Grail for wildlife watchers.
The wide, ice-carved valley churns with bison at this time of year and, with virtually no man-made structures in sight – thanks to the 1870s visionaries who petitioned Congress to create the world's first National Park (the National Park Service celebates its centennial this year) – it provides a window on to another epoch, a reminder of nature's claim to the planet we share.
Our seven-day tour started in West Yellowstone, one of the park's main gateways, with a gentle introduction to the vastness within along the rock-strewn slopes of the Madison River Valley, where boulders the size of small houses had crashed down in ages past. From there, we gravitated to Mammoth Hot Springs, with its other-worldly travertine terraces, eternally bubbling and steaming in the multi-coloured background.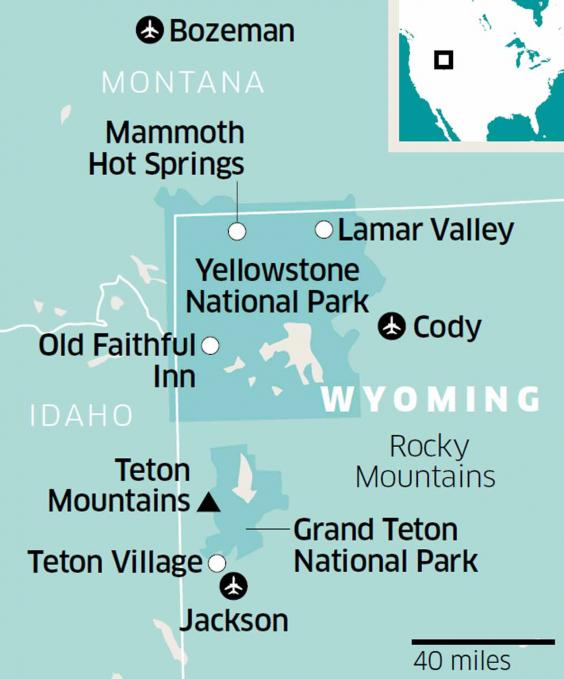 This proved the perfect base from which to explore the Lamar Valley in the company of Owen, our guide from the education-  focused Yellowstone Association. In the two days we spent with him, my wife and I explored the region's unique tectonic nature, its ice-age history, the dazzling geographic variety, and its flora and fauna. And, oh, the fauna! Baby bison by the dozen nuzzled at patient mothers; indolent elk rambled outside our hotel at Mammoth Hot Springs; a pair of week-old osprey chicks vied for their parents' attention in a tree-top nest; and families of Canada geese lazed alongside the rivers.
Thanks to Owen and his high-powered binoculars, we learned how to interpret the landscape before branching off on our own, driving to different vantage points around the Greater Yellowstone area, an ecosystem four times the size of Wales. We spotted beavers and otters; bald eagles and red-tailed hawks; bighorn sheep and mountain goats; and, on one memorable occasion, a family of moose protecting their newest member as they came down to the Gros Ventre River to drink at dusk.
After a drive through the stunning panorama of the Grand Canyon of the Yellowstone – a 24-mile chasm riven through the soft rhyolite by the Yellowstone River, which produces two violent cascades, the 109ft Upper Falls and 308ft Lower Falls – we descended to Teton Village, in the shadow of the awe-inspiring Teton Mountains. Here, where daredevils ski the precipitous peaks in winter, a burgeoning summer business is building around the 200-plus miles of hiking and biking trails through the park that provide extensive wildlife viewing opportunities.
In Grand Teton National Park, which forms the lower part of the Greater Yellowstone ecosystem, we enjoyed an early-morning wildlife safari with guide Kurt Johnson, a naturalist, author, and photographer, who pointed out several beaver dams ("Beavers hate the sound of running water and try with all their might to stop it," was one of his gems). He also introduced us to a rare great grey owl, and the stirring view of the Teton Mountains, mirrored in a silver pond as the morning sun struck the snowy peaks.
Travel By Numbers: US national parks
As always there were bison. Zoologists estimate there were up to 60 million of these great shaggy beasts across North America prior to European arrivals, then the hunters took their terrible toll until barely 1,000 remained, including only two dozen in Yellowstone. Now there are 4,900 in the national park, and to see the Lamar Valley today is to witness that timeless spectacle in all its glory. 
In the ethereal dusk of our final evening, we spotted a herd of 12 elk, led in majestic single file by a huge bull, taking his herd to who-knows-where but revelling in the wide-open freedom of a landscape that treasures its wildlife – and provides the perfect backdrop for us to enjoy it.
Getting there
The gateway airports to Yellowstone National Park are Cody and Jackson in Wyoming; Bozeman and Billins in Montana; and Idaho Falls in Idaho. America As You Like It (020 8742 8299; americaasyoulikeit.com) offers a seven-night fly-drive to Yellowstone from £1,595pp, including Delta flights from Heathrow to Bozeman via Salt Lake City, car hire, one night at the Best Western Grantree in Bozeman, and six nights at the Old Faithful Inn, Yellowstone NP.
Staying there
Hotel Terra, Jackson Hole (001 307 201 6065; hotelterrajacksonhole.com). One-bed suites from $299 (£214), room only.
Old Faithful Inn, Yellowstone NP (001 307 344 7311; yellowstonenationalparklodges.com) standard rooms from $208 (£149), room only.
Mammoth Hot Springs Hotel, standard rooms from $140 (£100), room only (001 406 552 1657; usparklodging.com/yellowstone).
Visiting there
The Yellowstone Association (001 406 848 2400; yellowstoneassociation.org) offers guided tours, nature programmes, group hikes and other activities year-round. A private guide, for up to five people, costs $560 (£400) a day.
Kurt Johnson (001 307 739 4010; wildthingsofwyoming.com) charges from $130 (£93) per adult and from $95 (£66) per child under 13 for half-day wildlife safaris, including coffee, soft drinks and snacks.
More information
Yellowstone National Park:  nps.gov/yell
Reuse content