Travel essentials
Why go now?
Holi, the Hindu spring festival, takes place on 17 March. It is always a spectacular affair, during which people throw coloured powder and water at one another, accompanied by traditional music, bonfires and celebratory meals. On 8 April, Rama Navami celebrates the birth of Lord Rama with costumed parades around Connaught Place (1).
Touch down
Air India (020 8745 1005; airindia.com), British Airways (0844 493 0787; ba.com), Virgin Atlantic (0844 209 7777; virgin-atlantic.com) and Jet Airways (0871 226 1737; jet2.com) fly from Heathrow to Delhi. The airport is served by the Red Line of the six-line Metro. Between 6am and 11pm, the airport is served by a train every 20 minutes for the five stops to New Delhi metro station interchange (2) for a fare of 120 rupees (R120/£1.20). Taxis take much longer; the fare varies from R600-1,500 (£6-15).
Get your bearings
The labyrinth of teeming narrow streets and alleys that forms Old Delhi contrasts with the imperial city of New Delhi, created under the British Raj (the period of colonial rule) where broad tree-lined roads and large areas of trees, gardens and fountains frame government buildings. The Delhi seen by most visitors lies on the west bank of the River Yamuna in the old part of the city, though it is no Seine or Thames in enhancing the city. If such a vast city has a centre, it is the concentric circles of Connaught Place, the central business and shopping district built in 1929–33.
The main tourist office (3) is at 88 Janpath (00 91 11 2332 0005; delhitourism.gov.in). Open Monday-Friday 9am-6pm, 9am-2pm Saturday. For visitors wanting further help in exploring Delhi, Greaves Travel (020 7487 9111; greavesindia.co.uk) can design guided itineraries.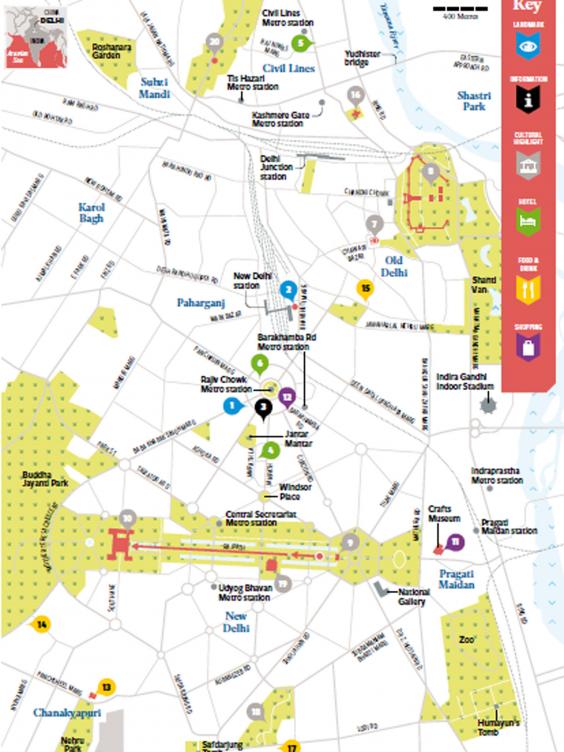 Check In
For character and luxury, the Imperial Hotel (4) on Janpath (00 91 11 2334 1234; theimperialindia.com) is without peer. Designed by F B Blomfield, who worked on New Delhi with Edwin Lutyens, the hotel was opened in 1936 by Lord Willingdon and has a pool and a lovely garden. The walls are hung with 18th- and 19th-century paintings and prints depicting the subcontinent, including a room devoted to the work of Thomas Daniell, whose 144 prints of "Oriental Scenery" were published from 1795 to 1808. Doubles start at R17,500 (£175), room only.
Opened in 1903, Maidens Hotel (5) at 7 Sham Nath Marg (00 91 11 2397 5464; maidenshotel.com) retains its colonial architecture and unforced charm, with a Garden Terrace for light meals and the outstanding Curzon Room restaurant. It has 55 rooms, and within its eight acres is a large sheltered pool. Doubles start at R6,500 (£65), room only.
In a prime position near Rajiv Chowk metro is the Corus Hotel (6) at 3 Radial Road, Block B, Inner Circle, Connaught Place (00 91 11 4365 2222; hotelcorus.com) with 30 well-appointed rooms and a café. Doubles start at R5,000 (£50), room only.
Day one
Take a view
The top of the minaret of the Jama Masjid (7), reached after 120 steps up a spiral staircase, offers an unrivalled view over Old Delhi, home to four million people in India's most densely populated area. Begun in 1650 by Shah Jahan, the red sandstone mosque took 5,000 workers six years to build and cost one million rupees.
The walled Red Fort (8), built largely by Shah Jahan, occupies a large oblong site and contains palaces, audience chambers, gardens, hammams and shops. While it remains largely closed for restoration, Jama Masjid (7) has inherited the mantle of Delhi's most important tourist site.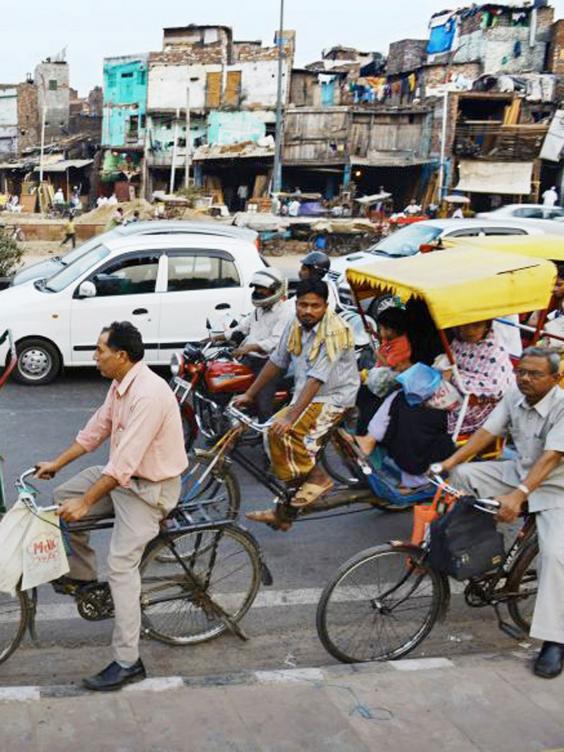 Take a hike
Delhi is not a good city for walking: its anarchic traffic, vehicle pollution and fractured pavements diminish both pleasure and safety.
One area where it is still a joy to walk is beside the avenues of trees, canals and fountains that run the length of Rajpath. Start at India Gate (9), designed by Lutyens to commemorate Indian soldiers killed in the First World War, and British and Indian soldiers killed in the Third Anglo-Afghan War of 1919.
The 340-room palace was built by Lutyens for the Viceroy. By approaching, from the east, one can appreciate why Lutyens was angered by its diminished impact through the slope of the ground. Today the Rashtrapati Bhavan (10) is the Indian president's residence. The long, colonnaded front is dominated by the vast copper dome, and the decoration marries Western and Eastern styles, acanthus leaves with bells, capitals with chhatris.
Lunch on the run
The well-sheltered Café Lota (11) at Pragati Maidan, within the The National Crafts Museum compound (00 91 11 2337 1641; nationalcraftsmuseum.nic.in) has become a popular venue with locals.
It's good value, with smaller vegetarian plates at R160 (£1.60) and larger non-vegetarian plates such as Konkan fish curry at R375 (£3.75). Try Palak patta chaat – crispy spinach leaves, potato and chickpeas topped with spiced yogurt and chutneys – for R160 (£1.60).
Window shopping
Once you've filled up at Café Lota (11) you can explore the museum's displays of historic crafts and reconstructed houses. For the shopper, it is the courtyard of current crafts that is of most interest, with Kashmiri shawls, wood carving and jewellery on offer. Expect to haggle (open daily 10am-6pm, except Monday).
Alternatively, try Cottage Industries (12) (00 91 11 2680 6510; cieworld.com) at the DCM Building, 16 Barakhamba Road. This co-operative draws on the work of 1,800 Kashmiri families, principally making silk carpets and beautifully soft pashminas of goat hair. Jewellery, carvings and silverware are also on sale (open daily 9.30am-8pm).
An aperitif
The F Bar (13) at 50-B Diplomatic Enclave in the Ashok Hotel (00 91 11 2611 0101; theashok.com) provides a taste of where the Delhi elite go to be seen. Oozing bling, it is sleek and modern. Cover charge: R2,000 (£20).
For a good selection of whisky in a quiet setting modelled on a country club, try the Golf Bar (14) in the TC Maurya Hotel at Sardar Patel Marg in the Diplomatic Enclave (00 91 11 2611 2233; itchotels.in).
Dining with the locals
Kashmiri dishes are the speciality of Chor Bizarre (15) at 4/15A Asaf Ali Road in Hotel Broadway (00 91 11 4366 3600; hotelbroadwaydelhi.com). Try a vegetable tarami – potatoes, aubergine in a sauce of tamarind and Kashmiri spices, lentils in spiced yogurt, spinach leaves and red beans from Kashmir (R525/£5.25), or mutton rogan josh (R450/£4.50).
Day two
Sunday morning: go to church
St James's Church (16) by Kashmere Gate was built in 1836 and paid for by the colourful Colonel James Skinner (1778–1841), best known for his 14 wives and the irregular regiment of Skinner's Horse. Its walls and graves in the grounds record the deaths of eminent servants of the East India Company and the Raj. Skinner himself is buried in the chancel (open daily 8.30am to 12.30pm and 4-7.30pm; services 8.30am Sunday April-September, 9am October-March).
Out to brunch
Brunch, though not as we know it, is beginning to catch on and one of the first to serve it is in Lodi – The Garden Restaurant (17) near Gate No 1 on Lodi Road (00 91 11 2465 5054; sewara.com) – a courtyard surrounded by tented eating places and lush greenery, with European, Mediterranean and Lebanese cuisine for around R2,200 (£22) for two.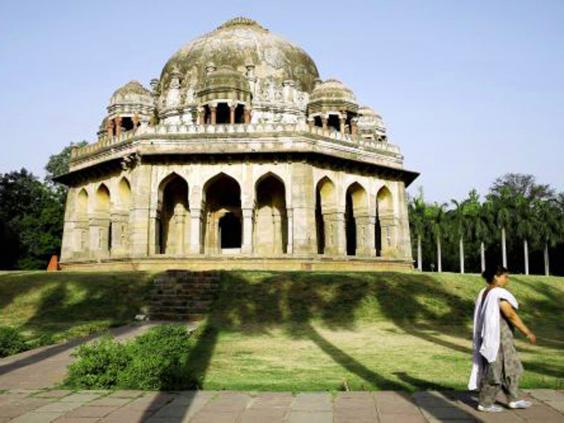 A walk in the park
Opposite is Lodi Gardens (18), created from 1936 by Lady Willingdon around three tombs and a ruined mosque. Within the wooded 90 acres are a herb garden, rose garden and bonsai park. The most important tomb is that of Mohammed Shah Sayyid from a dynasty that reigned for only 37 years. His octagonal tomb on the roof is a rare example of their architecture.
The Bara Gumbad Mosque of 1494 illustrates the combination of Islamic script around the door with elements of Hindu decoration. The gardens can get crowded at weekends (daily 5am-8pm April-September, 6am-8pm October-March; free).
Cultural afternoon
The National Museum (19) at Janpath (00 91 11 2379 2775; nationalmuseumindia.gov.in) has greatly expanded since opening in 1949. It has exceptional items from the Indus Valley civilisations (2,700-1500BC). There are galleries on three floors encompassing crafts, coins, musical instruments and paintings.
Among the subjects depicted are the first Mughal Emperor, Babur, inspecting Gwalior fort in the early 16th century and the wedding procession of Shah Jahan's son Dara, who was later defeated, humiliated and killed by his brutal younger brother (daily, except Monday, 10am -5pm; R300/£3).
Icing on the cake
Seldom visited is the Mutiny Memorial (20) on Kamla Nehru Ridge on Rani Jhansi Marg. The high Gothic spire commemorates the officers and soldiers of the Delhi Field Force killed in the Sepoy uprising between May and September 1857.