Bangladesh is all too often reported in cataclysmic terms: cyclones, floods, famine, ferry and factory disasters .... And yet there's plenty to celebrate.
This Bengali lowland of almost 160 million inhabitants isn't rich, but an annual economic growth of 6 per cent, fuelled by a youthful population has propelled it into Goldman Sachs's "Next 11" list of future high fliers.
For travellers, perhaps the biggest surprise is an unexpected sigh of relief. Crossing from India into  Bangladesh, the intensity of the subcontinent's human maelstrom remains; corrupt odours ... get used to them, personal space ... what's that? However, the perpetual hard sell starts to ebb as curiosity extends beyond the contents of your wallet.
Water is certainly a recurring theme. The nation is dominated by the Ganges delta; the rivers are vital arteries of transport and commerce, while regular inundations are part of the seasonal cycle. My trip begins at the heart of the delta in the capital, Dhaka. From this seething metropolis, venerable "Rocket" paddle steamers have, since 1928, provided serene passage on the Buriganga river through what was once India (this land was violently partitioned into the largely Islamic East Pakistan in 1947 before becoming Bangladesh 24 years later).
"Yes, yes. Rocket is here," a resting stevedore reassures me. Tuhin, my guide, lost amid the throng of Dhaka's hectic Sadarghat ferry terminal, indicates the end of the dock. Over thousands of milling heads and beyond rusty white multi-decked launches, the yellow-orange steam punk fantasy of PS Mahsud is unmistakable.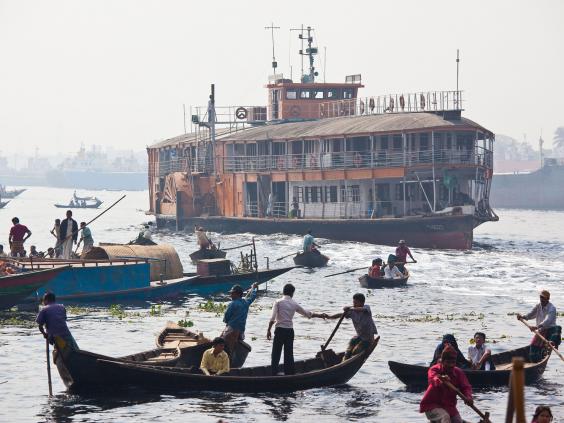 Moorings made fast, boarding planks clatter on to the dock and are roped down. A surge of passengers – among them hirsute youths holding hands and a trio of one-legged, destitute men – is held in check by a stern-looking man wielding a stick. A young woman without a ticket is given a loud dressing down and stands alone and forlorn. "No money and wanting to travel," says Tuhin. "This is the tragedy." In the end, the woman is nodded silently aboard.
On the upper deck, our cabin is accessed via one of eight doors leading off the first-class saloon, itself bisected by a long table laid with a white cloth. Everywhere layers of paint have long since rounded any sharp edges adding to an ambience of genteel decline. Bags stuffed under our beds, I open the door on to a wooden-railed deck. Below, a tumult of two-way traffic negotiates the gangplank – porters carrying jute-wrapped parcels, fruit vendors and newspaper-sellers hoping for a last-minute sale.
At 6.30pm, lines are cast off. It's the start of an 220-mile overnight voyage south to Morrelganj, lost among the ever-narrowing capillaries of the Ganges-Brahmaputra river delta. On the banks of the Buriganga, tall chimneys of brick kilns belch black smoke against the sky's last light; small ferries, standing room only, navigate unsteadily through launch wakes, riverbank fires consume rubbish.
It's a different scene in the saloon where a white-coated steward pours from a porcelain teapot into cups on saucers. Dinner is served: fish, chicken, vegetable curry, rice, dal. I'm given a knife and fork; Bangladeshis deftly employ their right hands.
From stem to stern, PS Mahsud is a village afloat. Beyond first- and second-class cabins, deck passengers populate every other space. Extended families occupy domains demarked by blankets, children in erratic orbit; wizened old men sleep curled on random ledges; kitchen staff rush from cabins where vats of hot water bubble on gas rings. Furthest aft, under dim lighting, the black treacle of the Buriganga melds with the night, slipping past a few feet below a deck devoid of barriers. A searchlight sweeps ahead, picking out nocturnal fishermen and their boats. The thrash of paddles and rumble of engines is constant.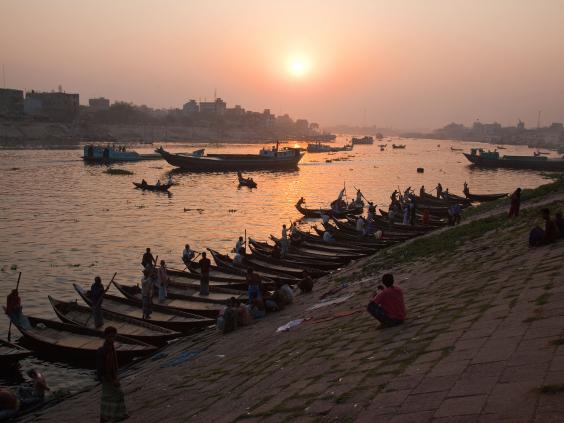 Daylight reveals the Buriganga has relaxed into the wide expanse of the Meghna, the far bank lost from view beyond rafts of water hyacinth. Other river traffic motors by. On the foredeck, Captain Abdul Salaam is taking his ease. "British built," he says, tapping the side of his head. "This boat is speedy, we make 11 knots, eight-and-a-half against the current."
Silted channels and falling water levels mean that Rockets no longer ply the route to Khulna. Instead passengers disembark at Hularhat, 25 miles before the terminus at Morrelganj, to complete the journey by bus. Doubts regarding the superiority of river transport are dispelled on the road to Khulna. Lurching through cratered asphalt, my head whacks the car's roof more than once, and I'm careful not to bite my tongue. "The MP here lives in very nice house," says the driver, "but road never improves." As darkness falls a game of vehicular chicken unfolds, cycle-rickshaws adding an extra dimension. Lights are for softies.
The following morning, outside Bangladesh's third city, Khulna, hidden within a labyrinth of rutted farm lanes, Tuhin shows me an ancient Hindu temple of carved bricks. "The Islamic saint, Khan Jahan Ali came here from Baghdad in the 15th century. Most Hindus converted," he explains, "Or left for West Bengal or southern India. More went after Partition in 1947." Nearby, at the saint's tomb, a lake is home to marsh mugger crocodiles. Feeding these indolent reptiles promises fulfilment of your heart's desire, I'm told as I watch pilgrims purchase an unfortunate chicken. The vendor shouts for the crocodile by name, "Khala Phahar, Khala Phahar!" and lobs the bird into the water. The chicken surfaces, to a small crowd's expectant gaze. Then, shaking its feathers, it stalks back on to land. "We'll try later," says the vendor, "If there's no crocodile, we'll make it our dinner." The pilgrims are satisfied.
Later, taking rickshaws around the backstreets of Khulna, we stop for sweet, milky cha and hot, freshly-made rice cakes. At the Bhoirab river, we hire Toyab Ali's small ferryboat. "I'm 80 years old," he tells me. "The youngest of my brothers is already dead. I've committed most sins and I'm still here!" Expertly swirling the single oar, Toyab is in rude health. "I saw the British leave. Jinnah said he'd do many things. Nothing changed, only the rulers." Toyab strokes his beard, "During the independence war I saw Pakistani planes drop bombs on empty ships. The river was the frontline. I carried the Pakistan army, sometimes freedom fighters, in my boat. I don't ask questions."
Back at the ferry ghat, Tuhin points out the white decks of the MV Katka Express, the boat I'll take next day to the Sundarbans National Park, almost 75 miles due south where the delta feeds into the Bay of Bengal. Two thirds of the Sundarbans' littoral mangrove forests, the world's largest, lie within Bangladesh, the remainder in neighbouring India. They comprise 540sq miles of near impenetrable wilderness with no permanent human habitation; a redoubt for endangered wildlife, protecting an estimated 450 royal Bengal tigers.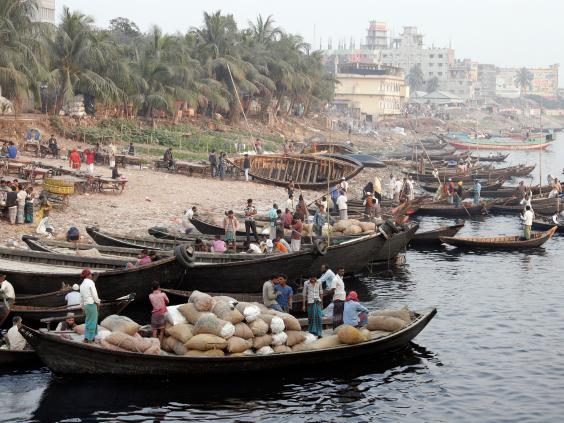 After cruising late into the night from Khulna, early morning reveals a tranquil anchorage in the forest. The tender is made ready to explore narrow channels among the mangroves. My fellow passengers are foreigners and middle-class Bangladeshis, all curious to discover the secrets of the Sundarbans. Two uniformed forest guards shouldering bolt-action rifles join us. Abdul, the more senior, sporting a henna-hued orange beard and coiffeur, describes his last journey. "I fired two rounds into the air. We were patrolling alone. I found fresh tracks and thought the tiger was about to attack." Abdul was quite possibly correct. Tigers are superlative primary predators and in the Sundarbans they have an unusually aggressive reputation, which some blame on drinking salty water. Every year 50 to 60 people – fishermen, golpata palm cutters and honey collectors – are killed in attacks.
The morning mist has yet to dissipate, and a trickle of birdsong broken by the oar's gentle splosh are the only sounds. There can be few more serene waterways. A white-chested kingfisher flits across the bow, a pair of magpie robins cock their heads from lofty perches. Through the trees spotted deer graze, ever watchful. In response to whispered instructions the boatman steers cautiously towards a muddy margin on the shore. Fresh tracks indicate a tiger having swum the channel has regained the land, slipping once more into the forest, perhaps lying low, watching us now.
In the afternoon we walk through open woodland, picking our way in between mangrove roots, observing more herds of skittish deer. Emerging from the forest, we're suddenly on the beach. Languid rollers from the Bay of Bengal collapse on the shore. Abdul examines tracks in the sand – a tigress and a cub passed this way, perhaps yesterday. It's deemed safe to swim, so I do.
Returning to Dhaka, the sleeper train from Khulna trundles through the night. Stewards serve cups of cha and spicy vegetable cutlets. Later, they make up beds with white sheets and pillows. Sleep comes in small measures between melodious Bangla station announcements. Arriving in Dhaka, there's consternation among passengers; the train is on time.
Bangladesh isn't easy but it is fascinating. Enduring preconceptions will deter those for whom Bangladesh is not ready. However, for travellers who do visit, the assault of heady sensations comes with a genuine friendliness that will amply reward their efforts.
Getting there
Nick Redmayne flew from Edinburgh to Dhaka via Istanbul with Turkish Airlines (0844 800 6666; turkishairlines.com). Flights also operate from Birmingham, Gatwick, Heathrow and Manchester. Return fares start at £475. Biman flies non-stop from Heathrow.
The writer travelled with Undiscovered Destinations (0191 296 2674; undiscovered-destinations.com) which offers both tailor-made and small group tours from Dhaka. The 13-day Bangladesh Discovery tour costs £1,599pp including hotel accommodation, most meals and transfers. It visits Sundarbans National Park, Sylhet, Srimongal, and Jafflong. Extensions to the Chittagong Hill Tracts are available on request. Flights extra.
More information
British passport holders require a visa to visit Bangladesh, available on arrival at Dhaka airport for US$50/£33 (020 7584 0081; bhclondon.org.uk).
Bradt guide to Bangladesh (2012; bradtguides.com)
Reuse content