As if on cue to the sound of a distant cock crow, three children stepped out of a bamboo house and skipped along a bullock-cart track towards us. They were laughing and carrying small bunches of crimson and white chrysanthemums. In the early morning light the scene looked so enchanting that for a moment I thought they were going to present us with their posies.
But the children continued a few paces past me and my two companions and stopped in front of a couple of spirit shrines set at the top of tall posts. Darting up to these nat houses on wobbly wooden ladders, they carefully replaced the spent offerings there with the fresh flowers. The act of honouring the local spirits seemed a magical way to begin a day in central Burma.
Absorbed by the scenes at Sin Kyun village, we lost all sense of time and had to be extracted. One of our ship's guides appeared suddenly, having borrowed a villager's bike in order to look for us. Breakfast, she said gently, was waiting – and the ship was about to depart. So we all hurried back, waving our thanks to the obliging bike owner as he reclaimed his vehicle.
Our excursion to Sin Kyun was the first stop on day two of a four-day trip we were making along the Irrawaddy (or Ayeyarwaddy). This is the mightiest of the myriad rivers running through Burma (the country is officially known as Myanmar although Britain is among several Western countries that for human rights reasons have ignored the 1989 change of name).
We were sailing aboard an impressively stylish little vessel modelled like a 1930s steamer. Sanctuary Ananda made her maiden voyage in November and has been devised as Burma's last word in luxury: the 21 spacious cabins have floor-to-ceiling windows giving on to neat balconies; the well-stocked cocktail bar adjoins a chic sundeck complete with plunge pool; there's a spa offering a wide range of treatments; and a gourmet restaurant whose chef formerly worked at the Mandarin Oriental in Bangkok. But, however pleasing, these are essentially stylish frills: it's the ship's shallow hull that is of most significance, allowing the vessel scope in manoeuvring along waters that are bedevilled by shifting sandbanks.
In size, build and facilities Sanctuary Ananda is similar to another ship, Orcaella, which was launched by Belmond (the new name for the Orient Express group) in July 2013. These two classy vessels have been created to sail to pretty much the same areas of the Irrawaddy, and also, during the high-water monsoon season, of the Chindwin River where they reach the little-visited north-east. Sanctuary Ananda, however, boasts more polish and more power (for navigating away from those sandbanks) and, taking slightly fewer passengers, more exclusivity, too.
Such scope for travel within the country and such levels of luxury are testimony to how much life has changed in Burma. Until a few years ago, little of this would have been possible, especially since these operations involve much foreign investment and the necessity of employing foreigners to work alongside local staff who have never been outside the country and so have only a scant sense of upscale international expectations.
It's a far cry from my very first encounters with Burma. I spent part of my childhood in this fairy-tale-pretty country: my father was a diplomat here in the 1970s, which was a particularly stagnant period of isolation and military repression. As an adult I'd returned on several occasions, most recently in 2011 when the first meaningful reforms in decades were taking effect. It was a joyous time and the Burmese people I met were riding high on euphoria.
In the three years since then, things have moved on apace, not least with a host of new hotels (some say too many, and with plenty more in the pipeline); with ATMs, unknown in 2011, which have popped up across urban centres; and with hundreds of thousands of new imported cars – most of them in the principal city Rangoon (or Yangon).
On board Sanctuary Ananda, we wondered at the bewildering impact on ordinary people of this sudden new world and its shifting values. A Rangoon resident on the ship told us how five years ago a sim card cost at least $1,000 (£650) in Burma. In 2012, he said, the price dropped to around $250, and since August last year the cards have been selling at $1.50 thanks to a deal with new contractors.
Our trip took us from Mandalay to Pagan (or Bagan), Burma's classic destinations that as former royal centres continue to exude fabulous old-world appeal. Along the way we also had glimpses of new Myanmar. On our first evening we made a sunset excursion to U Bein Bridge, a remarkable teak structure which, three quarters of a mile long, is one of the world's most extensive footbridges. Offset by a deep pink sky it looked spectacular, and it was buzzing with cheerful crowds. Great numbers of Burmese tourists had come from far and wide because of a full moon festival, explained our guide. Until fairly recently there was no such freedom for the Burmese to travel in their own country.
At bucolic Sin Kyun, the Sanctuary team sponsors the village school. From there, we moved on to the ruins of the stupendously large 18th-century pagoda at Mingun, where we met more Burmese tourists. Bumping along a dusty road in an ox cart, our discomfort was mitigated by local colour. Back on board, we glided in style down the Irrawaddy, passing fishing boats and chugging cargo ships while golden pagodas glinted here and there along the far banks.
The following morning we called in at Pakokku, the town where the 2007 Saffron Revolution started: the monk-led uprising that became Burma's largest pro-democracy demonstration in two decades. It was a subject only briefly touched on by our ship's guide, who told us that most of those subsequently arrested have now been released, leaving us pondering the fate of the others.
We moored by a two-mile bridge that was completed in December 2011 – previously river crossings were, arduously, by ferry – and faced a barrage of bustle as we approached the heart of town and the large central market complete with a great spread of dried fish, fruit and veg, herbal medicines and more. Nearby we wandered through a more peaceful market place specialising in the sale of thanakha, a tree bark that is ground into paste and worn as a cosmetic – applied in swirls and stripes on the faces of women, children and even some men, it is one of the charming idiosyncrasies of the Burmese.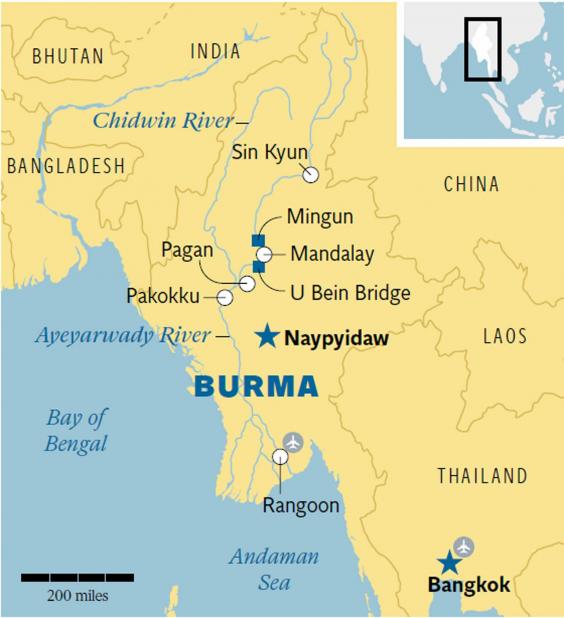 Then onwards we sailed to Pagan, where between the 11th and 13th centuries the kings of Burma built thousands upon thousands of pagodas – to gain merit and to atone (massively it would seem) for wrongs committed. We explored several of the temples, including the golden-topped Ananda from which our ship took its name. Best of all, though, was a hot-air balloon trip we made at dawn the next day, dreamily looking down on mist-draped pagodas and across to distant mountains.
River ship and the balloon ride were head-spinningly glamorous ways to see this exquisite country. Yet effectively both take place at one remove: you are for the most part drifting through or over Burma. So I was glad to finish my trip with a few land-based days in Rangoon, feet firmly on the ground. I saw old friends, visited favourite haunts and explored new shops and cafés, many of which seemed bizarrely hip for the Burma I had known.
As I always had done before returning to London, I spent my last evening at Rangoon's majestic Shwedagon pagoda, one of the biggest Buddhist monuments in the world and Burma's most revered shrine. It is currently being regilded with an estimated 28 metric tons of gold leaf, much of this donated by individuals. I sat inside the pavilion gazing at the serene scenes of people gently paying homage or quietly chatting and making gold leaf donations. Then I took out my phone and checked in for my flight using the free wi-fi that is now conveniently available at this ancient, ethereal site.
Cruising there
The writer travelled aboard Sanctuary Ananda (sanctuaryretreats.com) with Abercrombie & Kent (01242 855 011; abercrombiekent.co.uk) which offers a six-night trip to Burma from £2,095 per person. The price includes flights from Heathrow to Rangoon (via Bangkok or Singapore), overnight accommodation in Rangoon and a four-night cruise on Sanctuary Ananda between Mandalay and Bagan. To see more of the country, A&K's 11-day Highlights of Myanmar itinerary takes in Rangoon and Inle Lake as well as the four-night cruise on Sanctuary Ananda; it costs from £3,895 per person.
Red tape
British passport-holders require a visa to visit Burma, now available electronically within three working days from evisa.moip.gov.mm for $50 (£33) or in person from the Embassy of the Republic of the Union of Myanmar at 19a Charles Street, London W1J 5DX (myanmarembassylondon.com) for a cost of £14.
More information
Go-myanmar.com is a new, continually updated site providing really helpful and practical information on remote parts of Burma as well as the major tourist venues.
Reuse content