Gold is everywhere in Rangoon. The skyline is dominated by the gilded dome of the 100-metre-high Shwedagon Pagoda. Gold temple bells chime at every corner. Worshippers pay their respects by layering gold leaf on temple-dwelling Buddhas. Shops are filled with dangling chains and ornate baubles. Yet despite a goldsmithing tradition dating back more than 2,000 years, 98 per cent of gold jewellery sold in Rangoon (also known as Yangon) is machine-made.
Today gold in Burma is more about currency than craft. "Political and economic instability has transformed gold into the only reliable currency," says Natalie Ortiz crafts programme manager at NGO Turquoise Mountain. "People buy gold as an investment and they're unwilling to pay for craftsmanship." As a result the market is flooded with cheap jewellery aping designs from nearby China and India. Handmade filigree, open-wire work and indigenous motifs have, in recent years, been nearly impossible to find.
When Turquoise Mountain was planning to work with Aung Sang Suu Kyi's Suu Foundation to reinvigorate the Burmese craft industry and renovate the capital's decaying heritage buildings, it was a slog to find traditional workers. In 2015, senior designer Hla Thaung and Pippa Small, a London jewellery designer, scoured Rangoon for skilled artisans but found nobody. They widened the net again and again. Eventually their search took them to turbulent Rakhine state, where, on Ramree Island, they encountered a goldsmithing community with a precarious future.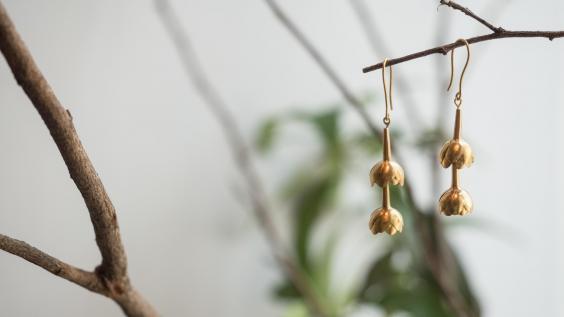 Ramree's goldsmiths belong to a tradition of producing coins reaching back to the sixth century; by 17th century they were also outfitting the royals of the Arakan kingdom (which ruled the area that's now Rakhine state). The two designers found the men still working as they have done for generations – using seashells to cast and paying homage to Buddhist iconography as well as local flora and fauna in their motifs. 
But the rise of machine-made jewellery has recently been killing their community with young islanders forgoing apprenticeships in favour of farming, fishing or menial labour abroad. One, Aung Chay, was about to emigrate to Japan to work as a dishwasher when Pippa Small and Hla Thaung came calling. He'd once been tipped as one of Ramree's most promising goldsmiths but was unable to make a living either on the island or in Rangoon. It was time, he'd decided, to admit defeat.
Turquoise Mountain asked Aung Chay to return to Rangoon to head its one-man-band goldsmith's studio. His mission: to reinterpret traditional Burmese designs for a contemporary market, something the NGO had done successfully with a similar venture in Kabul. This collection, though, had something else going for it.
"Burmese gold is extremely rich in colour," Small tells The Independent. "And the Burmese have used unique, ancient techniques uninterrupted for hundreds of years." It was the shell casting and handworked fish-scale motifs that drew her to Rakhine State, she says. 
The inaugural Pippa Small for Turquoise Mountain collection, sold at Small's Notting Hill HQ last year, an instant hit. In February Aung Chay moved out of the tiny studio and into a handsome colonial shophouse on Shwe Taung Tan, in the heart of Rangoon's gold market area. He wasn't alone, either: eight goldsmiths work in the new space, where they have their own foundry as well as a little shop of their own.
"I knew I could continue my work with pride," says Aung Chay.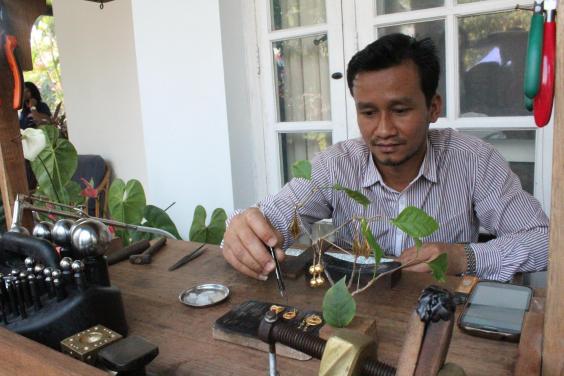 Next up for Aung Chay and his colleagues is a collaboration with individual mining families through a union in Mandalay province. Starting next month, the project will support two communities in upgrading their mining practices, including abandoning the traditional use of mercury to isolate gold from rock and debris. 
Although Burma is known for the quality of its gold, explains Natalie Ortiz, most of the country's reserves are located in areas where poverty is endemic. While gold panning remains a vital source of income for many in the countryside, mercury poisoning is linked to the deteriorating health of the Irrawaddy River, and pollution of the flood plains north of Mandalay.
Turquoise Mountain's "artisanal gold" will be shipped straight to Aung Chay and his colleagues, in order to make Burma's first fully ethically produced line of gold jewellery. Another project will work with a women's group in Mogok – a Mandalay village famous for its gems – to source semi-precious stones responsibly. While Burma has large reserves of sapphires, rubies and jade, most of the mines are controlled by military or foreign investors. Land-grabbing, tax evasion and human-trafficking are commonplace.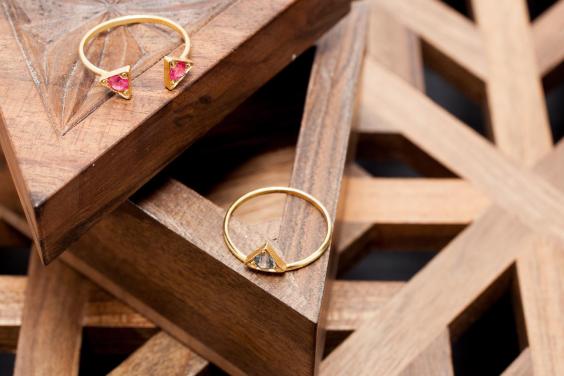 "We knew early on that we had to start our own workshop [in order to] maintain standards," says Ortiz. Turquoise Mountain artisans enjoy a safe working environment and fair pay, while the organisation is committed to sourcing fairly, without exploiting communities or the environment. That also explains why the prices may be more than you'd expect – while rings start from £120, pendants start from £900 and earrings from £160; necklaces are from £610 with each link crafted by hand. It may not be cheap and cheerful, but it's certainly ethical.
In the light-filled workshop on Shwe Taung Tan, the Ramree goldsmiths are busy. Aung Chay is fusing gold beads on to a pair of earrings. Nearby, his brother-in-law puts the final touches on a pair shaped like jasmine flowers. An apprentice cuts a sheet of gold into strips that will be woven into the shape of a fish – the same technique that first attracted Small's attention. 
Visitors drop in now and then to gasp at the skilled craftsmanship which, a year ago, was in danger of disappearing. "When we met Aung Chay he was on his way to Japan," says Ortiz. "How unfortunate for Burmese goldsmithing if he had."
Turquoise Mountain Artisan Goldsmith Workshop takes visitors by appointment at 26 Shwe Taung Tan, Lanmadaw, Rangoon. Call: 00 95 1 540 198; facebook.com/turquoisemountainmyanmar. Open 10am-4pm. Email: sandar[AT]turquoisemountain.com to book.
Reuse content