Gasping for breath in pins-and-needles cold, having been snowed on the night before through a gap in the window, in a musty bed of limited comfort, led me to question whether an Everest Base Camp trek is really worth it.
Still 90 minutes from the goal, which is really just a wind-blasted grey moraine brightened by the fluttering of faded prayer flags, aching head in red raw hands, I considered returning. Not just to that night's lodge at the bitterest end of the universe, Gorak Shep, but home, and home as quickly as possible.
That was Day 8 into what turned out to be a challenge of steep inclines, of perseverance and of bitter cold. All of which I would not change for the relative ease of the summer trek, for all the yaks in Namche.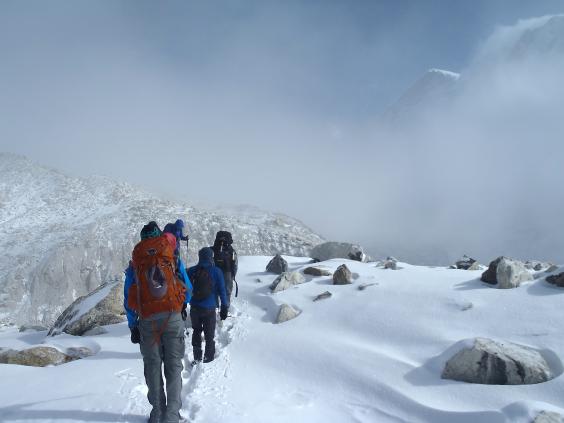 Last summer I made a call to a generally up-for-it secondary school friend - I wanted to do something interesting. Tim and I quickly convinced each other and within an hour or so we were using trekbooking.com (a trek company intermediary) to gather options for joining the 35,000 or so each year on a journey to 5,364 meters (17,598 feet) above sea level. Summit attempts take serious training and involve serious risk and cash, so we selected the small but highly rated trekking company Above the Himalayas to aim for Everest Base Camp.  A summit attempt can cost in the region of $65,000 and requires significant previous experience and a high level of fitness.  Finance, and the fact that we would be training for this by upping the length and frequency of our jogs accompanied by a couple of extra laps round the pool each week meant that the Everest Base Camp trek was exactly what we were looking for.  Decision made!  We were going to spend a holiday being very cold indeed.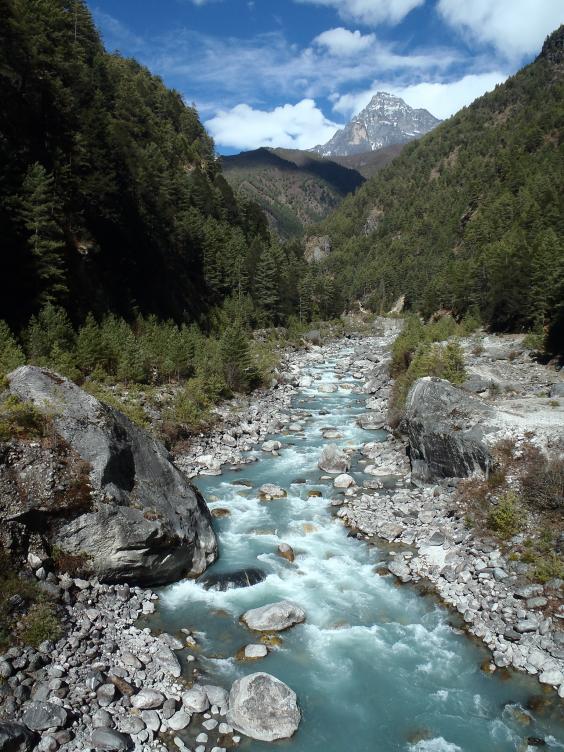 Increasingly typical of modern travelling it wasn't a lonely planet or rough guide review that reassured us of a positive experience but the glowing tripadvisor reviews.  There were cheaper and less highly rated options and one American couple we met even completed the route without a guide or porter. But our canny guide with his mischievous smile, Phurba, got not only us but a few extra small groups through some difficult terrain and unmarked paths in the unchanging snowscape. 
Tim and I never would have considered going without a guide's help: Nepali officials believe the death toll of 38 people caught out by extremely poor conditions in October last year, on a trek in the same region, would not have been as high if people had hired guides. This is difficult to prove and indeed many in the region who encountered the disaster had both hired guides and porters but whatever the truth hiring a guide who knows the terrain, the local customs and has our best interests at heart was important to us. There were other concerns too: in September 2012, 19 tragically died on a Sita airlines flight to Lukla airport, and among the victims were Britons intending to complete the same trek we were aiming for.
It is important to do this trip well and not as cheaply as possible.  Even the more routine safety advice was uppermost in our minds as we heeded the Foreign Office advice to be wary above 3,000 meters. We double-checked that our chosen company had planned sufficient rest days and that therefore altitude sickness was something taken seriously.  On the trek itself weather checking in every location became sometimes an hourly preoccupation.  You really are on the roof of the world in the Himalaya and showing the area respect seemed natural to us.
Before climbing on this roof though came the purchase of horribly expensive technical clothing such as down jackets, outer shells and properly waterproofed boots (it's essential to test these claims out in advance).  Little did we realise, in the warmth of Britain in summer, the importance of both the sleeping bag and liner that were to comprise our claustrophobic, altitude-shortened-night-time coffins. Hiring kit in Kathmandu of dubious quality is an easy option but if you have the weight allowance and you'll use it again, buy decent kit at home. Companies will send you a list of requirements but these are generic so always err on the warmer side of caution. Snow whipping your face on the seemingly vertical paths layered in shiny, blinking ice meant that kit was key. But it was this same weather that, maybe bizarrely, made the trip that much more memorable. Little did we know how widely the conditions would vary and how much this would make the scenery sing.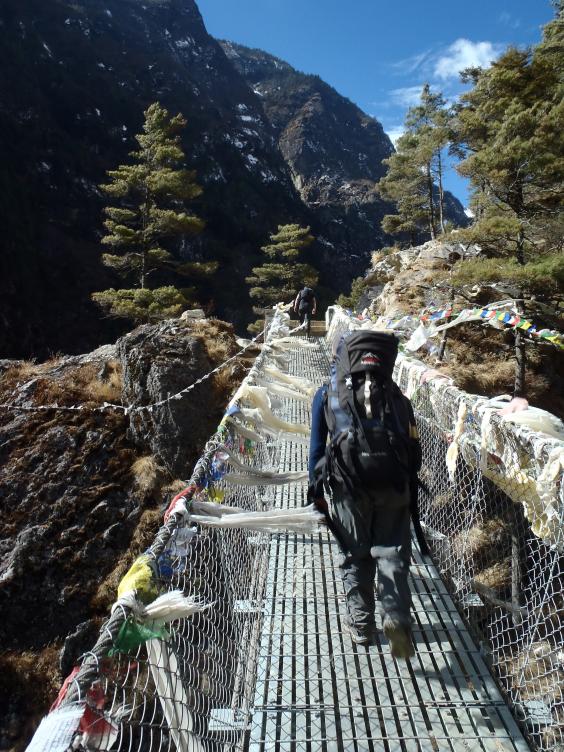 Kitted out, we were ready to go. We flew from Gatwick to Kathmandu via Istanbul and allowed ourselves a day to take in Kathmandu and acclimatise to our surroundings. The myriad electrical wires that criss-cross above the streets might be a health and safety officer's nightmare, but otherwise, we found the capital to be a hassle-free and relaxed city that we used to fill our bellies with delicious momos, (Tibetan dumplings, which you can even find made green by pesto in "Places" restaurant, another tripadvisor find) and carry out our final kit checks.
Days 1-3
At the start of day one I was still waiting for the rest of our party to join us, looking around for those we might have to share the stony path ever upwards with.  We seemed to be waiting for something or someone off the vertiginous flight into Lukla so I tried to find out how many were going to join us.  It turned out we were just waiting for breakfast and that the money we paid for the tour provided for Phurba's services all to ourselves.  Things were starting well.
Day 1: Flight to Lukla (2,840 m), the starting hub of the Everest Base Camp journey, and trekking to Phakding - 2,650 m
Day 2: Trek from Phakding to Namche Bazar. Enroute to the capital of the region "Namche" you will also get the first glimpses of Mount Everest - 3,440m
Day 3: Acclimatisation day at Namche. The ascent the previous day has been +800 m and you are now at an altitude of +3,000 m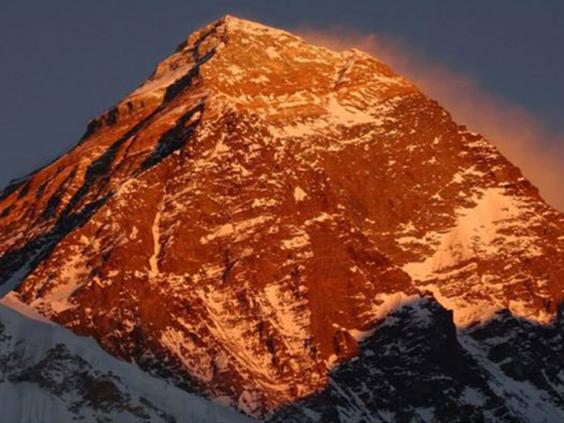 The initial days are about checking. Checking how we felt, checking out our new surroundings. Checking with the friendly yet ever laconic Phurba every single item of flora and fauna we pass, as if everything has new kind of significance.  "What does that woman's hat mean, the one with the embroidery?"  "It means that she's cold and needs a hat." He replied, smiling broadly, whistling and making sure to always pass significant objects to the left with a skip in his step.  Skipping aside, more than anything, we needed to take things easy as we went higher. Due to our moderate increase in exercise I felt great in these first three days and could have raced up the paths like the more laconic German trekker we saw fly past (and later heard he had completed the trek in half the time we did), but regular stops are the necessary prescription. They also helped me take in more of the view.  These early days see a gradual backwards and forwards over a long, high and surprisingly verdant valley that snakes its way ever closer towards Everest.  Birds of prey and rescue helicopters navigate the increasingly thinning but wonderfully fresh air and seemingly milk thick lurid blue water blazes an iridescent trail back in the direction of travel.  Having left our first night's lodging in Phakding just outside Namche Bazar only a few hours earlier, we sat by the main trail sipping mineral water brought up on the back of yak with their thunking bells in bright sunshine. It was a well-needed moment of reflection with a delightful feeling of being very far from home.
Day 4
Namche - Tengboche - 3,870 m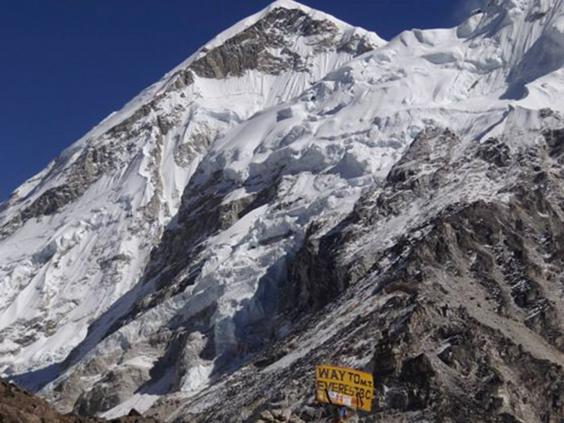 On day four, especially with the benefit of rest, I was conscious of speed. My head was holding me back but my legs wanted to run around in the clean, open, spacious playground of the Himalayas. The paths are surprisingly well defined and everywhere there seemed to be water and a chocolate bar ready for purchase. We felt we wanted to get on with it, a feeling only exacerbated when, on the way up to the ornately carved and peaceful Tengboche monastery, we saw a teenager carrying what seemed to be ornately carved legs, green-beize-flanked side pieces and a few netted corner pieces of something surely impossible if this trek was only due to get harder. We checked with the ever savvy and spritely Phurba if we were hallucinating (a sign of altitude sickness) or whether this was destined to be the world's highest snooker table: "why not coconut", he sing-songed, "some carry up to 120 kilos, I carried 105 for a few years" finally adding, after thought, in the oxygen-deficient air: "too heavy".
Day 5
Tengboche - Dingboche - 4,360m
We took a slight diversion from the most direct route, to stay at Dingboche.  This is to allow for a rest day as pushing up the main trail would have pushed us too hard.  It also snowed so much it blocked our progress and, much to Tim's frustration, the collected guides mumbled and planned in a faded corner of the 3C room about the likelihood of stopping the advance and considering the descent.  It is here, in this tiny settlement I will only ever remember as tippexed out by snow, that our budgeting skills would come to the fore. Drinks turned into the price we'd expect to pay back at home, but considering they were brought up on the same trail as us, on the backs of people or yaks, it seemed a fair price. Bring substantially more money than you think you'll need and enjoy your $7 pack of Pringles and, if throwing altitude caution to the wind, $5 small can of beer.
Day 6
Dingboche - 4,360m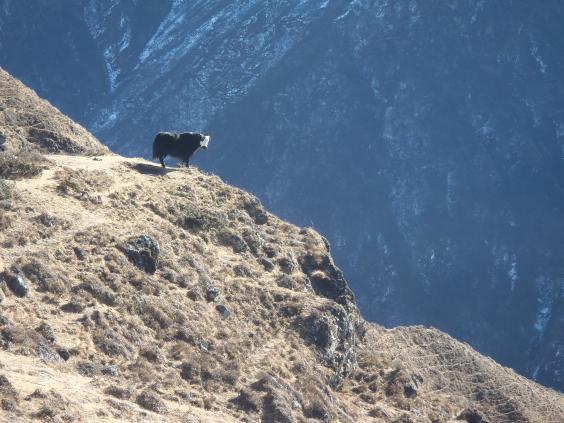 The scheduled rest days of days three and six were essential for keeping a clear head in the rarefied air but also they were a good chance to catch up with others on the same route. We were in the spartan, auspiciously named "Good Luck Lodge", braving a few feet of snow falling from the dark sky. Our time there would have been interminably slow were it not for avuncular Pentagon employee Alan, kind world-tour couple Ben and Chelsea and a pack of cards only purchased last-minute in Kathmandu. Everyone was suffering some sort of ache or pain, altitude the prime culprit. Alan was taking Diamox, an altitude drug that some claim can assist acclimatisation but we were told can cause side effects that are themselves the symptoms of altitude sickness. But, even though his bag contained enough pills to fell one of the allegedly sighted yetis near Tengboche and he clearly knew what he was doing I assumed my natural approach better and turned down his offer of pharmaceutical assistance.
Day 7
Dingboche - Lobuche - 4,910m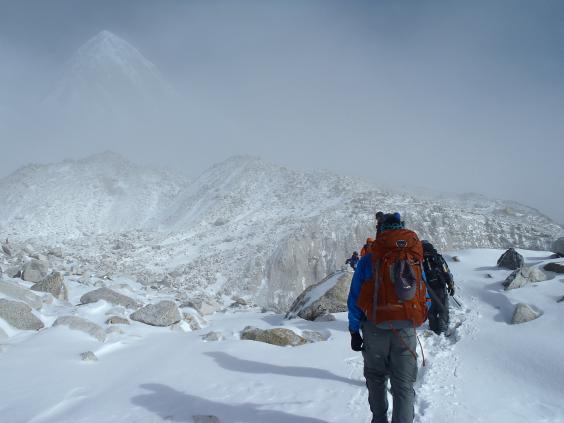 On cold days, we felt we earned every step, but every step above 4,700m, roughly marked by the small collection of teahouses that make up Thokla, cost. Air is thin and you had to avoid mistakes in your movements and calculations. Slowly, we made it up to the bracing high perches of Lobuche at 4,910m, where 3cm away from the stove, with its acrid aroma of burning yak dung, it was too cold to function. There was huge enjoyment to be had squeaking and crunching through hours of snow gazing at the majestic, spiny beauty of the Himalayas but being snowed on in your sleeping bag, inside, through gaps in the window frame and gaps in the wall, seemed poor reward for the day's trek.
Day 8
Lobuche - Gorakshep - Everest Base Camp, and back to Gorakshep - 5,140m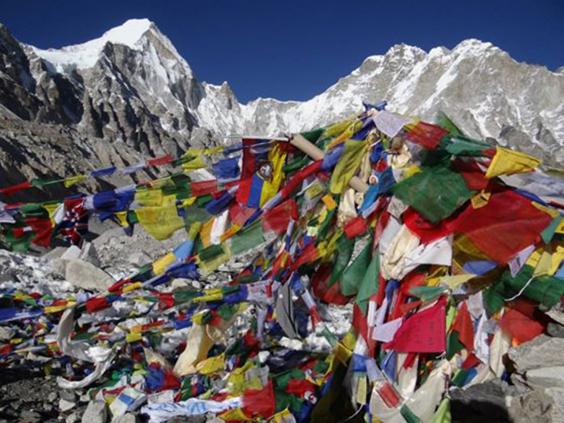 Day eight really was a challenge. This was the day we planned to go up past Gorak Shep at 5,140m (lightening our load at the Yeti lodge where we were to spend another sub-zero night), and then push on for the round trip to get to base camp. We were indebted to Phurba and hugely aided by our taciturn, fresh-faced porter Partap (who, if his given age was to be believed, proves the fountain of youth is to be found in the high Himalaya). Without them, I think I would have stayed at Gorak Shep and not even attempted the extra few hours to base camp.
Mid-way through the day, one hour from base camp, one and a half hours up from lunar Gorak Shep, I had my head in my hands. I was in two minds whether to finish. I wanted to push on but I was not going to be stupid about it and push on through worsening pain. Tim, with eight-day explorer facial growth, pointed something out. I couldn't quite hear him over the wind and the throbbing and constant cold, but I looked anyway. And there was Everest, footed by the bleak, blue beauty of the Khumbu icefall. The Khumbu icefall, that start to an Everest ascent proper which tragically often claims Sherpa lives in staking out the climbing routes for Western adventurers each season. Ruminating on this we heard a "thung", that Phurba instantly recognised, as a powdery rush of white poured on top of part of the icefall. It was a timely reminder of the power of the landscape. It was enough of a spur to push on and, at the same time, consider what I was capable of in relation to what the landscape was capable of. I made it through the grey and the white and the blue, took my obligatory exuberant pictures and headed back.
Days 9, 10 & 11
Gorakshep - Pangboche – 3,930m
Pheriche - Namche - 3,440m
Namche – Lukla – 2,840m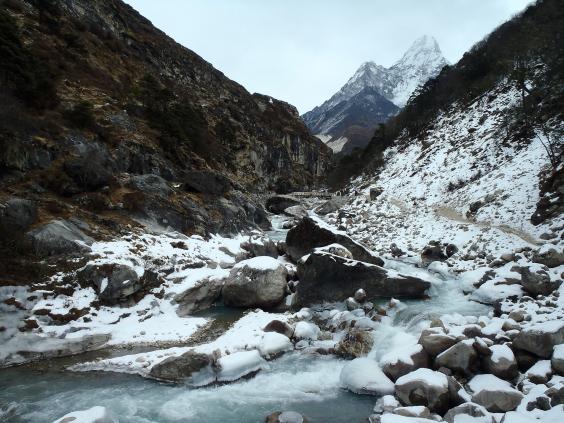 These days of descending were delightful. Well, after wading through the powdery snow that completely obscured the first hour's path and after braving the whipping wind laden with biting ice crystals, then it was blissful. Every subsequent hour down meant an hour of feeling lighter as the altitude lessened, happier as the sun fought through the clouds as it seemed to do with greater effectiveness on each day, and happier that maybe, just maybe, a warm shower beckoned at Namche.
Our route down took us through the wide, flat valley next to Pheriche that made judging distances and trekking times difficult and surreal, on to Pangboche and then back to Namche and its delightful warm water and, I either delight or hate to inform you, Irish bar. It was only when we returned to Lukla that we were beset again by snow. After a night spent regaled by traveller tales of people stuck in Lukla for up to six days because of snow and fog, our tiny propeller plane arrived and we took the leap of faith that is taking off the incredibly short runway and flying straight down to Kathmandu.
I certainly don't want to see my breath indoors for a long time, but I'd chose again in an altitude-impaired heartbeat the edge that trekking in winter gave the scenery - and the camaraderie and added to the challenge of the experience.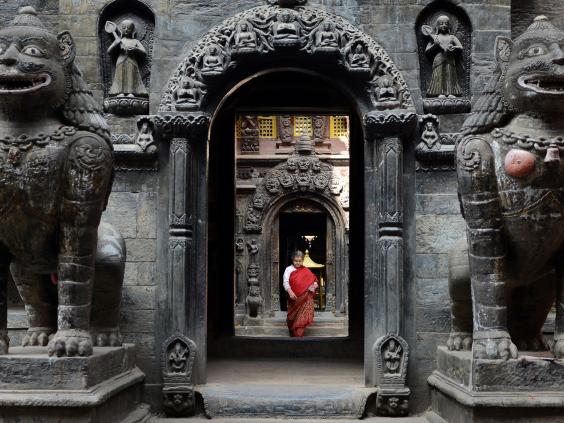 TRAVEL ESSENTIALS
Getting there
The closet international airport is Kathmandu, and although there are no direct flights it is served by Qatar, Turkish Airlines, Etihad and Cathay Pacific among others.
Staying there
Phil and Tim stayed at The Hotel Yak And Yeti in Kathmandu with rooms available around $240, but with many offers available to reduce this rate.
Visiting there
Phil and Tim used Trekbooking.com to find a company to run the tour.  Depending on company, prices start between £620 and £1,100.  They chose Above the Himalaya.
Click here to view the latest travel offers, with Independent Holidays.
Reuse content