Birds of prey circle in the sky above a quiet stretch of beach where turtles nest. Below, under a canvas canopy with gold tassels, a handful of guests have left their luxury tents to lounge over breakfast on oversized flouro cushions amid spherical floor lights on decking painted in perfectly pitched blue. I am in Paros, the latest French-run boutique resort from Amarya. This is Goa for well-heeled hippies and aesthetes who delight in a well-chosen textile or objet d'art – no piles of rubbish or comatose dreadheads in sight.
Paros marks the start of a vast, continuous stretch of beaches in North Goa: Morjim, Ashvem and Mandrem. These have long been enjoyed by nature-lovers who want to get close to the elements and far from the hard-drinking hordes and package tourists at Baga and Calangute to the south. Development has trickled in since the bridge over the Chapora River at Siolim was built in 2002. However, in a recent surge, planning restrictions and lack of infrastructure are being overcome to capitalise on the growing numbers of visitors who want to explore the coastline north of the tourist masses.
The good news is, there has never been a greater choice of places to stay for people who love the simplicity of shack life, but don't want to rough it. I munch superfood salads in the grounds of Leela Cottages among wooden statues of Indian deities; enjoy a proliferation of plug sockets in a spacious thatched dome at Yab Yum; and meet friends on the veranda of their delightful bamboo-fronted hut at Little Palm Grove.
Those with a bit more to spend can find pure luxury with a sense of place. After wading across a saltwater creek, I stumble upon Elsewhere, the ancestral holiday home of a Mumbai-based fashion photographer, which he rents out to paying guests. And I hear tales of the design-led loft suites with cascading plunge pools at Kaju Varo.
Central to any laid-back bon viveur's experience of Ashvem is La Plage restaurant, where you can sit at a table, sink your toes into the sand and enjoy tender seared tuna and wasabi mash for under a fiver. A brief wander down the beach takes me to Jade Jagger's jewellery and beachwear boutique, where according to the sun-dazed, plummy shop assistant, everything without a price tag costs "um … about four thousand" (around £40). Behind the beach, Nana Ki peddles a Parisian take on Indian textiles and leather, while Bebel Boutique stocks glitzy numbers by Indian designers.
The decline of the rupee, and sheer choice of places to stay and eat, means you can live well on a modest budget here, but prices are rising. This is driven in part by conspicuous consumers from Mumbai, Delhi and Bangalore, who – judging by the reviews on TripAdvisor – are less tolerant of power cuts and insects in a luxury tent than European visitors. These savvy, well-travelled Indians are a key target market for two new Ibiza-style beach clubs that have sprung up this season. As Bardo prepares to launch, day beds are being rolled out on to the decking around the contemporary pools and white wicker pod chairs are hung from their hooks. Pretty PR girls take to the sands in the afternoon to hype its opening club night. A few plots down, the 30,000sq ft Sunset Ashram beach club has just opened with "a performance stage, VIP cabanas … and parties that rage after 10pm". It's hard not to have a great time in Morjim-Ashvem-Mandrem, and those who run the resorts and restaurants seem to enjoy the back-to-nature appeal just as much as the visitors. But in the drive to bring more comfort and higher returns, changes are inevitable. More permanent structures are being built, with steel posts and concrete cropping up alongside the grass, bamboo and clay.
A visit to Vagator, the first beach stop south over the bridge, gives a glimpse of what could be in store up north. As we approach the cliffs, corrugated panels are being erected around the huge site of the Sunburn dance music festival. The descent to Vagator beach used to be hazardous – I once twisted my ankle here on the way down. But this season, you can make a grand entrance down the steps of Chronicle – a multi-level, open-air-style bar hewn from the rock face.
As we leave the compound for the beach, a seller approaches. He shows his etchings with flaps that flip up to reveal scenes from the Kama Sutra. My friend states defensively that he doesn't want a sales pitch. "Please – whether you buy is your luck and my luck – why would I push you?" says the man, and he smiles a beatific smile that shows joyful Hindu fatalism towards money, luck and life, that so many Westerners in India have tried to embrace. It's the first time in two weeks that I have encountered it. He pulls a vial of scented oil from a little silk pouch and rubs some on my forearm. "Please, now – time to feel good."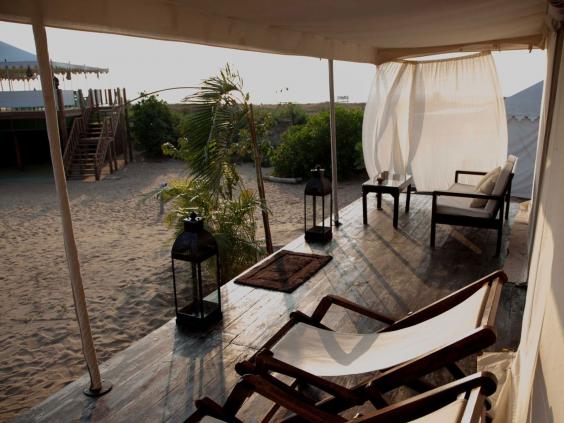 Travel essentials
Getting there
Fly direct to Goa from Gatwick and Manchester on Monarch (08719 40 50 40; monarch.co.uk) or Thomson (0844 871 0878; thomson.co.uk). Connecting flights from the UK are available on a wide range or airlines, such as Qatar Airways (0844 846 8380; qatarairways.com) via Doha and Air India (020-8560 9996; airindia.com) or Jet Airways (0808 101 1199; jetairways.com) via Mumbai.
British passport-holders require a visa to visit India; they cost £92.20 for a tourist (0905 757 0045; in.vfsglobal.co.uk).
Staying there
Paros, Morjim (00 91 7875224039; parosgoa.com). Tents from R7,500 (£75).
Leela Cottages, Ashvem (00 91 9326 103 486; leelacottage.com). Cottages from R4,500 (£45).
Yab Yum, Ashvem (yabyumresorts.com). Domes start at R4,200 (£42).
Little Palm Grove, Ashvem (00 91 96 57 06 30 46; littlepalmgrove.com). Cottages from €100 (£83).
Kaju Varo, Ashvem (00 91 90 11 07 11 911; shunyachi.com). Suites from US$100 (£63).
Elsewhere, near Ashvem (00 91 99 23 58 77 13; aseascape.com). Tents from £265 per week.
More information
Reuse content