A giant lotus flower was drifting towards me on the banks of the Ganges. About 20 feet long, it glowed pink and green in the dusky darkness, casting a supernatural glow over the river boats nearby.
The dappled neon light from the mutant flower struck an odd contrast to smaller offerings - candles burning camphor oil, wreathed in marigolds - that floated quietly by. On the steps of the embankment (the ghat), aarti dancers were offering fire to the river goddess Ganga. Their ranks were swollen by supporters of the Bharatiya Janata Party, BJP (or Indian People's Party) chanting the message that has drummed across India over the last few weeks: "Abki baar, Modi sarkar" (this time, Modi government). The lotus, BJP's emblem, was on a trial run, anticipating the victory of the party's controversial, but charismatic leader, Narendra Modi.
For two months, the northern Indian city of Varanasi has been at the centre of Modi's political campaign; India's new, Gujarati-born prime minister shrewdly declared he would contest the national election from "the spiritual capital of the world". With a record-breaking 563 million people turning out to vote, it was the largest in history.
In the build-up to Modi's victory, Varanasi didn't just feel like India in microcosm: it felt like the entire population had been crammed into this one, small city. A young man strode confidently over to me and introduced himself as Ravi, a 20-year-old student born on the outskirts of the city. He talked excitedly about the elections. "There's only one man," he said, "Modi."
Why Modi? I asked.
"Nothing works here, my bus to school is late three hours every day, sometimes it never even shows up. Look what he has done in Gujarat; it had nothing before and now it is one of our biggest economies." Ravi had never left India, so I asked him which country he'd most like to visit. "Switzerland," he responded, quick as a flash, "everything works there."
The following morning I wandered through dusty, narrow streets; drawn again to the mystery of a river that inspires such devotion. Rickshaws, bicycles, cars, carts, trucks and pedestrians were squeezed into single lanes, divided down the middle by a line of cattle. Wild dogs chased after goats or lay in the heat.
I reached the grand Dashashwamedh Ghat just as mist started rising from the river and three pink fingers of dawn started to draw back the night. The stench of the streets - of bodies, heat and dirt - dissolved at the waterfront. After bartering with several boatmen, I settled on a hulking fishing vessel and we set off, following a calm procession of boats out on to the water.
This is undoubtedly the best way to see India's oldest and most sacred city, described by Mark Twain as "older than history; older than tradition; older even than legend. And looks twice as old as all of them put together." Continually settled for some 4,000 years, the designated Old City is something of an understatement. From the vantage of a boat, its palaces and temples appeared almost stacked on top of each other, sinking lop-sidedly into river mud. The ghats fall hap-hazardly between them - steps leading down to the water where Hindu devotees perform their daily puja or prayer rituals as others bathe and wash their clothes. A school of young boys was learning to swim.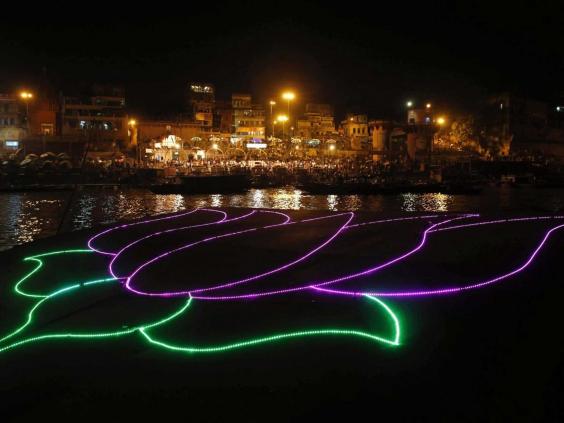 We passed one of the so-called "burning ghats", Manikarnika, where the scent of charred sandalwood mingled with the smell of the newly cremated. Sandalwood is expensive, so for the poor, cheaper wood is used; it burns more slowly and requires members of the untouchable caste, known as Doms, to push the extremities into the flame after the centre has collapsed. Their ashes are swept into the river in keeping with the Hindu belief that they will attain moksha (release), thereby escaping the cycle of death and rebirth.
A mixture of the sacred and mundane, the water also hides a multitude of sins - from human sewage to toxic waste. "The Ganges is one of the most polluted rivers in the world," my boatman, Neeraj, explained. He still bathes here every morning. "It might not clean me," he laughed, "but it cleans my soul."
As a Hindu nationalist, Modi would have undoubtedly chosen Varanasi for its spiritual and cultural resonance. But he didn't win by the biggest margin in 30 years purely on the back of nationalism. People return daily to the river in full knowledge of what goes in upstream. Not everyone can afford purity; many are just trying to keep clean. One of Modi's pledges is to clean India starting from the Ganges in Varanasi, something he reiterated to his supporters at the religious ritual - complete with giant lotus flower - on the Ganges last weekend.
My train out of Varanasi had been delayed by 24 hours, but my hotel room had already been booked up. It was the same story at all the other hotels - thanks to the Modi effect - so I spent the night on the crowded station platform instead. For all the promises to slash red tape, burn bureaucracy and clean up the country, I hope Modi will make the trains run on time, too.
TRAVEL ESSENTIALS
GETTING THERE
There are no flights between the UK and Varanasi. Jack Davidson flew to Delhi with Virgin Atlantic (0844 209 7777; virgin-atlantic.com), which offers return fares from Heathrow from £625. Delhi is also served by British Airways (0844 493 0787; ba.com), Air India (020 8745 1005; airindia.com) and Jet Airways (0808 101 1199; jetairways.com). Planes and trains operate between Delhi and Varanasi.
STAYING THERE
Nadesar Palace, Chaukaghat, Varanasi, Uttar Pradesh (00 91 542 250 3001; tajhotels.com). Doubles start at R18,300 (£185), room only.
MORE INFORMATION
Uttar Pradesh Tourism: up-tourism.com
British passport holders require a visa to visit India, which costs £92.20 for tourists (0905 757 0045; vfsglobal.co.uk).
Reuse content