The old man of the forest regarded me with small, intelligent eyes and an expression of disappointment. Clearly I didn't measure up, and I was glad when my scrutineer's attention returned to the half-eaten pandanus fruit, clutched in fingers twice the thickness of my own.
"Old man of the forest" may be the literal translation of orang-utan. But with an infant clinging to her back, this ape was indisputably female. And, to deepen the insult, she was hardly "old" – no more than 20 years, confirmed our guide. In orang-utan terms this made her just as much a young mum as it would in a human.
My companions and I were on the deck of a klotok, one of the tourist houseboats that ply the Sekonyer River in Tanjung Puting National Park. Located in southern Kalimantan, the largest, Indonesian portion of Borneo, this wilderness of mangroves and swamp forest harbours all manner of wildlife. Cruising upriver yesterday, we had watched rhinoceros hornbills lurching overhead and proboscis monkeys flaunting their swollen conks as they leapt through the branches.
It's the orang-utans, though, that draw the punters. This female, peering into our boat from her tree fork, was captivating. One of the park's "semi-wild" individuals – those descended from rescued apes reared at the park's rehabilitation centres – she had clearly seen people before. Her baby, though, apparently hadn't, and peeked out at us with a wide-eyed alarm and dishevelled orange quiff that recalled an electrocuted Stan Laurel.
Indonesia attractions
Indonesia attractions
1/6 Indonesia attractions

Tibaes monastery

2/6 Indonesia attractions

The Sekonyer River (Mike Unwin)

Mike Unwin

3/6 Indonesia attractions

Puppets in Java (Mike Unwin)

Mike Unwin

4/6 Indonesia attractions

Orangutans in Kalimantan (Mike Unwin)

Mike Unwin

5/6 Indonesia attractions

Island hopping: stupas at Borobudur (Mike Unwin)

Mike Unwin

6/6 Indonesia attractions

Map of the area
Tanjung Puting was declared a national park specifically to protect the orang-utan. This was thanks largely to celebrated primatologist Dr Birutė Galdikas, Borneo's answer to Dian Fossey, who championed the beleaguered apes – the victims of both hunters and the logging trade – and in 1971 set up the Camp Leakey research centre. Today, tourists enjoy guaranteed sightings at the feeding stations where rehabilitated apes drop in for the daily banana handouts that supplement the 400 or so foodstuffs on their wild jungle menu.
At Camp Leakey our klotok joined a small flotilla tied up beside the wooden dock. Carnivorous pitcher plants hung their insect-trap chamber pots from the riverside tangle and a metre-long monitor lizard slipped into the dark, peaty waters. We followed our guide along a forest trail, peering into the silk-lined holes of tarantulas, stepping over the immense buttress roots of giant hardwoods and listening to the distant keening of gibbons.
As we neared the feeding platform, a rustling in the canopy and glimpse of orange in the leafy shadows revealed that orang-utans were heading the same way. Up in their arboreal element, the apes had a surprising balletic grace. One airborne figure swung through empty space fully 30 metres up, sinking groundward on a slender branch before reaching casually for the next handhold, which bore him effortlessly aloft again.
We watched from a bench as the apes converged. Soon there were six on the platform, all feeding quietly. One big male, resplendent with his fleshy face flanges, seemed to demand the most personal space: I watched as he inserted six bananas into his mouth – one at a time – then swung back skywards. Wild pigs rooted below for leftovers and kaleidoscopic butterflies alighted on the crushed fruit.
Orang-utans are critically threatened by the loss of their forests to mushrooming palm oil plantations. The following day we visited Pondok Kerja Pesalat Reforestation Project, where each of us planted a small indigenous tree. My spindly, metre-high bekasai would grow into a mighty hardwood, I was assured, but it took a leap of faith to imagine the great apes swinging through its towering canopy a century hence.
The next major feeding session took place two days and a short flight later in the town of Solo, on the island of Java, south of Borneo. This was an altogether messier affair. My companions and I sat around a large table in the colonial back room of the Goela Klapa restaurant, while waitresses ferried in mounds of the delicious local fare.
Soon our woven bamboo plates were groaning with nasi liwet (coconut rice with green papaya, chicken and egg), gudeg (jackfruit curry), klepon (green rice flour balls) and pecel lele (fried catfish), and my napkin was looking ever more like a Jackson Pollock.
It was not only Java's cuisine that was overwhelming. Much the most populous of Indonesia's 17,000-plus islands, with a population of some 140 million, its in-your-face humanity was a far cry from the dark forests of Kalimantan.
The streets of Solo teemed with every kind of traffic, and venturing out from our air-conditioned minibus brought stifling humidity, a pungent blend of exhaust fumes and stir-fry, and the call to prayer booming from the rooftops.
Just an hour nosing through the market stalls – from the leather puppets of Javanese tradition to the doorknockers of Dutch colonialism – was enough to convey a sense that the island's history and culture are every bit as colourful, spicy and multi-layered as its food.
That evening things became even more bewildering, as we took in the Hindu dance-drama of a Ramayana ballet. The plot, according to a printed synopsis, was a love story, but – unable to discern exactly at which point Kalamaricha turned into a golden deer or Laksmana emasculated himself in a pledge of chastity – I was content simply to sit back and let the eerie beauty of the performance wash over me to the hypnotic strains of the gamelan orchestra.
Culture-wise, Solo was just a taster. Our final stop was the nearby city of Yogyakarta (plain "Yogya" to locals), capital of the Mataram Sultanate in the 1600s and today still Java's beating cultural heart.
First we wandered around the kraton, the open-plan sultan's palace, where the changing of the guard still takes place on bended knees. Then we toured a batik workshop – an art form born in Java in 1782 (ba meaning many and tik dots) – where we watched the intricate wax designs materialise and learnt to tell originals by their lack of symmetry. Finally we headed out of town to crawl like ants around the ornate immensity of Prambanan, a ninth-century Hindu temple complex that centres upon a 47m-high edifice to Shiva and looks, from a distance, like a cluster of huge stone spaceships.
Anywhere else, Pramabanan would be mind-blowing enough. But Yogya has to go one better. Borobudur, some 40km north-west of the city, is both the world's largest Buddhist temple and a Unesco World Heritage Site: a wonder of the world by any standards. Also built during the ninth century, this vast structure – which contains more than 500 stone statues of Buddha – was abandoned for centuries, smothered by jungle and buried under a sea of volcanic ash from the ever excitable Merapi volcano, nearby.
It was not until a renovation project in the 1970s and 1980s – which involved, among other things, the dismantling and reassembly of over one million pieces of stone – that the jaws of the world dropped at it once again.
The time to see Borobudur is, naturally, at dawn. Thus our final morning on Java saw us wrapped in the mandatory orange sarongs – donned at the entrance – and trooping in the half-light up the stone steps through the nine stages of enlightenment that led to Nirvana.
As the rising sun prompted a frenzy of selfies from today's "pilgrims" it was hard to feel that humanity has managed anything more impressive in the thousand years or so since. Although "Think you're clever? Watch what I can do!" seemed to be the message embodied in the brooding cone of Merapi behind us.
Watching the sarong-clad tourists heading back down, I remembered those other orange primates descending to the ground back in Kalimantan. Indonesia's natural heritage is just as mind-boggling as its cultural one, I reflected. We can only pray – to Buddha, Krishna, Mohammed or whoever – that it lasts as long.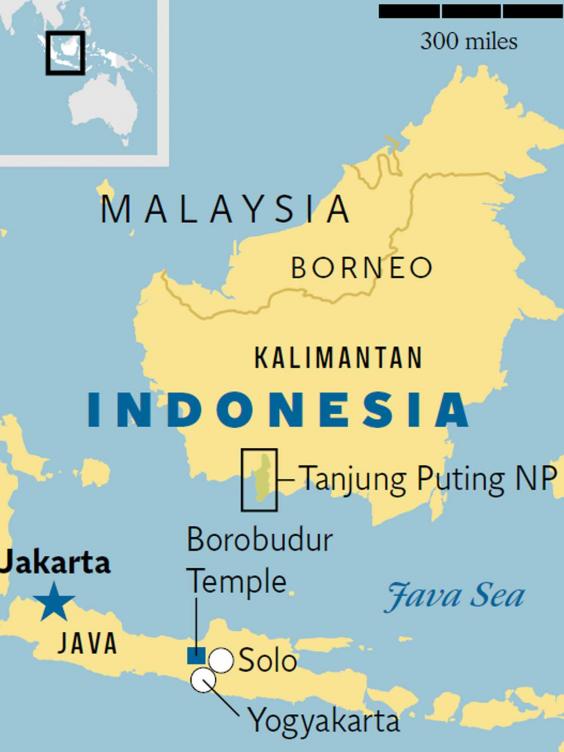 Getting there
On 8 September, Garuda Indonesia (0871 744 0190; garudaindonesia.co.uk) revives its link from Gatwick to the Indonesian capital, Jakarta, with a stop in Amsterdam. Onward connections to Banjarmasin, the capital of South Kalimantan, are easily available; total return fares are typically around £800-£850. An alternative from other UK airports is to fly on one of the Gulf-based airlines and connect in Jakarta to Garuda or the low-cost airline, Lion Air.
Staying and visiting there
Prices for a four-day/three-night package at Rimba Orang-utan Ecolodge start at $555 (£347)pp, based on two people touring. Price includes airport and boat transfers, all tours, park fees and all meals, including a special klotok dinner with fireflies (rimbaecolodge.com).
More information