Tokyo still retains the footprint of its Edo past, if you know where, and how, to look. Stand for a minute at the floor-to-ceiling windows, high up in the new Andaz hotel in Toranomon Hills, and you will see odd-shaped pockets of land sandwiched between the temples, Shinto shrines and high-rise blocks that lead to the Imperial Gardens. These are all that remain of the Daimyo (ruling lords) residences that stood there during the Edoera, which ran from 1603 to 1868.
Yet, to experience Japan's history you need to venture into the country. Until now, Tokyo tourists tended to hop on the high-speed train to Kyoto, but from today, they will have another option. In a mere two-and-a-half hours, the new Hokurikiu Shinkansen bullet train will race across the Japanese Alps to Kanazawa, close to the Sea of Japan. Once a cultural rival to Kyoto and Tokyo, Kanazawa remains a gem of a city, filled with beautiful gardens, exquisite old houses and incredible artefacts.
Thus it was that I found myself in the entrance hall of Ryokan Asadaya, a small, traditional 150-year-old inn in Kanazawa, with my guide for the day, Kumiko Horiuchi. Outside, warm autumnal rain was gurgling down the street. As I slipped on my walking shoes, a lively Japanese discussion developed. The ryokan's manager was worried that I might ruin my shoes and with a hurried rustle of kimonos, her assistants produced a pair of floral printed Salvatore Ferragamo wellies. They proved too small, but within minutes and with many apologies, I was given an older, more comfortable pair of green wellies and I set forth with Kumiko.
We slipped across the road to the covered Omi-cho market. It has a friendly small-town feel; customers exchange pleasantries with traders as they pick up gleaming fresh fish and persimmons. As we admired the wild mushrooms, a shopper regaled Kumiko with the dangers mushroom-hunters face from bears in the nearby mountains.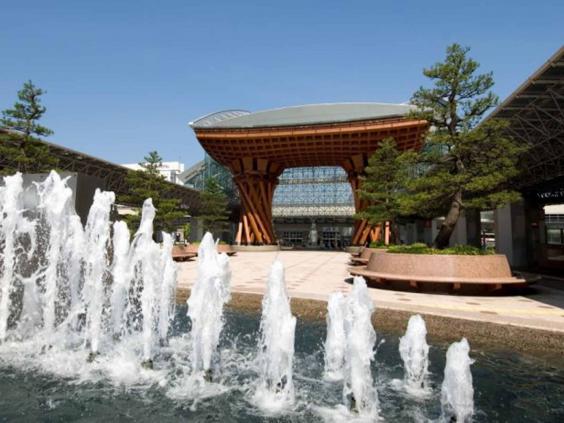 Outside, the rain had softened to a mizzle. We headed to Kanazawa castle, which lies at the heart of the old city. Its huge grey stone walls date back to 1583 and hint at the extraordinary wealth and power of the Maeda shogun, ruler of the Kaga province. During the Edo period this section of the Ishikawa Prefecture was the richest part in Japan. Fearful of upsetting the political status quo, the Maeda clan demonstrated their peaceful intentions by pouring money into culture, nurturing artisans to create exquisite works of art from gold leaf, lacquer, porcelain and silk. Rather than foster war, they created an artistic rival to Kyoto and Edo-era Tokyo.
Today, Kanazawa is a Unesco City of Crafts and Folk Art and a delight for shoppers. You can stroll through traditional gold leaf workshops, browse for pieces of Kutani porcelain and learn about Kanazawa shikki (lacquerware).
Since the end of the Edo era, Kanazawa has been a quiet, provincial city, and its lack of strategic importance saved it from Allied bombing in the Second World War, leaving the old quarters intact. We strolled into Kenroku-en garden, one of the most beautiful in Japan. Laid out in 1676, its ancient pines, inky lake and flame-leafed cherry groves looked luminous in the rain.
I escaped the weather in Seisonkaku – an ornate, 19th-century retirement residence built for the mother of a Maeda lord. Inside are elegant tatami-matted rooms dotted with the family's possessions. It is a charming place, but it was the samurai and geisha districts that really caught my imagination. The former, Nagamachi, is a maze of narrow, high-walled streets, behind which lie stables, gatehouses and low-eaved houses.
Close by are the distinctive wooden teahouses where samurai and scholars alike once played drinking games with the geishas. In the Higashi-Chaya geisha district, we wandered into Ochaya shima, a teahouse that dates back to 1820.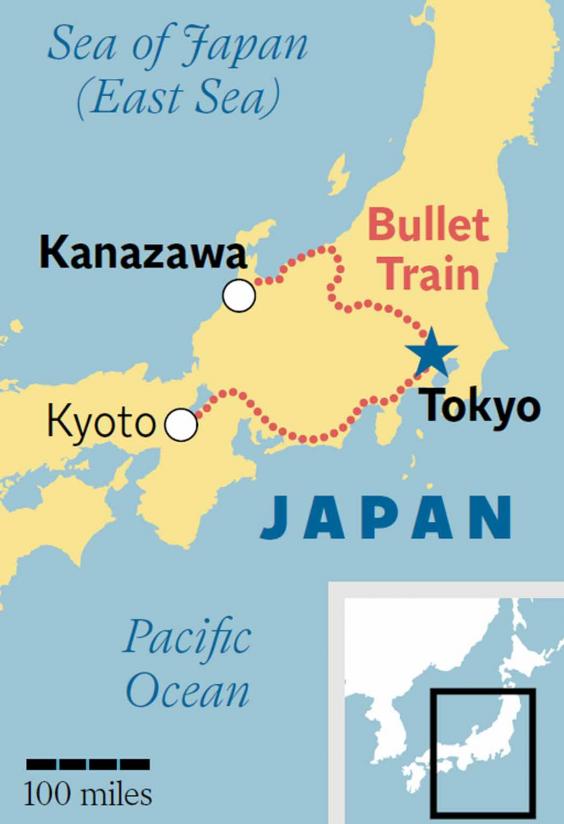 There is much more to see in Kanazawa, from the Museum of Contemporary Art to Myoryuji Ninja Temple, but ultimately all roads – and railways – lead back to Tokyo. Wander into the capital's commercial district and you'll find Nihonbashi Bridge. Built in 1603, it marked the starting point of all national roads, and although the original wood was long ago replaced by stone, nearby you'll still find many artisan shops from the Edo period.
I left the 21st-century luxury of the Mandarin Oriental hotel to take one final step back in time, visiting Ibasen, which has been selling paper fans since Edo times, and Chikusen, where you can buy late-Edo patterned kimonos. Modern Tokyo may not wear its history on its sleeve, but look carefully and you will see pockets of traditional culture still going strong.
Getting there
Sybil Kapoor travelled with InsideJapan Tours (0117 370 9730; insidejapantours.com). A five-night trip costs from £2,864pp. The price includes two nights with breakfast at the Mandarin Oriental Tokyo, one night with breakfast at the Andaz Tokyo Toranomon Hills, and two nights' half-board at Asadaya ryokan in Kanazawa. It also includes British Airways flights from Heathrow to Tokyo, airport transfers, travel by Shinkansen (bullet train) between Tokyo and Kanazawa, and private guiding in Kanazawa and Tokyo.
Staying there
Mandarin Oriental Tokyo (mandarinoriental.com/tokyo).
Andaz Tokyo Toranomon Hills (tokyo.andaz.hyatt.com).
More information
Japanese National Tourism Organisation (seejapan.co.uk).
The Kanazawa Tourist Information Guide (kanazawa-tourism.com).
Reuse content