After years walking in the mountains, one ambition still gnawed at me. To go into the wilderness – higher, further, deeper – than I had gone before. Doesn't every trekker share that craving? Most of my walking has been done in Europe: in the Pyrenees, Alps, and Dolomites, all wonderful mountain ranges. But if I have a complaint it is that too often I have found myself gazing down from some pristine peak on to a busy road or bustling town, bringing unwanted reminders of the clattering world.
It was because of this that I went on my first trek in the Himalayas, to the Langtang valley. But though the snowy peaks were spectacular, there were still too many other trekkers on the route for my taste. So for this, my second visit, I chose a trip to a little visited area: the Upper Dolpo, north west of the Nepalese capital, Kathmandu. The journey involved 21 days on trek under canvas in one of the highest inhabited parts of the world. It's a region with no roads, no tourist teahouses, no vehicles and no mobile phone cover. Nothing to do, in fact, except walk, eat, sleep, and gaze.
Nine of us assembled at Heathrow. Among the others were an IT specialist, an engineer, a couple of retired teachers, a civil servant and an environmental consultant. All were more experienced trekkers than me, but we shared a common purpose: we were ordinary people looking for an out-of-the-ordinary experience.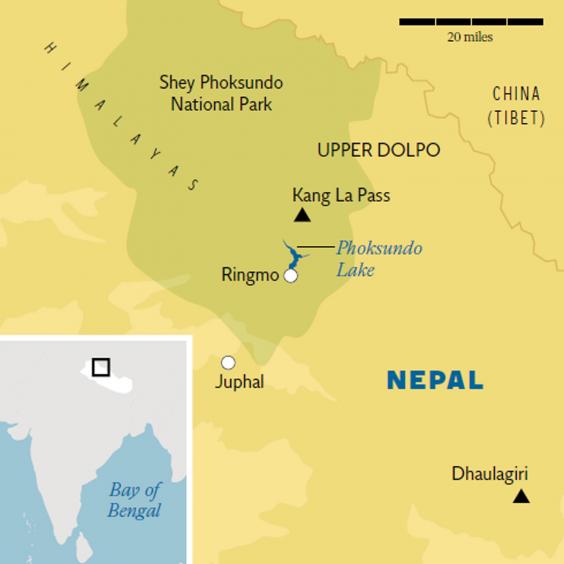 Our starting point was Juphal, a village in the mountains north west of Kathmandu reached by two short flights, the last in a little propellor-driven aircraft which climbed for an hour over the forested foothills before skimming a pass with less than 30 metres to spare and dropping into a glaciated bowl. Through the cockpit we glimpsed the airstrip – a narrow mountainside ledge, sloping steeply up. Seconds later, with white knuckles, we were down.
We were lucky. Not lucky in landing safely, but in landing at all. Planes can only reach this place – eight days' walk from the nearest road – in fine weather. Wind and cloud frequently close the airstrip and the first news we received on our arrival was gloomy; our head Sherpa guide and all our gear had been delayed until the next day ... possibly.
Juphal, at 2,400m, was a scrappy village with noisy dogs and muddy paths winding between the houses. Chickens pecked and goats roamed as we pitched camp on a spectacular hanging terrace in front of a hotel. Happily, we didn't have long to contemplate the soaring hillside opposite, terraced to the highest level, with deep clefts and paths zig-zagging up. By next morning, guide Chet and our gear had arrived and at noon we were off, heading steeply down in hot sunshine, then tramping by the roaring river between the folded hills, past olive and walnut trees, little plots of maize, spinach and buckwheat, the scent of wild marijuana, which grows everywhere, in our nostrils.
We were travelling in some style: there were 16 mules to carry our tents, sleeping bags, food and cooking gear, five kitchen staff, four porters, three sherpas and two muleteers in our retinue.
The days settled rapidly into a pattern – "bed tea" at 6.30am followed by a bowl of hot washing water. Breakfast of porridge, omelette, chapatis and jam, tea and coffee and cocoa. After breakfast, having packed up our things, we would take our daypacks and set off. The laden mules would follow. The kitchen staff would wash up, pack their huge loads, set off and overtake us, and, astonishingly, have the kitchen set up again and lunch cooking before we arrived at the designated spot.
For the first three days we climbed steadily by the foaming river, crossing and re-crossing it, camping beside it so you had to shout to make yourself heard over the roar. We passed small settlements, where children would call to us and pose for pictures in return for a balloon, the photographer's currency (better than sweets).
This region lies in the rain shadow of the main Himalayan peaks. Such rain as we saw fell mainly at night, and on only one day out of 21 did we briefly need to don our waterproofs. We were following the route made famous by Peter Matthiessen in The Snow Leopard, the account of his seven-month journey in 1973 in pursuit of the fabled cat. (His descriptions of the region and its tough but charming people are magical.)
Each day, we completed an epic walk – at least that is how I would have described it had we been in Europe. But one becomes blasé about towering mountains, wild valleys and breathtaking views. By day four, the landscape opened out into low scrub backed by sandstone cliffs. As the path corkscrewed up the hill, we were like a column of 90-year-olds, breathing heavily in thinning air. Up and up we went to a ridge overlooking Nepal's highest waterfall (a 300m drop) and we made our way to Phoksundo lake, an intense, turquoise-blue expanse.
We had a day's rest at the lake to acclimatise at 3,600m and to explore the 500-year-old monastery and nearby village of Ringmo, its relative prosperity signalled by some two-storey houses and fields of wheat. The next morning we set out for what was, by common consent, the most spectacular balcony walk any of us had ever encountered.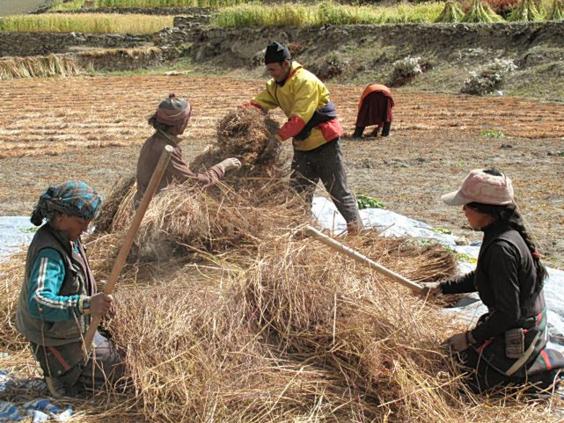 We were woken at 6am, the sun glinting on the snow peak behind our camp, the sky as intensely blue as the lake. At breakfast, I tried to warm my freezing fingers against a mug of scalding tea. The sun hit us just as we were about to step on to the wooden causeway that skirts the cliff on the west side, suspended on wooden pegs 60m above the water. The path was too narrow for laden donkeys so the porters had to ferry the luggage in three trips. This was not a path where you'd want to meet a donkey, or worse a yak, coming the other way – as depicted in the film Himalaya, which was shot here (in which a yak train plunged into the abyss).
From the lake we followed a long desolate valley, climbing for two days. As we made camp among trees, a yak train appeared heading between the tents until two of the animals, startled by an over-enthusiastic photographer, demolished the toilet tent. Fortunately no one was inside.
Our camp the next night was one of the most spectacular of the trip – at the foot of a perfectly conical mountain, slick grey rounded hills stretching treeless to the north and the valley dropping away below. It was below freezing at night and turning over in my sleeping bag, I found myself gasping. The smallest effort resulted in heavy breathing. But none of us suffered altitude sickness, thanks to careful pacing.
After crossing the Kang La pass – 5,300m, with a stupendous view of desert hills receding into Tibet – we arrived at Shey Gompa (the Crystal Monastery), a place of pilgrimage for Buddhists for 1,000 years. The gompa (temple) is set on a high bank above the broad river plain, where yak trains pass on to Tibet. To my eye, the two-storey building, covered in traditional red wash, looked like a suburban semi, but the interior paintings – this is the region where the pre-Buddhist Bon religion is practised – were impressive.
Later in the trip, as we descended from the Jeng La pass, ice crystals sparkling on the moss covered stones, we had a magnificent view of the 8,000m Dhaulagiri massif gleaming pure white in the morning light, down to the Tarap valley, a sweeping vista of plains and pasture. It was harvest day and the entire village of Tokyu Gaon was in the fields gathering barley, moving across the landscape with huge loads on mules and on their own backs, a scene unchanged for a thousand years.
And beyond, as always, were those magnificent mountains. I'd found the wilderness in the Upper Dolpo, and it was not wanting.
Getting there
Jeremy Laurance was a guest of Mountain Kingdoms (01453 844 400; mountainkingdoms.com) which offers a Snow Leopard Trek in the Upper Dolpo (27 days from the UK; 21 on trek) from £3,095 with accommodation, all meals on the trek, a leader, internal flights and transfers, camping facilities and porterage but not international flights (flight inclusive price from £3,845). The next departure dates are 9 and 16 September.
More information
Reuse content