Rangoon (or Yangon as it is now known), Burma's largest city, is already unrecognisable to those who knew it a few years ago, and will soon be again. "It's all changing – so fast," my elderly taxi driver, Victor, told me. My 2011 edition of Lonely Planet's Burma guide, published the year after pro-democracy leader Aung San Suu Kyi was released from house arrest, is already out of date.
There are ATMs around the city (that work some of the time), where a year ago there weren't any. To cross the Yangon River to Dalah, a town on the river delta, used to need a letter of permission, but the chatty toothless lady there, with a plug of betel leaf under her top lip, was delighted to tell me that that is no longer necessary.
It used to cost hundreds of dollars to buy a sim card, and while mobile phones themselves (especially iPhones) still cost a good deal, the cards are now only $1.50.
I was staying at the perfectly serviceable Alfa Hotel where the bed was comfortable, the water hot, the breakfast fine and the wi-fi sporadic. So far, so nondescript, until I looked out at the horizon from the 10th floor window of my room. There, above the dreary blocks and the peeling paint, was the Shwedagon Pagoda, the biggest, probably the oldest and definitely the most important Buddhist shrine in Burma. Nearly 100 metres high, it can be seen from all over the former capital. It has a majesty and an uplifting glamour and visiting it at dawn or dusk is quietly impressive. At these times, the sun reflects off its gold leaf and precious stones in a hauntingly glamorous way. If you know the day you were born, leave an offering in front of the relevant effigy (a candle or garland bought from one of the sellers on the way up) with a wish – you never know what will happen.
I walked past Buddha statues and shrines lit with neon, and saw Rangoon at prayer. A group of tiny nuns chanted their scriptures while sitting on the floor; led by an older woman, most of them were small children, wearing pale pink, with shaved heads.
However, it's a rare glimpse of tranquillity, for close by, life is more animated. Transport can be both frenzied and slow. In a car, he who pushes hardest gets the furthest fastest. Most of the cars are right-hand drive, but the traffic drives on the right – this hampers visibility in a disconcerting way, and was apparently an overnight decision by the military junta in 1970.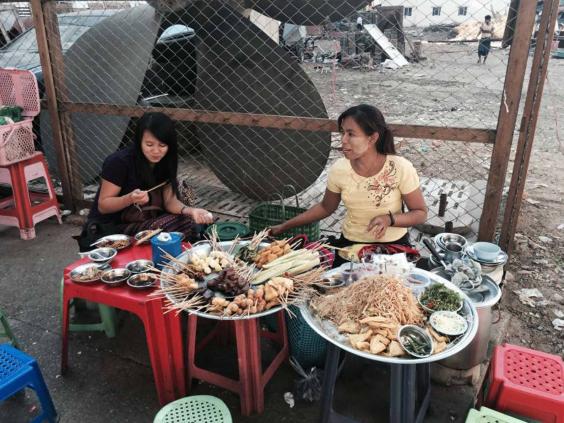 Meanwhile, the Circle Line train creaks and clatters its slow progress around the city at 17km per hour. I caught the new, Japanese-funded air-conditioned version, with long sofas against the wall, automatic doors and friendly passengers who told me where to get off. The more rustic version is travelling theatre: in the early morning, flower sellers clamber on with their gladioli, roses, chrysanthemums, and women sit with different colours of silver foil attached to a long wire, chattering away while their small scissors snip it rapidly into tinsel garlands.
Rangoon's colonial buildings, which date back to British rule in the mid 19th century, are generally dilapidated, left to decompose in the tropical heat. Nobody wanted to know after independence in 1948, but now it seems that tourism is becoming a catalyst, in some cases, for their rehabilitation. Others are simply too far gone. The Strand Hotel, which has hosted Orwell, Maugham, Mountbatten and more since it opened in 1901, is now an all-suite set-up complete with a spa. The white, colonnaded building has been restored and is creamily elegant once again.
Not so fortunate is the Pegu Club, a gentlemen's club built in the 1880s that is now dismally derelict and belongs to the army, making it out of bounds. The travel writer Paul Theroux was turned away when he tried to visit in the 1970s. Instead of trying my luck, I took a three-hour walk led by the delightful Michael from Yangon Walking Tours, which offers culturally sensitive walks that support local businesses. Since Aung San Suu Kyi gave the green light to tourism once again in 2011, small operators like these have started to flourish. My tour included a visit to an old set of barristers' chambers.
The enormous rooms were partitioned, the windows dirty, but I was greeted by a graceful old man with grey hair and a soft voice, whose bookshelf had leather-bound volumes of Burmese Law Reports dated 1947. "This desk is 80 years old. It was my master's," he told me proudly.
Nearby the Sofaer Building was built in the 1920s by an eponymous Jewish businessman. It now houses Gekko, a Japanese restaurant and a rather smart tea room on the first floor. This is at odds with restaurants elsewhere in the city, with seats under awnings, on the pavements, beside charcoal grills producing some rather demanding bits of cooked animal, or satay sticks, depending on the origins of the cook.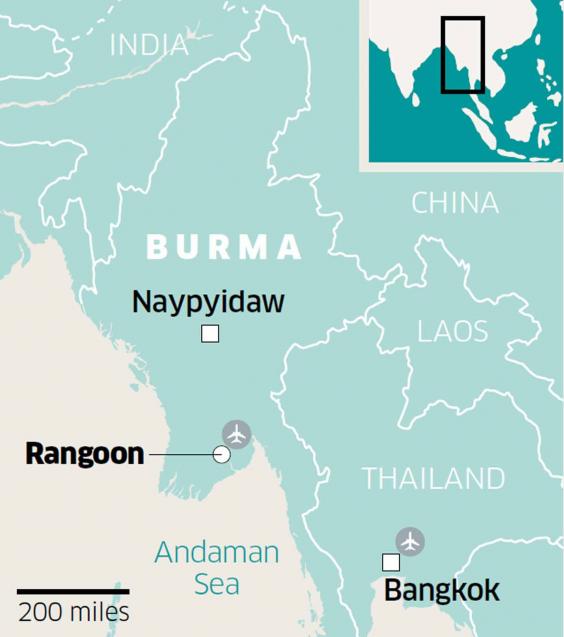 I asked Michael if we could try some street food. He was keen for me to experience a small, hard green plummy fruit with no equivalent name in British. He asked the lady selling it to slice it up and mix it with a dark brown paste in a paper bag – fish, chilli and oil. It was an acquired taste.
People are still guarded about their politics, but it didn't take long for them to express opinions. Overall, it seemed as if the past few decades of insurrection and dictatorship had not been able to quash the underlying pride in their ancient civilisation.
As well as the Japanese smartening up the Circle Line, there are rumours of a Metro. Glass skyscrapers are going up all over the place but have not yet overwhelmed the skyline. The Yangon Heritage Trust has proposed a conservation zone that will protect downtown's historical and religious heritage buildings and improve its green spaces. Things will work better, but there may no longer be shrines to the nat (spirit) on trees by the docks, or fortune tellers at stalls on the pavement, or a bright-faced young woman typist working from the boot of her estate car.
Go now before progress takes over this former pariah state, and Rangoon becomes another Singapore, Hong Kong, or Kuala Lumpur. For now at least, there is nowhere else like it.
Getting there
There are no direct flights between the UK and Burma. Rangoon can be accessed from Heathrow via Bangkok on Thai Airways, Singapore with Singapore Airlines, Kuala Lumpur on Malaysia Airlines and from Heathrow and Manchester via Doha with Qatar Airways.
Staying there
Strand Hotel (00 95 1 243 377; hotelthestrand.com). Doubles start at $255 (£170), including breakfast.
Getting around
Yangon Walking Tours offers half-day trips for $60 (£40) for two people (projectsdada@mac.com; opening-up-burma-travel.info).
A free Yangon walk (two hours) leaves the Sule Pagoda at 9am on Wednesday and 4pm Friday to Monday (freeyangonwalks.com).
Visiting there
The House of Memories Restaurant is a restored, colonial mock Tudor house, where Aung San, Aung San Suu Kyi's father, had a secret office which you can still see, with his typewriter and "in" and "out" trays (00 951 525 195; houseofmemoriesmyanmar.com).
More information
British passport-holders can now obtain an e-visa prior to travel, available for $50/£33 for entry via Rangoon (evisa.moip.gov.mm).
Reuse content