Today the prevailing image of Shanghai is of the host of implausibly tall tower blocks in the riverside district of Pudong. Yet across the other side of the Huangpu River, the city's French Concession is a wonderfully pretty, low-rise area of elegant colonial-era houses and narrow streets lined with plane trees. It's the most atmospheric and captivating quarter of China's most populous urban development – and it's become fabulously ritzy. I had come to explore the collision of old and new worlds here: red-flag republic and retail luxury, cheek by jowl.
The French Concession was a territory within Shanghai ceded to France during the colonial era. Between the 1850s and the Second World War, it was an alluring pocket of adventurers, émigrés, tycoons and racketeers. In the anything-goes mood of the early 1900s it became a hotbed of revolutionary plotting and politics. Some of the most important sites of the development of post-Imperial China are here. Yet the French Concession now contains much of Shanghai's prime real estate.
I headed first to Xintiandi, the city's most conspicuously affluent development. It's a striking complex of 19th-century shikumen houses – all old brickwork, big stone doorways and courtyards – that since 2001 has been revamped into a pedestrian zone of upscale bars, cafés and shops.
However, high-end consumerism wasn't on my agenda. I joined a stream of Chinese tourists heading to a well-preserved shikumen house just off the complex. A small plaque announces that this is the Memorial House of the First National Congress of the Communist Party – and it's rather more interesting than the pragmatic title suggests. In the early 20th century the house was the residence of Li Hanjun, who in July 1921 hosted the seminal gathering of 13 delegates who formally established one of the world's most radical political organisations. It's an absorbing place with well-presented displays that for the most part are explained in English as well as Mandarin – from a lifelike tableau of wax figures to pamphlets, letters and photographs, including one of a fresh-faced Mao Zedong, who was clerk to the proceedings.
I emerged back into the onslaught of shoppers and, dodging the crowds, took an early lunch stop. Xintiandi is home to an outlet of the gourmet dim-sum chain Din Tai Fung, where I tucked into its speciality, xiaolongbao (soup-filled dumplings).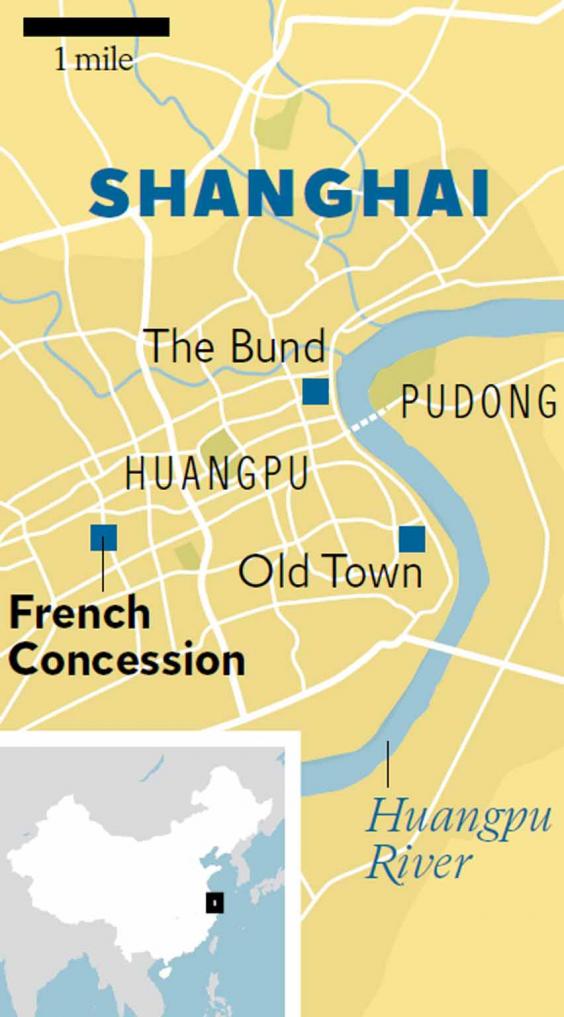 A 15-minute walk away is Fuxing Park, established as the private garden of the aristocratic Gu family. In 1909 it was acquired by the French who first turned it into a military base and then developed it as a park. It remains a beautifully planted place of leafy walkways and formal flower beds. I felt I'd slipped into a bygone age as I ambled past a small group of elderly Chinese couples practising ballroom dancing by a statue of Marx and Engels.
On a quiet, adjacent road is one of the city's most revered sites: the French-era house of Sun Yat-sen, founding father of the Republic of China. Sun wrote prolifically in English as well as Mandarin and many of his works are on show, along with rooms furnished as they were when he lived here between 1918-1925. The son of a farmer, Sun was partly brought up in Hawaii by his elder brother. He qualified as a doctor in Hong Kong and, on returning to China, became an ardent revolutionary against the Qing Dynasty. He spent much time in exile and in 1896 was even kidnapped by Imperial Chinese agents in London.
When the Qing Dynasty was overthrown in 1911, Sun became the first president of China. He held the office briefly and went on to found the Kuomintang party (KMT), yo-yo-ing in and out of exile until he was able to settle in this Shanghai house. He lived remarkably modestly with his wife Soong Ching-ling and died of liver cancer in 1925, aged just 58.
Moving forward in Chinese history, I took a short march across to 73 Sinan Road. In 1946, during fierce fighting between the KMT and the communists, this was the office of the Shanghai branch of the Communist Party. Set in a gracious French-style mansion, it was a cloak-and-dagger operation known, outwardly, as the Residence of General Zhou Enlai. Based largely in Nanjing at the time, Zhou visited the house fairly often to hold political meetings. He went on to become premier of the People's Republic from 1949 until his death in 1976. The house contains a sparse display of exhibits and it's some irony that it overlooks one of the plushest developments in the city. Sinan Mansions is a lavish complex of villas built in the 1920s and 1930s that has recently been re-devised as a supremely upmarket precinct.
For a quick pick-me-up I made for an outlet of the Californian chain Coffee Bean and Tea Leaf. Americano in hand, I marvelled at how East and West have merged here, in this uncharacteristically low-rise district of Shanghai.
Getting there
Harriet O'Brien travelled with Wendy Wu Tours (0844 499 3899; wendywutours.co.uk) which arranges group and tailor-made travel to China. The company offers a seven-night trip taking in Shanghai, Chengdu and a four-night river cruise starts at £2,300pp which includes flights from Heathrow; accommodation; all meals; transport in China; entrance fees and guidance; and visa fees for British passport holders.
Shanghai is served non-stop from Heathrow by British Airways (0844 4930787; ba.com); Virgin Atlantic (0844 209 7310; virgin-atlantic.com); and China Eastern (020-7935 2676; china eastern.co.uk). Connections are available via a wide range of hubs.
Visiting there
The Memorial House of the First National Congress of the Communist Party, 374 Huangpi Nan (00 86 21 538 32171). Open daily from 9am-5pm, admission is free.
House of Sun Yat-sen, 7 Xiangshen Road (sh-sunyat-sen.org). Open daily 9am-4pm, adults Y20 (£2).
Residence of General Zhou Enlai, 73 Sinan Road (00 86 21 64730420). Open daily 9am-4pm, free.
More information
Reuse content