Cruising in South-east Asia has traditionally meant a trip along the Mekong River. But today's adventurous boat traveller is increasingly spoilt for choice with sea and expedition cruises, plus river trips along blossoming Burma's Irrawaddy, all bringing exotic parts of this scattered region into reach. With nearly a dozen countries and 620m people, South-east Asia is wonderfully diverse.
From Burma in the northwest to the 18,000 islands of Indonesia scattered far to the south-east, this is a region of rich and contrasting cultures. From Singapore, Kuala Lumpur and Bangkok to tiny fishing villages and ancient temple complexes, there is enough to keep a backpacker going forever. But on a single holiday you can now dip into several countries on an ocean cruise, or explore pristine beaches and remote communities on board an expedition ship. And there's no better way to get into the rhythm of rural life and religious customs than sailing on two great rivers, the Mekong through Vietnam and Cambodia or on the Irrawaddy in Burma.
Discover the trip of a lifetime: A Journey on the Mekong – RV Mekong Prestige II
The former British colony (renamed Myanmar by the military junta in 1989) is South-east Asia's most inward-looking country, discouraging tourism and getting few visitors for three decades before Aung San Suu Kyi called for a tourism boycott in 1992. Since 2011 when she gave the go-ahead for tourists to return, the trickle is becoming a deluge. With too few international-class hotel rooms to match demand, plus a still-fractured infrastructure, touring by boat makes sense. Classic cruises on the country's major waterway, the Irrawaddy, travel between the 19th-century capital Mandalay and the temple-studded plains of Bagan.
Among the river's ever-growing number of vessels is an established fleet of colonial-style Pandaw boats, named after an original Clyde-built steamer which was operated by the Irrawaddy Flotilla Company, established in 1865. Pandaw (020 3287 6113; pandaw.com) has been offering cruises on elegant brass and teak ships since 1995 and will have eight boats in Burma by October 2015, including the Kha Byoo with only 10 cabins. Another Burma pioneer, Road to Mandalay (0845 0772 222; belmond.com) celebrates 20 years on the Irrawaddy next year, recently joined by the 25-cabin Orcaella. Both boats offer three-, seven- or 11-night cruises.
As the Irrawaddy becomes busier, cruises are moving on to the Chindwin tributary, sailing close to the Indian border. Boats call into the town of Mawleik, travelling through thick jungle and gorges, with stops at remote temples and pagodas. The luxury 21-suite Sanctuary Ananda (020 7004 2345; sanctuaryretreats.com) sails the Chindwin for 10 nights on four departures in July and August 2015 from Mandalay or Bagan, from £2,944pp, cruise only.
South-east Asian cruises
South-east Asian cruises
1/5 South-east Asian cruises

Avalon Waterways launches its ship Avalon Myanmar' on the Irrawaddy river in September 2015

2/5 South-east Asian cruises

Mrauk U, a 15th-century Buddhist temple city (Getty)

Getty

3/5 South-east Asian cruises

Princess Cruises is the mainstream line with the biggest regional presence

4/5 South-east Asian cruises

Map of the area

5/5 South-east Asian cruises

Road to Mandalay: a pioneer ship on Burma's Irrawaddy
New for this autumn is a cruise north of Mandalay taking in the great gorges carved by the Irrawaddy as it flows south from the Himalayas. The new 20-cabin Kindat Pandaw will sail through dramatic mountainous scenery and thick forests, and you'll visit the old colonial town of Katha where George Orwell lived and wrote his first novel, Burmese Days. Voyages Jules Verne (0845 166 7035;
vjv.com
) includes the seven-night cruise in a 12-night trip with departures from November this year to March 2015, from £3,095pp including flights.
If you really want to get under the skin of the region, take an "Inspired Journey" with Cazenove + Loyd (020 3432 5032; cazloyd.com), led by Peter Popham, The Independent's foreign correspondent and biographer of Aung San Suu Kyi. This 11-night journey will depart 19 September 2015, costing from £5,700pp cruise only, including two nights at the Governor's Residence – Rangoon's most luxurious hotel.
Remote river
Well off the tourist trail, Arakan, a little-visited corner of western Burma bordering India, was an independent kingdom until the 18th century. With almost no tourist infrastructure and its own language and culture, Arakan still feels distant from the rest of the country. Next autumn, pioneering seven-night cruises, aboard the new RV 'Kaladan Pandaw', will explore Arakan's river system. Visits include Mrauk U, a 15th-century Buddhist temple city; Sittwe, a former colonial port on the Kaladan river; and villages on the Le Myo river where women tattoo their faces. The seven-night cruise, departing 2 October 2015, costs from £1,900pp, cruise only, with Pandaw.
A rice barge in Laos
You can get a feel for rural life in southern Laos aboard 'Vat Phou', a converted rice barge that now contains 12 guest cabins and sails on the Mekong River from Pakse, near the Thai border.
On a two-night cruise, you will visit the hidden temple of Oum Moung, sail through the 4,000 islands and see the Pha Pheng falls that form the dramatic border between Laos and Cambodia.
This cruise is offered by Travel Indochina (01865 268940; travelindochina.co.uk) as part of a 22-day tour of Thailand, Laos, Cambodia and Vietnam that also includes a seven-night cruise departing from Ho Chi Minh City and ending in Siem Reap. The cost, from £4,606pp, includes internal flights but not flights from the UK. Other operators offering Mekong cruises include APT (0800 046 3002; aptouring.co.uk), Audley (01993 838 100; audleytravel.com), Bamboo Travel (020-7720 9285; bambootravel.co.uk), Selective Asia (01273 670001; selectiveasia.com) and Steppes Travel (0843 778 9926; steppestravel.com).
Vietnam and Cambodia
The Mekong invariably comes with the words "mighty" or "magnificent" attached when described in tourist brochures. And it is, flowing 4,350km from the Tibetan Plateau to the South China Sea, with more than 60m people depending on it. Cruises are available year-round, but the rainy season (May to October) provides access to smaller tributaries.
Most cruises sail for seven nights between Siem Reap in Cambodia – gateway for the ancient Angkor temples – and Ho Chi Minh City. A cruise to the heart of the two former French colonies, usually part of a longer itinerary, is a good way to observe the contrasts between busy Vietnam and slower-paced Cambodia. Cruises call at Phnom Penh, the Cambodian capital, for sobering visits to the Killing Fields and Genocide Museum, as well as floating markets and pagoda visits. Croisi-Europe (020 823 1281; croisieurope.co.uk) offers 10-night packages on small colonial-style boats from £1,271 per person, full board, excluding flights.
Maiden voyages, from villages to Angkor Wat
The 'Aqua Mekong' from Peru-based Aqua Expeditions (0808 189 0361; aquaexpeditions.com) launches this October with 20 spacious suites, but is nifty enough to explore the Mekong's tributaries and penetrate Vietnam's Tra Su Cajuput Forest jungle. In Cambodia, it visits remote floating villages on Tonle Sap River. Western & Oriental (020 7666 1234; westernoriental.com) offers several seven-night cruises, from £4,435pp, excluding flights.
'Avalon Siem Riep' (0800 668 1801; avaloncruises.co.uk) launches in January with 18 cabins that have wall-to-wall windows that fold away to create a balcony. A week on the Mekong is bookended with two days at Angkor Wat and two nights in Ho Chi Minh City. A two-week escorted trip, from £3,375pp, includes flights and private transfers to Heathrow.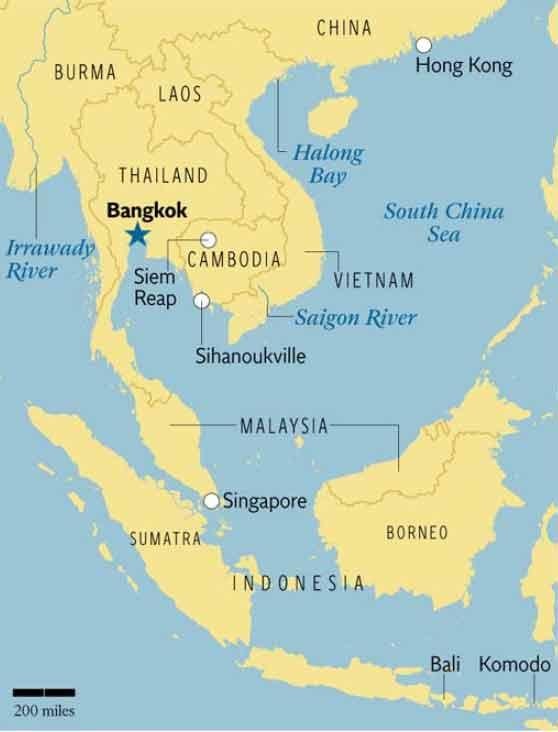 Luxury afloat
Two new luxury vessels launching in Burma this year include 'The Irrawaddy Explorer' (01865 268 941; travelindochina.co.uk) in September, and Sanctuary Retreats Ananda in November (020 7004 2345, sanctuaryretreats .com). Avalon Waterways (0800 668 1843; avaloncruises.co.uk) also launches its ship, 'Avalon Myanmar', on the Irrawaddy river in September 2015.
Out at sea, 'Silver Discoverer', the new ultra-luxury expedition ship from Silversea (0844 251 0837; silversea.com) has soft adventure and butler suites for 120 passengers. A 17-night trip from Palau to Bali, visiting Komodo and remote Indonesian islands, departs on 10 March, 2015 with all-inclusive fares from £8,550pp, cruise only.
If you fancy a touch of Gallic chic on your voyage, 'L'Austral' is a French super yacht with 132 cabins. The 11-night Best of Vietnam cruise sails between Hong Kong and Singapore on 30 October, then on 10 and 21 November. The trip includes sailing on Halong Bay and the Saigon River. Fares start at €4,190 excluding flights (0800 980 4027; ponant.com).
Hit the seas for a broader sweep
While river cruises offer a more immersive experience, an ocean cruise can take you to more places, with excursions to key sites and a glimpse of different cultures. Expedition ships can explore further off the beaten track, taking passengers ashore in zodiac boats. Expedition ship 'National Geographic Orion' (expeditions.com) offers wildlife voyages in Indonesia and Malaysia, visiting Camp Leakey orangutan reserve and rehabilitation centre in Borneo. Contact The Cruise Portfolio (020 7399 7620; thecruiseportfolio.co.uk) for prices and booking.
Voyages to Antiquity (0845 437 9737; voyagestoantiquity.com), has three cruises early next year aboard small ship 'Aegean Odyssey'. All include hotel stays at the start and end, plus expert lectures. A 20-day trip from Bangkok to Singapore has a side trip from Sihanoukville to Siem Reap included; from £4,550pp, including flights. Princess Cruises (0843 374 2401; princess.com/holidays) is the mainstream line with the biggest regional presence, basing its large resort ship, the 2,700-passenger 'Sapphire Princess' in Singapore for winter 2014/15. Itineraries of three to 11 nights to Indonesia, Malaysia, Cambodia, Vietnam and Thailand can be combined for cruises of up to 21 nights. A 21-night round-trip from Singapore, departing 27 November, costs from £1,869pp excluding flights.