View our Luzon interactive travel guide here.
The word "diversity" gets tossed around a bit when the Philippines are described, which makes sense when you consider that the nation is made up of more than 7,000 islands. Yet even within that vast archipelago, there are individual islands that contain a nation's worth of diversity on their own.
Nowhere exemplifies this phenomenon like Luzon: the largest island in the Philippines, and the fourth most-populous island in the world (after Java, Honshu in Japan, and Britain). Topping the north end of the nation, Luzon defies easy categorisation, be it by geography, linguistics, culture or politics. It is emphatically Asian, yet the vast majority of people are Catholic – and the varied cuisine across the island reflects Spanish and American flavours.
This month Luzon has gained a gateway that circumvents the sprawl and traffic of Manila. Emirates has begun the first long-haul flights to Clark International Airport, once part of one of the largest military installations in the world. The airport, now part of a free-trade zone at the heart of Luzon, provides a streamlined way to access the rest of the island.
Travellers taking advantage of the new flights from Dubai to Clark are likely at least to pass through Manila. That's not such a bad thing; as chaotic, congested and smoky as it gets, the capital and its surrounding sprawl and suburbs contains the country's best nightlife, a great diversity of food, and excellent shopping in upmarket areas such as Makati and Quezon City. Manila is also the best location to learn about the nation's remarkable history; Intramuros – the old city, within the Spanish-built walls – resonates with intrigue and tragedy.
People say that the Philippines spent 400 years in a convent and 50 in Hollywood, a reference to the twin colonial dominions of Spain and the US. You get a real sense of this phenomenon once you enter Luzon's towns and villages, where life revolves around two institutions: the local Catholic church and the karaoke bar.
Filipino street culture is infectious, from the sound of Bruno Mars's music roaring out of a pub to the rainbow flash of a passing jeepney – the local public transportation option. It is possible to combine these experiences in Manila 100 miles with Jeepney Tours (00 63 2 994 6636; jeepneytours.com); the "bus" comes complete with its own karaoke machine on tours costing from 3,000 pesos (£46).
The rainy Zambales coast, west of Manila, could put one in mind of a tropical Cornwall, with the addition of jungle. Dark, looming mountains hem vividly green fields and tiny farming and fishing villages abut stretches of sand and small family-run resorts.
The northwest coast runs from San Fernando, a bustling beach town that boasts consistent surfing breaks, to the deep blue waters and sunny sands of Pagudpud. As you cross into the northeast coast of Luzon, the land gets wild and sparsely populated.
The beautiful Cordillera region is studded with rice terraces. The cool air is a welcome break from the humidity of the plains, and trekking and backpacking opportunities abound.
Luzon's south-east corner is a crooked arm of bays, inlets, jungle and beaches. The university town of Naga, serves as a good base for further exploration. You can hike under lonely limestone cliffs in the remote Caramoan Peninsula, or dive among the whale sharks on the southern coast at Donsol.
Old Vigan
Almost every post-colonial South-east Asian nation flaunts a preserved town that blends European charm with tropical lassitude and attitude, and Vigan is the Philippines' version. While the preserved area is small, it's adorable: cobblestone streets are stuffed with shops selling crafts, and verandas are shaded by windows paned with capiz shells (a type of oyster).
Vigan's homes are distinctive; originally built by the Spanish, they were subsequently remodelled by Chinese merchants. The resulting hybrid architecture – wide plazas, sloping roofs and dark wood – is strikingly attractive.
One of the better examples is the old home of former president Elpidio Quirino, the Syquia Mansion, located at the corner of Salcedo and Quirino Blvd. For 20 pesos (30p), you have access to a lovingly preserved (if dusty) remnant of Old Vigan.
Spend the night in a historic home at the Villa Angela (00 63 77 722 2914; villangela.com). For 2,500 pesos (£38) you can sleep in a double room amid ostentatious colonial décor; breakfast is included.
The eighth wonder of the world
Yes, that's the nickname Filipinos give the rice terraces of the mountains of North Luzon. Here are the dry details: the terraces cover an area half the size of Wales; they are 2,000 years old and their irrigation systems are so blessedly clever they haven't been significantly altered during the ensuing two millennia.
The rice terraces deserve their hyperbole: they are perhaps the most beautiful example of landscaping in the world. It's impossible to convey how grand in scale the sculpted mountains are without heading to the Cordillera yourself.
The easiest town in which to base yourself is Banaue; Uyami's Green View Lodge (00 63 74 386 4021; ugreenview.wordpress.com) offers rooms with a view of the terraces for 900 pesos (£13).
The front desk can also help arrange guides into the mountains.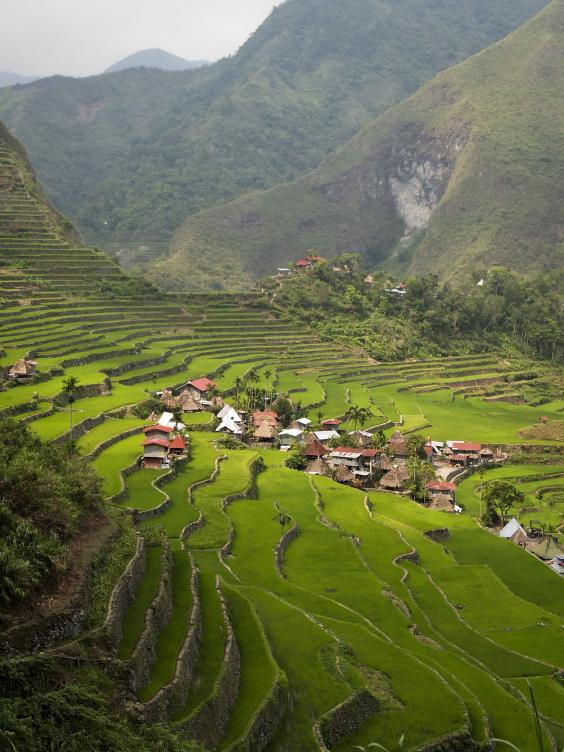 Surfing San Juan
Just north of the provincial capital of San Fernando, San Juan and the neighbouring barangay (village) of Urbiztondo are surfers' paradises, of a sort. You're not getting Tahiti-sized waves here; these two towns are where beginners learn to board. The waves are gentle, consistent and the sea bottom is sandy. The only issue: the English-language levels of instructors runs from fluent to woefully lacking.
A good place to start is Sebay Surf Central (00 63 72 888 4075; sebaysurfcentral.com) or Little Surfmaid (00 63 72 888 5528; littlesurfmaidresort.com); both of these " resorts" (collections of friendly chalets rather than fivestar all-inclusives) offer surfing lessons for around 400 pesos (£6), which is certainly good value.
Sebay offers clean double rooms for 1,600 pesos (£24); Surfmaid for 1,525 pesos (£23).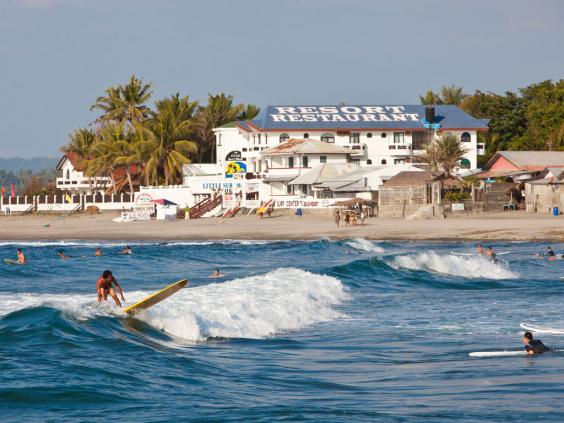 End of the road
Pagudpud sits tucked away in the far north-west corner of Luzon, but it's worth the daylong bus ride from Manila or the Clark area. This is a buttery spread of sand fronting a royal blue bay that's pulled right off a computer screensaver. Relax, swim or bicycle around (rental bicycles are everywhere), or do some touring with the friendly folks at Wen! Travel & Tours (00 63 77 770 3420; wentravelandtours.tripod.com), who will get you out on local sand dunes and under some blue waterfalls.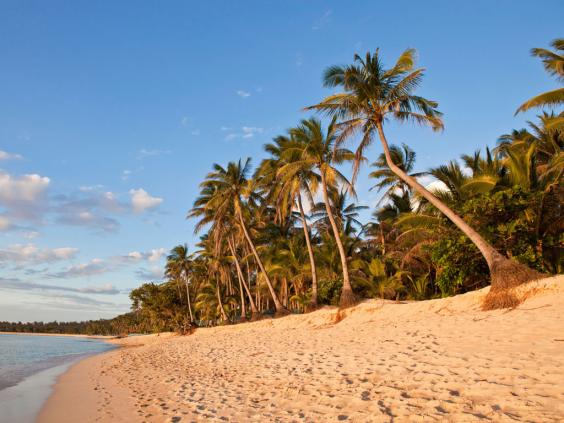 Where to stay
Luzon has accommodation for all budgets. Vigan in particular is packed with high-end spots with mid-range prices. The Hotel Salcedo de Vigan (00 63 77 722 1200; hotelsalcedodevigan.com) has been used by Filipino presidents and well-heeled business travellers, but its spacious rooms are a treat for families as well. Doubles are 2,728 pesos (£42), and breakfast is included.
In Pagudpud, Apo Idon (00 63 77 786 1491; apoidon.com) is a lovely resort that overlooks the beach; Mediterranean style decor and breezy rooms for 4,000 pesos (£61) are complemented by the on-site restaurant, which is great value.
At some point you'll likely pass through Manila. When you do, consider heading to the suburb of Quezon City to stay at the Stone House (00 63 2 724 7551; stonehouse.ph). It has the social vibe and easy ambiance of a hostel, and the modern interior you'd expect of a hip boutique. Doubles start at 1,176 pesos (£18).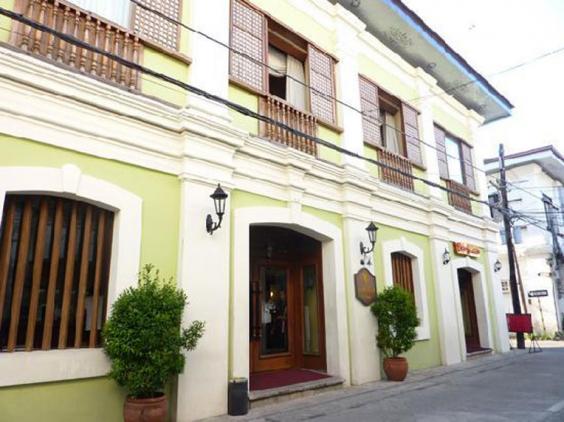 Travel essentials
Emirates (0844 800 0998; emirates.com) began flying from Dubai to Clark this week. Connections are available from Gatwick, Heathrow, Birmingham, Manchester, Newcastle and Glasgow.
There are numerous private bus lines around the country; Victory Liner (00 63 2 559 7735; victoryliner.com) is a solid bet.
Clark is close to the Dau Terminal in Angeles City, from which buses run throughout North Luzon, accessing San Fernando and, by extension, colonial Vigan.
You can access Baguio, gateway to the rice terraces of the Cordillera, directly from the airport via Partas bus (00 63 2 727 8278; partas.com.ph); the trip takes around six hours and costs around 283 pesos (£4.35). Buses leave Clark airport at 5pm.
To read more on Luzon, view our Luzon interactive travel guide here.
Reuse content