We have perfect weather for it," said my guide, Mangku, as he contemplated the cloudless night sky above Mount Agung, in eastern Bali. "This will be tough but the gods will look after us."
As he lit a stick of fragrant sandalwood incense at the foot of a Hindu shrine and offered a handful of lotus flowers, I gazed at the lush, Balinese jungle of swaying ferns and towering eucalyptus trees.
The time was 11.48pm and the new moon was just four days old; it would provide the perfect spotlight for hiking.
Bali's trekking trails have long played second fiddle to the island's renowned beaches and surf breaks, but they're slowly starting to wrestle a share of tourist attention.
Located on the Pacific "Ring of Fire", Bali is home to several dormant and active volcanoes, many of which can be scaled on day hikes; particularly energetic visitors can opt to combine two or more, with the help of a local guide and driver.
Agung, Batur and Abang are all conveniently situated in the central and eastern region of the island and are no more than a couple of hours' drive from each other, making them the perfect trio for a 24-hour challenge. 
At 3,142 metres, Bali's tallest peak, Agung, last erupted in 1963, causing devastating damage to the surrounding area. Nevertheless, it is considered sacred by the island's predominantly Hindu population. Balinese legend tells how Agung was brought to the island as a fragment of the mythical Mount Meru, the centre of the Hindu universe. 
Ornate shrines and temples punctuate the otherwise harsh and dusty terrain, and as we trekked up the stratovolcano's western flank on a dried river of molten lava, the unmistakable scent of sulphur and powdery volcanic ash swirled in the breeze. Palm trees were silhouetted against the night sky and steam whisped from tiny inlets in the rock beneath us.
The incline was so steep at times that we were forced to scramble on our hands and knees, Mangku leading the way with a head torch and a chirpy, rhythmic whistle. 
By the time we reached Agung's summit, three hours after setting off, we were 1,000 metres above the clouds and looking out over a serene night-time scene. Thousands of stars studded the sky, while below, the island's capital, Denpasar, throbbed with an auburn, man-made glow over the horizon to the south. 
"I will now give another offering," Mangku said as he sat cross-legged on a ledge overhanging a precarious-looking precipice. "When we respect nature, nature respects us and gives us the energy we need," he explained. We'd certainly need it, with two more peaks ahead of us.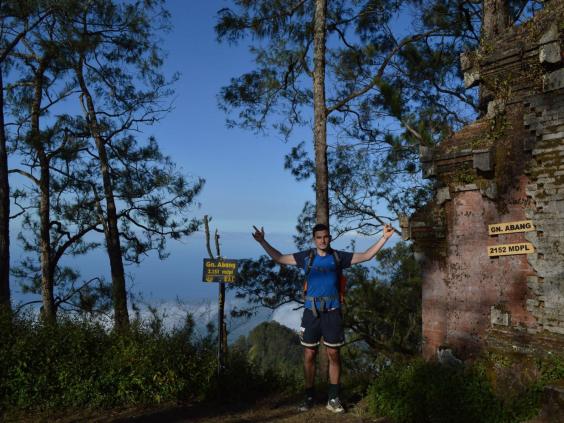 Mount Rinjani, on neighboring Lombok, poked through a thin sheet of sepia cloud to the east. I watched as a thick tunnel of smoke spiralled upwards from its crater – as if I needed any reminder of its ferocious potential.
As recently as last October, Rinjani caused widespread transport disruption across South-east Asia when it began spewing ash 3,500 metres into the air. 
By 6am we were standing at the foot of Mount Batur, Bali's only other active volcano, looming 1,777 metres above the north-eastern corner of the island. The first sparks of dawn were rising over the Lombok Strait and already I could feel the thick tropical heat baking the dark powdery surface under foot.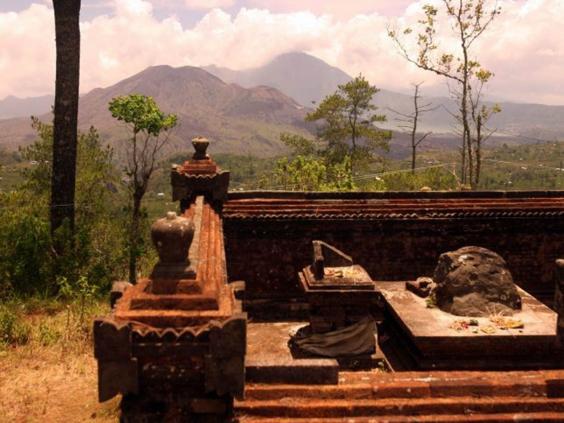 When Mount Batur last erupted in 2000 it left the majority of its northern side blanketed in a thick coating of volcanic ash that no life has been able to penetrate since and as a hot wind picked up around us, it stuck to my skin and filled my trainers. I'd wolfed down a plate of fried rice and eggs and washed it down with strong Balinese coffee, but an hour into the climb, in 35C heat and stifling humidity, my energy was fading. 
Finally, from the wide, flat summit I could make out sprawling fields of chillies, peppers and onions flourishing in the unrelenting sunshine; across the adjacent lake, tilapia fish farms bobbed over the sapphire water. I felt significantly less vigorous and daydreamed about a reinvigorating plunge within. 
"You look ill," said a sympathetic Mangku. "I will say a prayer for you."
Fourteen hours after starting the challenge, it was time to begin my final ascent, but at 2,152 metres Mount Abang would be a gruelling slog through dense rainforest rather than a sauntering victory lap.
Unlike the two previous volcanic peaks further east, Abang is a mountain cloaked in steamy rainforest and dense vegetation in the centre of the island, 40 miles north of Denpasar.
My cramping legs were telling me to stop but I was determined to push on. Chickens clucked in the undergrowth while foot-long centipedes crept over splintered logs.
The canopy overhead provided welcome shade from the blistering sun but the humidity made it near impossible to cool down. At times the track dissolved into thick mud. We cautiously ascended its greasy slope, being careful not to plunge into the dense forest plummeting sharply either side of the track. 
Half way up, I narrowly avoided stepping on a crimson, pearl and black-banded wolf snake that was basking in a sliver of hot sun, avoiding a vicious nip to the ankle.
"It is bad karma seeing these snakes," Mangku said. "Make sure you concentrate." 
Three hours after setting off we reached the shrine at Abang's summit. As I stared out over miles of tropical forest, Mangku lit yet more incense and offered the Hindu gods a delicate, mauve lotus flower.
In 18 hours and 52 minutes we had summited three Balinese peaks and ascended a total of 7,071 exhausting metres – well over three-quarters the height of Mount Everest. 
That evening, exhausted, filthy and aching, I dissolved into my hotel bed and woke 12 hours later, grubby and still fully clothed. I summoned the energy to feast on a lunch of fried rice, crab soup, barbecued prawns and calamari, and as the familiar aroma of sandalwood smoke wafted past my nose, I knew that Mangku's gods had been looking favourably on us after all.
Travel Essentials
Simon Parker flew with Royal Brunei Airlines (020 7584 6660; flyroyalbrunei.com) which offers return flights from Heathrow to Bali from £523pp via Brunei.
Bespoke travel experts Experience Travel Group (020 3468 6268; experiencetravelgroup.com) can tailor-make a seven-night Three Peaks Challenge holiday in Bali from £1,979 per person, including accommodation at Surya Shanti and Belmond Jimbaran Puri (belmond.com/jimbaran-puri-bali). The climb includes expert guides and equipment, all transfers and return international flights.
Reuse content