"Nothing moved, except the shimmering heatwaves" in Australia's Red Centre, according to Bruce Chatwin in his classic travelogue The Songlines. The book is notorious for being highly fictionalised and this observation, too, is not entirely true.
I'm moving steadily, part of a small line of hikers plodding upwards towards a ridgeline of the Heavitree Gap, 80km west of Alice Springs. As we wind our way through desert fuchsias and brittle-branched cypress trees, I'm amazed by just how much there is to take in.
I generally walk at a quick pace, but here I find myself the backmarker. I'm slowed down, overwhelmed by the remoteness. I've flown over Australia's Red Centre before. From 11,000m it seemed monotonously flat and, well, desert-like. Things are very different at ground level where you encounter a magnificently corrugated landscape: parallel ridges of buckled granite run to the north and south of us, stretching away along east-west fault lines to a vanishing point. The rocks are an intensely rusted colour: the more iron, the redder it becomes. The deadwood we encounter takes on a metallic cobalt hue.
The climb is the second part of a three-day hiking tour of the Larapinta Trail, which runs for 223km from Alice Springs over the West MacDonnell Ranges. You can walk the entire stretch in 12 days, or, like me, take a condensed, guided version of the trail. It's probably not advisable to follow the example of Robyn Davidson, who – aged 27 – walked west from Alice Springs to the Indian Ocean in 1977 on an epic 2,700km hike with four camels and a dog, soon to be featured in the film Tracks.
The Larapinta Trail in pictures
As we ascend to the Heavitree Gap ridgeline I'm struck by how my boots clang against the tough rock. I bang two large pebbles together and it sounds like metal clashing. I also pause to admire the Herculean efforts of Ashton, our guide. Only 21, he has the appearance and mannerisms of a young Brian Blessed and is carrying not only lunch but a back-up 10 litres of water. Approximately 10,000 native Australian black flies seem to have settled on his bandana and Ashton spends much of his time mechanically brushing them off, only for them to resettle a nano-second later. "I'm not scared of them," he points out, aware of what might be a potentially career-stalling phobia, "they just drive me nuts, absolutely nuts." He has a point and we were all grateful for the strong breeze that welcomed us on the ridge, pushing the maddening insects momentarily away.
We reach the ridgeline and follow it towards Counts Point, around 1,000m above sea level, where the rock precipices suddenly drop away dramatically into vast flatlands that, even in the desert, look remarkably lush. You can almost see the earth being tugged taut far below. The descent from the ridgetop takes us down though a cooling forest of old hill mulga trees, accompanied by birdsong. Our walking for the day is done.
Walking the whole trail is no light undertaking, given the heat and remote location – even this three-day trip has its adversities: in particular this 14km up-and-down walk to Counts Point was promoted to me as the equivalent of jogging up Everest and crossing the Sahara. The pre-departure literature talked of emergency satellite phones carried by guides "trained to maximise" our safety; we were implored to carry an extraordinary four litres of water; if we were not out and walking by 6am, the heat of the day would soon leave us as twitching lunch for the vultures; failing that snakes would take us. You get the picture.
Our other guide, Peter, is keen to level with me. When I casually mention the issue of snakes, Peter all but curls up into a ball with hysterics. "Maybe if one curled around my leg I might get worried, but I've never seen one out here," he says. Ditto with ticks – these unpleasant creatures are absent from the trail too. "So there's nothing to worry about?" "Not really."
The Larapinta Trail begins atmospherically at the Telegraph Station in Alice Springs. The low-slung building is modest enough, but the setting is anything but. We walk by a dry river bed that gave the town its name. I learn that there is no spring in Alice and that this is, in fact, the Todd River. Nor did the Alice the town is named after – Alice Todd, wife of a pioneering superintendent – ever visit the place. It is though, an appropriate place for the Larapinta Trail to begin. The name "Larapinta" comes from the language of the Western Arrernte people – Lhere-pirnte means "salty river" and is the old name for the Finke River, one of the oldest river systems in the world. Red river gums stand in lean-to poses, clinging to life. There clearly hasn't been water here for some time.
The Larapinta Trail has ancient echoes, but it's a new walk, one of seven treks rebranded as The Great Walks of Australia. We stay each night in a comfortable camp, complete with decking area, awning, sofas, solar lighting and a small library and drinks – bring your own booze – on tap. These new campsites – exclusive to adventure tour operator World Expeditions – allow us to explore remote country without foregoing modern comforts. The campsites blend in with the environment, with the structures removed at the request of aboriginal people to allow the land to recover during the off-season.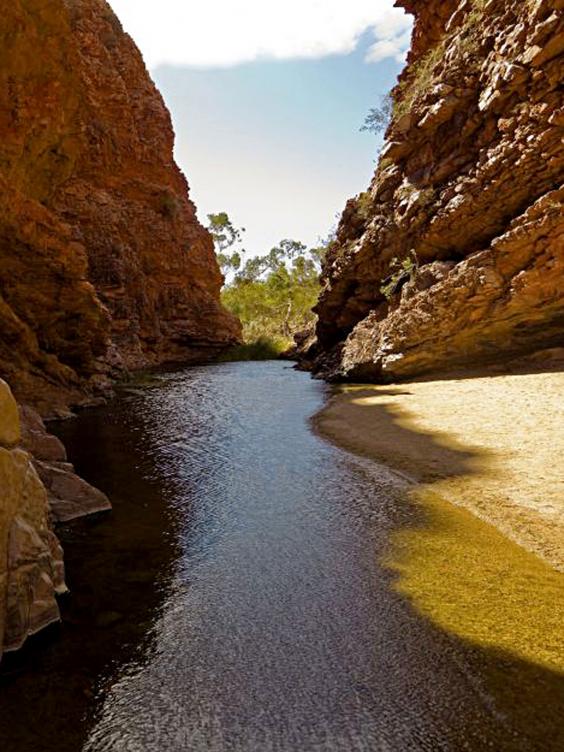 I'm left wondering how trees can possibly stay alive in this ultra-dry desert scape, but they do. It rains modestly between January and March, and every 10 years or so – coinciding with El Niño – there is a larger deluge, sufficient to sustain life through a decadal rhythm of feast and famine. Right along the trail, yellow flowers bud out from the tips of corkwood trees, native figs always look healthy and apparently spread their roots horizontally underground as far as 500 metres. Rather chilling ghost gums gaze mournfully back at us with the same chalk-like sheen of the white cliffs of Dover. Here and there, are stalks of purple-coloured desert roses, while ubiquitous cactus-like spinifex shrubs turn the view a mottled green. Some shrubs have been entirely devoured by termites, sublimated into huge mounds with just a few spikes protruding plaintively, like hands reaching out from quicksand.
From Alice Springs we make our way to Simpsons Gap, the first of a several delightful gorges and chasms, caused by weaknesses in the quartzite of the MacDonnell Ranges. Bathed in a sunlight that transforms the rocks into dizzying shades of red and ochre, almost beyond description, they are miniature versions of Petra, without the crowds. At Simpsons Gap, we spot peregrine falcons, while black-footed rock wallabies scoot about on the mountainside.
I'm impressed with Peter's knowledge of aboriginal culture. The Western Arrernte people are the traditional owners and the custodians of the central and western Arrernte country through which the Larapinta Trail travels. To aboriginal eyes, he explains, Simpsons Gap was created by a wallaby spinning around and slamming its tail on the ground, creating the split in the rocks.
A pleasing coda to each day comes with a trip to a crocodile-free billabong, several of which are conveniently located adjacent to the Larapinta Trail. As I dive in at Ellery Creek Big Hole, near Simpsons Gap, the unexpectedly cold water is a refreshing tonic.
Each night, we camp comfortably. The campsites aren't ostentatious but are nonetheless delightful, with bucket showers and pit toilets surrounded by green canvas, from which you can lather and watch the sunset. Dinners are a treat too, and we digest the day's events over barramundi, buffalo sausages, heaps of salad and mango yoghurt. It is all pitched just right: comfortably north of roughing it but without luxurious frills. If you get up in the night to use the bathroom, you tend to bump into someone just gawping upwards at the phenomenally starry night sky.
On our final day, we walk through Ormiston Gorge where the Heavitree Gap and Chewings Range converge. We rise to a pass overlooking a vast plain where elephants, lions and wildebeest would not look out of place. We descend and for a while are exposed to the baking heat of the sun, even at 9am, and pick our way across the last of our trail's great empty dry rivers. Then the edges of this natural corral start to converge, funnelling us into a narrowing pass.
The setting is dramatically beautiful. Sheer rock faces, 200m high, have the appearance of being built from giant rectangular quarried red stones. They are wonderfully contoured with folds and serpentine streaks of minerals flowing through them. Other segments of this gorge are wildly chaotic, creating a splintered landscape of ancient rocks and sharp edges sticking out at improbable angles. Among such shapes – here a frog, there a caterpillar – it is possible to get an inkling, but only that, of the all but impenetrable aboriginal concept of "dreamtime" and the totemic beings that sung their world into existence.
Again I'm a backmarker, this time with Peter and we see a perentie, a native lizard, about one metre long. It's harmless to humans and waddles on, across the rocks, supremely unbothered by our presence. It's the biggest lizard I've ever seen. And, as is the case with this trek and its slightly overplayed risks, it is mostly harmless.
Travel essentials
Getting there
Mark Rowe travelled with World Expeditions (0800 0744135; worldexpeditions.co.uk ) which offers a three-day trek along the Larapinta Trail from £750pp including all food and guides and a campsite exclusive to clients; a six-day trek costs from £1,360pp. International flights extra.
He was a guest of Flight Centre (0800 587 0058; flightcentre.co.uk), which offers Singapore Airlines flights from Heathrow to Darwin via Singapore and on to Alice Springs with Qantas from £1,325pp.
More information
Reuse content