A red sky at night may be shepherds' delight, but the same can be said for sailors, too. I'm in Split, a historic city on Croatia's Dalmatian coast, at the tail end of an unseasonable string of wet and gloomy days. A glorious sunset – the first since my arrival – is filling the sky with promise of better to come.
The next day dawns as pleasant and bright as the evening sky had foretold. I'm relieved; although clouds and showers were fine for mooching around the city, they're certainly not ideal for embarking on adventures afloat. The temperature climbs and a soft breeze blows, gently stirring the sea's mirrored surface. Conditions could not be more ideal for my very first time setting sail.
I have to admit that, until now, preconceptions had always deterred me from sailing. I had long dismissed it as the preserve of the privileged, but it turns out this type of holiday can be far more accessible than I'd thought. Recognising that sailing was misunderstood, the company I'm travelling with, Yachts & Friends, launched in 2013 with a mission to broaden its appeal. The rationale is simple: by choosing the right vessel and sharing costs among friends, a sailing holiday need be no more expensive than ordinary island-hopping.
Marilyn, the 50ft monohull yacht that will be our home for the week, is a perfect case in point. Built to accommodate up to 12 passengers, there's plenty of space for my eight-strong group without feeling cramped below deck. Better still, there's no need to fill every berth to make it all affordable. The basic, seven-day rental (including skipper) cost us €800 per person – an amount that could just as easily be spent on a week's worth of hotels and ferries – and in low season the price can be considerably lower.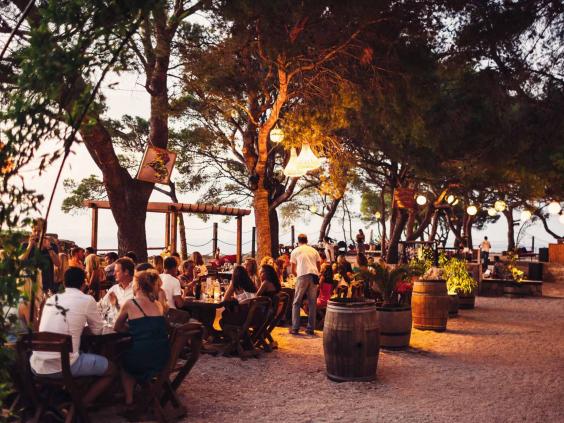 Keeping within budget had been made easier by Yachts & Friends' modular system, which lets you bolt together individual components to create inclusive packages. Experienced sailors need only select destination, dates and type of boat for a straightforward, do-it-yourself charter. We, however, chose to tailor a fully crewed option by adding a hostess and catering to our skipper-and-boat booking, giving us the freedom to find our sea legs without having to deal with the detail. For sailing novices, it's an ideal scenario; a chance to kick back and enjoy the experience, relieved of responsibility. With navigation and other essentials safely in the hands of professional crew, we would-be sailors have no need to worry about capsizing or running aground. Filled with confidence, we're ready to get going. As Dale, the skipper, steers Marilyn from the dock, we spread ourselves about the deck while Brooke, our hostess, prepares snacks in the galley.
Quietness descends as soon as we hit open water. With Split receding into the distance, Dale unfurls the sails and sets course for Maslinica, our first stop a few hours hence. Only the sound of creaking canvas interrupts the peace as we roll on the rhythm of the swell. It's incredibly relaxing. Brooke soon appears with wine and nibbles. We all tuck in, while Dale shows us the ropes – literally – demonstrating bowline, clove hitch and figure-of-eight knots, plus essentials like mainsail, boom and jib that we're welcome to help with should we feel so inclined.
Daylight is fading by the time we reach Maslinica and pull into the marina. Tables spill on to the harbour front from the string of traditional restaurants, where other yachts' occupants are already gathering. We find a space and settle among them, intent on some regional cuisine. I opt for the local speciality: Dalmatian stew – unlike an outraged diner nearby, who's convinced it's made with large, spotted dogs. The tomato-based dish, which comes with homemade gnocchi, is flavourful, rich ... and decidedly dog-free. Contented, we head back to Marilyn to spend our first night on board.
Next morning, after coffee on the waterfront and a dip in the gin-clear sea, it's time to set sail once again. As Brooke and Dale haul in fenders and ropes and unhitch the electricity cable, I watch people from neighbouring boats walk to the washrooms, or to the shops to buy food. A nagging sense of déja vu slowly starts to dawn, until I recognise the obvious parallels (power hook-ups, washroom blocks, overnight parking) between this experience and a caravan holiday. So much, then, for sailing being posh.
Of course, it can be thoroughly upmarket. I can only imagine what it's like aboard the vast super-yacht anchored offshore (and without an oligarch's budget, I suspect I'll never know). But while Marilyn's facilities may be rather basic, our experience doesn't lack class. What makes it special is the absolute freedom to come and go as we please, unencumbered by crowds and timetables. The crew is a definite luxury, too, taking charge of everything with endless good humour.
Leaving Maslinica, we head for the horizon and start making plans for the day. Based on Dale's extensive knowledge of its great restaurants, beautiful bays and other highlights, we vote to make the island of Hvar our next destination. Hvar's reputation as a party spot precedes it. It's billed as Croatia's St Tropez; and indeed, approaching after a laid-back day at sea, it seems decidedly upbeat. We explore the tiers of grand, honey-coloured buildings rising above the waterfront, then walk down the coast to Hula Hula beach club.
It turns out to be Hvar's top spot for sunset cocktails, as vibrant as any Ibizan beach bar. Brooke has called ahead to reserve a table on the terrace, so we battle through the crowds and take our place amid the spectacle. The atmosphere builds as the afternoon wanes and the sun sinks out of sight, with the party continuing afterwards, long into the night.
Things are more relaxed in Vis, the next day's port of call. As late as 1989, the island was a Yugoslav naval base, remaining off-limits to foreign visitors till 1995. The obvious legacy of this period is a huge, concrete, sea cavern where wartime submarines were once stationed. As it comes into sight, it strikes me as the ultimate Bond villain's lair. Daredevil day-trippers ignore "no jumping" signs to leap in the water from the aperture's apex. We join them for a swim in the deep, cobalt sea, venturing into the shadowy cave as far as we dare. After lunch, we feed leftovers to schools of small fish, before moving on to Vis Town.
It's much quieter than Hvar, but feels classier. Stalls line the dock, selling local cheeses and home-made limoncello, and there are galleries and craft shops further back. We have drinks at 200-year-old Fort George, a hilltop ruin newly transformed into a stylish bar, then return to town to dine, al fresco, on a quiet backstreet.
As for tomorrow ... who knows? We might snorkel in a sheltered bay, or sip wine as the Adriatic slips past. But with Dale at the helm, no fixed plans and interesting landfalls within easy reach, we will surely be going wherever the wind – and the whim – may take us.
Getting there
Yachts & Friends (020 3514 6775; yachtsandfriends.com) offers trips to Croatia, Sweden, Italy, Greece, Turkey, British Virgin Islands and Thailand. A week's charter (with skipper) in Croatia costs from €390pp, based on eight sharing, excluding flights and catering. Hostesses cost an extra €649 per boat.
easyJet (0843 104 5000; easyJet.com), British Airways (0844 493 0787; ba.com), Jet2 (0800 408 1350; jet2.com), Norwegian (0330 828 0854; norwegian.com), Croatia Airlines (020 8563 0022; croatiaairlines.com), and Wizz Air (0330 977 0444; wizzair .com) fly to Split.
More information
Reuse content