From Splendour's wheelhouse, only the green-glowing radar screen penetrates the fog. All around, above the glassy calm of silent sea, the boundary between water and sky is lost in shades of grey. Our skipper, Iain Duncan, peers through binoculars. Off the bow the head of a grey seal surfaces to survey the boat, perhaps hoping we're still in the fish business. "What's the strangest thing you've encountered in these waters?" I ask.
Hesitating, Iain responds with a darkly humorous chuckle: "That'll be a mine." I look hopefully at the sky and wish the fog to clear soon.
Splendour is a 1950s Scottish fishing trawler lovingly refitted by Iain Duncan's new family business. Since April, her 20 metres of teak and polished brass have been based at Holy Loch, taking up to seven passengers on three to six-night explorations of Argyll's lochs, kyles and isles, and beyond. "It's good to be back sailing these waters," says Iain. "It's an area often overlooked. The Firth of Clyde is still associated with its industrial past. People don't expect the remote beauty that's here."
The previous afternoon we'd left harbour, propelled to a satisfying seven knots by the old-school rumble of Splendour's Gardner marine diesel, and a little help from the tide. Our 12-year-old boys and GCSE-harried daughter had excitedly occupied cabins up front, while we parents slipped away to a remarkably spacious en suite double aft. Iain plotted a course to an anchorage in the lee of Great Cumbrae, while in the galley chef Michael Weir prepared dinner. From the deck, the Firth of Clyde slipped past, Iain sounding the horn to salute landside friends. Soon houses thinned to hillsides, the still-snowy mountains of Arran rising from the horizon, fresh and sharp, the granite outcrop of Ailsa Craig visible in the far distance.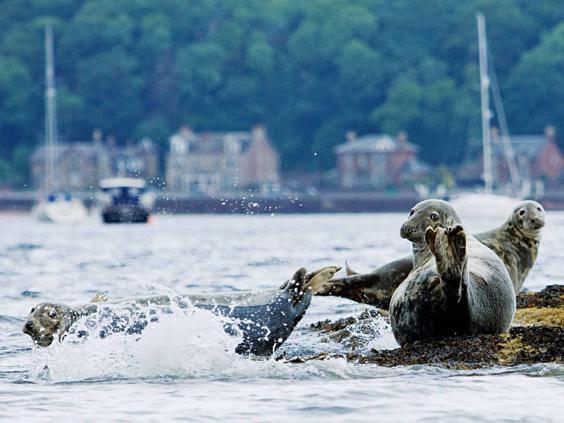 Iain accepted wheelhouse invasion with good grace, asking surprised small boys, "fancy a turn at the helm?" The boys, whose previous experience afloat was defined by an inflatable dingy, effected gentle deviations to our heading. "People head up the coast for the 'Highlands'," said Iain, taking back the wheel to account for a Caledonian McBrayne ferry, "But it's just as beautiful here, more fertile and sheltered, and only an hour from Glasgow. It's perfect Highland scenery."
By 6.30pm, the water had darkened and the wind had dropped. Putting culinary creation to one side, Michael headed forward to drop anchor off Millport, Great Cumbrae's only town. "Some chefs wouldn't do that," he joked. Outside, golden light fell on the green of nearby Wee Cumbrae and, in front of pastel-coloured houses, a horse galloped along Millport's beach. As the engine died, calls of oystercatchers drifted across the water.
Before long, children were circling in the saloon. Hunger threatened to precipitate mutiny. Our daughter's carefully penned treatise entitled Etiquette on Consumption of a Tunnock's Tea Cake was in danger of being ripped up. A bell rang. Smoked salmon, parma ham and buffalo mozzarella amuse-bouche weren't on the kids' usual menu. They were tentatively explored, and then dispatched. Pork en croute with orange and rosemary stuffing, crushed new potatoes, roasted parsnips, and green beans laced with truffle oil didn't even touch the sides. Guilt assuaged by a round-island cycle in the morning, panna cotta and red berry compote too were devoured in an inelegant if appreciative trice. Sleep was sound.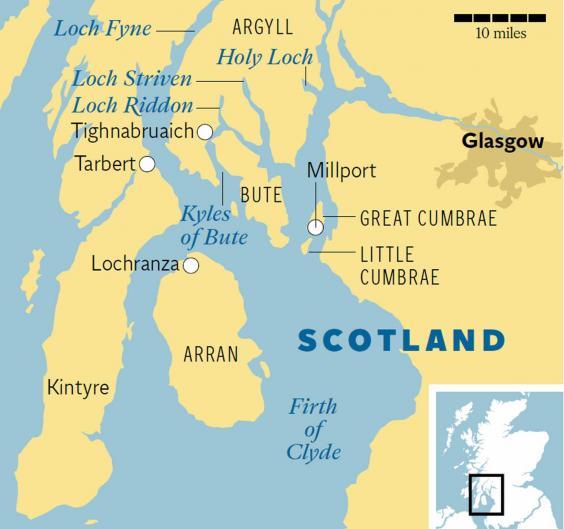 After breakfast of eggs benedict, we boarded the tender and slipped through a misty morning to Millport's jetty. The tide was low and along the way unimpressed grey seals lolled on the rocks, some soon flopping into the water. "It's early in the season," said Iain. "They're a bit skittish." Climbing mussel-encrusted steps to the jetty it was apparent that Millport was still asleep. How long it had slumbered was unclear. "The George Hote …" had lost its L; more critically, further along the seafront "…'s" had lost "Andrea". We were the day's first customers at Mapes & Sons cycle-hire.
Circumnavigating Great Cumbrae was a 10 and a quarter-mile ride along flat coastal road. A 30mph limit moderated those few cars choosing the route. Dilettante family cycling doesn't get more accessible. Beachcombing shelducks, dunlins and oystercatchers were constant companions as we stopped frequently to take in views of the Isle of Bute, Wee Cumbrae and the high points of Arran. An unconscious game of tortoise and hare ensued with a wobbly cyclist of indeterminate age sporting jam jar glasses and woolly hat. In the sunshine, Fintry Bay Tearooms dispensed ice-lollies and tea. Tortoise Lady too sat outside pondering a bowl of macaroni cheese. Back in Millport, a short walk through a woodland led to The Cathedral of the Isles. The UK's smallest cathedral was an elegant example of ecclesiastical architecture, its spire of warm stone picked out against brilliant blue sky. Wisps of choral recital drifted in the spring sunshine and mingled with the scent of wild garlic.
Back aboard Splendour, Michael served soup and sandwiches as we sailed for Arran. "Look, porpoises! Three of them," pointed my wife excitedly. I was too late. Iain explained that the waters around these islands are prime whale watching areas. "We don't tell people about porpoises anymore. They're gone in an instant." Instead, I watched diving puffins and razorbills.
Goat Fell's spiky summits loomed over Lochranza, Arran's northern harbour. The clearest of water spilled over stony shoreline. Red deer grazed nonchalantly in and around the village. Low maintenance weekend dalliances for city folks were punctuated by enterprise. Bohemian galleries and hand-painted signs pointing along hillside paths to earthy-crunchy tearooms, suggested alternative life choices. From Arran Distillery's close-cropped lawns we trained binoculars on a golden eagle soaring over the crags. It's possible the eagle observed us with greater clarity but less interest.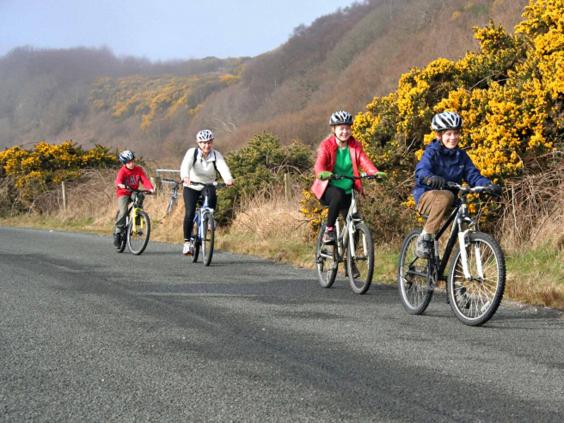 Next day among the Kyles of Bute we disembarked at the village of Tighnabruaich. After purchasing a clockwork crab from the RNLI shop, and loitering in the excellent Tighnabruaich Gallery, we joined the Cowal Way long distance walking route. Beyond the asphalt, the undulating path followed the coast, first through Rhubbann boatyard then entering the rhododendron-rich grounds of Caladh Castle. Requisitioned by the navy in the Second World War, the castle was never demobbed, sadly neglected, then demolished in 1960. Initially the route was tame, with beautiful views over Loch Riddon, nothing at odds with genteel appreciation of hanging baskets. When signs pointed up ropes placed to assist in climbing from the rocky shore, over boulders, through dense undergrowth, and later along precipitous cliff-side paths, the kids forged ahead gleefully. At a jetty opposite the fairytale turrets of Ormidale Lodge, we waited for the tender, children buoyed by trailblazing, adults sweaty.
Back aboard, the children were intent on catching a lobster. After enquiring about some bait from Michael, we laid two lobster creels, each primed with a pork sausage. "How many lobsters do you usually catch?" asked an expectant boy. Usually none, was Iain's reply, a master in managing expectations. Undimmed, grinning children took turns skippering the tender, my daughter coming alongside and cutting the throttle in expert fashion.
Aiming to maximise their catch the boys dangled rods and lures over the gunwale, a landing net on deck in readiness. Iain described the tried and tested techniques to tempt passing fish. The boys persisted, but in the end the fish weren't fooled.
It was our last evening and Michael's rack of lamb proved a superlative substitute for fresh shellfish. Desserts done for, the children retired below. We talked over coffee. "I'm 60," said Iain. "It's an interesting time of life to embark on something new. All my forbears were deep-water skippers in the days of sail. I've never strayed very far. I never thought I'd be driving boats for a living. Not in a million years ..."
In the morning we checked the creels. Iain had become master of his own destiny but an angry ball of crabs, a dog whelk and a starfish suggested our future didn't lie in catching lobsters. However, Argyll's coast itself had certainly reeled us in and we knew we'd return to explore more.
Getting there
Holy Loch can be accessed from Glasgow, which is served by Virgin Trains (Glasgow Central) and Scotrail (Queen Street). See National Rail Enquiries (08457 484950; nationalrail.co.uk). Glasgow International airport is served by Flybe, Loganair, British Airways, easyJet and Ryanair.
Sailing there
Nick Redmayne and family travelled with Argyll Cruising (07917 858545; argyllcruising.com). Three-night Kyles and the Isles cruises depart Holy Loch from April to October, visiting Great Cumbrae, Bute, Arran, Loch Striven, the Cowal Peninsula and Loch Fyne. Prices start at £570pp including meals with wine. Six-night cruises venture further afield including the wildlife hotspot of Ailsa Craig, and there is a nine-night summer sail across the Irish Sea to the Antrim coast.
More information
Reuse content