If ever there was a waterway deserving to be cruised it's the Loire, France's river of kings. The country's longest at 1,014km, it is renowned for its Renaissance châteaux, wine, gentle climate and beautiful landscapes. According to Balzac, it is France's national river. Yet it's also a wild river and this is part of the reason why it has been, up to now, resistant to cruising.
From the top deck of the Loire Princesse, you see plenty of wilderness: the wide, meandering waters are streaked with sandbanks and lush green islands, the former gradually turning into the latter as vegetation takes hold, some of it brought as seed from as far as Senegal by flocks of migrating terns. The natural obstacles are abetted by human additions: a huge variety of bridges, from motorway flyovers and 19th-century riveted steel railway crossings to pale stone antique beauties with arches only a dozen metres wide.
To overcome this, and gain a new prime destination, French river cruising specialist CroisiEurope has invested in some serious marine innovation. The brand new Loire Princesse is long and low: its funnel folds flat and its 48 cabins, restaurant and bar are deployed on only two levels. To deal with the shallow tidal river, reduced to a few feet in summer, the boat is flat bottomed (like all the traditional Loire craft), aluminium hulled for lightness, and driven by two great paddles amidships, housed in glass casings, looking like gigantic washing machines when in action.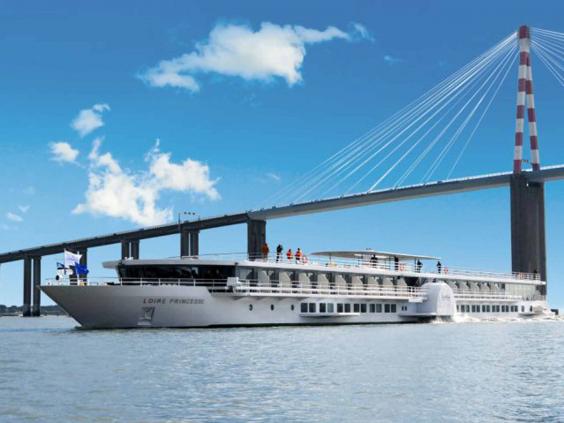 I boarded the Princesse on one of her first voyages in Nantes, her sleek white form almost hidden below the quayside, and was installed in a smart cabin – large comfortable bed (though no room for a chair) and a private balcony. Somewhat anticlimactically, the Princesse stayed put for dinner, and it was 3am before I heard the thrum of engines. At 8am, I awoke 30 miles downriver on the Atlantic estuary at St-Nazaire, manoeuvring through the locks past two undelivered Russian navy warships, to moor beside the great concrete bunker-pens of the Second World War German submarine base.
From St-Nazaire we steamed back up to Nantes, an old slaving port that is now investing in spectacular street art. But first, we paused for a mini night cruise up the Erdre tributary, where our searchlights picked out roosting herons and plutocratic mansions.
Back on the Loire, people stood on the riverbanks to gaze and wave. This was an event, the first vessel of such size to pass for 30 years: although river transport was once common, it has more or less disappeared today. The view was lovely, a slow parade of cows on riverbank pastures, quiet villages with disused stone goods quays. It wasn't until we stopped that serious tourism began, with a programme of coach-bound excursions: magnificent châteaux, vineyards of Muscadet and Anjou, the beautiful chestnut dressage horses of the Cadre Noir at Saumur.
Life on board involved aperitifs, taken religiously by the mainly French passengers, meals, and after-dinner entertainments. Imola, the Hungarian pianist, supplied easy listening on a keyboard. One evening the passengers did turns, another night a troupe of Breton ex-railway workers in kilts performed Celtic dances. If the acts weren't cutting edge, the audience was not in the first flush of youth, nor indeed the second. Conversation at the table was a touch effortful at times, but it would have been a mistake to dismiss fellow passengers as dull. Boarding the coach to the Cadre Noir, the former French army school of cavalry, I got talking to a man who'd sung Jacques Brel in the bar. He'd trained as a tank officer in the Saumur school in the 1950s, before serving in the Algerian war, abandoning the army in disgust, taking up a career in Electricité de France and retiring to spend his time crooning chanson and cruising rivers.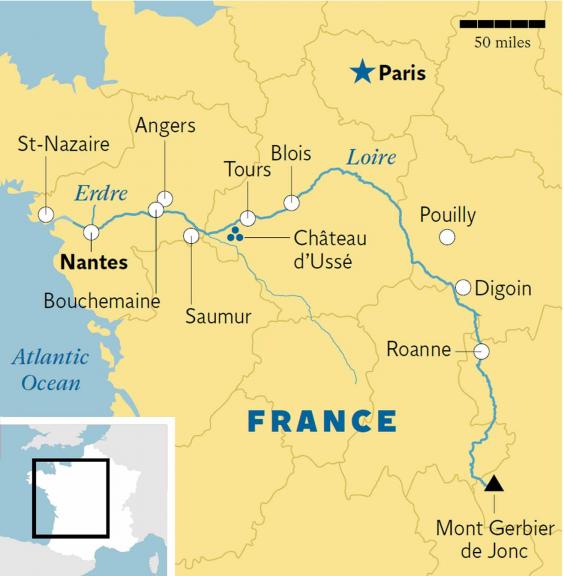 Back on board, the menus are traditional middle class French, so usually strong on cheese course. Frankly, they were not a high point, especially poignant for the tempting local restaurants we kept passing. Having dined aboard in virtual ordering distance of a fricassée of Loire eels from the quayside Table des Pecheurs in Ancenis, I jumped ship next evening in Bouchemaine and ate in a cheery village bistro instead.
The charming village of Bouchemaine, six miles from Angers on the confluence of the Loire and Maine, was our base for three nights, moored at a pretty grassy and tree-shaded quay. A particularly overgrown sandbar now prevents progress further upstream, so we saw the area by coach.
From Bouchemaine we ticked off a set of five-star Loire attractions. The extraordinary Apocalypse tapestry in Angers castle, the Renaissance elegance of Azay-le-Rideau, the exquisite medieval gardens of Villandry, the eccentric turreted Château d'Ussé with its tower room tableaux of the story of Sleeping Beauty.
The cruise normally ends with a swift return to Nantes, borne on the downstream, but an emergency diversion to replace malfunctioning paddles, which were not giving the passengers good vibrations, saw us head for the boat's home shipyard at St-Nazaire instead.
A river of kings indeed, and the Loire Princesse is a striking new addition to the royal family.
Getting there
Archers Holidays (0800 668 1892; archersdirect.co.uk) features the MS Loire Princesse. The seven-night "Chateaux of the Loire Cruise" costs from £1,139 per person, including return flights from London City to Nantes, full board including drinks and transfers. An optional excursion package is available from £229.
More information
nantes-tourisme.com; angersloiretourisme.com; touraineloirevalley.co.uk
Reuse content