Travel essentials
Why go now?
Monaco may be small – the entire principality could fit inside London's Hyde Park – but it packs a punch. The Monaco Grand Prix takes place tomorrow and a biopic of Grace Kelly brings the tiny city-state to the silver screen from 6 June.
Touch down
There is no international airport in Monaco. Nice Côte d'Azur airport (00 33 4898 89828; nice.aeroport.fr) is 30km west of Monaco. BA (0844 493 0787; ba.com) flies from Heathrow, London City and Gatwick; Norwegian (0843 378 0888; norwegian.com) goes from Gatwick; Monarch (08719 40 50 40; monarch.co.uk) flies from Birmingham, Gatwick and Luton; Flybe (0871 700 2000; flybe.com) goes from Southampton; and Jet2 (0800 408 1350; jet2.com) flies from Manchester and Leeds/Bradford; easyJet (0843 104 5000; easyjet.com) flies from Bristol, Liverpool, Newcastle, Edinburgh, Belfast, Gatwick and Luton.
From the airport, bus 110 departs for Monaco every half hour, stopping at Place d'Armes (1), Fontvieille (2) and the Casino de Monte-Carlo (3); €20 single, €30 return. Taxis take 40 minutes and cost €75. True Monégasques fly, though: the helicopter ride to Fontvieille heliport (4) takes seven minutes and costs €130 with Heli Air Monaco (00 377 9205 0050; heliairmonaco.com).
I travelled with Kirker Holidays (020 7593 1899; kirkerholidays.com), which offers three nights at the Hôtel Columbus from £849pp, including flights, transfers (car on arrival, helicopter on departure), breakfast and free tickets to most attractions.
Get your bearings
Squeezed between Med and mountains, Monaco is divided into several districts. In the centre, rising high on Le Rocher ("the rock") is the old town: Monaco-Ville, where you'll find the royal-related sights. To the west is residential Fontvieille, home to Monaco's smaller port. To the east is the gargantuan Port Hercule (5) in La Condamine district. Beyond that is ritzy Monte-Carlo and the quiet, beach-facing Larvotto (6).
The tourist office (7) is at 2a Boulevard des Moulins (00 377 9216 6116; visitmonaco.com). It's open 9am-7pm Monday to Saturday; 11am-1pm Sunday. Make sure you get your (free) passport stamp.
Check in
As you'd expect, Monaco is hardly a budget destination. The Metropole (8), at 4 Avenue de la Madone (00 377 9315 1515; metropole.com) is a Monte Carlo grande dame. Doubles start at €480, including breakfast.
The Fairmont (9) at 12 Avenue des Spélugues (00 377 9350 6500; fairmont.com/monte-carlo) perches between the famous Grand Prix hairpin and the glittering Mediterranean. Rooms, all of which have floor-to-ceiling windows and balconies, cost from €299, excluding breakfast.
Formerly owned by David Coulthard, the Columbus (10) at 23 Avenue des Papalins (00 377 9205 9000; columbushotels.com) still attracts the F1 crowd. Rooms – some of which have balconies overlooking Fontvieille harbour – are exceptional value for Monaco, starting at €150, room only.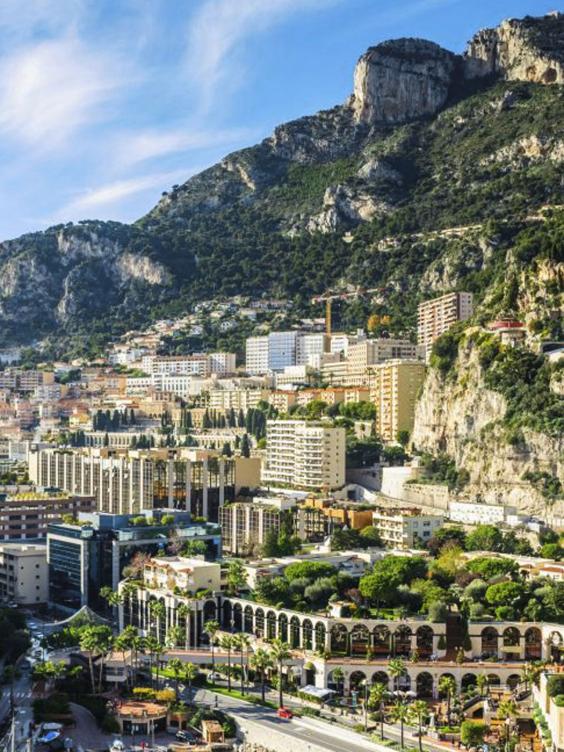 Day One
Take a hike
Start on the beach: the small, coarse-sanded Plage du Larvotto (6), beside the eastern Monaco-French border. Head west along the seafront promenade towards Monte Carlo, past the bizarre Grimaldi Forum conference centre (11) at 10 Avenue Princesse Grace (00 377 9999 2000; grimaldiforum.com) – a glass-walled hulk of modern architecture with a footballers' walk of fame outside.
The promenade winds west through the bonsai trees of the Jardin Japonais (12) on Avenue Princesse Grace and ends at the Grand Prix tunnel (13). From here, follow the GP circuit up the steep Avenue des Spélugues to the "world's most famous bend", the Fairmont hairpin. Beside it is the Fairmont hotel (9).
Consider a pit-stop at the hotel's Saphir 24 bar, cantilevered over the water. Then take the lift to the seventh floor, where the rooftop exit winds through cactus-filled grounds behind the Casino de Monte-Carlo (3), and emerges between the sports cars at its main entrance in the Place du Casino (00 377 9806 2121; casinomontecarlo.com). The spectacular 19th-century rooms are open to visitors 9am-12.30pm daily, while the casino is officially closed. Admission costs €10.
Lunch on the run
The Café de Paris Monte-Carlo (14) (00 377 9806 7623; montecarlosbm.com), on the adjacent side of the Place du Casino, is a pleasant if pricey, brasserie. Its outdoor Terrasse Parisienne, facing the casino, enjoys the best people-watching in Monaco. Sandwiches: around €17.
Window shopping
In the heart of the pricey Carré d'Or shopping quarter, Le Métropole (15) at 17 Avenue des Spélugues (00 377 9350 1536) is Monaco's grandest mall. Its marble-paved and chandelier-clad corridors are filled with 80 boutiques, from designer brands to Ladurée macarons (00 377 9798 4296; laduree.com) and the Diététique Gourmande health store (00 377 9770 8314), which claims to stock around 10,000 French beauty products.
For something a little different, try Boutique Formule 1 (16) at 15 Rue Grimaldi (00 377 9315 9244), which sells everything Grand Prix-related, from collectable model cars to signed T-shirts. Meanwhile, the Chocolaterie de Monaco (17) at Place de la Visitation (00 377 9797 8888; chocolateriedemonaco.com) has been making chocolate with a Monégasque royal warrant since 1920. Note that shops usually close on Sundays.
An aperitif
Down on lively Port Hercule (5), the waterside Brasserie de Monaco (18) at 36 Route de la Piscine (00 377 9798 5120; brasseriedemonaco.com) is a laidback microbrewery producing three types of organic beer behind the bar. A "palette de dégustation", sampling all three, is €5.
Dining with the locals
Still on Port Hercule, Quai des Artistes (19) at 4 Quai Antoine 1er (00 377 9797 9777; quaidesartistes.com) is a Parisian-style brasserie, opened at the request of the late Prince Rainier. It specialises in seafood; dishes such as turbot in Provençal sauce cost around €37.
For food with a view, try the eighth floor Le Grill (20) at the historic Hôtel de Paris on the Place du Casino (00 377 9806 3000; hoteldeparismontecarlo.com); 270-degree Mediterranean views and a roof that opens in summer. Dishes from around €50.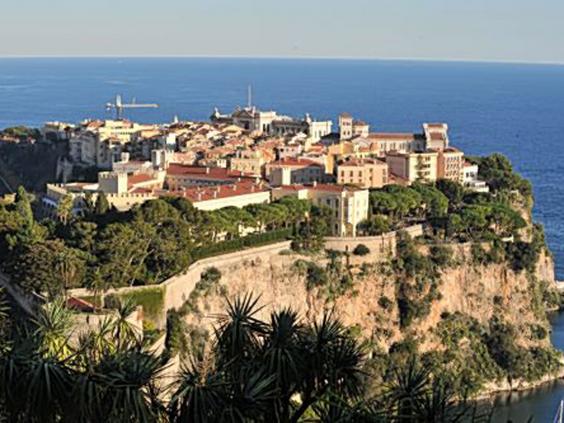 Day Two
Sunday morning: go to church
Home to Monaco's Italian community, tiny Sainte Dévote (21) at 1 Rue Sainte-Dévote (00 377 9350 5260; sainte-devote.com) is dedicated to the principality's patron saint. Since Grace Kelly, royal brides have dedicated their wedding bouquets to the Virgin Mary here, too. It's open 8.30am-7pm and mass takes place at 10.30am and 6.30pm every Sunday.
Out to brunch
The Marché de la Condamine (22) at 15 Place d'Armes (00 377 9330 6394) has restaurant booths in its small covered section, in addition to the traditional market stalls outside. Try Le Comptoir (00 377 9798 0990) for cheap Monégasque specialities such as barbajuans (deep-fried pasties) and socca (gram-flour pizzas). It's open 8am-2pm on Sunday and 8am-3pm every other day.
Take a view
From the Place du Palais (23), on the rock of Monaco-Ville, you can see Italy, France and Monaco to the east, and France again to the west. Go at 11.55am and you'll catch the daily changing of the guard.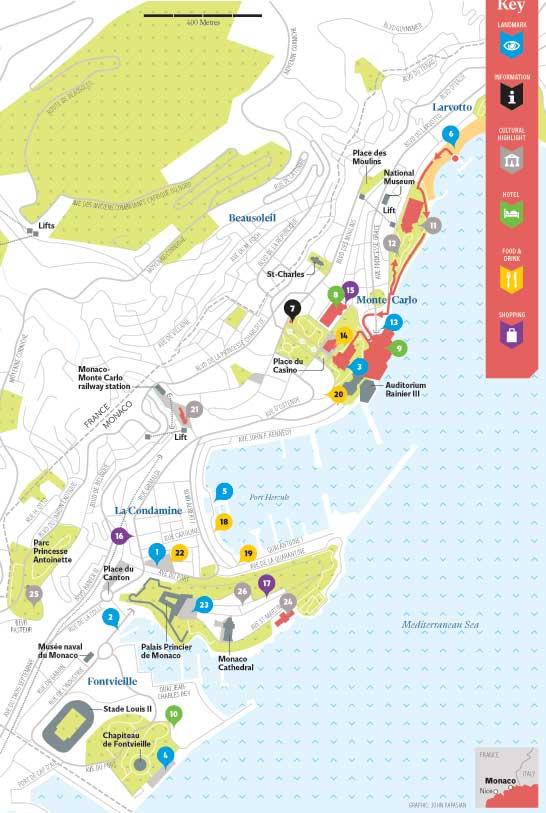 Cultural afternoon
The Musée Océanographique (24) teeters on the edge of an 85m cliff at Avenue Saint-Martin (00 377 9315 3600; oceano.mc). The compelling marine museum and aquarium has spectacular 360-degree views from its rooftop. It's open 10am-7pm daily (9.30am-8pm in summer); entry costs €14.
Take a ride
Surprisingly for this jet-set principality, Heli Air Monaco's sightseeing rides are relatively affordable. A 10-minute flight from the heliport (4) on Fontvieille's Avenue des Ligures (00 377 9205 0050; heliairmonaco.com), over to Menton, then looping back via Saint-Jean-Cap-Ferrat, costs €60.
A walk in the park
A tangle of pathways etched into the cliffside overlooking Fontvieille, the Jardin Exotique (25) (00 377 9315 2980; jardin-exotique.mc) is a stunning collection of huge cacti, yucca and desert plants – some over 100 years old. Entry is €7.20 and includes a guided tour of the Grotte de l'Observatoire, a prehistoric cave with stalagmites and stalactites at the foot of the garden.
Icing on the cake
The Princess Grace Irish Library (26) at 9 Rue Princess Marie-de-Lorraine in Monaco-Ville (00 377 9350 1225; www.pgil.mc) has an extensive collection of Grace Kelly's signed books, sheet music and photos. It's open 9am-4.45pm Monday to Friday; on request at weekends.