Denmark may be synonymous with Vikings, designer homewares and buttery breakfast pastries, but it's very much a cultural hotspot, too. This weekend, the country's artistic landscape gains the House of Music (00 45 60 20 30 00; musikkenshus.dk), which opened yesterday in the northern city of Aalborg, at Musikkens Plads 1. This extraordinary building – the centrepiece of Aalborg's regenerated waterfront – is sure to put the city firmly on the cultural calendar.
A 13-day extravaganza of concerts, performances, fireworks and film follows the launch, after which the House of Music hosts a varied schedule headlined by the renowned Aalborg Symphony Orchestra.
After a quick nose around the impressive atrium, exit on to the waterfront piazza and cast your eyes right. This was once Aalborg's industrial heart, but its shipyards and heavy industries had mostly died out by the 1980s. Thus began the waterfront's transformation into a cultural quarter. An earlier phase of this redevelopment stands on the House of Music's landward side. Formerly a power station, Nordkraft (nordkraft.dk) opened in 2009 as a cultural complex offering theatre, cinema, music and sport. There's lots to experience here, but for now, turn left along the promenade and head towards the bridge.
The waterway you're walking along – the Limfjord – separates northernmost Denmark from the rest of the Jutland peninsula. Long ago, this was a highway for Viking longboats. Aalborg's roots hail from this era; it was first settled, here at the Limfjord's narrowest point, around AD700.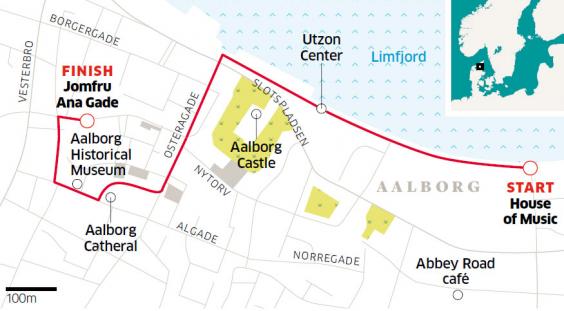 Today, Aalborg's biggest business is its university – and the residential buildings you're passing must be Europe's fanciest student digs. Just past these lies another piece of impressive architecture at the Utzon Center (00 45 7690 5000; utzoncenter.dk; entry Dkr60/£7; closed Mondays). If the sail-topped structure calls to mind another, more famous building, that's because both this and the Sydney Opera House were designed by celebrated architect and Aalborg native, Jorn Utzon.
It's no coincidence that the Utzon Center occupies this spot. Jorn Utzon's father worked at the shipyards that stood nearby, and the future architect was heavily influenced by his childhood scenery. The soaring, aluminium rooftop sails are clear nautical references, while from within, these same structures, clad in curving pine slats, suggest the contours of a ship's prow.
Opened in 2008, this was Utzon's final structure (he died that same year). Inside, the exhibition space includes a permanent display of his technical sketches for the Opera House. There's also a gift shop selling Danish design classics such as Hans Bolling's wooden ducks and model architectural icons in another classic Danish product: Lego.
The on-site café makes a handy lunchtime pit-stop. Order the smorrebrod – open-topped, rye-bread sandwiches with traditional toppings such as egg, lobster or pickled herring (around £10 each) – and enjoy the waterfront views.
Things get more historic beyond the Utzon Centre. Continuing along the promenade, notice the white, half-timbered building to your left, across the street. This is Aalborghus Slot (Aalborg Castle), a 16th-century governor's residence that's now the local tax office. At the traffic lights, cross the road and pause at the grand façade of Jyske Bank. Built in 1902 as the Royal Tax House, its mix of Neoclassical, Modernist and Renaissance styles is typical of the National Romantic movement sweeping Scandinavia at that time.
From here, walk away from the water and up Osteragade. Aalborg is known for its many historic merchants' mansions and some of the best examples can be found along this street.
Turn into the pretty, cobbled square on your next right and climb the steps towards the Baroque bell tower of Aalborg Cathedral (aalborgdomkirke.dk). Peek through heavy wooden doors to admire the beautifully maintained interior and the vestibule's painted, vaulted ceilings. Then exit and head right, along Algade.
If you're not yet done with sightseeing, pop into the Aalborg Historical Museum at Algade 48 (nordmus.dk; admission DKr30/£3.50, free on Tuesdays) to further explore the city's past. Otherwise, turn right on to Gravens-gade and right again on to Bispensgade. Resist the boutiques that line these shopping streets and continue to the next left, Jomfru Ane Gade. Home to Scandinavia's densest conglomeration of pubs and bars, Jomfru Ane Gade is Aalborg's nightlife hub. It's pleasantly low-key by day, so pick a pub, take a seat and order a local schnapps or microbrew ale. Then raise a glass to congratulate yourself: you've just ticked off the best of Aalborg on this pleasant, waterfront stroll.
Fresh cuts
One of Aalborg's newest cafés, Abbey Road (00 45 9811 4243; abbeyroadcafe.dk) opened last summer, serving coffees, cakes, salads and sandwiches in a quirky, bohemian setting. Also new last summer, Hotel Jomfru Ane (00 45 9810 2200; hoteljomfruane.dk) is a 35-room, boutique-style property set among the bars and café culture of Jomfru Ane Gade. Rooms are simple, comfortable and modern and cost from DKr695 (£82), including Wi-Fi, a hearty buffet breakfast and free tea/coffee in the lobby. Given its location on Aalborg's rowdiest street, it's much quieter than you might expect.
Getting there
James Litston travelled as a guest of Norwegian (0843 3780 888; norwegian.com) which flies daily (except Saturdays) from Gatwick to Aalborg. Return fares start from £60.
Staying there
First Hotel Aalborg (00 45 9810 1400; firsthotels.com) is a budget property close to the House of Music, with doubles from DKr696 (£77), including breakfast.
Go guided
A self-guided Aalborg Beerwalk takes in five of the city's best pubs and a brewery. Costing DKr100 (£12), it includes detailed directions, a souvenir beer glass and vouchers for sampling at each stop. Available from tourist information centres and outlets across town.
More information
Reuse content