It's anyone's guess what the situation will be in Greece from one minute to the next, what with the threat of strikes and the country due to make a €3.2bn repayment to the European Central Bank on Thursday. But our visit to a hectic Athens, followed by the dazzling, rocky island of Hydra, at the start of the most recent crisis was a delight. A perfect match of urban grit, culture, and zonked-out, sun-strafed, Mythos beer-fuelled relaxation.
Yes, the signs of desperation are all around you in Greece, if you care to look, and yes, you probably need to take a lot of cash with you, but visiting the beleaguered country doesn't - yet - make you feel like an economic war-zone tourist. All the things that made this country attractive in the past - cheapness, simplicity, clear seas, the warmth of the sun and the people - hold good. Greece puts a brave face on for tourists. It has to. We're one of the few remaining hopes for her present and future.
Neither I, nor my wife Ann, had been to Athens for years, and never together, but we tend to think a city break is an ideal deceleration from our working lives to the vegetative state of a beach holiday. Greece's woes worked in our favour from the start, as unemployment compels the charming Nikolaos Chiotellis to let out his mother's fabulous apartment through Airbnb. A vast triangular space on Tripodon, it has a roof terrace overlooking the Acropolis and a balcony that lifts you above the tourist streets of Plaka: perfect for people-watching.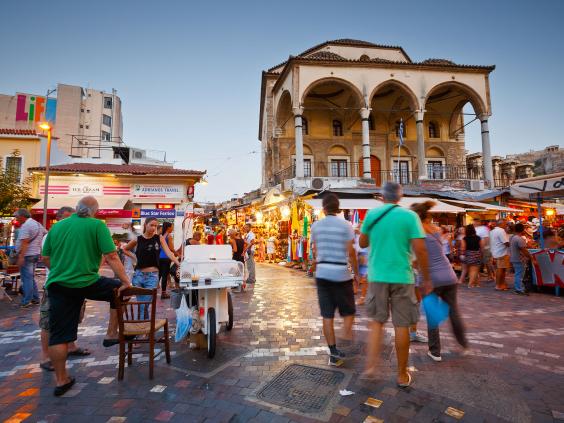 A walking tour organised by Alternative Athens, just us and Christina, the guide, oriented us in the city, its walkable high spots and also its underbelly: not just the magnificent university and government buildings and the teeming produce and flea markets of Varvakios and Monastiraki, but the basement detention centre Kopan 4, used by the Nazis during their occupation, and the buildings on once-grand Stadiou that were burned out by anti-austerity protesters. She showed us around the lively, student-y zone of Psyrri and the new cultural quarter of Gazi, created from a converted gas factory. But Christina didn't airbrush out the problems of homelessness and addiction that are obvious on the streets.
Despite its problems, Athens fairly buzzes. It feels full of interesting young people, quirky little cafés, and magnificent street art, punctuated by the ubiquitous anarchist symbol. Its ancient monuments are miraculously graffiti-free and were all walkable from our base. We enjoyed the Acropolis at a relatively deserted 8am, and then the impressive, modern museum housing its treasures (those Britain didn't pinch) before the cruise-ship crowds arrived.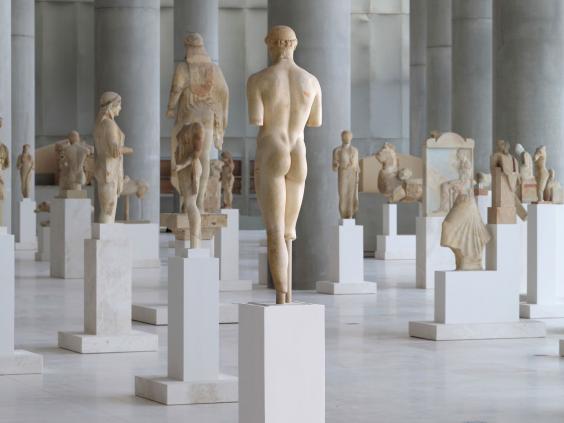 The next day, an easy stroll took us from the Temple of Zeus to the Panathenaic Stadium, from the first modern Olympics of 1896, and through the National Gardens behind the Parliament building on Syntagma Square. That night, we drank a cocktail on the roof of the Grande Bretagne hotel opposite parliament while a huge anti-austerity protest hooted and throbbed below. To compound the weirdness, the roof bar has a designated "selfie spot" so you can shove your grinning face in front of the magnificent view of the Acropolis.
In an exhausting but exhilarating three-day urban whirl, our one misstep was to book ourselves into Daphne's, the faux-posh and overpriced restaurant in Plaka that trades relentlessly on past visits from Hillary Clinton and Roger Moore. As ever in Greece, you're better off sticking to the simple stuff: self-built Greek salads with lovely fresh produce, the souvlaki takeaways of Kydathineon, and tourist tavernas of the Agora. Special mention, though, to the charming Taverna Scholario, a family concern since 1935 that offers an excellent set meal, selected from its mezze menu, at €14 (£10) a head. I'll go back there, and to Nikolaos's Airbnb apartment: if anyone else has booked it, I may fight them for it.
We'd also use Athens as a springboard to another island in the future, after our lovely experience of Hydra. A 90-minute, diesel-scented hydrofoil ride from Piraeus landed us on this hilly rock, scattered with Italianate mansions and organic jumbles of cottages, the whole thing a national monument where no cars or motorbikes are allowed. Or, indeed, useful. The only way you can navigate Hydra Town's winding, stepped passageways is by donkey or by foot. An app on my wife's phone told us we'd scaled the equivalent of 60 flights of stairs each day to get to and from our villa in Kiaffa above Hydra Town.
This was a disembowelled stone wreck, now brilliantly rebuilt by owner Katie Stylianidi and reborn as an antique-and-art-stuffed hilltop wonderland, found through Pretty Greek Villas. Its layered terraces offered fresh lemons from the tree and a plunge pool against the afternoon heat - unusual for Greece, and especially for arid Hydra. The top terrace and the cathedral-like first floor bedroom, running the length of the house, offered hypnotic views of the town and across the sea to the mainland.
Small wonder we'd retreat there from the sun after lunch, and in the evening we'd watch the birds cede the sky to the daring, darting bats, while storms danced across the Peloponnese. While we were there the annual firework display celebrating Andreas Miaoulis's decisive naval victory in the struggle for independence from the Ottomans in the 1820s took place in the bay. There were also late-night screenings at the town's open-air cinema of the films that local actress-turned-politician Melina Mercouri made on Hydra with her husband Jules Dassin in the 1960s. But it's hard to persuade yourself to take a second vertiginous climb in search of evening entertainment or food on Hydra when there's an excellent butcher and baker on the harbour, and some supermarkets do free delivery of excellent produce that you can prepare at home. The fact that they also deliver ouzo, beer and (increasingly sophisticated) Greek wine may have something to do with evening inertia too.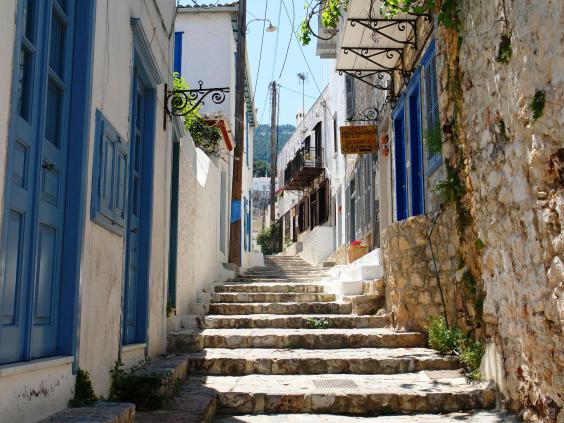 Besides, you fall into a natural rhythm on Hydra. Breakfast on the terrace of fruit, yoghurt and honey. A hike if you are up early (we managed one 7am, three-hour yomp, to the shuttered Byzantine town of Episkopi and the highest point of the island, Mount Eros). If up later, there'd be a bit of culture to start the day - the quaint naval and historical museum in the Port Authority building; the gorgeous, preserved, 18th-century mansion home of merchant Lazaros Koundouriotis, with its basement art exhibitions; the sparkling Byzantine courtyard complex and marble bell towers of the Monastery of the Assumption dominating the bay. Then a quick walk or a short boat ride to a stony beach lapped by turquoise water, and a late lunch there, or back in town.
We had three favourite beaches: the remote, hill-surrounded Agios Nikolaos; the Ibiza-ish Kamini, dominated by a fort converted into a restaurant which will deliver sushi to your sunlounger; and the agreeably scruffy Mandraki. At the latter, we found ourselves eating saganaki at the lone, unpretentious taverna, Mandraki 1800, alongside actress Maggie Gyllenhaal, her actor husband Peter Saarsgard and their two daughters.
Lonely Planet's Ultimate Travelist: Top 10
Lonely Planet's Ultimate Travelist: Top 10
1/12 20. Museum of Old and New Australia

Daniel Munoz

Getty

2/12 19. Galapagos Islands, Eduador

Getty Images

Getty

3/12 18. Santorini, Greece

Justin Foulkes

Lonely Planet

4/12 17. Fiordland National Park, New Zealand

Pete Seaward

Lonely Planet

5/12 16. Sagrada Familia

Josep Lago

Getty

6/12 14. Tikal, Guatemala

Johan Ordonez

Getty

7/12 13. Petra, Jordan

Joe Windsor-Williams

Lonely Planet

8/12 12. 12 Apostles, Australia

Clarissa Cavalheiro

Reuters

9/12 11. Fez Medina, Morocco

Wolfgang Kaehler

Getty

10/12 8. Iguazú Falls, Brazil-Argentina

Matt Munro

Iguazu

11/12 5. Taj Mahal, India

Pete Seward

12/12 4. Great Wall of China, China

Mark Read
Because Hydra, like Athens, is a heady mix of high and low, past glory and present anxiety. There are superyachts and millionaire compounds dotting the shore, fine dining restaurants alongside bog-standard tavernas. But the man who delivered our luggage to our door by donkey was a doctor who had been unemployed for two years: around a third of Hydra's 2,500 occupants have no work.
It matters, of course it does, but it weirdly doesn't impede your relaxation or enjoyment. Here, as in Athens, the Greek welcome remains much as it always was, perhaps tinged now with hint of need. By holidaying in Greece right now, you feel you are doing good. Like I said, we're definitely going back.
Getting there
Athens is served by easyJet (0843 104 5000; easyJet.com) from Gatwick, Manchester and Edinburgh; Aegean Airlines (0871 200 0040; en.aegeanair.com) from Heathrow, Manchester and Birmingham; Ryanair (0871 246 0000; ryanair.com) from Stansted; and British Airways (0344 493 0787; ba.com) from Heathrow. Hydra can be reached by ferry from Piraeus (hellenicseaways.gr).
TRAVEL ESSENTIALS
Staying there
Airbnb offers rental of the Plaka apartment from £115 per night (airbnb.co.uk).
Pretty Greek Villas (prettygreekvillas.com) offers rental of Villa Kiafa in Hydra from £1,000 per week for up to five guests.
Visiting there
Alternative Athens (alternativeathens.com) offers walking tours of the capital from €30 (£21.50)pp.
Acropolis Museum (acropolisofathens.gr).
Taverna Scholario, Athens (00 30 21 0324 7605).
Castello, Kamini Beach, Hydra (castellohydra.gr).
Mandraki 1800, Hydra (facebook.com/Mandraki1800).
More information
Reuse content